Florals are as old as time, and have become an integral part of our environments. More often than not, we don't pay deep attention to all the ways they've merged into the world around us. Fragrances, jewelry, flower bouquets, and interior design elements are just a few of the most common applications. Similar to fashion, old trends in interior design are making a comeback, and florals are no exception. The growing popularity of floral designs can be seen in many modern home interiors, and it's nothing but stunning!
Why we should have more florals in our homes
Florals have proven to have many benefits when it comes to adding them to our interiors. Studies have shown that the presence of flowers has a strong effect on our mood, and increases the chances of positive emotions. It's a brilliant way to bring a tiny bit of the outside – inside, especially in urban environments where green spaces can be hard to find. Flowers have the power to light up a room instantly and can create the feeling of a never-ending summer. If receiving a bouquet of flowers makes you smile, imagine what a wall covered with your favorite floral pattern could do!
Finding the perfect match
Choosing a wallpaper design can be easily compared to shopping for clothes. It's like picking an outfit for your walls – you'll want to find the perfect match and make sure it glows! Floral is perhaps one of the most versatile wallpaper patterns out there, and it comes in a variety of designs. We know it can be overwhelming to have so many options available, but hopefully, this blog post will help you find the right design that fits perfectly into your home.
Bear in mind floral peel and stick wallpaper isn't just about the aesthetics – the beauty of it lies within the easy application and removal process. It's the perfect way to upgrade your interior without making a huge commitment, and you can easily do it all by yourself! It's common for tastes to change over time, and luckily removable wallpaper makes it easier than ever to adjust your interior accordingly. Let's jump straight to it and explore 7 beautiful floral wallpaper designs that will transform your home into a blooming space you'll love even more!
Dark floral wallpaper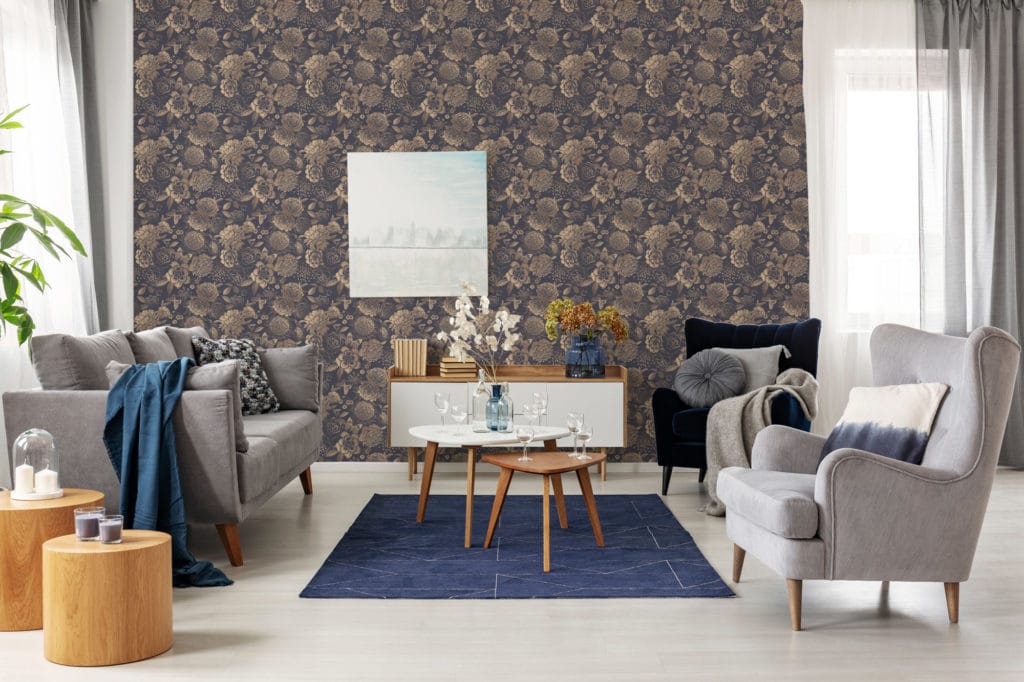 Dark blue and beige floral wallpaper
If you're looking for a bold, elegant wallpaper design, we recommend our dark blue and beige floral wallpaper. A carefully detailed floral pattern and a classy combination of blue and beige make this wallpaper a great option for a living room accent wall. Dark wallpaper designs are balanced and add a sense of depth to the space. Incorporate lamps, furniture and artwork in lighter tones to create contrast and balance out the final look of the room. You can easily use dark floral wallpaper in any room, just make sure you don't go overboard with it in smaller spaces.
Aesthetic wildflower wallpaper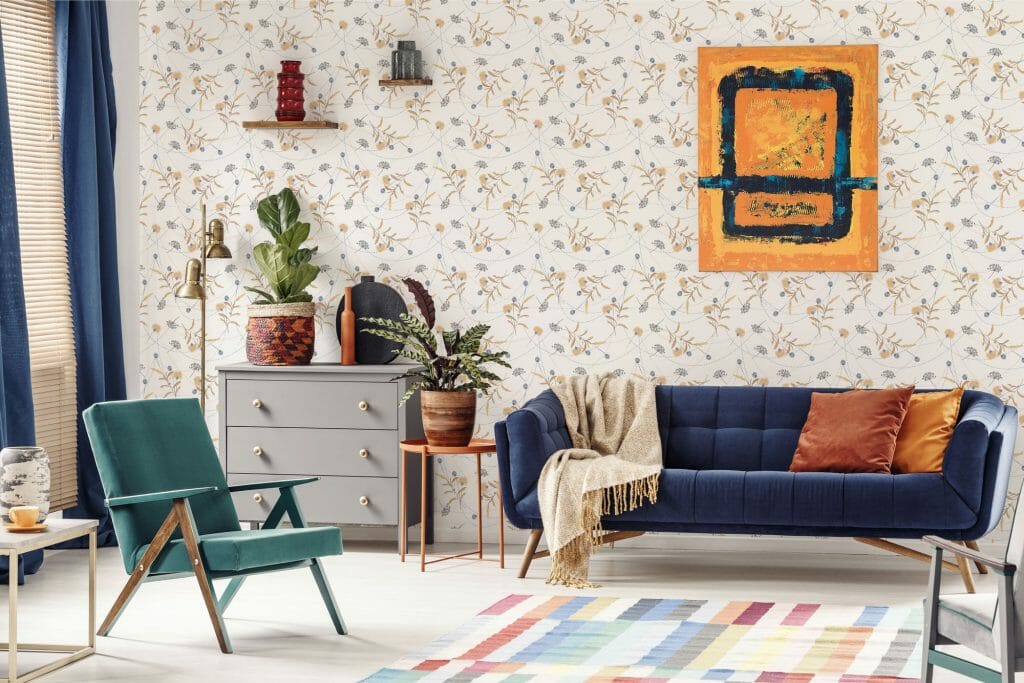 You don't necessarily need a dark or extra colorful wallpaper to make a room stand out. Sometimes, a light floral design is just what the space needs. Our aesthetic wildflower wallpaper is the perfect mix of simplicity and classiness. It's a great design to use for freshening up an interior that lacks a little bit of sparkle. Your living room walls wouldn't mind a little wildflower-themed makeover!
Lily pastel wallpaper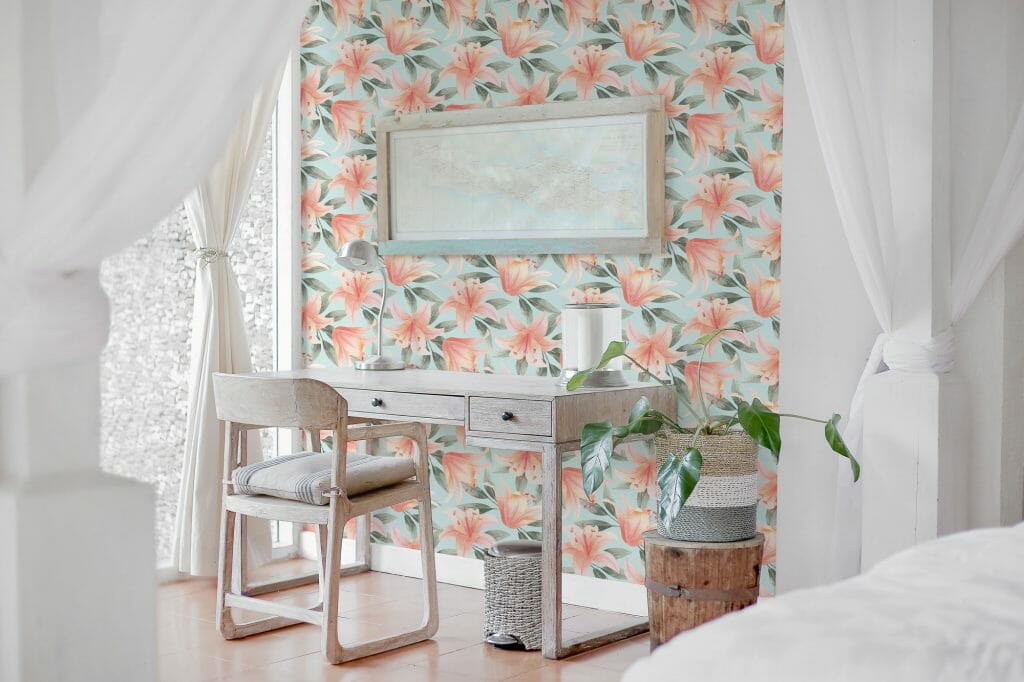 Who doesn't love pastels, right? They are brighter shades of the most common colors and have just as much of an impact as their vivid counterparts. Less saturated, and with a much softer and lighter look than bold shades, pastels instantly brighten up your home. Floral pastel wallpaper is a fantastic choice if you're looking to add a splash of color without overpowering the overall look of your room. This dreamy lily wallpaper in pastels would be a beautiful addition to a feminine bedroom or dressing room.
Black and white contemporary floral wallpaper
Black and white contemporary floral wallpaper
Mixing one of the most classy color combinations with a trendy floral pattern equates to a timeless black and white wallpaper. It's hard to go wrong with this choice as black and white seamlessly blend into almost any interior. Decorate your bedroom wall with our beautiful black and white contemporary floral wallpaper and make your bedroom feel like a luxurious suite. Depending on the size of your room, you can create an accent wall behind your bed or cover all four walls with this floral pattern.
Pink floral wallpaper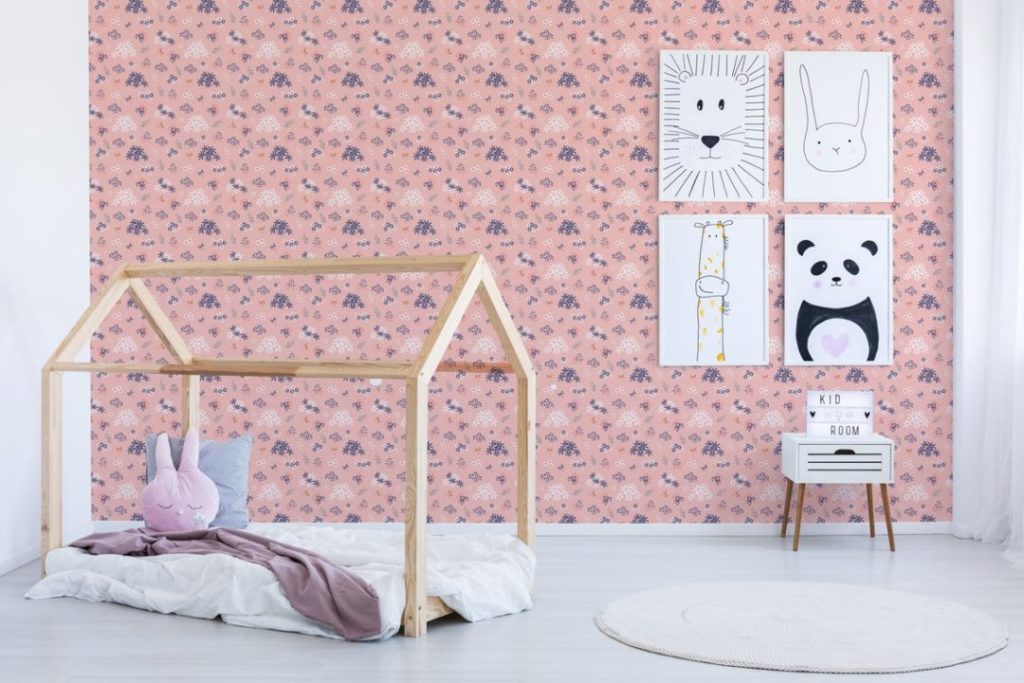 Pink wallpaper is becoming more and more popular among interior designers and home renovators. It's no wonder – pink is such a lovely color! If you're planning a kid's room makeover, consider using our pink floral wallpaper. Cute purple and white flowers on a pink background will make a cute addition to the play area in your child's room. Later on, you can simply switch around furniture and decor to turn it into an older kids' room, leaving the same floral wallpaper as an accent!
Blue minimalist floral wallpaper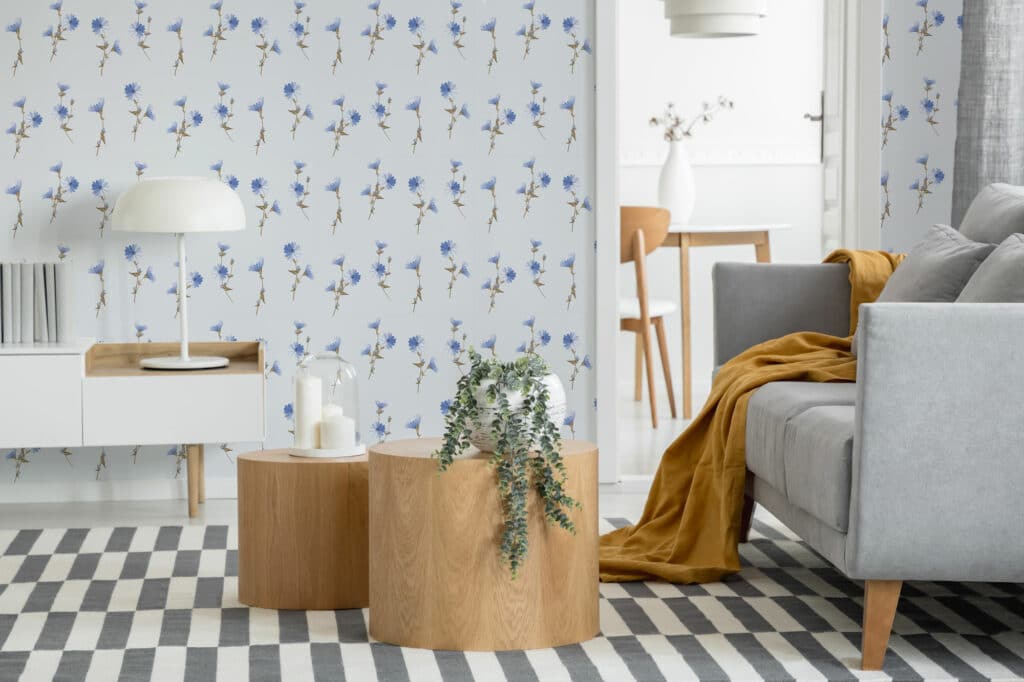 Minimalist design lovers, this one's for you. Sometimes, the smallest things make the biggest difference. Adding a simple floral wallpaper to your interior can do wonders. This blue daisy floral wallpaper is one of our favorites. It's one of those designs that looks great in any room and can easily combine with different styles of furniture and decor.
Vintage rose wallpaper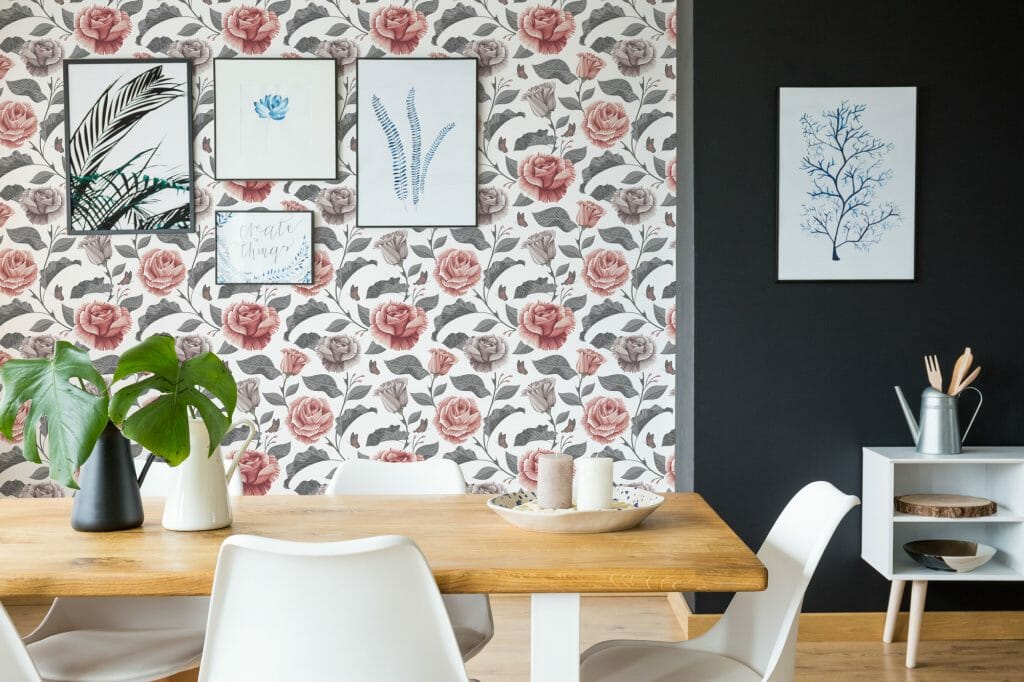 Last, but not least – we've made it to good old vintage florals. Many of us, most likely, remember a floral vintage wallpaper at our grandma's house or at a cozy coffee shop we visited during a summer trip. Vintage designs have a certain type of charm, and can lift up even the dullest spaces. Our vintage rose wallpaper will make your family dinners and social gatherings in the dining room even cozier!
Floral designs have a major role in transforming our homes into completely different spaces. You can always play it safe and choose a minimalist wallpaper, or you can go bold with a dark floral wallpaper pattern. Either way, don't be afraid to explore! Experiment, get creative, and make an ever-lasting flower meadow in your home!
FAQ
Is floral wallpaper out of style?
Floral wallpaper has proven to be a timeless design element that never truly goes out of style. While its popularity may ebb and flow, it consistently makes a comeback due to its versatility and ability to create a warm, inviting atmosphere. This summer, floral wallpaper is making a strong resurgence with modern interpretations and fresh, bold patterns that can transform any space. From vintage-inspired motifs to contemporary designs, floral wallpaper suits every taste and style preference.
Where to buy floral wallpaper?
Where to buy floral wallpaper?
Floral wallpaper can be found at various retailers, both online and in-store. One exceptional option for your summer home transformation can be found on our website's Floral wallpaper collection page. Our collection boasts a vast selection of floral designs, perfect for every taste and style preference. 
In addition to Fancy Walls, here are some other popular options for finding floral wallpapers:
Etsy – For those looking for unique, handcrafted options, Etsy is an ideal marketplace where independent artists and designers can sell their custom-made floral wallpapers. 
Home Depot – This well-known home improvement retailer has a variety of floral wallpapers, from peel-and-stick options to traditional rolls, suitable for any budget.
Graham & Brown – A designer wallpaper company known for its innovative designs and high-quality products, Graham & Brown offers an array of beautiful floral patterns to choose from.
When purchasing wallpaper, it's essential to measure your walls accurately and consider ordering samples before making a final decision, as colors and patterns may appear differently in person than on-screen. Happy decorating!
Loving the content on our 'Fancy Walls' blog?
Sign up to our free, monthly newsletter! You'll hear about our latest wallpaper designs, and the most recent design trends!