Those white, empty bedroom walls are just screaming for something more, but the idea of bright paint all over your sleeping area scares you to your very core? That's where bedroom accent walls come in!
Your bedroom is full of design potential, regardless of its size. An accent wall will completely change the entire feel of the sleeping area, undoubtedly improving it for the better. It adds a touch of depth, suspense, and elegance, without completely changing the foundations of the bedroom.
The method can be as easy as painting the wall in a distinct color. But with options available today, such as fancy peel & stick wallpapers, you might want to weigh the range of options before making a decision.
In this article, explore our brilliant bedroom accent wall ideas for 2023. After you see those, you'll definitely want one in every single room of your house!
Feel free to jump to other sections If you already know everything about bedroom accent wall decoration tips and tricks
with Peel and Stick wallpaper for your accent wall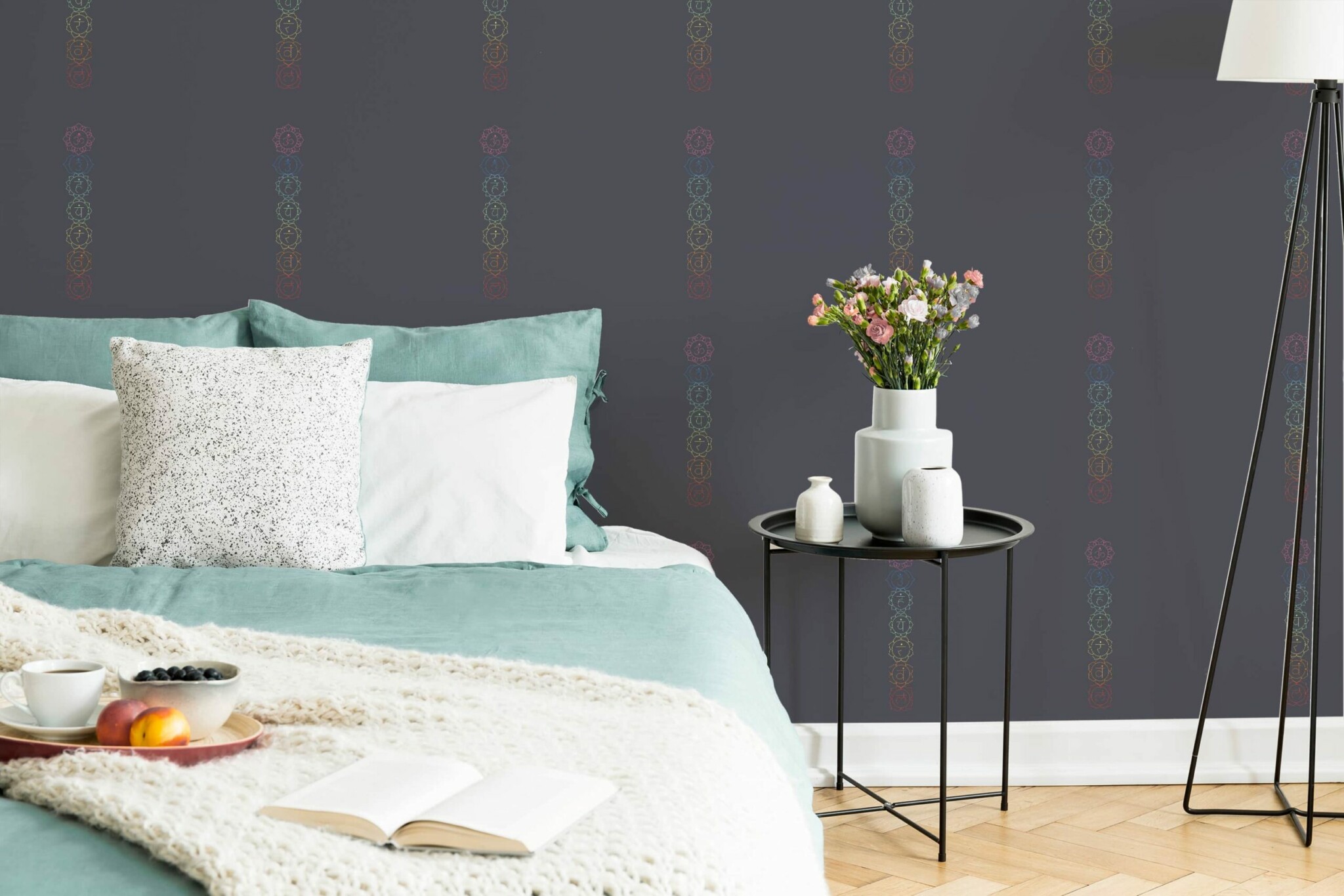 Wondering if a bedroom accent wall is a good idea?
Definitely yes! One bedroom accent wall is worth a thousand words. Concentrating your imagination on an accent wall is what saves you a lot of time and money.
Covering all of your walls in new wallpaper can turn out to be a bit too expensive, but hanging it on a single wall gives you all the delight on the budget that's acceptable for you.
Furthermore, it also takes much less time to rejuvenate a single wall than it would take to do it for all four. You can basically get that done in half an hour if using removable wallpaper.
So, are you ready to spice up your bedroom over a coffee break?
Which wall should be the accent wall in a bedroom?
The most common belief is that bedroom accent walls fit better at the head of the bed, and here's why:
You always want to highlight the room's focal point. The focal point in the case of the average bedroom is, you guessed it, the bed. Therefore, the best accent wall for the bedroom in most situations is the wall right behind it.
If your bedroom is longer and narrower, you should highlight one of the shorter walls. Using the longer walls can bring the opposite effect to what you had intended. Or maybe you have a wall with a special design, for instance, slanted walls? If so, simply consider placing your bed's head against that wall and emphasize it for a truly eye-catching effect.
However, keep in mind that none of this advice is set in stone. You can accentuate not only the walls but, for instance, the ceilings as well. Just let your creativity flow – that's exactly what matters the most is the theme of the accent wall.
How to choose an accent wall for a small, medium, or large bedroom?
An accent wall might be a great way to boost the expanse of even a tiny bedroom. However, warm colors and textures can lead to the accent wall reducing the bedroom space visually.
If you want to make your sleeping area look larger, cool and/or darker color tones will work most efficiently. Greens, blues, and purples tend to draw the wall away from the eye and make the space appear larger in scale. For example, if your walls are light blue, a darker blue accent wall would make your room look bigger while still being very cohesive in terms of design.
If you're completely satisfied with the size of your bedroom, the goal might be to bring a certain mood into the sleeping area. Autumnal hues like red, orange and bright yellow not only look fantastic but also build a sense of balance and coziness. This might be a great solution for larger bedrooms due to their habitual lack of a homey feel.
You can also choose an accent wall that will fit with your existing decor. If your carpeting is white with green detail, then green will work very well as the color of your accent wall. This strategy will work well for medium-sized bedrooms, where you mostly have to keep everything in balance.
A blue accent wall for a welcoming and chilly design
Blue is a great choice for a bedroom accent wall – it serves as a soothing element and is a winning strategy to almost every sleeping area.
Use bold blue with cool undertones to accent the wall in a bedroom with cool neutrals such as gray or white.
Bold blue color codes (hex):
Considered one of the most relaxing colors, dark navy blue might be the right one for your bedroom accent wall. This tone creates a cocoon-like atmosphere and therefore is ideal for sleeping areas.
Dark navy blue color codes (hex):
On the other hand, if you strive for a brighter and fresher bedroom look, consider choosing a bold aqua paint color. Those light yet showy blue tones are an outstanding way to add a splash of color in a neutrally toned bedroom.
Bold aqua blue color codes (hex):
Take into consideration that the blue color itself works perfectly with furniture in sandy, white, brown or other warm tones. This combination will bring a relaxing and beachy vibe into your bedroom.
A nature-inspired green accent wall
Adding a pop of green has the power to transform any bedroom. Although you might want to avoid dramatic green shades in your sleeping area, there are plenty of green tones that soften the room since green is naturally easy and pleasant to human eyes.
Green works perfectly with accents like purple and pink, and of course other earth tones – browns, oranges, and yellows.
If your bedroom has dark wooden elements, consider the dark British racing green as the color of your accent wall – together they create an unquestionably luxurious look. However, in this case, you should also think about white-toned interior elements to brighten the mood of your sleeping area.
Earth green color codes (hex):
For anyone who loves earth tones, pesto, khaki and other warm greens will be the best option. They tend towards other natural hues – browns, yellows, and oranges. In total, this earth tonality will assemble a relaxing and peaceful frame of your bedroom.
Warm green color codes (hex):
The power of a red accent wall
As a primary color, red may convey excitement, passion, energy, and more. You may choose bold red as a bedroom accent wall color to add more romance and passion or create a calmly nostalgic mood when emphasizing red autumn hues.
However, designers most likely aren't obsessed with red as a primary color of an accent wall due to its intensity. It can keep your heart rates up all night long rather than help you fall asleep. Therefore, it is recommended to tend to more dark, warm and calm red tones, like brick red.
Warm and calm red color codes (hex):
Besides, you could try to replace red with a more grounded tone like orange, yellow or brown, which still has the energetic power to evoke excitement and enthusiasm.
Grounded color codes (hex):
A purple accent wall that brings in the royalty
Purple is often associated with royalty, wealth, and power because historically it was very expensive to produce. Not surprisingly, it still inserts a rich color.
Purple in its darkest shades – like wine or raisin – will make the bedroom look sophisticated. You can also pair it with more light tones to create a sense of depth and a luxurious feel.
Brighter and lighter tints such as lavender, mulberry, or lilac are used to bring the same calming experience into the interior as the blue color does.
Bright and light purple color codes (hex):
Don't be afraid of a black accent wall
Although not so often used for bedroom accent walls, hints of black still appear in the design of our sleeping areas. A splash of black always gives the room a sense of depth:
Take into consideration that super-dark and rich colors go well with gold or silver decors. Also, the rest of the room should be in super-light tones so you can build that 3D depth effect for your space.
A modern wood accent wall
We all know that wood floors look fantastic, but what about the accent walls that evoke the elegance of sturdy wood in its natural form? While very dark wood can make a room feel claustrophobic on all walls, its use on a single accent wall can open up space and serve as an eye-catching feature.
By the way, you're not obligated to set up wood panels to create a wood accent wall. Bringing natural design into your bedroom is easy as a piece of cake if you use removable wallpapers with a wooden print.
Trendy brick accent wall
The brick solutions for accent walls are chic, sleek, stylish, and look great with any type of decor. What's best, it's up to you what shade and look you're going to give it.
You can repair your existing brick wall or create a new one, or even try faux brick covers that match the cladding very well. In decoration, there are different ways to use brick walls, as well as plenty of ideas to cover and accentuate them.
Whitewashed bricks are ideal for antique or shabby chic interiors:
Meanwhile, raw red brick is going to make your bedroom look a little industrial and give the décor some texture:
Creative peel & stick removable wallpapers
Removable wallpaper is the game-changer right now in bedroom design. They come in varied patterns and colors, as well as combinations of illustrations and text print. Actually, you could even opt for a customized peel & stick wallpaper. What's not to love about it! Feel free to check our collection of bedroom wallpaper.
Here are some genius peel & stick removable wallpaper designs for 2023:
Stripe it up with a dynamic removable wallpaper
It's hard to imagine a design simpler than stripes – however, that's exactly why interiors with stripe accent walls are so elegant and easy on the eyes.
Floral punch
Floral removable wallpapers are a perfect and easy way to bring the beauty of the garden indoors:
Brushstroke peel & stick wallpapers
Brushstroke style is a 2023 trend you'll totally fall in love with. Moreover, with chic brushstroke removable wallpaper, coloring your bedroom will be easier than ever.
Removable wallpaper is a vibrant and fresh design element. Those wallpapers act like a large sticker. Supported with a low-tack adhesive, they replace using strict glue when you need to stick the paper to the accent wall.
So, whenever you don't want anything permanent on the walls (for example, in the case of renting a flat), a simple peel and stick solution might be the best for you.
Even if you have already landed your dream house, you can just peel the wallpaper off and stick a new one again when you get bored of the current design.
In this perspective, removable wallpapers are a total win-win idea. They definitely create more space for your creativity, plus require putting less physical effort and expenses into your bedroom design. Sounds great, right?
Bedroom accent walls are an effective design tactic
Simplicity is the key to all true elegance in our bedrooms. And that's where accent walls might play a huge role. Not only do they allow you to flex your creativity and personal style without exaggerating it, but also make a bedroom space look larger or cozier than it really is.
What's best, only your imagination limits your choice. None of these bedroom accent wall tips and ideas are set in stone, so as you move forward with your design, you can take whichever approach you want.
Have fun designing your accent wall and enjoy how everything comes together for a wonderful result!
Loving the content on our 'Fancy Walls' blog?
Sign up to our free, monthly newsletter! You'll hear about our latest wallpaper designs, and the most recent design trends!