Wallpaper has found its way at the top of home décor trends again this year, being one of the simplest ways to add a unique touch to your personal space. Beyond the gorgeous aesthetic of top wallpaper designs, wallpaper is also quite easy to install yourself – especially if it's peel and stick, like those we will share with you today.
With many of us spending more time at home than usual this year, it's been the perfect environment for home projects that bring us joy – like adding a stunning patterned wallpaper to your home office. If you have recently found yourself more and more curious about potentially incorporating wallpaper for your walls in your home, this list of top wallpaper designs in 2023 will help you find the perfect (apartment-friendly) trending wallpaper for your home.
1. Must-Have Florals: Florals are close to impossible to have on your walls with paint, which makes florals one of the top wallpaper trends. Florals not only add a touch of femininity where you want it, but they also come with a vintage ambiance that anyone can appreciate. Even better, the options of floral wallpaper designs are endless, allowing you to choose between something that makes a statement, something more subtle, or something a bit in between. To give you an example of all three, check out the beautiful floral designs listed below. With designs this stunning, there really is no wrong choice for your home.
Blue Wild Flower Wallpaper (pictured)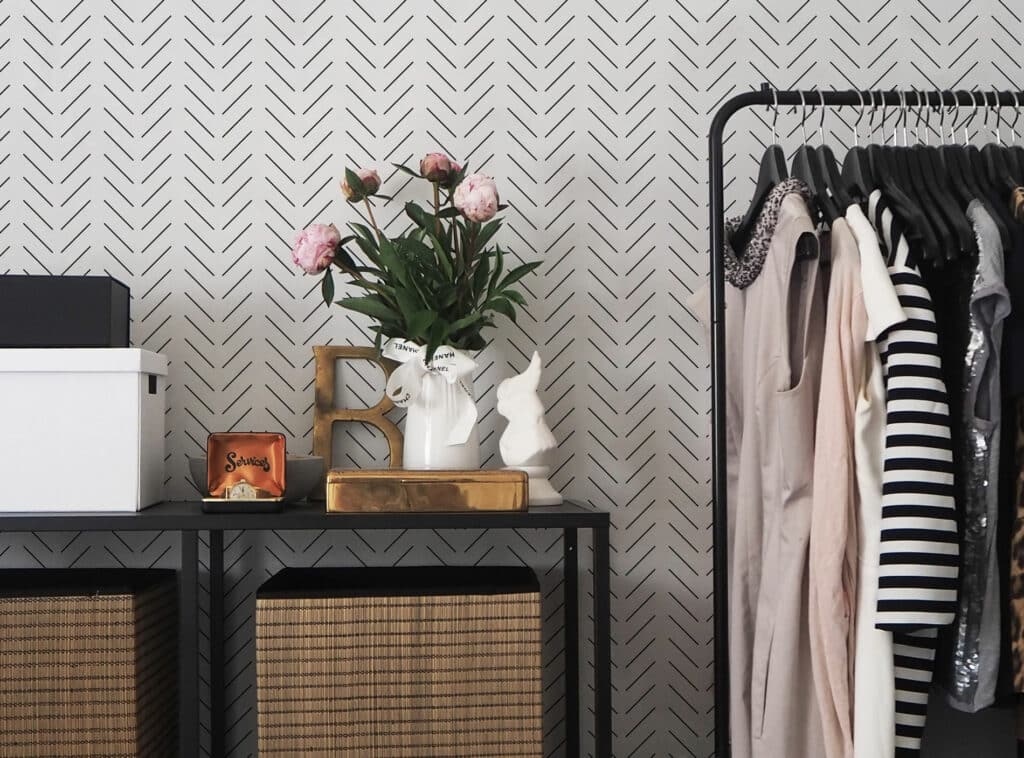 2. Always Stunning Black & Whites: There is something about a fun black and white pattern that feels perfectly balanced between lively and clean – a feeling everyone enjoys having in their home (in any room!). The current black and white wallpaper trends allow a lot of room for personal preferences. That's not only true for the patterns themselves, but also whether you choose to have a black or white background. A white background lets you bring in a lot of light into a space that may need it, while a black background gives you an opportunity to make a space feel a bit more moody. Either way, you are sure to find a black and white wallpaper pattern you will love – no matter the design of your home. Here are a few of our favorite black and white wallpapers: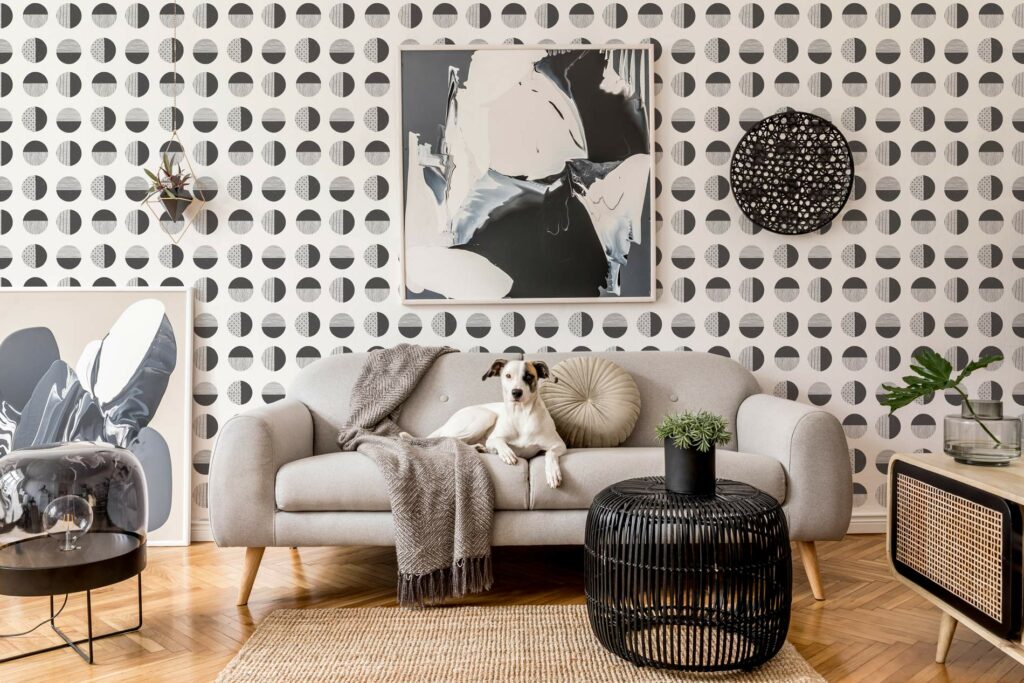 3. Eye-catching Geometric Patterns: One of the (many) beauties of geometric patterns is they can span across any and all design styles – contemporary, minimalistic, vintage, Scandinavian, etc. That is largely what puts geometric patterned wallpaper among the top of the current (and likely future) wallpaper trends. Geometric patterns are a stunning way to not just have wallpaper in your home, but also a work of art. A part of your home everyone, including yourself, will gravitate toward to admire whenever they lay their eyes on it. Highlighting just how many design styles geometric patterned wallpaper can align with, here are three drastically different designs – all equally stunning:
Black and White Circles Pattern Wallpaper (pictured)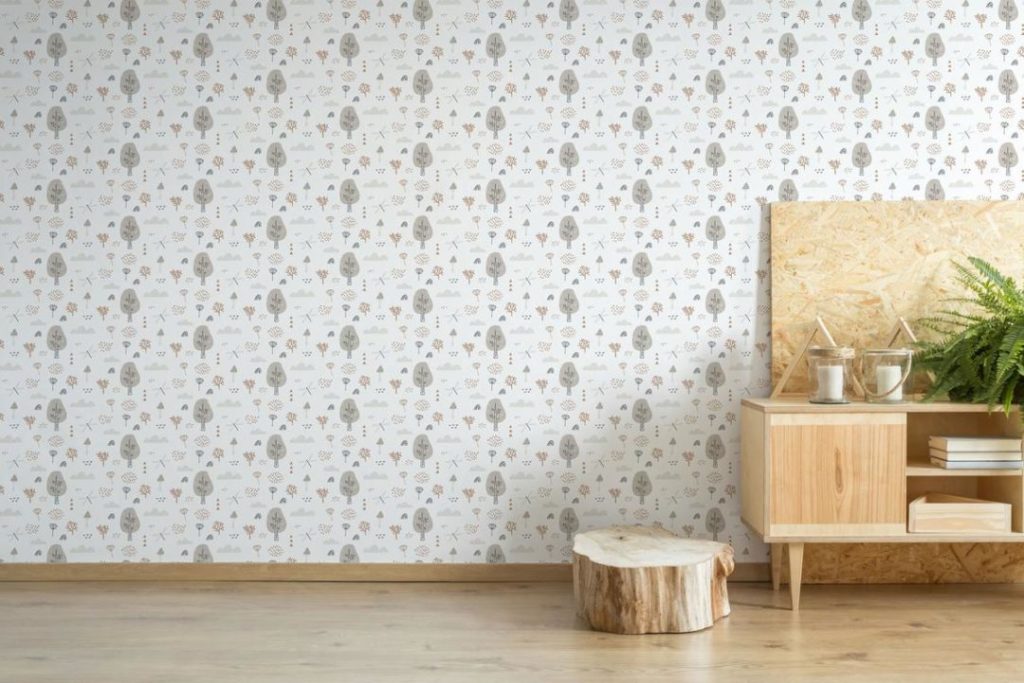 4. Bringing Nature Inside: Nature-inspired wallpaper designs create such a whimsical feel – perfect for a nursery, where nature designs are certainly trendy, but they are also great additions to many spaces in your home. As is always true with wallpaper, it's the perfect way to add your own personal style into a space. If you are drawn to nature-inspired designs, there are amazing wallpapers out there for you to show off within your own home. Nature-inspired wallpaper can range from foliage or florals, trees, and even animals – anything that reminds you of a nature walk. Check out some of our favorite trending wallpapers in the nature-inspired style:
Gray Boho Forest Wallpaper (pictured)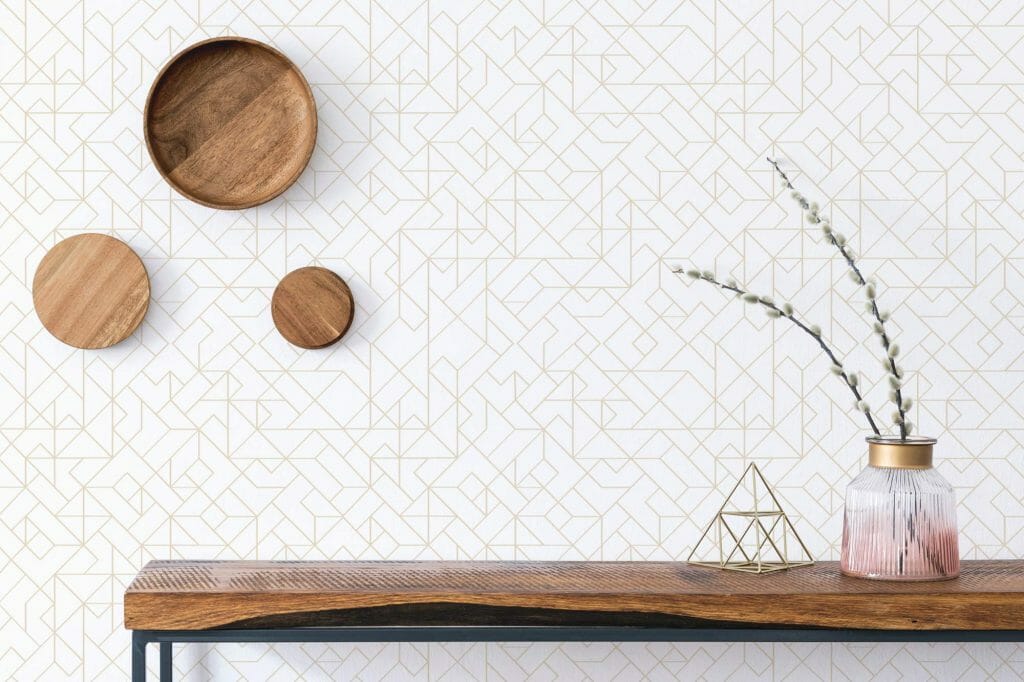 5. Perfect for the Minimalists: It can be easy to assume wallpaper is for those looking to make a powerful statement in a space, which doesn't always align with minimalist style, but that actually isn't true. Wallpaper is even trending in minimalist homes because of its ability to subtly add a focal point without taking away from the overall calmness of space. The key with minimalist wallpaper is simplicity, which spans both in color and design. Even neutral-colored wallpapers can be too noisy if the pattern is busy, so a balance of neutrals with airy designs is what we commonly see with minimalist wallpapers. To help you find the top wallpaper designs a minimalist will love, we have compiled some designs we have been admiring:
Beige and White Geometric Pattern Wallpaper (pictured)
The Top Wallpapers in 2023 have all revolved around five core styles: floral, black and white, geometric patterns, nature-inspired, and minimalistic. Among those five wallpaper trends, anyone can find a pattern that aligns with any style. Take Scandinavian, as an example. Trending wallpapers in any of the five core styles could align with a Scandinavian design. They are even versatile enough to overlap within these categories: some minimalist designs fall into black and white, geometric, or nature-inspired, and the same is true for every other category. It's no wonder florals, black, and whites, geometric patterns, nature-inspired designs, and minimalistic patterns have been coined the top wallpaper designs of 2023.
Thinking about the qualities that earned our 2023 trending wallpapers their top design title, it begs the question of which wallpaper designs we will see at the top of the list in 2023. If we were to guess, we'll probably see some repeats from 2023's top five, but we may see a new design style making the list. Regardless of the designs that officially earn the title next year, one thing is certain: versatility is key in any one design earning a top spot, and that's exactly what we see with all of the trending designs shared today.
Loving the content on our 'Fancy Walls' blog?
Sign up to our free, monthly newsletter! You'll hear about our latest wallpaper designs, and the most recent design trends!