In the world of interior design, neutral means without color. Neutral hues are incredibly versatile and create a balanced, and cozy atmosphere. The very base of a neutral palette is made up of black, white, brown, and gray. Now, before you start thinking that neutrals are boring and decide to order a can of green paint, hear us out. Neutrals often have undertones, adding way more options to their color assortment. There's a reason why they are still such a popular choice in modern interiors in 2023.
Whether you're going for a simple, delicate look or want to use neutrals as a background for other, more bold interior elements, these colors won't disappoint! They can be combined with literally any other color, and bring as much style and life into your home as bright and vivid designs. To spark some inspiration for all of you planning your next wall makeover, we have put together some of our favorite neutral peel and stick wallpaper designs. Let's get right to it!
Neutral leaf wallpaper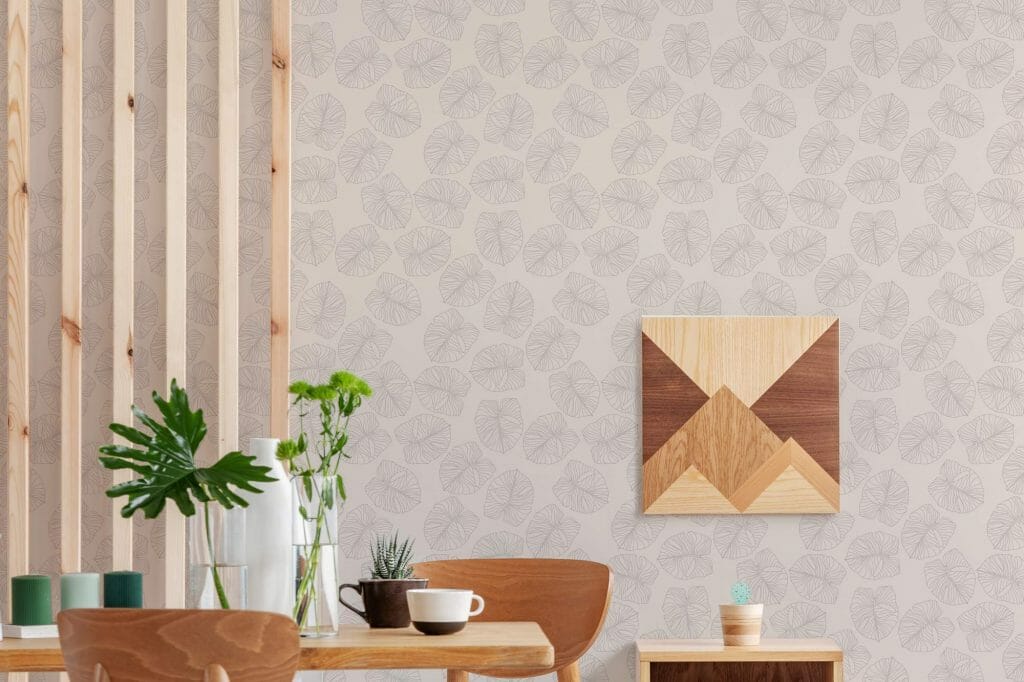 This beautiful, neutral leaf wallpaper brings the harmony of nature into your home. The delicate leaf motif blends in smoothly with the beige background, yet is still visible and catches your eye at first glance. This wallpaper can fit into any room, but it would be the perfect addition to a living room interior. Quite often, living rooms are spaces where we tend to be creative with daring furniture and other home decors. They are rooms we spend most of our time in when at home, and it is important to create an environment that pleases the eye but doesn't make it tired of what it sees. So, on the one hand, our neutral leaf wallpaper can give the room a calm, soothing vibe and tie it together with more bold interior design pieces. On the other hand, it can be easily combined with a simplistic interior and natural materials such as wood, creating a timeless space in a world that is constantly changing. Either way, the design is simply beautiful!
Neutral Boho wallpaper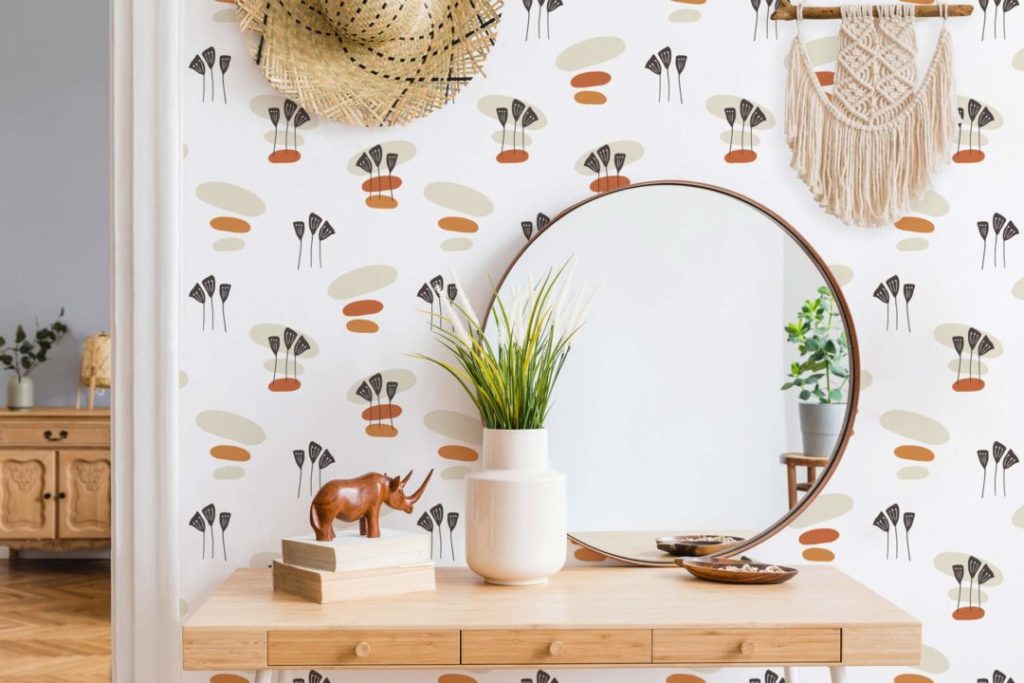 Boho designs have been trending in interior design for a while, and they don't seem to be going out of style anytime soon. Layered patterns, textures, and colors make up for a relaxed and easy-going vibe. In this neutral boho wallpaper, white, beige, and brown are the perfect combination to create a neutral, boho look. The geometric shapes and stylised flowers come together in a fun way, making your walls much more interesting to look at. If you like this neutral combination and want to add a more natural touch, try incorporating wood decor or furniture to your interior.
Seamless waves wallpaper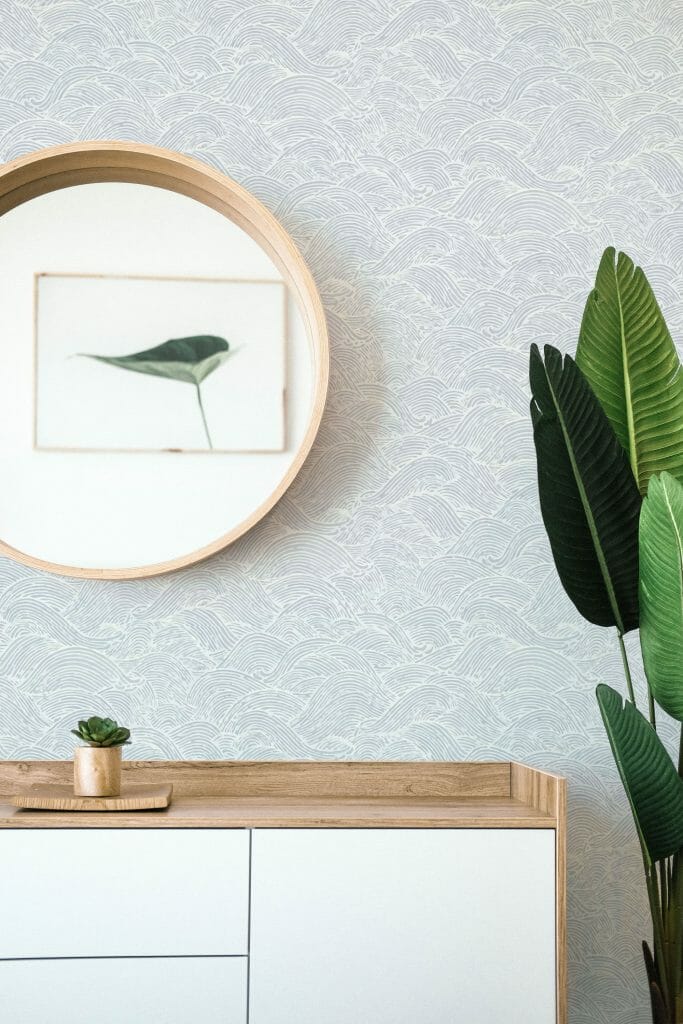 If keeping a neutral color scheme in your room sounds like your cup of tea, this might be the design for you. Isn't this seamless waves wallpaper just gorgeous? Adding texture with neutrals brings out an extra dimension, and can create a more interesting and eye-catching look. This seamless, gray waves wallpaper pattern would be an excellent addition to a bedroom as it gives you the freedom of switching up your furniture and decor however you like. There's no doubt that this design would work perfectly in any room and we're sure that no matter where you choose to use it, the result will be stunning!
Gray forest animal wallpaper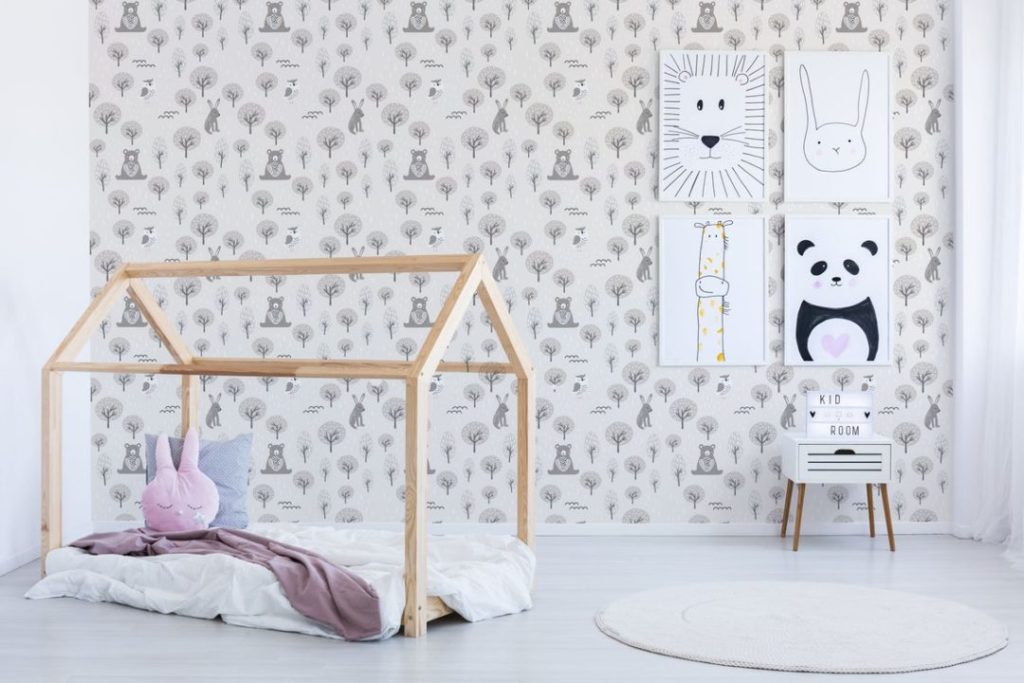 Decorating a nursery can be a really fun yet responsible task, as you want to create a comfy and warm space for your child. It has become more common to stick to a minimalistic and gender-neutral theme when it comes to kids' rooms, giving you plenty of space to get creative with artwork, toys, and furniture. Our gray forest animal wallpaper is the perfect example of a cute, gender-neutral accent wall. Adding a colorful cushion or a fun piece of artwork to this pattern could easily make it the coziest room in your home!
White chevron wallpaper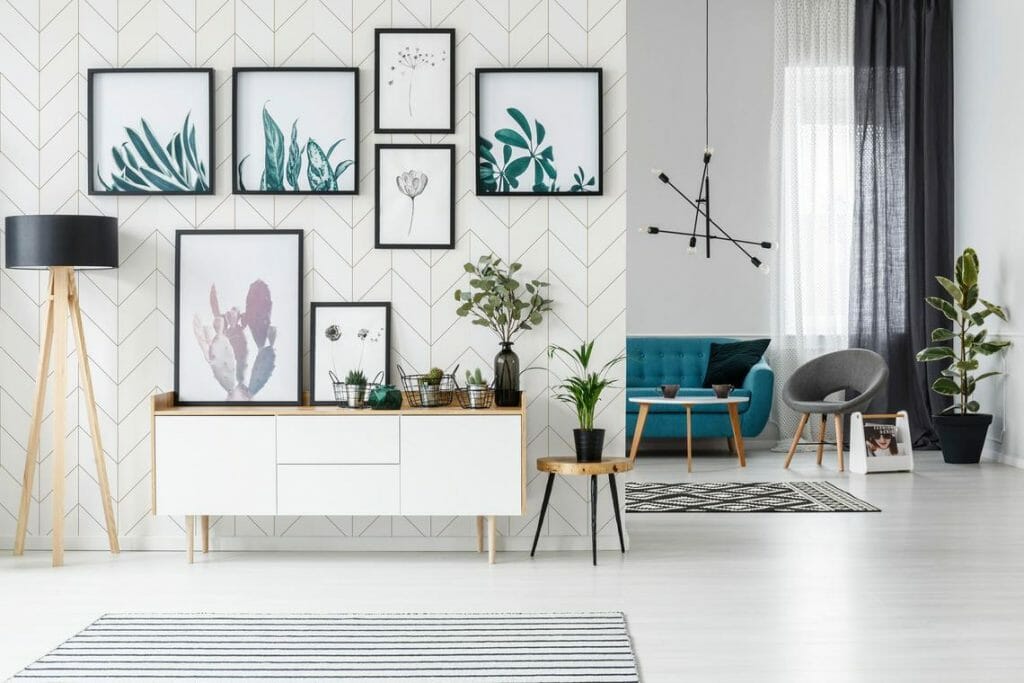 Let's not forget about the all-time classic – white. White walls are the perfect canvas for your creative endeavors. Sometimes a plain, white wall, however, can appear a bit dull. Keeping it simple, but adding that additional element can be a game-changer. For example, our white chevron wallpaper has a soothing color palette and incorporates a trendy, brown geometric chevron pattern. Its timeless design makes it incredibly versatile and easy to incorporate in any room – whether you create a backsplash in the kitchen, an accent wall in the living room or include it as part of the hallway. To take this classic white design up a notch, try adding a dash of gold or black metallics. Metallic objects are great for adding excitement to a simple, white wallpaper.
Neutral color palettes are a great choice that can complement any interior style. From mellow nature-inspired patterns to funky boho vibes, neutrals offer something for everyone. Neutral peel and stick wallpapers give you the flexibility of enjoying a timeless, stylish space while having the option of easily changing it whenever you like. Let's put our renovation hats on, and get creative with neutrals!
Loving the content on our 'Fancy Walls' blog?
Sign up to our free, monthly newsletter! You'll hear about our latest wallpaper designs, and the most recent design trends!