For a long period of time, bathrooms have been viewed simply as functional spaces, having very little to do with design. Although this perception has changed, quite often when we think about a home makeover, we tend to focus on other, bigger areas like living rooms and bedrooms, leaving smaller spaces such as bathrooms behind. These days, however, bathrooms are all about combining stylish looks with functionality. So, let's dive right into it!
Using the peel and stick wallpaper in your bathroom
Some might think that using wallpaper in a bathroom is a tricky idea, but there's no need to worry! Our peel and stick wallpaper is made of high-quality, water-resistant materials, which make it the perfect solution for bathroom projects.
You can use it to cover the whole bathroom or make an accent wall by applying it to only one wall. Combine it with wall panels, paint, tiles – you name it. It can be the perfect chance for you to experiment with more bold patterns and designs that may be could feel too flashy and make too much noise in larger areas of other rooms.
Here you can see how one of our lovely customers has used the ​​bold floral pink and orange wallpaper⁠ to create an accent wall in her bathroom. We think it turned out absolutely gorgeous!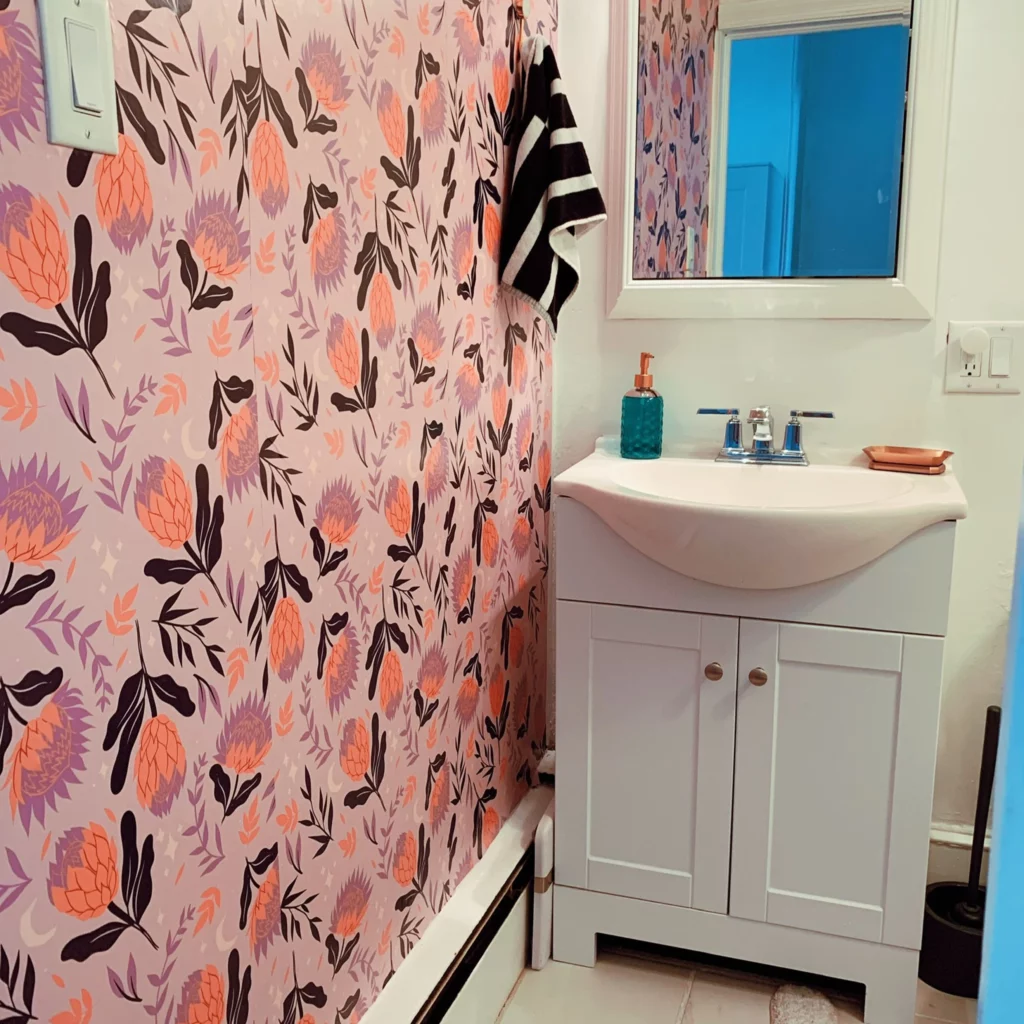 There are, however, a couple of things to take into consideration when planning a bathroom makeover project using peel and stick wallpaper.
Humidity is a common issue in bathrooms, especially when if they are small and don't have any windows or ventilators installed. While normally some humidity is expected and the wallpaper can sustain such conditions, most likely, it will not work if there are ventilation problems and if there is extremely high humidity in the bathroom.
Avoid direct and consistent contact with water
When planning where to apply your new wallpaper, try to avoid places such as the inside of a shower cabinet and the area right next to a bath or a shower. If you have a tap that splashes a lot of water in the sink, it might be a good idea to tile or panel up the wall until above the sink, and continue with the wallpaper from there.
Order a sample and try it out first
If you want to make sure that peel and stick wallpaper is the right solution for your new bathroom project, we suggest ordering a sample and trying it out. If the wallpaper doesn't develop bubbles underneath and peel off, you're good to go! It's a great way of testing both the pattern and material before placing the final order.
Happy customers, happy us
We are always super excited and proud to see our wallpapers in action! Here is a great customer example of a small bathroom renovation project. It includes a combination of paint, peel and stick wallpaper, and decorative panel trim. The black and white hexagon wallpaper has a simple pattern that complements many design styles, creating a timeless space to enjoy for years. You can never get sick of something that looks this good!
Same pattern, different bathroom – another great makeover result sent by one of our customers! In this example, you can see how the same black and white hexagon pattern works in a larger space, covering the whole wall, yet leaving enough space for the other design elements to shine. We wouldn't be surprised if this bathroom became this customer's favorite room in their home!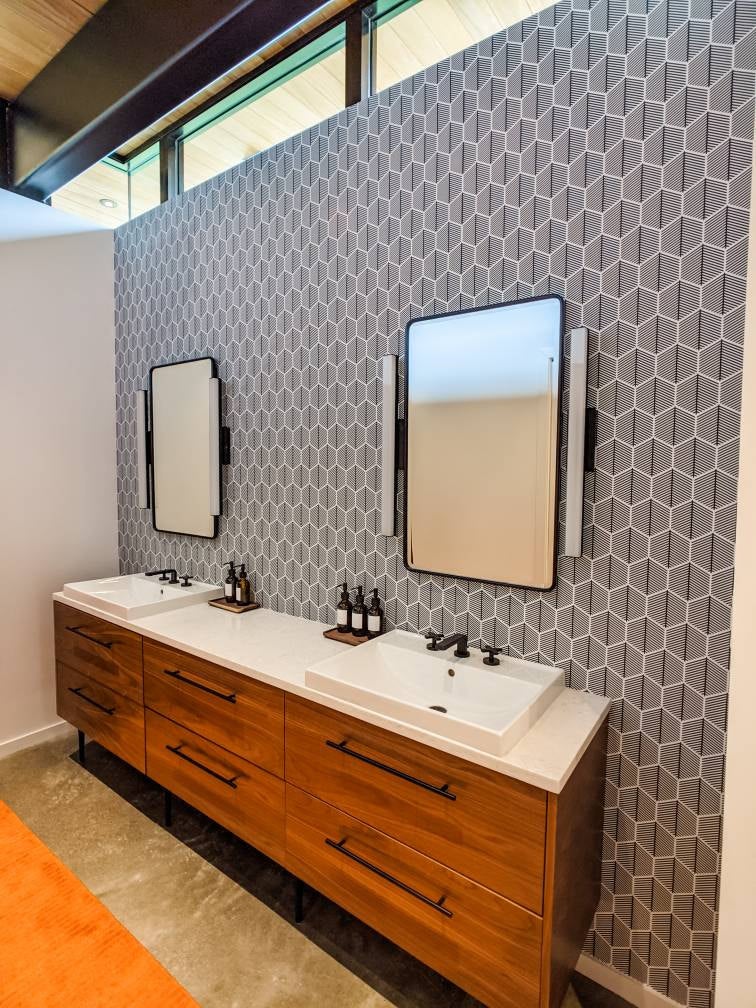 Easy installation and maintenance
The application of peel and stick wallpaper is as easy as it sounds – simply peel the paper from the back of a panel, place it on your wall, then repeat until the wall is complete. When applying wallpaper in your bathroom, make sure that the wall is dry and clean before you apply it, otherwise, it will not adhere properly. If you have applied the wallpaper to a damp surface, it simply will not stick and may start peeling off.
One of the main benefits of the peel and stick technique is that the wallpaper can be repositioned or even re-applied up to 24 hours after installation. This means that any mistakes during the installation process can be easily corrected afterward.
Now, you might be wondering – how do I clean the wallpaper? You can easily clean the wallpaper with a damp, soft, and non-abrasive cloth or sponge. If you need to get rid of deeper stains, try soaking the cloth or sponge in soapy water. We do not recommend scrubbing textile wallpaper since it can damage the design.
Expanding the Versatility of Peel and Stick Wallpaper in Bathrooms
As the perception of bathrooms as mere functional spaces is swiftly overhauled, the prospect of incorporating design elements into these rooms becomes more exciting. The advent of peel-and-stick wallpaper has played a crucial role in this transformation, providing an easy-to-use solution to imbue your bathroom with stylish elegance without sacrificing functionality.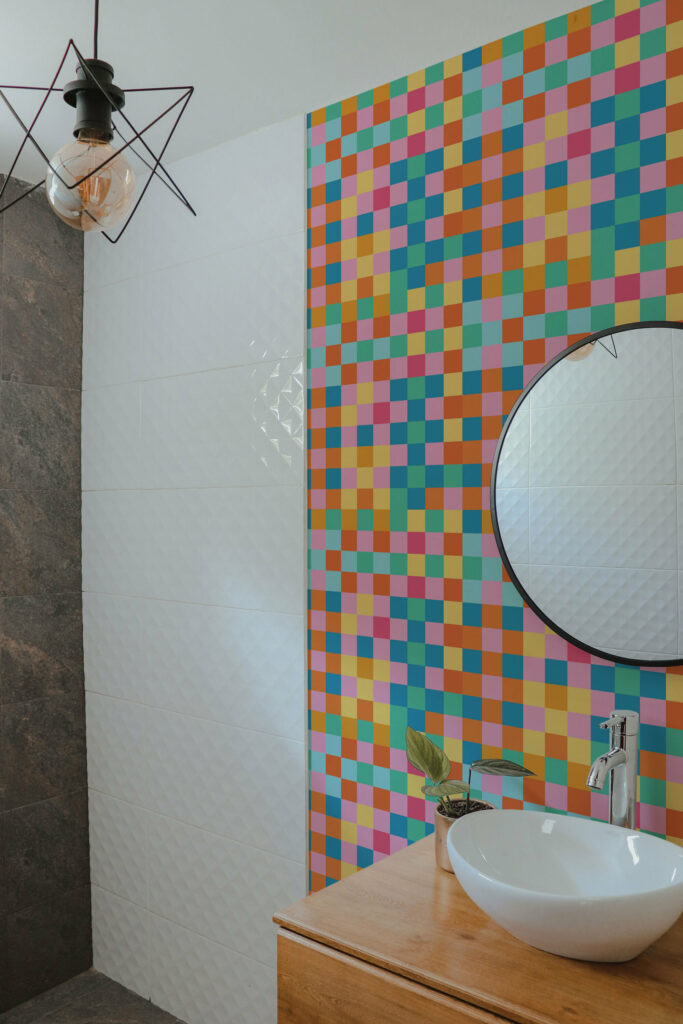 One of our newest additions is the Multicolor Check wallpaper. Its bold, colorful checkered pattern instantly infuses any space with energy and vitality. Typically recommended for kitchens, it can equally work wonders in a bathroom. One of our customers has creatively applied it around the sink area from top to bottom, seamlessly connecting with white and gray tiles on the side. Its lively colors perfectly offset the sleek round mirror above the sink, proving that bathrooms can be anything but dull.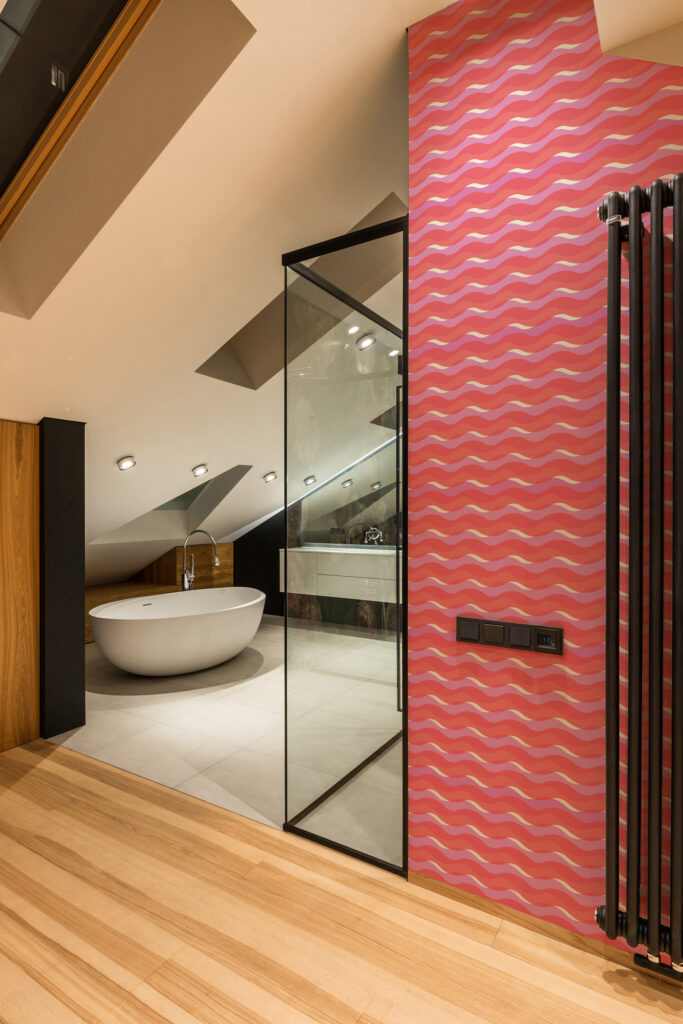 Attic bathrooms present unique design challenges due to their sloping ceilings and compact spaces. However, our Transparent Wave peel-and-stick wallpaper makes the most of these peculiarities. Its elegant pink and red wavy pattern offers a touch of modernity while maintaining a light, airy feel, ideal for making smaller spaces appear more prominent. Placed next to the entrance area, the design elegantly frames the light switches and adds depth to the space. Though it's a design typically suited for living rooms, our customers demonstrate that pushing design boundaries can yield stunning results.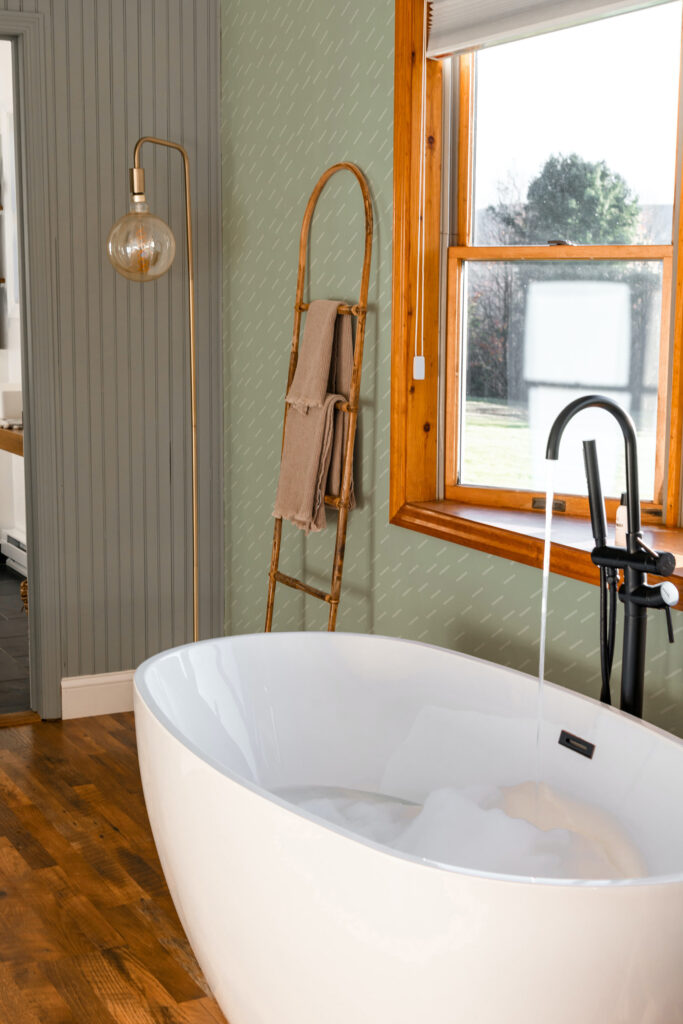 Our customer has blended our peel-and-stick wallpaper with a mix of wooden tile flooring and gray wall panels to create a serene sanctuary. The sage green wallpaper adorns the wall hosting a window, offering a calm contrast to the white bathtub with its black tap. The wallpaper's delicate hue, combined with the room's natural elements, creates an atmosphere of tranquility, proving that our wallpapers can transform even the most mundane bathrooms into personal spas.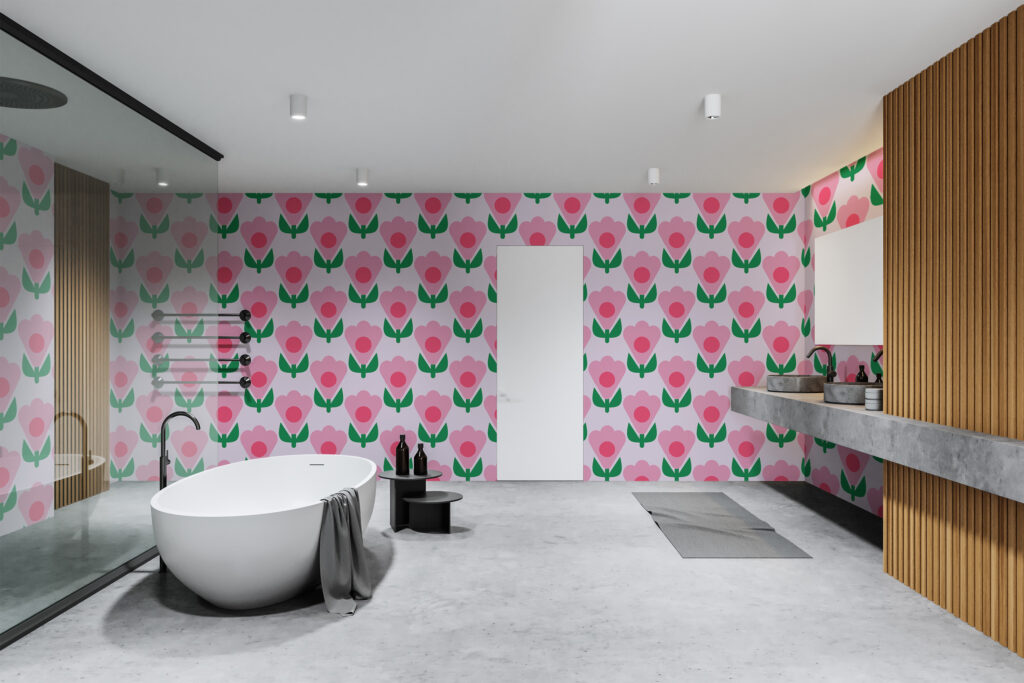 In larger bathrooms, making a statement is vital. A large bathroom morphs into a vibrant sanctuary with our Pink Flowers wallpaper. The geometrically arranged pink flowers with green leaves offer a trendy splash of bold color. This design was used in a spacious bathroom featuring a large shower cabin and bath, with the sink on a stone countertop along the right side of the room. The pink flowers stand out against the stone, creating an invigorating contrast that adds personality to the room.
Maintaining our Peel and Stick Wallpaper
As always, the installation process remains simple and forgiving, allowing you to reposition and reapply the wallpaper up to 24 hours after the initial application. Ensure that your surface is dry and clean for the best results. Cleaning your wallpaper is just as easy: use a damp, soft, non-abrasive cloth or sponge. For more stubborn stains, a little soapy water can do the trick.

Our customers continue to impress us with their creativity and boldness in incorporating our peel-and-stick wallpaper into their bathrooms. With the right design and inspiration, any bathroom can be a canvas for stylish expression. Embrace the possibilities today!
Are you ready for some peel and stick action?
While there are some things to take into consideration when using peel and stick wallpaper in a bathroom, it still remains one of the most practical solutions for a bathroom redesign project. With an easy application process and tons of beautiful designs to choose from, you can be sure that your newly redesigned bathroom will spark joy whenever you are in it!
with Peel and Stick wallpaper for bathroom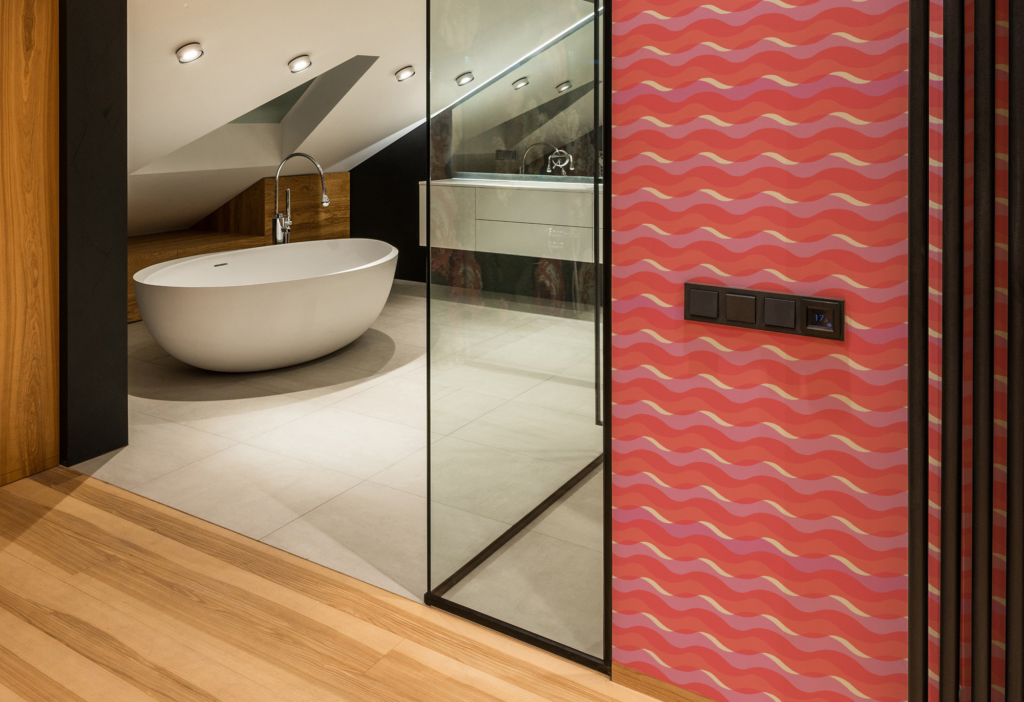 Loving the content on our 'Fancy Walls' blog?
Sign up to our free, monthly newsletter! You'll hear about our latest wallpaper designs, and the most recent design trends!