Spring is here, and it's a great chance to add some vivid colors and patterns into our everyday lives!
As nature starts to wake up, many of us are getting the feeling of a fresh start and dreaming about bringing this same atmosphere into our homes.
Although a renovation might seem like a pricey and time-consuming project at first, it has never been easier thanks to peel and stick wallpaper. Most of the time, the smallest things can make the biggest difference, and it might be the exact change your home is looking for!
This spring, one of the main trends is floral patterns. These patterns add a sense of color and character to your space. Another trend to look out for is animal-themed wallpapers, which can bring some new energy to your walls.
With so many options available, it can be overwhelming to choose the design you want to use in your home makeover. We have picked out a few of our favorite spring patterns to give you some inspiration for your next home project!
1. Spring flowers watercolor wallpaper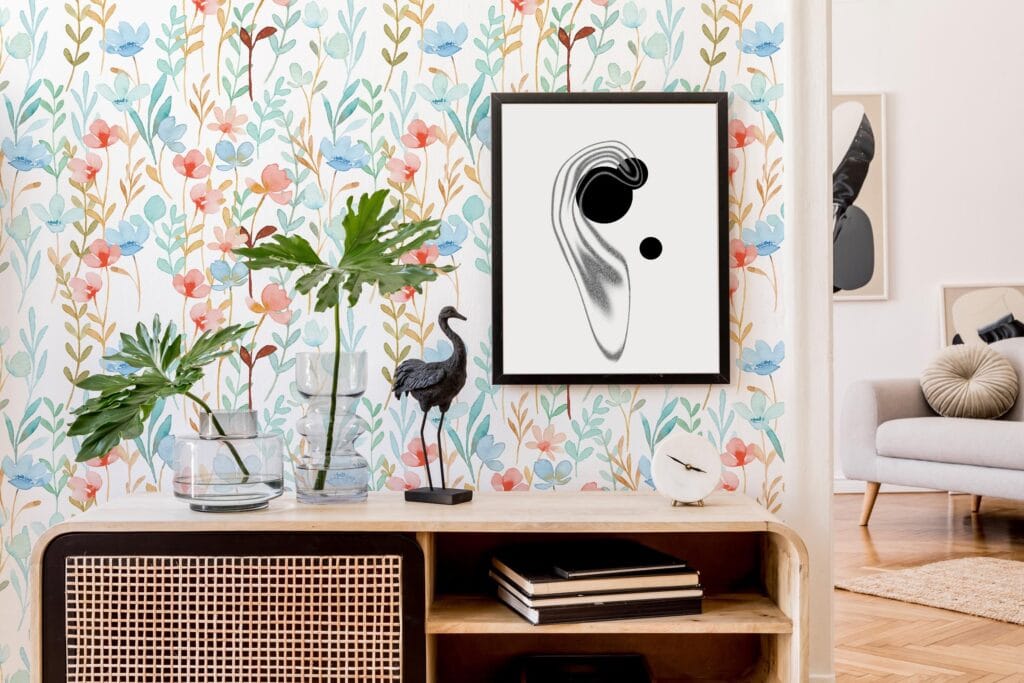 Subtle, yet powerful- this multicolor spring flowers wallpaper pattern is the perfect example of changing a plain wall into a statement piece. Adding this wallpaper to your living room will literally make it blossom! While it can work perfectly on its own, this pattern can also be combined with other more neutral interior design elements, which allows you to be creative with it or integrate it into an already-existing design.
2. Cute daisy wallpaper in blue and white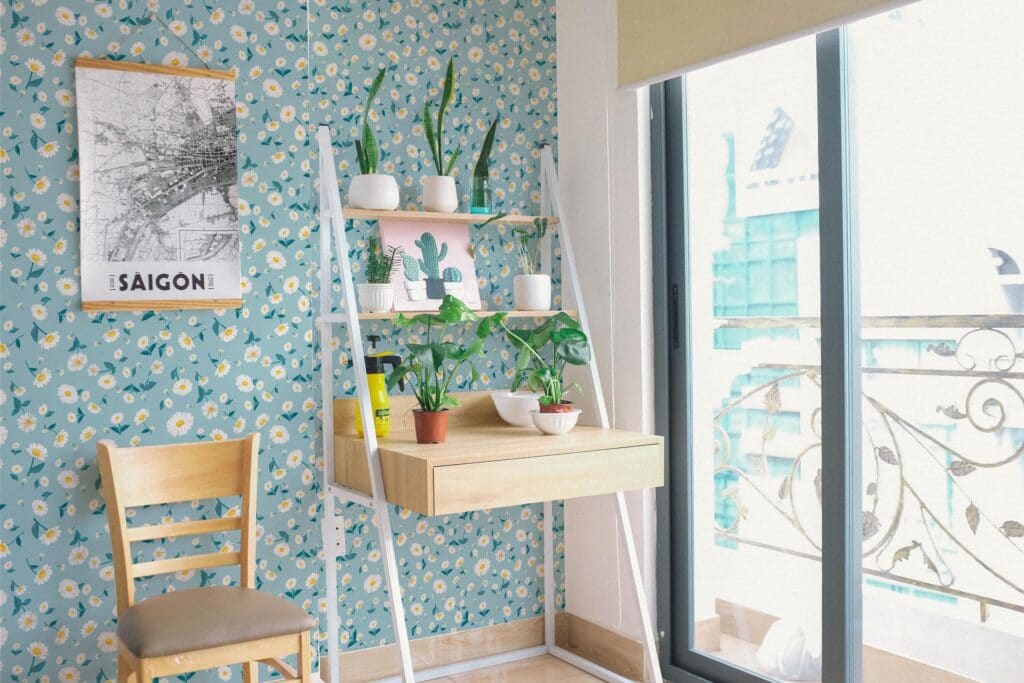 Another unique way to create a statement in your living room is with this cute daisy wallpaper pattern. This wallpaper will add a playful atmosphere to your room, creating the feeling that you've brought the blooming daisy fields from the outside – to the inside. This beautiful combination of blue, white, and yellow will create a sunny feel even on the most gloomy, rainy days. No need to worry about those darker moments anymore – it will always feel sunny in your newly redesigned room with this pattern!
3. Seamless floral wallpaper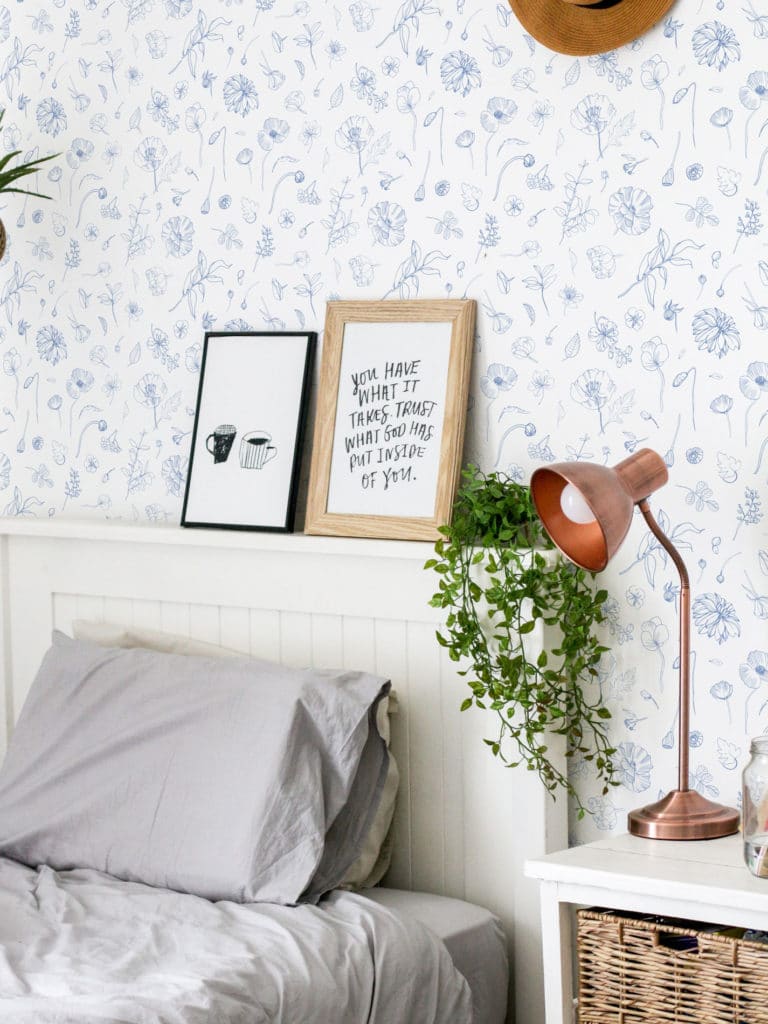 If you love floral patterns, but a more minimalist design sounds like your cup of tea, we've got something for you too. This seamless floral wallpaper can create a statement in any room, making the accent wall stand out without being too flashy. The detailed floral elements in mellow blue, in combination with the white background, make it a versatile design that works great in both modern and timeless spaces.
4. Parrot wallpaper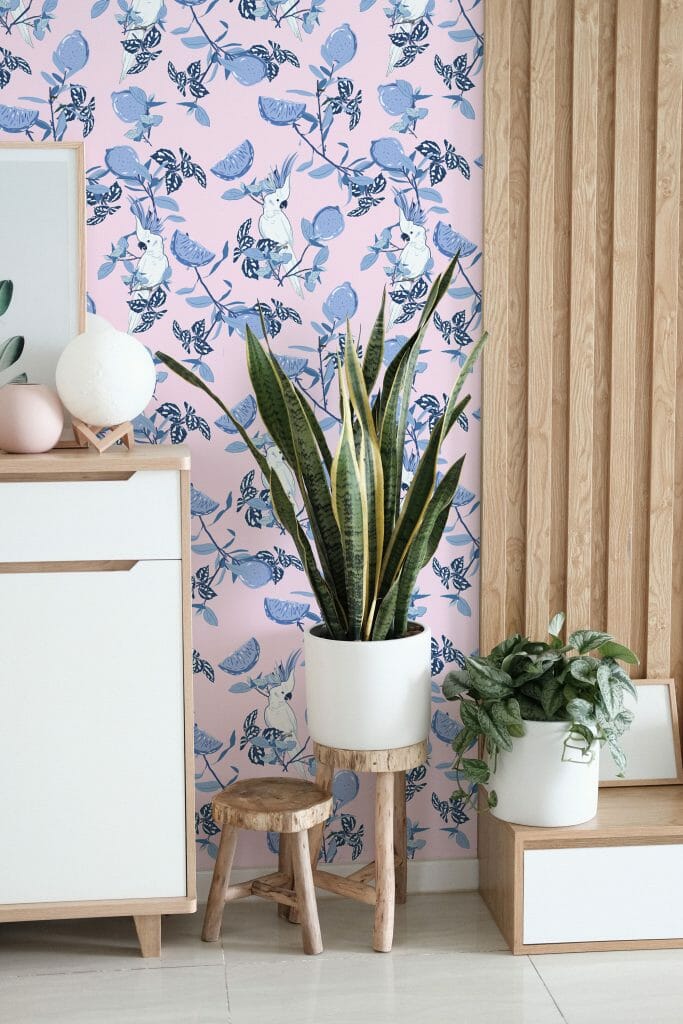 Looking for something more tropical? This pink and blue wallpaper featuring an artsy, bird pattern combines the perfect mix of elegance and detail, and will turn your walls into a piece of art! The carefully chosen colors in this design create a vibrant and playful vibe, which will definitely bring more life into your space, whether you want to use it in your powder room, bedroom or living room. The design works great on its own and can also enhance an existing space, giving it a fresh, modern look.
5. Scandinavian animals wallpaper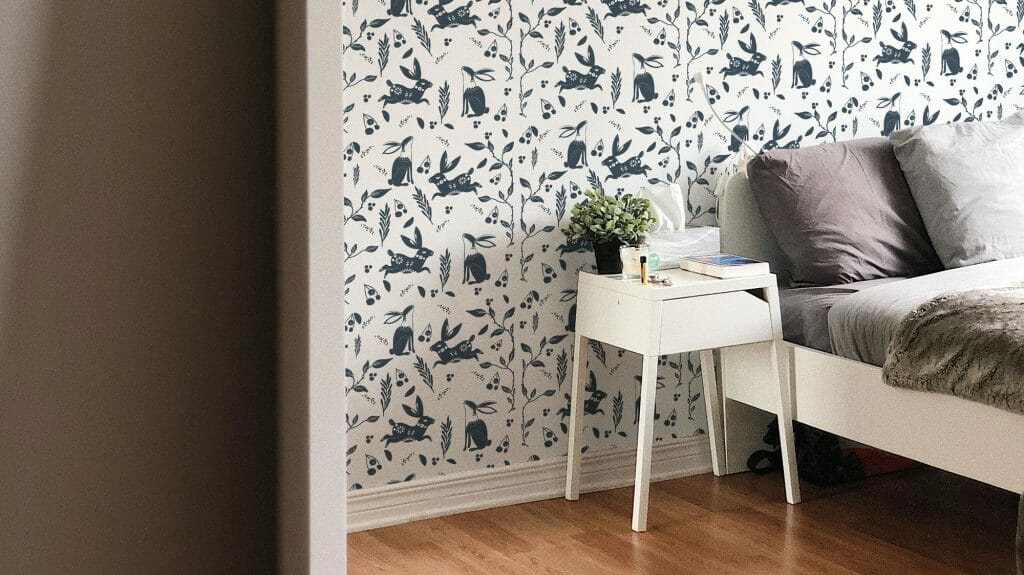 Lastly, let's take a look at another fundamental spring component that is just as essential as flowers. You might have guessed it already – it's animals! Animal patterns are becoming more and more popular, making their way into our homes one animal-themed wallpaper at a time. This Scandinavian animal wallpaper is a wonderful option for upgrading a kids' room. With beautifully designed details and simple, elegant blue and white color combinations, this wallpaper creates a timeless space, where other design elements can be adjusted or replaced over time, without compromising the overall look of the room.
While the options for redesigning your home are endless, it has certainly become much easier to change your space without having to make a huge commitment in time and money.
The biggest advantage of peel and stick wallpaper is the easy application and removal process that is done without damaging the wall underneath. Whenever you feel like the wallpaper has served its time and should be replaced with another trendy design – just peel it off and dive right into your next DIY home renovation project!
With so many patterns available, it will never be boring to improve your home and see how the very same space can take such a different form with just a tiny change. No matter which room you choose to upgrade – it is going to make your eyes sparkle every time you walk by!
Loving the content on our 'Fancy Walls' blog?
Sign up to our free, monthly newsletter! You'll hear about our latest wallpaper designs, and the most recent design trends!