Decorating a kids bedroom is a whole other level of fun. Every child is unique, and this should be reflected in the design of their room! With so many different wallpaper designs and patterns available, you can be sure to find one that fits right into your home and reflects your child's personality to the fullest. Peel and stick wallpaper is the perfect choice for a kids room as it can be easily installed and removed. Whenever you feel it's time for something new – simply replace it with another design.
It's very important to choose a wallpaper that is safe for your child's health and doesn't contain any harmful substances. All of our peel and stick wallpapers are PVC-free and printed with water-based inks, which are ECO-friendly and odorless, so you don't have to worry about unwanted chemicals entering your home.
Matching wallpaper to different personalities and age groups
Wallpaper in kids' rooms tend to change more often than in other spaces, as the child's interests are constantly changing throughout the different stages of development. This doesn't mean you have to install a new wallpaper every year, but it's quite common to change the look of a kids' room once every few years to adapt to your kid's interests at that point in time.
Children's rooms are multi-purpose spaces – it's a place where they sleep, play, learn and relax. It can be challenging to draw the line between these different activities, but creating a designated play corner or study area with an interesting wallpaper can distinguish playtime from studying and bedtime.
Babies
Decorating a nursery usually takes place before the baby is born. So, what should be taken into consideration when choosing wallpaper for a nursery?
A newborn's eyesight is very limited and they can only see from 20 to 30 centimeters away. As they reach the two-month mark, they start focusing on objects more and their attention is attracted to primary colors such as blue, red and yellow. At this point, they usually can't distinguish between different shades of color, but their vision tends to improve with every month.
Many soon-to-be parents still opt for a traditional nursery style and choose the option of classic blue or pink wallpaper. Kids' wallpapers designs these days, however, aren't limited to these two colors. Some parents decide to wait to find out about their baby's gender. In this case, a gender-neutral wallpaper is a great match for either a baby boy or a baby girl. In case another baby joins the family and siblings need to share a room, a more neutral color palette gives you the flexibility of adjusting furniture and decor and doesn't necessarily call for a change of wallpaper.
Toddlers
By the time children reach the ages of 1 to 3 (also known as the 'toddler' stage), their vision has improved, they start to learn how to walk and talk, and are more independent each day. They become more active, and more interested in exploring everything that's around them. As a result, it's important to make sure they have a space where they can relax, but also be on the move.
At this age, children develop preferences for certain shapes and colors, so don't be afraid to involve your kid in the wallpaper choosing process.
Preschoolers
Many children between the ages of 3 and 6 spend their days at kindergarten, where they learn important social skills and are exposed to many new experiences. At this age, kids tend to spend more time in their bedrooms when at home, playing and reflecting on their daily encounters. They are more interested in their surroundings and usually have developed a taste of their own.
Cars, airplanes, dinosaurs and other animals are quite popular amongst boys, while girls are more interested in unicorns, fairytale elements, cute animals and flowers. There are no limitations to specific colors for boys and girls, so kids should pick whatever they like best (with a bit of help from their parents, of course).
School kids
When kids start school (between the ages of 5 and 6), they encounter many new situations outside of their comfort zone. Kids become more self-aware and start to develop personalities and opinions of their own. As they get older, they get more independent, and want to be more involved in the decision-making process, including the design of their room At this stage, their room is no longer just a place for studying and sleeping. It becomes a place where you invite friends over and have fun together, so choosing a wallpaper design is a much more conscious decision for a school kid. It's common to choose a wallpaper that features their favorite characters, activities or geometric shapes.
Now, let's take a look at 5 fun wallpaper designs that would be the perfect addition to your kids' bedroom!
Decorating a nursery with baby animal print wallpaper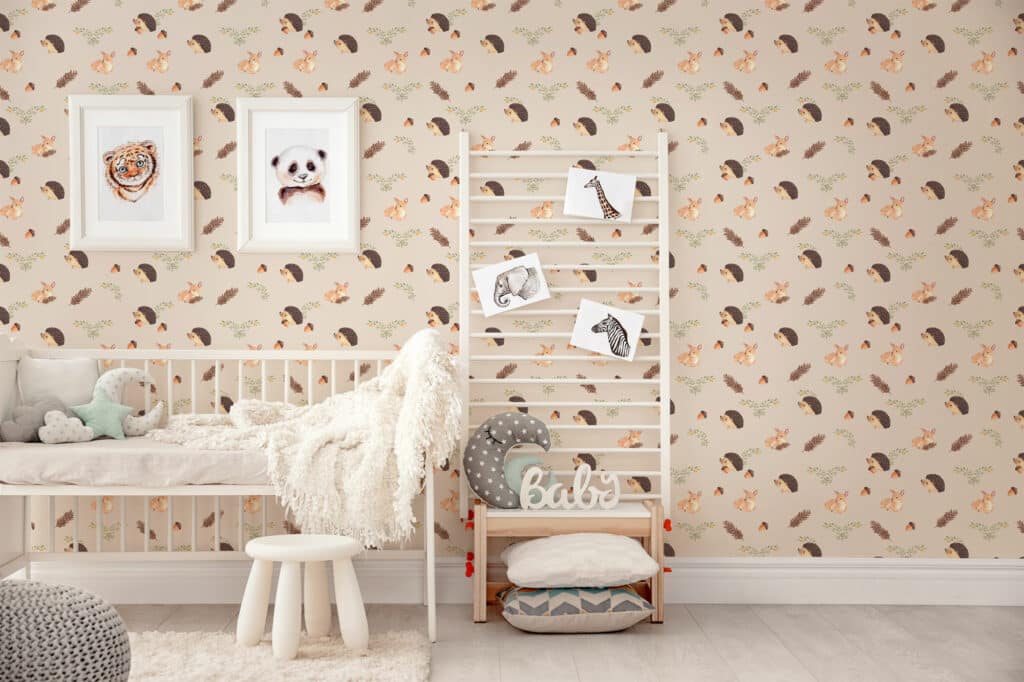 This forest animal wallpaper is the perfect example of a gender-neutral design. The cute and exciting pattern is balanced out by calm, brown and beige tones! The design makes the room light up instantly, offering a feeling of warmth and comfort. As babies gradually learn to discover more details, they will notice the contrast between the dark hedgehogs and the light bambi's. What a wonderful way to discover the world – through animals and nature!
Multicolor dinosaur wallpaper for a toddler's room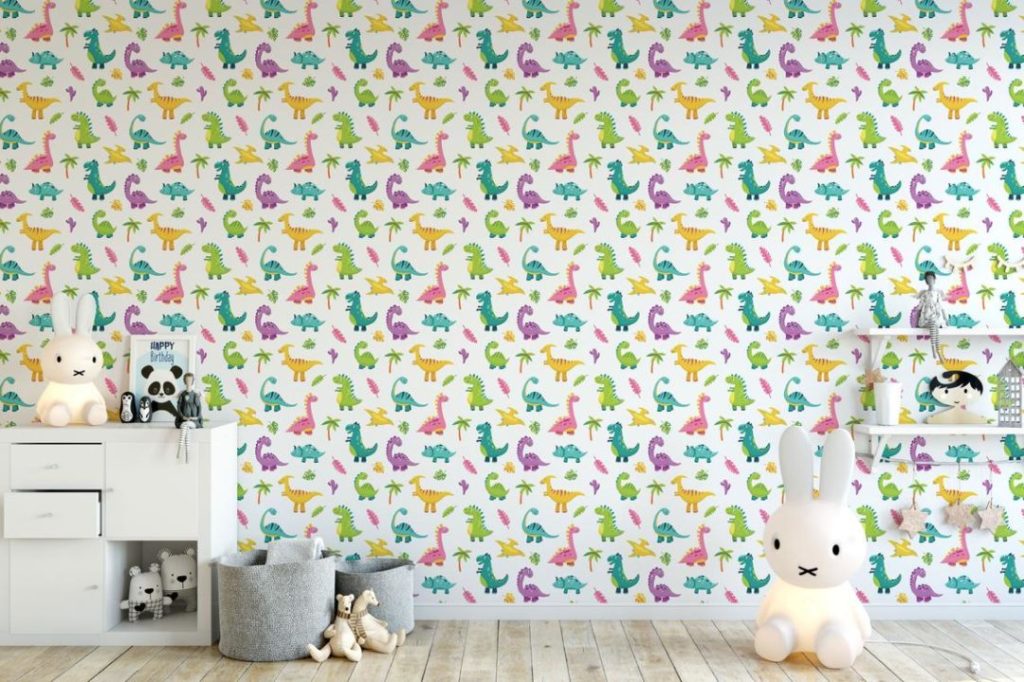 Toddlers are explorers by nature, and their attention is easily drawn to bright colors. They are often at times running wild, and so is their fantasy. Toddlers like to play with everything they see, not just toys. This multicolor dinosaur wallpaper features various dinosaurs in vivid colors, and is the perfect design to spark your child's imagination. A colorful and fun pattern like this one can easily become an important part of their playtime, stimulating their imagination, and helping them to become more independent.
Spark your child's curiosity with geometric wallpaper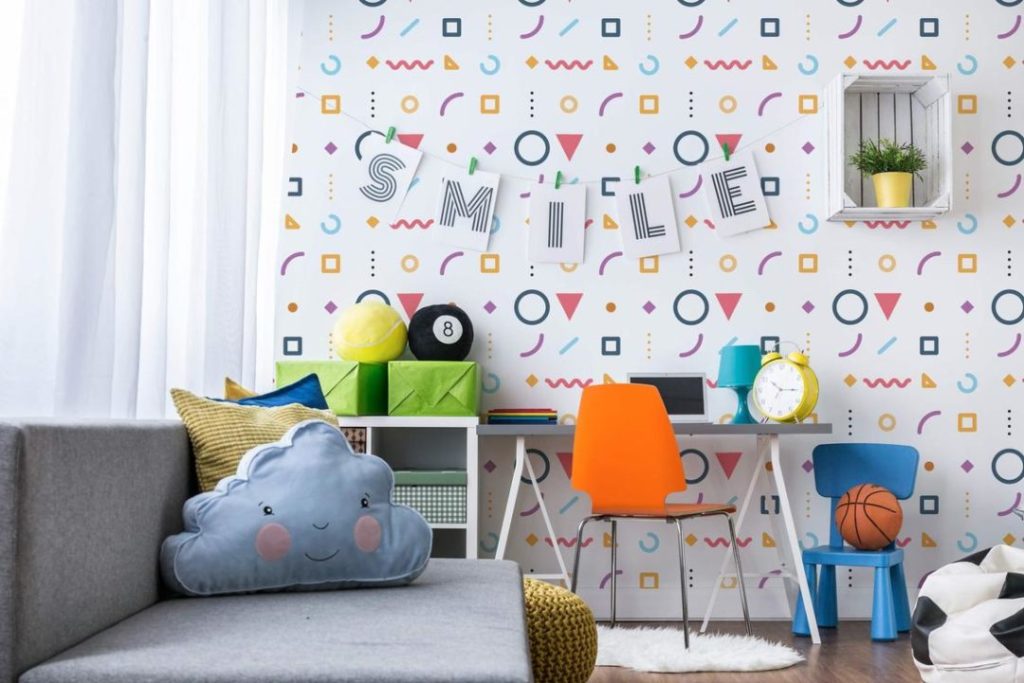 Our beautiful memphis wallpaper has paired funky geometric elements with a clean, white background. It's fun and carefree, but can still easily be matched with other elements in your room. A geometric wallpaper design can teach your kids more about shapes, and encourage them to explore where these elements can be seen in the real world. This wallpaper design can be easily combined with other colorful pieces of furniture, as the pattern itself incorporates many different colors and would help tie the whole look together.
This wallpaper is also the perfect canvas for some wall art. Think of all the artwork your kids bring home from kindergarten or school. This wall could be a great chance to showcase their artistic skills!
Learning letters with an alphabet wallpaper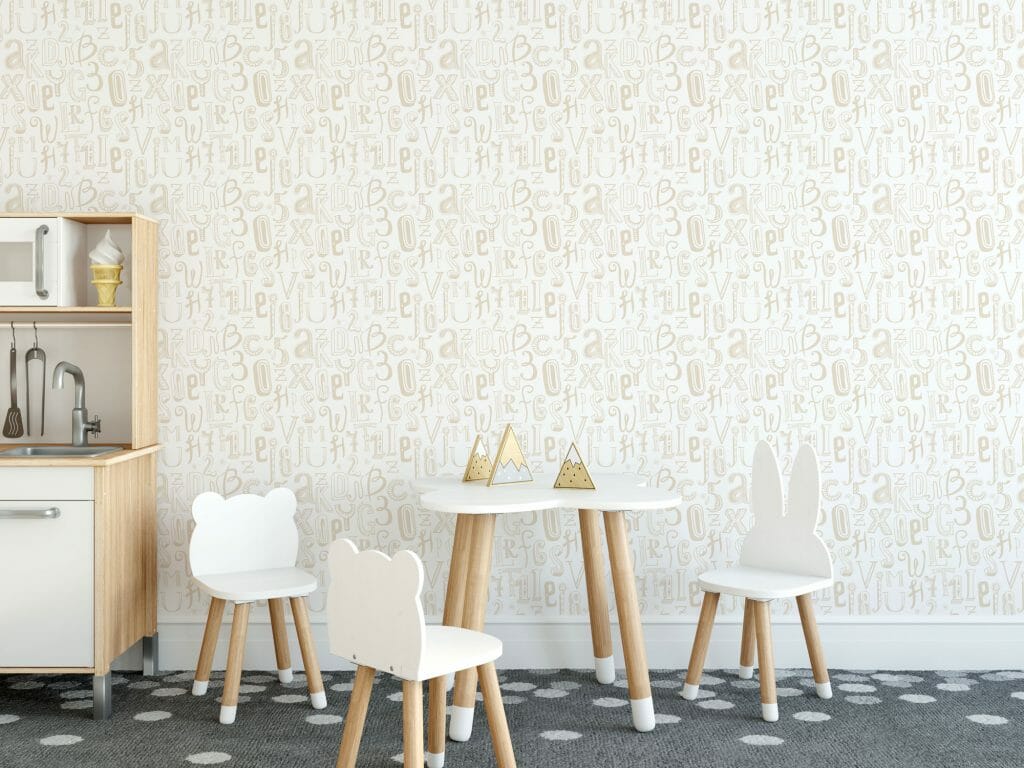 When kids start learning new things, repetition is an important part of the learning process. This alphabet wallpaper is the perfect learning tool. What better way to teach your kid the alphabet than having it on their walls right in from of them? The neutral color combination takes away from the busy feeling you would otherwise have when looking at such a detailed pattern. Remember, you don't have to wallpaper the whole room – sometimes creating an accent wall or a study corner is more than enough.
Show all your emotions with an emoji wallpaper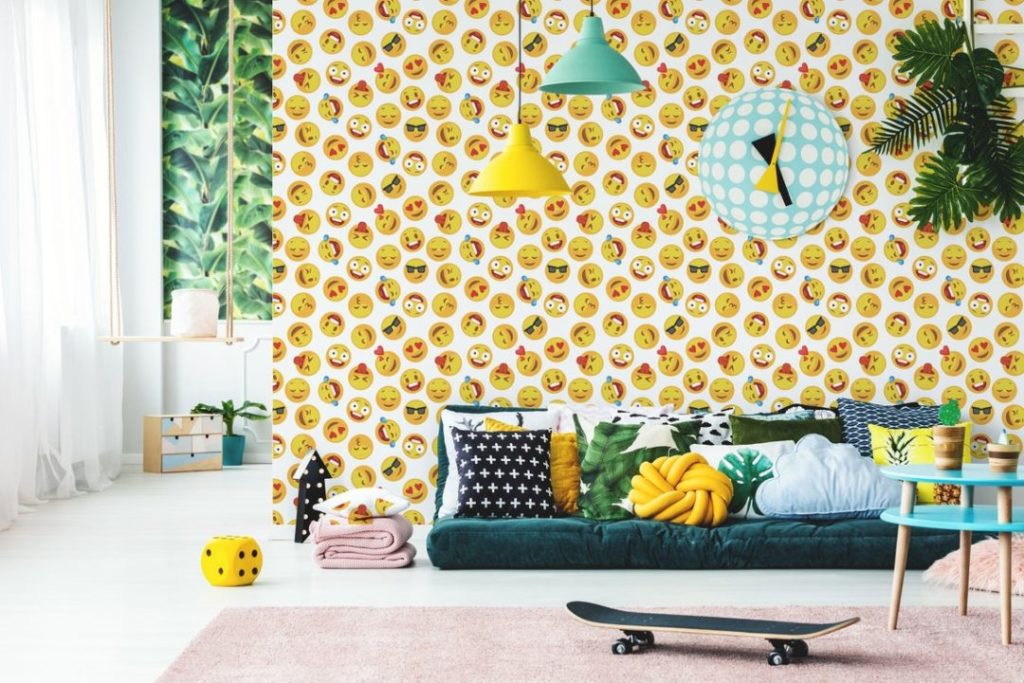 Older kids might enjoy a more trendy and "grown-up" feel in their room. Our emoji wallpaper is definitely the life of the party! It's an easy way to upgrade a room for your kid, allowing them to get creative and show some personality. We recommend pairing this pattern with simple furniture and using it as an accent wall to avoid an overly busy look.
Although there aren't specific rules for picking wallpaper for a kids' room, it can definitely help to know which stage of development your child is in. Knowing how your child perceives the world, depending on their age, can help you make a better choice. Whether you are planning to decorate a nursery or adding a more grown-up twist to your kid's room, our peel and stick wallpapers come in many colors and pattern variations to match every taste!
Loving the content on our 'Fancy Walls' blog?
Sign up to our free, monthly newsletter! You'll hear about our latest wallpaper designs, and the most recent design trends!