Boho has been around since the 19th century. Over time, it has earned a steady place in the world of interior design. It's no surprise as it's one of the few design styles that has adopted a "more is more" philosophy, allowing your most adventurous interior design fantasies to come to life. There aren't any specific rules when it comes to creating a boho look. You can easily combine an earthy color palette (whether it be shades of beige, brown, or green) with floral patterns and geometric motifs, and you'll have the perfect solution to create a unique atmosphere in your home.
Quite often, boho wallpapers are used in nursery interiors. Neutral tones and timeless patterns are a great way to decorate a gender-neutral nursery as they can easily be turned into an older child's room later on. Nonetheless, boho wallpaper designs reach further than nurseries. They've charmed their way into other parts of our homes, and the dining room is no exception. As many social gatherings take place in the dining room, creating a relaxed vibe is especially important. Bohemian wallpaper will make your favorite meals with friends and family even more enjoyable!
Create a unique boho look with one simple step
Chances are, you'll want to freshen up your interior at some point, but doing a full renovation might not be an option. That's where boho peel and stick wallpaper comes in. There are many ways to create a boho look, but removable wallpaper is by far the easiest and the most flexible one. General items such as furniture and lighting fixtures usually require a bigger investment and therefore aren't changed as often. Luckily, adding wallpaper is a much easier solution. There are plenty of boho peel and stick wallpaper designs available for you to choose from. Let's take a look at a few of our favorite boho wallpapers that would be a great addition to any boho dining room!
Boho modern wallpaper​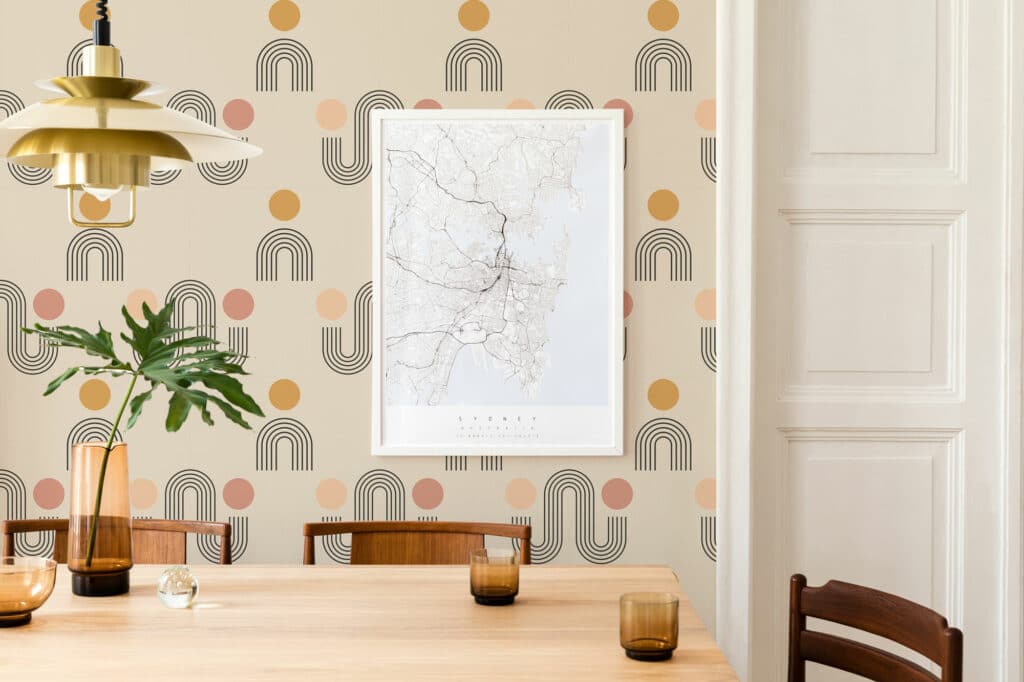 This boho modern wallpaper is a real beauty! If you're leaning towards a more neutral color palette, this wallpaper design is for you. The neutral background accented by its mellow pink and orange design is relatively simple but detailed enough to make a stunning statement in your dining room. Geometric shapes and figures are typical features in boho interiors, and they add visual interest to the overall look of the space. This pastel boho wallpaper will instantly brighten up your dining room! Besides, who doesn't love pastels, right?
Boho aesthetic green wallpaper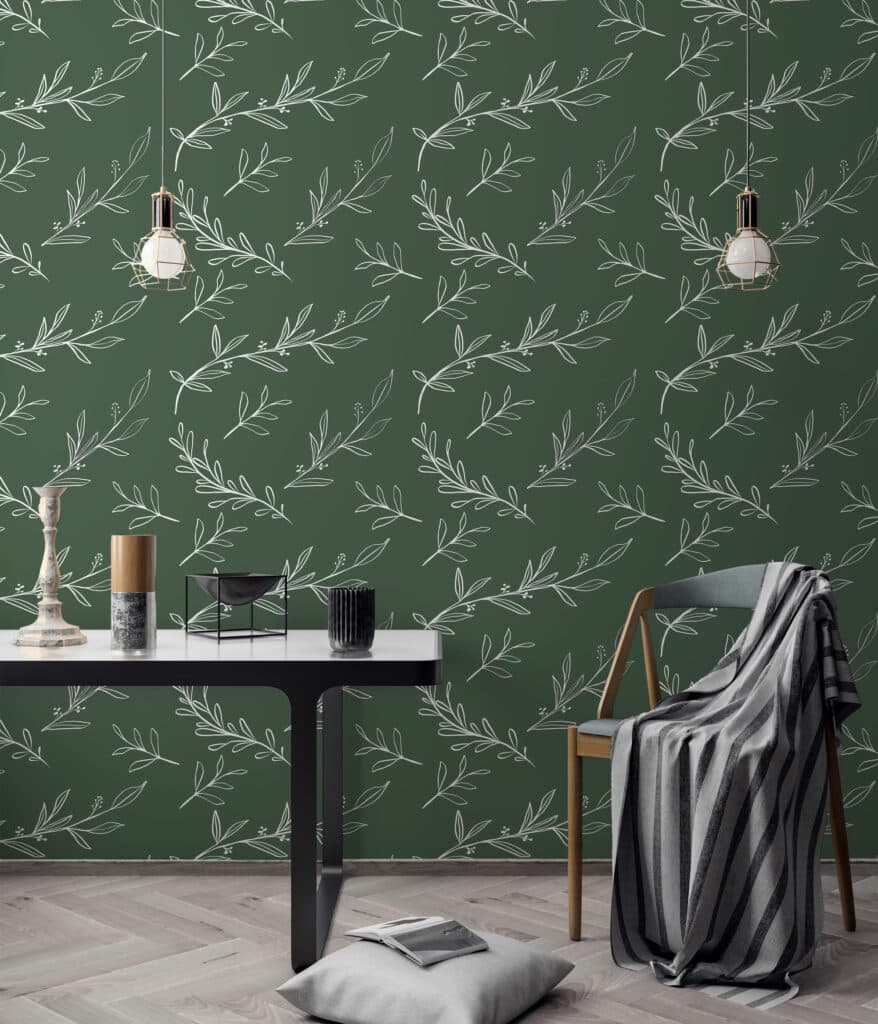 If you prefer darker shades, this green aesthetic boho wallpaper is the perfect choice for you! Add depth to your dining room and make it look more sophisticated with a seamless, detailed pattern. If your dining room is on the smaller side or lacks natural lighting, you could opt for an accent wall. Accent walls add a feeling of excitement to your interior and can tie together a color scheme. It's a good idea to make the accent wall the focal point of the room – the area to which your eye is immediately drawn. There's no doubt that this boho stunner would catch some looks when used as part of an accent wall or a full room makeover!
Ikat wallpaper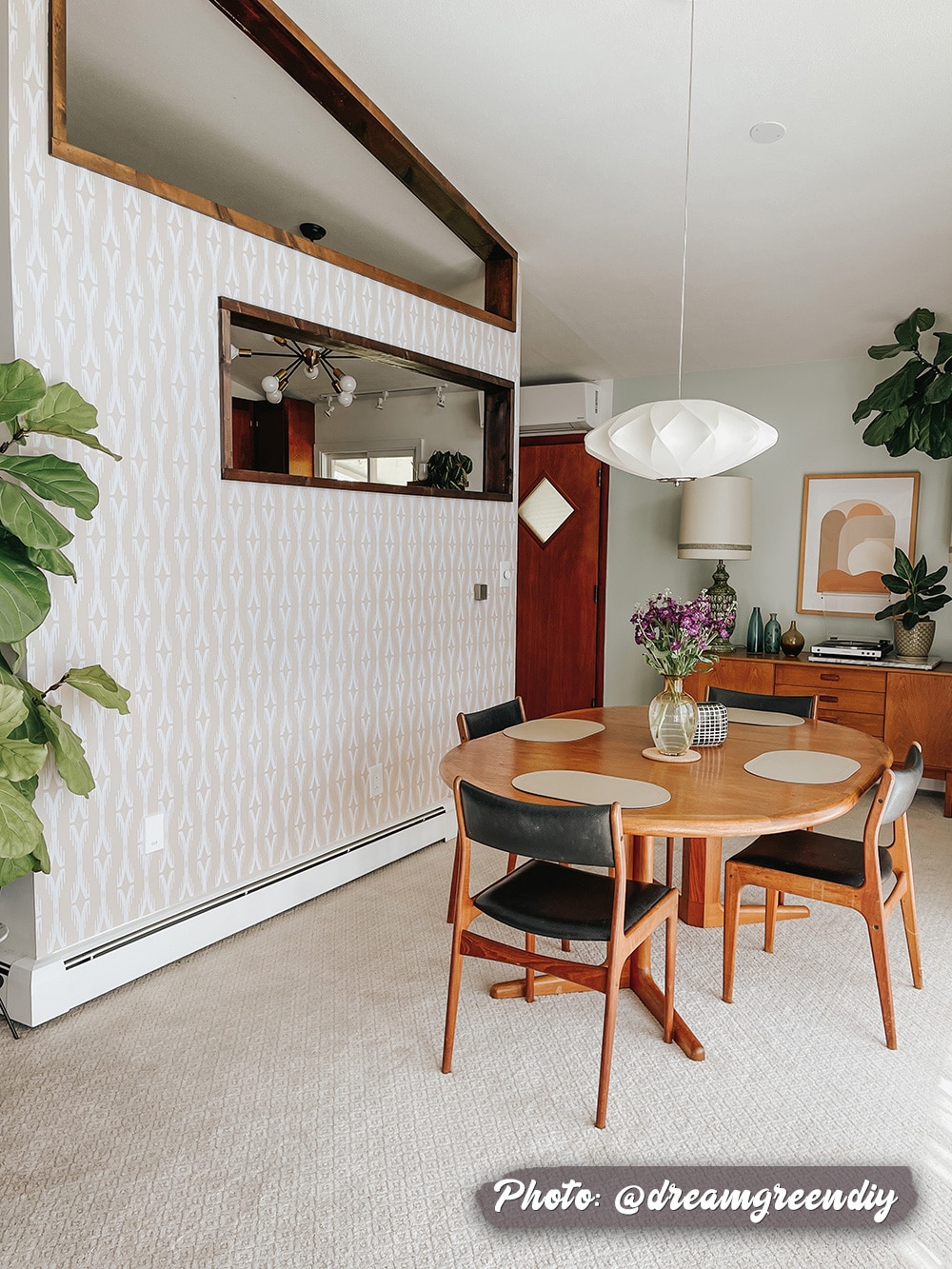 We've made it to one of our favorite boho designs – the ikat wallpaper. The ikat pattern is inspired by a dyeing technique originating from Indonesia and has melted the hearts of many design enthusiasts around the world. Even though this wallpaper design is rather neutral – both in color and pattern, it adds just the right amount of charm and visual interest to the room.
We recently had the pleasure of teaming up with Carrie (from Dream Green DIY). She created a stunning feature wall in her dining room using our ikat peel and stick wallpaper. In her blog post, she describes the application process from A to Z, giving you a great insight into the process of a full DIY wallpaper project. Her dining room already looked stunning before the makeover, but the new boho feature wall is the cherry on top!
Boho aesthetic neutral wallpaper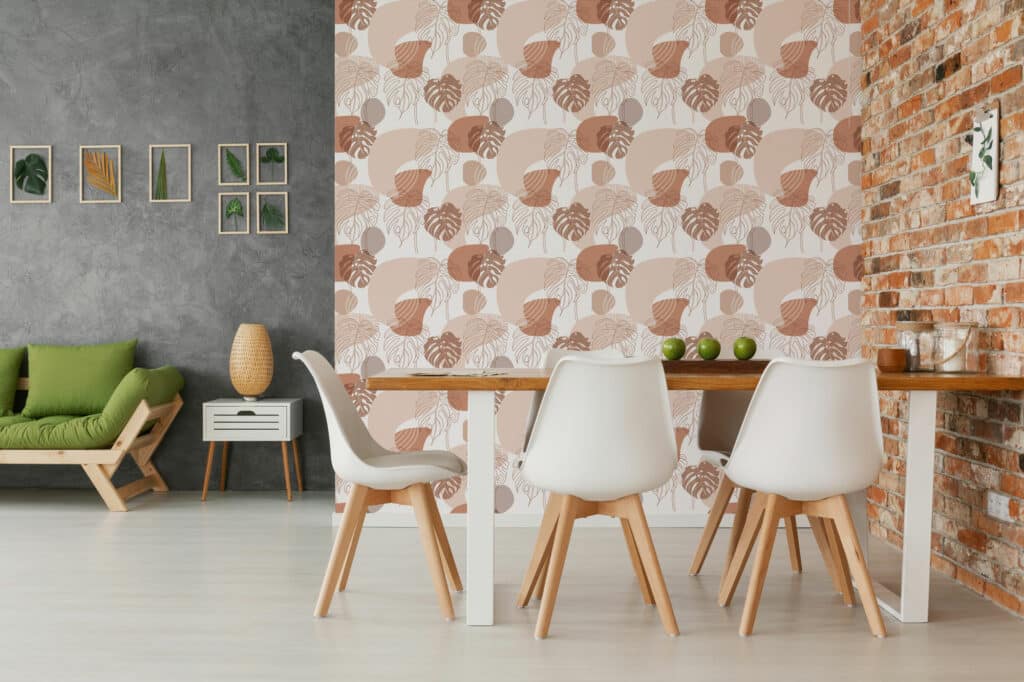 Last, but not least – let's not forget about nature-themed designs. Flowers and leaves are a fundamental part of any boho design. With this boho aesthetic neutral wallpaper, you can add a part of nature to your home. The neutral color scheme allows you to combine it with more bold design items such as colorful furniture or wall art. Following the "more is more" mindset, you can spice things up and pair this wallpaper with other patterns or solid-colored walls in darker shades. If you're planning to decorate an open-plan dining room, arrange your furniture away from the wallpapered wall. That way, the space feels more welcoming and you can fully enjoy your new wall decor.
Finding a unique recipe for your interior can be challenging at times, especially when it comes to shared spaces within your home. Remember, the only rule about the boho style is that there are no rules. You can let your imagination run wild, and fill your home with plants, soft furniture, and bright patterned cushions. Experiment with patterns and layers to create your one-of-a-kind bohemian-style dining room. Even though there are no strict guidelines, don't go overboard and wallpaper every flat surface in the room. Just like with anything in life – balance is key.
We hope this blog post has inspired you to explore boho peel and stick wallpaper designs and give your dining room the makeover it's been waiting for!
FAQ
What is boho decor?
Boho decor, short for Bohemian decor, embodies an eclectic and free-spirited decorating style, drawing inspiration from various cultures, artistic expressions, and unconventional design elements. This style features vibrant colors, rich textures, and a mix of vintage and contemporary pieces to establish a warm and inviting atmosphere.
What is boho decorating style?
Boho decorating style celebrates individuality, creativity, and a passion for unconventional beauty. It blends elements from different periods, cultures, and design aesthetics, creating a unique and personal appearance. Layering textiles, using bold patterns, incorporating natural elements, and displaying eclectic and artistic pieces are key features of this style.
How to decorate your room in boho style?
Embrace vibrant colors: Opt for bold hues and rich patterns on your walls, curtains, and upholstery.
Layer textures: Combine various materials, such as knitted throws, embroidered cushions, and jute rugs.
Incorporate natural elements: Include plants, wooden furniture, and other organic materials in your space.
Display eclectic artwork: Showcase favorite pieces like vintage posters, tapestries, or wall hangings.
Curate a collection: Arrange personal items, like travel souvenirs or unique antiques, in a visually appealing manner.
Loving the content on our 'Fancy Walls' blog?
Sign up to our free, monthly newsletter! You'll hear about our latest wallpaper designs, and the most recent design trends!