Interior design and fashion trends are changing faster than ever, and it might often seem that it's all about flashy colors and bold patterns. But if there's one thing that has stood the test of time and remains a timeless must-have, it's the elegant duo of black and white. It's no wonder many people choose this color scheme when decorating their homes, as it comes with many advantages. It's a great choice if you want to play it safe and keep it simple. Black and white wallpaper never goes out of style, and you can easily combine them with more colorful interior design elements if you feel like adding a splash of color.
At the same time, you can create a stunning look with a simple black and white wallpaper in a bold pattern. In some cases, colorful patterns can be too busy and distracting for the eyes. The same design in black and white may give just the right amount of visual interest and creates the 'wow effect' you're looking for.
Picking the right pattern for the right room
There aren't any limitations or rules when it comes to choosing where to use black and white wallpaper. However, a black and white bathroom is a true classic. Bathroom makeovers are often overlooked as it's primarily a functional space. But functional and stylish don't have to be two separate things! Even if you don't have the luxury of a huge bathroom, you can turn your little spa corner into a masterpiece with the help of black and white removable wallpaper!
Black and white wallpaper for the bathroom comes in various styles and patterns, so everyone can be sure to find something to their liking. From classy, geometric patterns to playful, floral motifs and charming, vintage designs, black and white bathroom wallpaper is something to keep an eye on. Let's take a look at some of our favorite black & white designs that would be perfect for a bathroom makeover!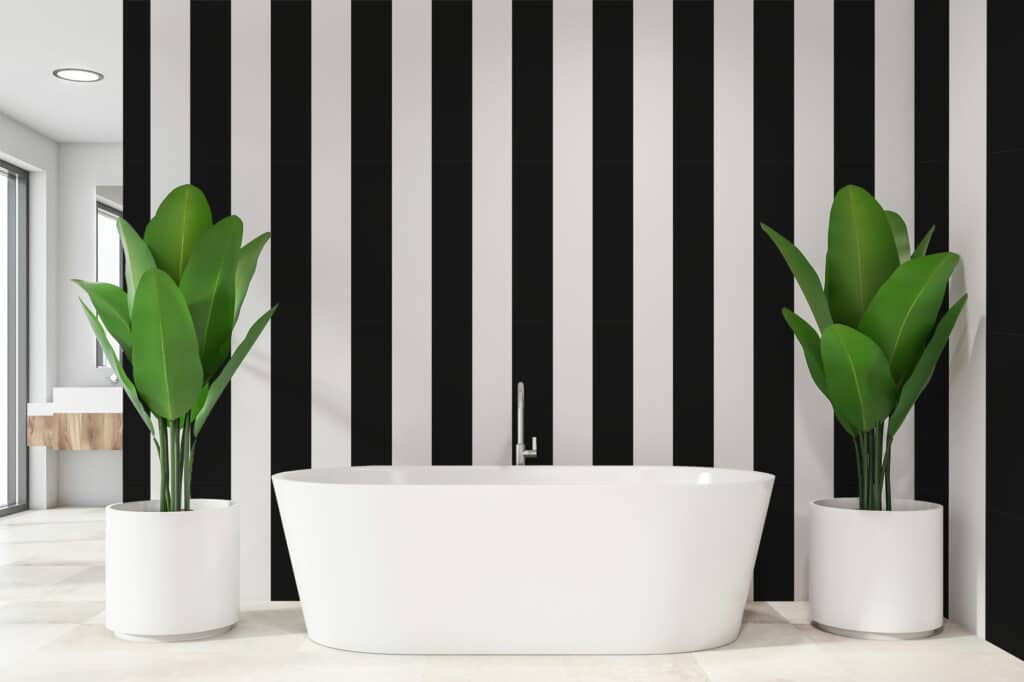 Stripes are perhaps one of the most versatile patterns. They are the perfect addition to any type of bathroom, and there are so many variations available such as horizontal, vertical, thick, and twisted (just to name a few). Our seamless striped wallpaper is simple, yet beautiful. Vertical stripes tend to create an illusion of space and often make the ceilings look higher, which is perfect for small bathroom makeovers. If your bathroom is more spacious, consider creating a wallpaper accent wall and experimenting with bathroom fixtures and decor around it.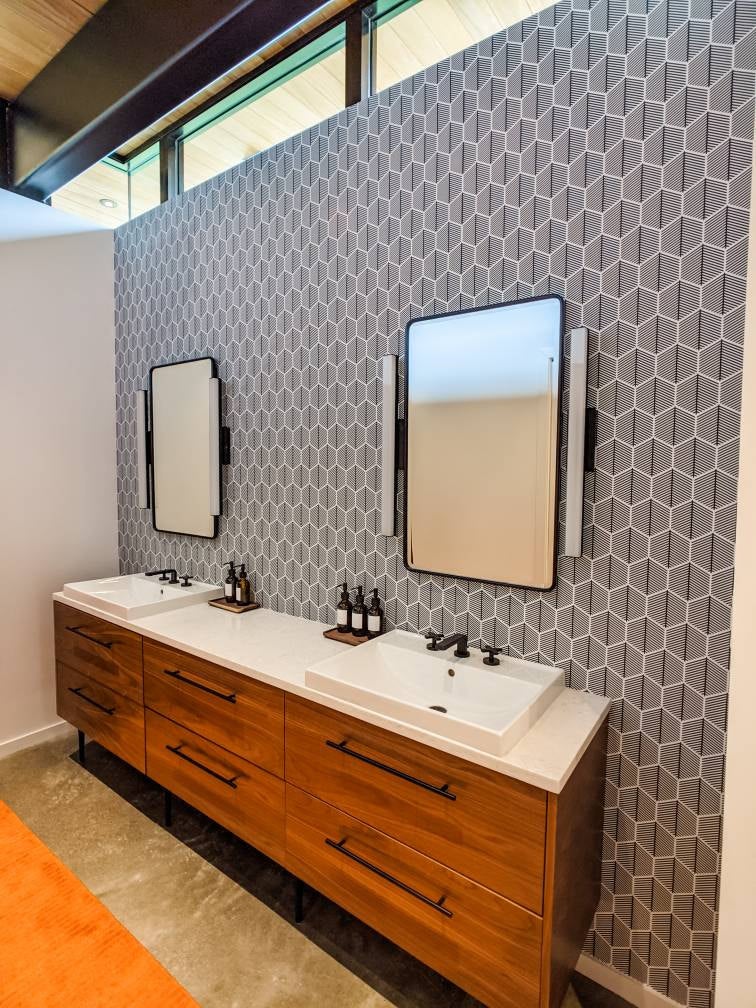 This is a stunning example from one of our customers' bathroom makeovers, using the black and white hexagon wallpaper. Geometric shapes are another classic pattern and combined with a black and white color palette, they create timeless wall decor. The seamless pattern forms an aesthetically pleasing background that matches perfectly with wooden cabinets, metallic taps, doorknobs, and mirrors.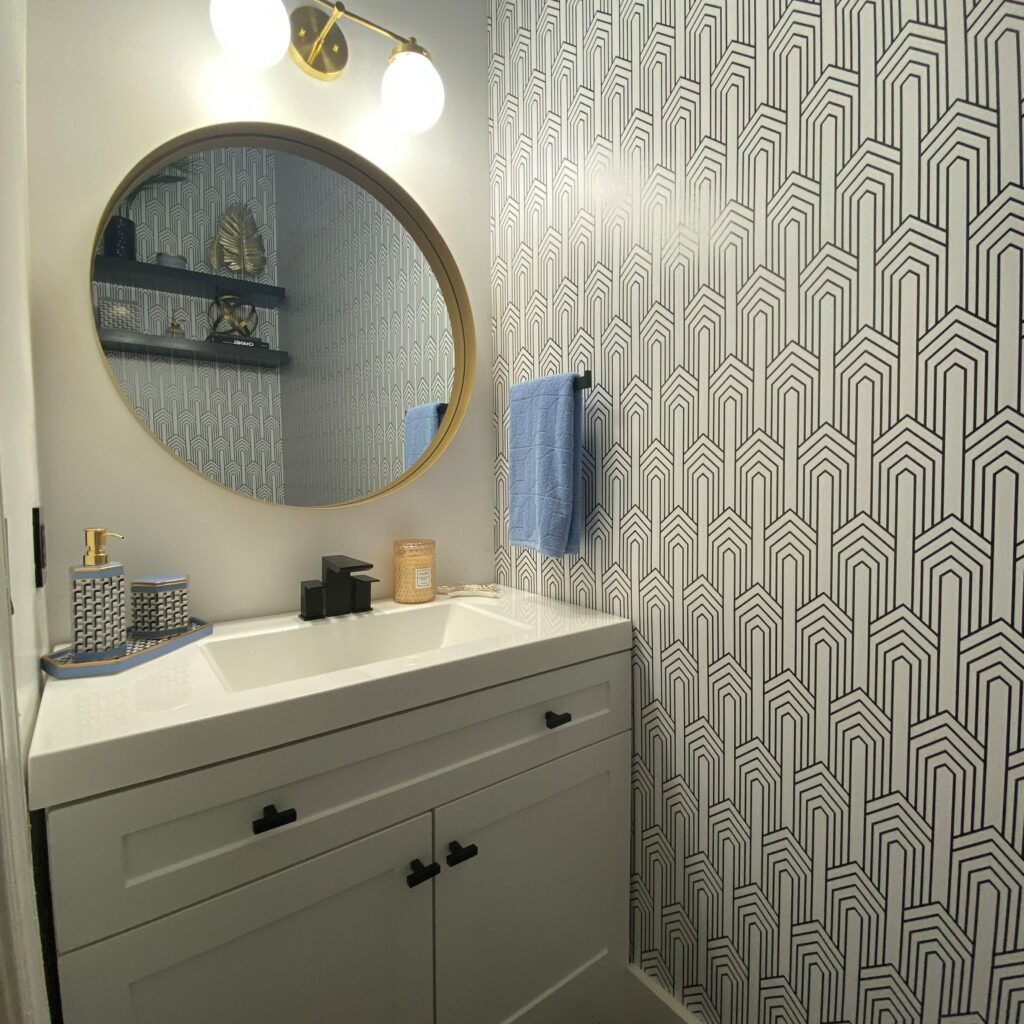 We love receiving photos from our customers! This is another wonderful example of a black and white bathroom wallpaper makeover. Bold, geometric patterns are typical for the Art Deco style, and our Art Deco arch wallpaper certainly adds a luxurious feel to this bathroom. Every single detail in this bathroom is well thought out. The mirror, lamp, soap dispenser (with golden elements), and the black, metallic tap and doorknobs are the perfect addition to a black and white art deco style wallpaper. We wouldn't be surprised if this became our customer's favorite room in their house, because we certainly love it!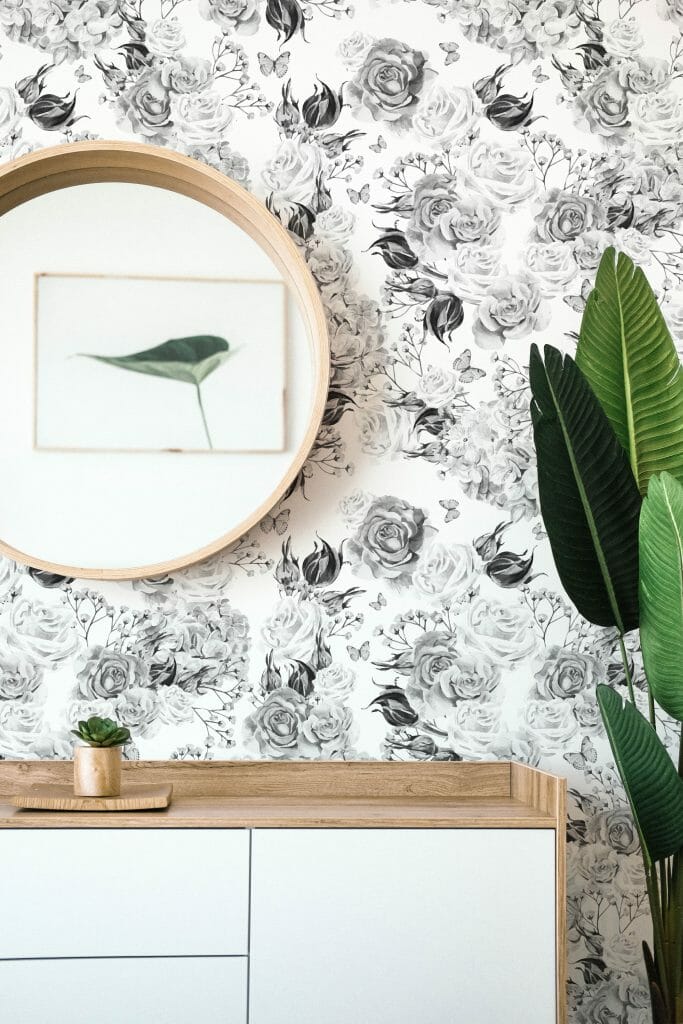 Vintage wallpaper in black and white is as charming as it gets. It's the perfect design for those looking for a dreamy vintage vibe. It might even bring you back down memory lane to a nice summer cottage you once visited. Our black and white rose wallpaper is eye-catching because of its detailed, floral pattern, but also quite simple thanks to its neutral color palette. This design would be a great fit for a bathroom that lacks natural light and feels the need for a brighter accent. Remember, the beauty of peel and stick wallpaper is that you can easily remove it whenever you want, and replace it with another stunning wallpaper design!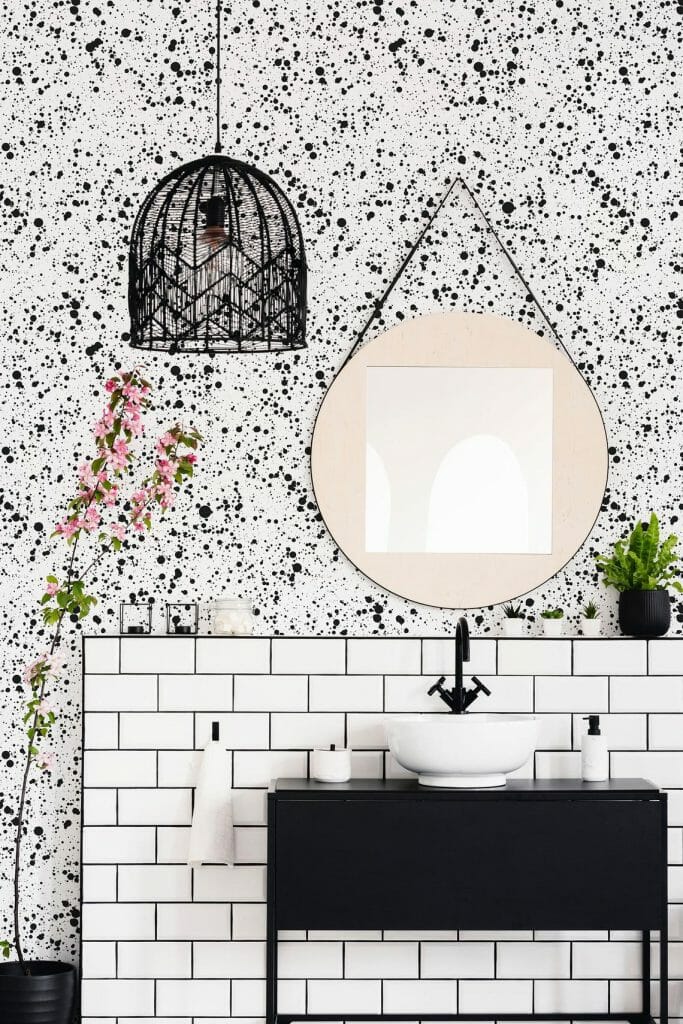 Last, but not least, we've made it to our paint splatter wallpaper. This seamless pattern combines well with modern decor and can help to tie together a look. Apart from the gorgeous aesthetic, this pattern is the perfect camouflage for water drops or soap splashes that are inevitable in bathrooms. You can always start slowly – apply it to one wall, and then progress from there. The smallest changes can make the biggest difference!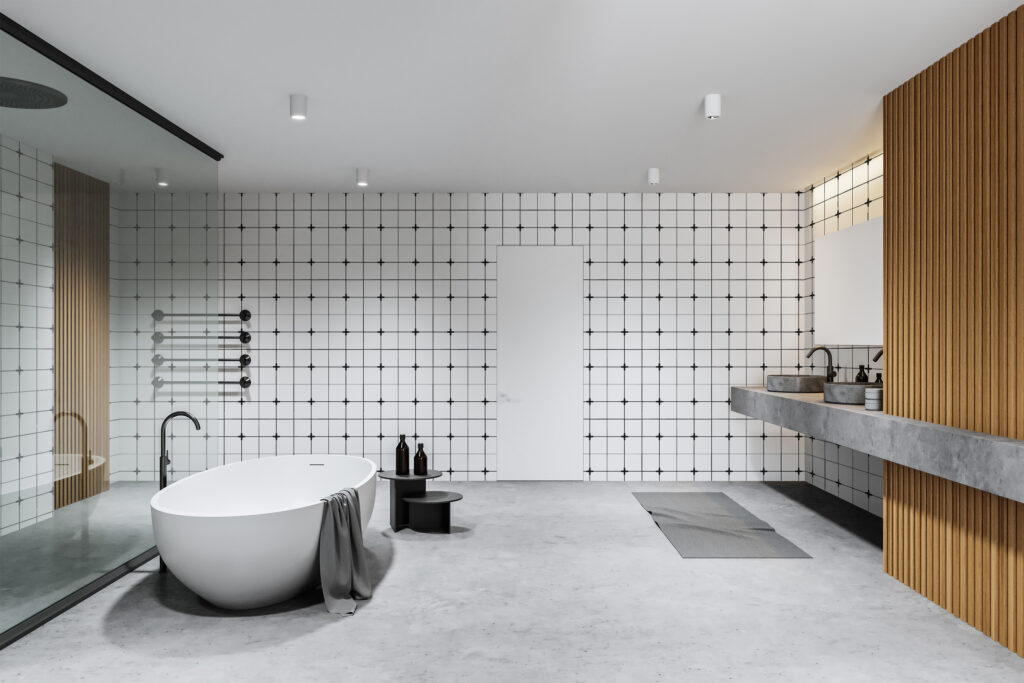 As we sashay into the second half of our designer's favorites, let us introduce you to the svelte charm of the Minimalist tile wallpaper. Effortlessly stylish, this pattern pays homage to the beauty of simplicity, a testament to the fact that less really can be more. Decked in chic black and white, this tile pattern bridges the gap between yesteryear's classics and today's contemporary sensibilities. Don't box it into just the bathroom, though. This versatile design can add a dash of panache to any room. Plus, with the option to customize the colors, you can have it whispering (or screaming) your unique style!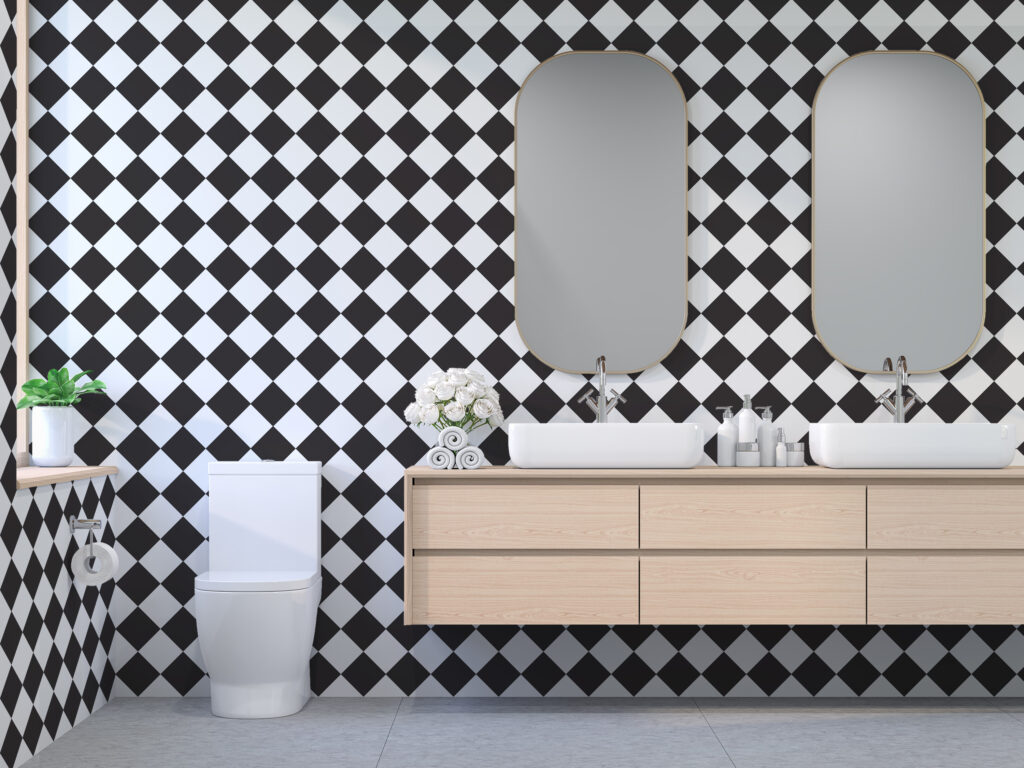 Prepare to head over heels for our next design—the Black and white Harlequin wallpaper. A delightful harmony of geometric enchantment and rustic allure, this farmhouse-style wonder is ready to woo you and your walls. Dressed in the ever-classic black and white, it creates a captivating backdrop and waits to be adorned with your choice of metallic accents or warm wooden tones. Perfect for the bathroom, it is also prepared to sprinkle its magic across your home. Remember to play with the pattern's color to match your mood or taste.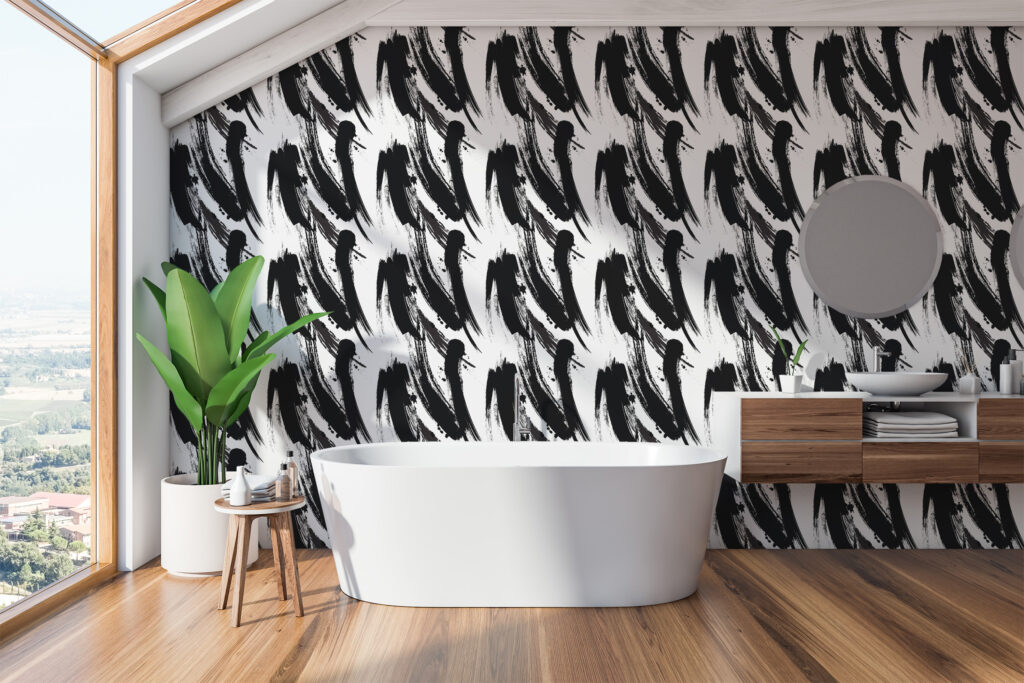 Buckle up for a design that dances off the beaten track—our Black brush strokes wallpaper. Flaunting abstract brush strokes that pack a punch, this design doesn't just adorn your wall. It tells a story. With a monochrome palette for a modern twist, it's ready to bring dynamism to your accent wall or the entire room. Bold, fierce, and customizable to your choice of color, this wallpaper is not just a design—it's an experience.
Saving the best for last, we present the Minimal lines wallpaper to you. A seamless blend of chic and cerebral, this design is an expert at optical illusions, manipulating lines to add depth and dimension. It brings a new level of sophistication to geometric patterns, making it an irresistible option for accent walls. Donning a brilliant black and white ensemble, this modern design is ready to step into the spotlight. Moreover, with the option to switch up the color palette, your space can become a canvas for your creativity.
It's safe to say that even a few sheets of black and white wallpaper can really do wonders in a bathroom. There are so many designs available that you are guaranteed to find the perfect match, and make your interior design dreams come true. The only thing you have to remember about wallpapering a bathroom is that you should avoid surfaces that are in constant and direct contact with water, such as the inside of a shower. Other than that, you're good to go. We hope you're already measuring your walls and picking out a wallpaper design for your next bathroom makeover!
Start your bathroom makeover
with Peel and Stick wallpaper for the bathroom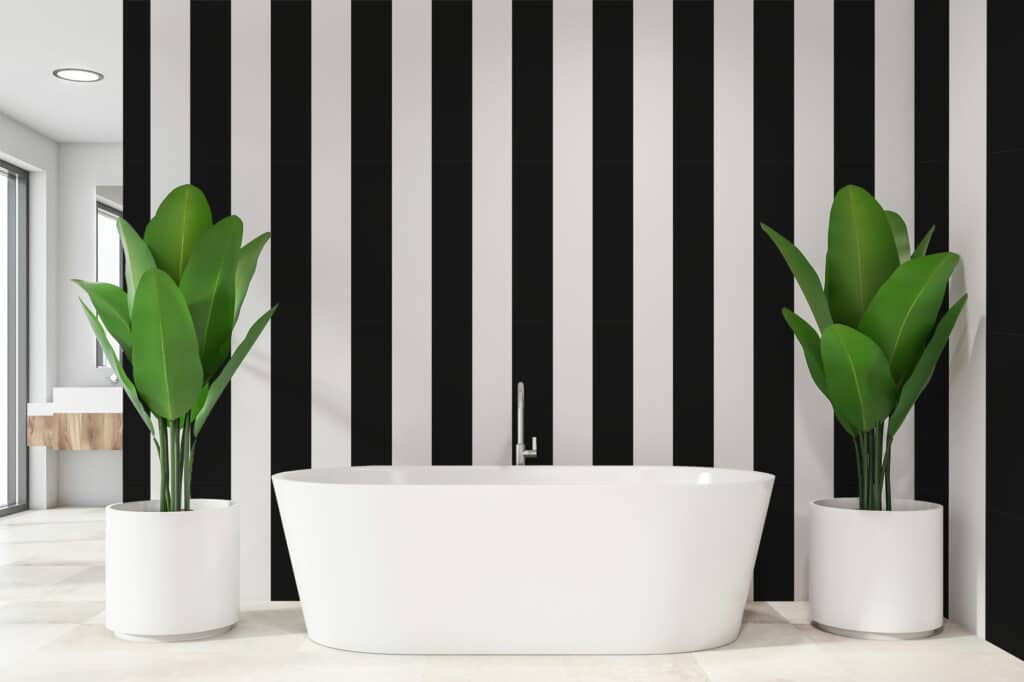 Loving the content on our 'Fancy Walls' blog?
Sign up to our free, monthly newsletter! You'll hear about our latest wallpaper designs, and the most recent design trends!