A new addition to the family is such an exciting time, filled with lots of preparation and many new responsibilities. One of the most fun parts, that usually takes place before the baby arrives, is decorating their new room. There was a time when blue rooms for boys and pink rooms for girls were the ultimate goal. These days, this trend has shifted towards a more neutral look and gender-neutral wallpaper in nurseries is winning over homes one nursery at a time.
Some parents decide to wait until the baby is born to find out the gender, while others choose to create a more universal room that can be passed on to siblings later on. Either way, creating a neutral environment where your child can learn and explore the world in their own, unique way has become an essential part of decorating a nursery.
Is removable wallpaper safe for a nursery?
When picking out furniture, decor, and wallpaper for your nursery, it's important to choose products that are safe for your baby's health. You don't want any harmful substances coming near your baby, and neither do we! That's why we've made sure that all of our peel and stick wallpaper designs are PVC-free, and printed with ECO-friendly and odorless, water-based inks. There will be plenty of things to think of when decorating a nursery, and unwanted chemicals entering your home during the process shouldn't be one of them!
Our designers aren't wasting any time when it comes to cute nursery wallpaper designs. Whether you have a certain theme in mind or you simply want to create a cozy nursery for your little one, the variety of nursery wallpaper designs won't leave you hanging. Let's take a look at 7 beautiful wallpaper designs that would be the perfect addition to a gender-neutral nursery!
Forest animals wallpaper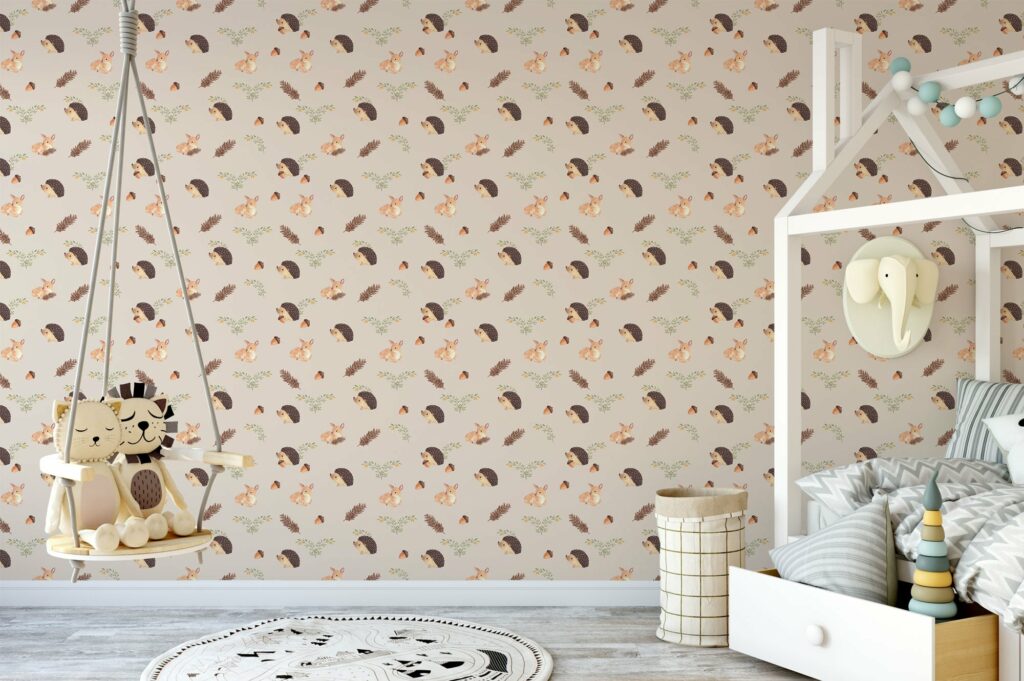 Isn't this forest animals wallpaper a cuteness overload? Its neutral color palette creates a calming atmosphere in the room, and the little bambis and hedgehogs add a playful touch. With such a versatile wallpaper pattern, there aren't any specific rules when it comes to the rest of the interior. You can stick to a simple look and choose neutral-colored furniture and decor. If you're looking to incorporate more colors – brighter decor, bedsheets, and colorful toys are the way to go!
Little trees wallpaper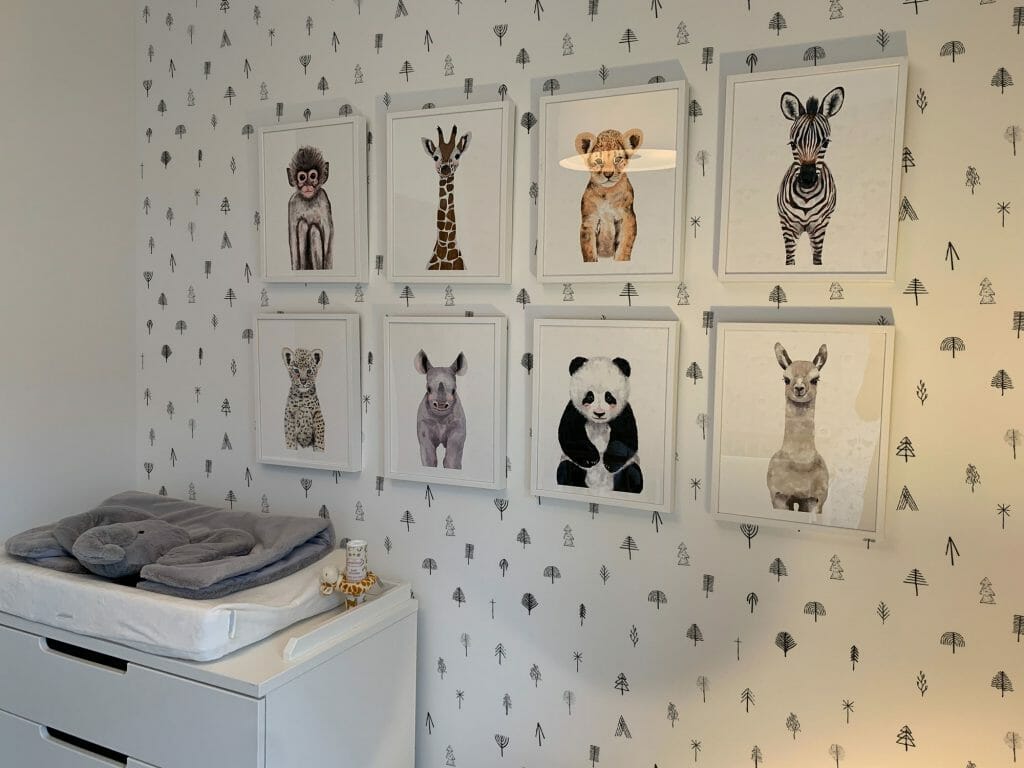 Bring a bit of nature into your nursery with this little trees wallpaper. This minimalist design has a seamless pattern that automatically adds flow to the room. It's a great choice for those who are thinking about wallpapering all four walls in your nursery. Some patterns become too busy for the eyes when they're used to cover the whole room, but this one would fit just perfectly! A monochrome color palette allows you to play around with vivid colors and helps you to add some personality to the space with smaller things, such as wall art and pictures.
Tribal bunny nursery wallpaper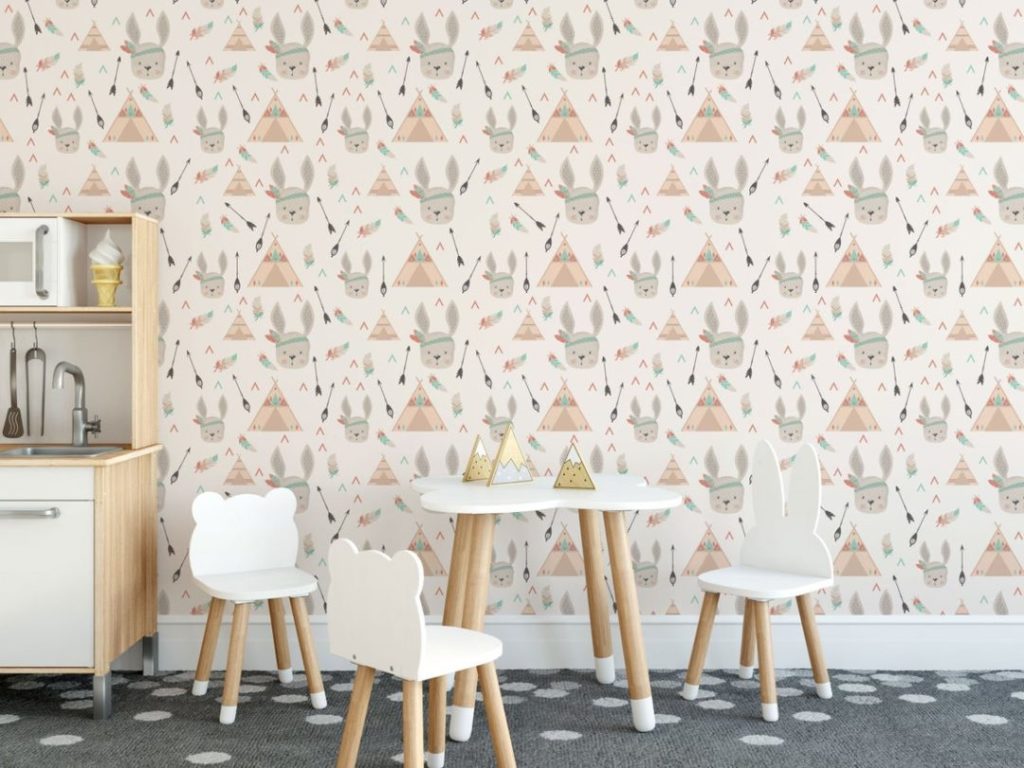 This one is for the little ones that are always full of energy and ready to play. Soon enough your baby will start exploring their surroundings and playing in their room. Spark their imagination with this tribal bunny nursery wallpaper and make it their favorite place to play! Using patterned wallpaper to separate different areas in the nursery is an idea worth considering as it helps the child distinguish between different activities.
Yellow duck wallpaper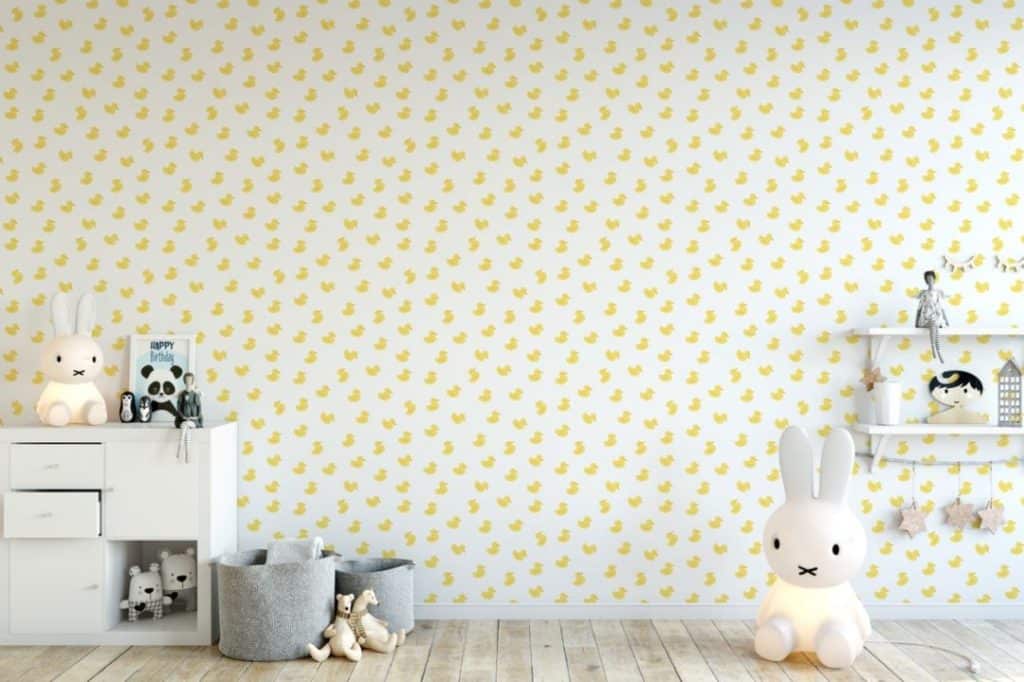 What better way to add a bit of sunshine to your room than with yellow wallpaper! The color yellow is an instant reminder of sunny days and happy thoughts. Spark some joy into your nursery with this yellow duck wallpaper. It's a great design for an accent wall and can be combined with either solid color wallpaper or painted walls. When your child gets older, you can set up a play corner next to the accent wall and make their playdates even more fun!
Cute bear wallpaper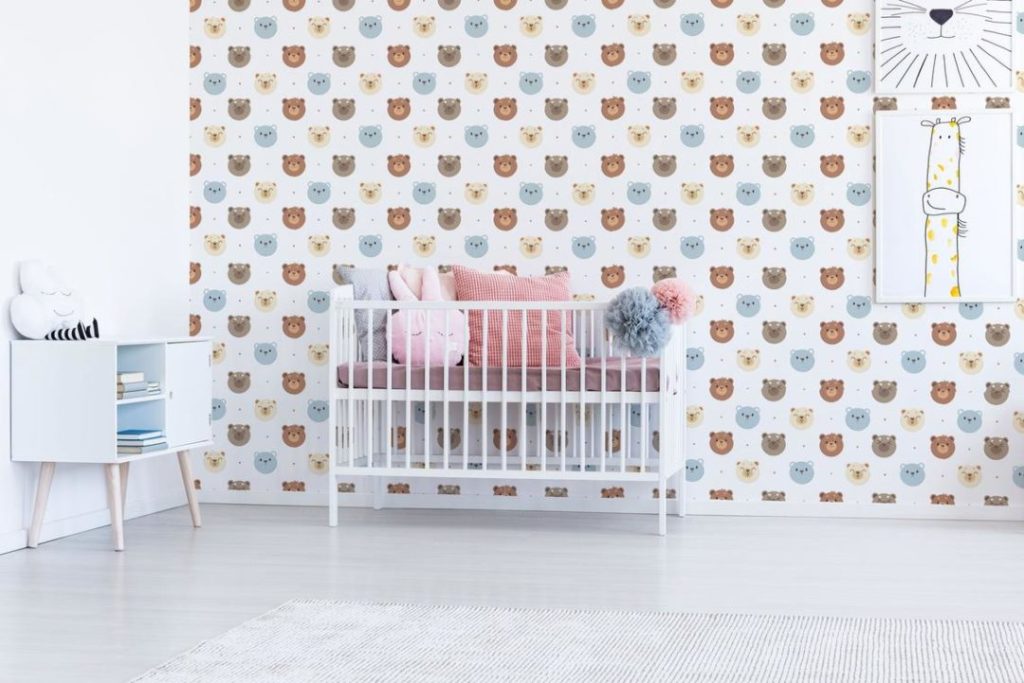 It's hard to imagine a nursery interior without an animal-inspired wallpaper. Allow your baby to be greeted every time they wake up by these happy bear faces in this cute bear wallpaper. Pastels add a dreamy vibe to the space, and these earthy tones would match beautifully with white or wooden furniture. It's one of our favorite gender-neutral wallpaper designs!
Cloud wallpaper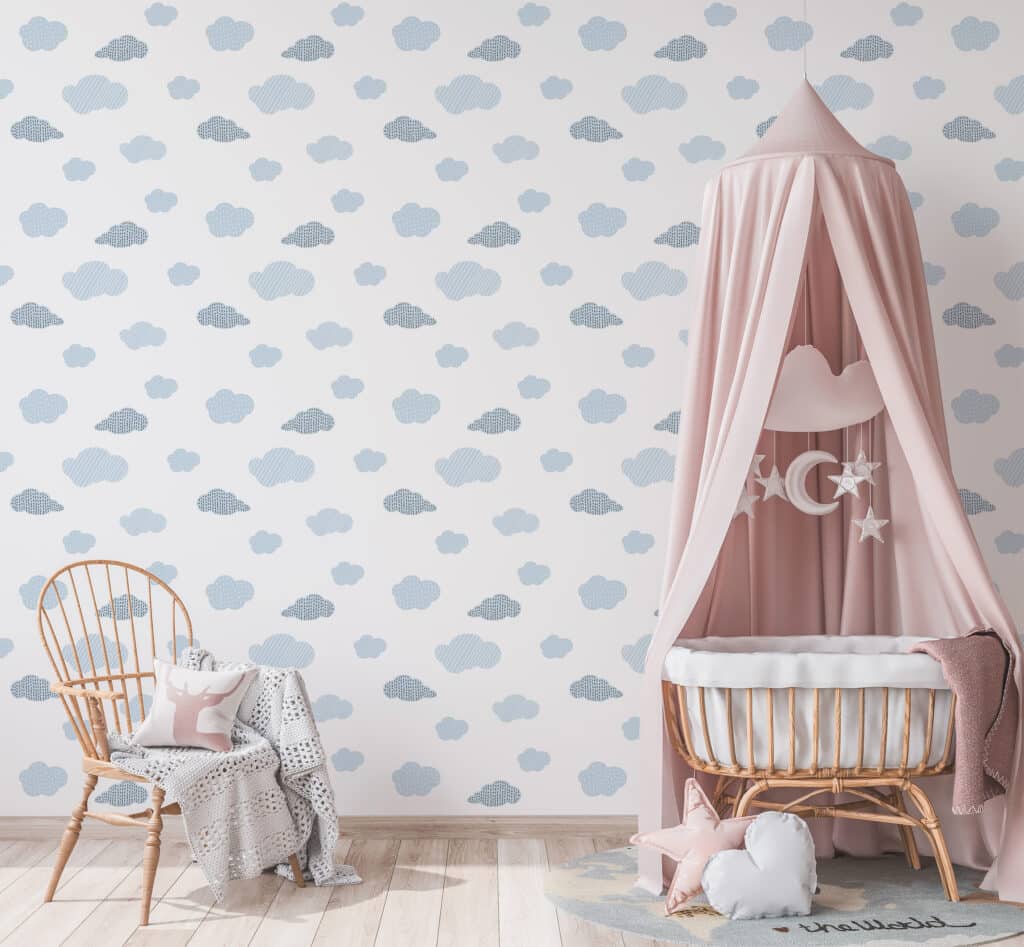 Your baby will have the sweetest dreams when surrounded by this super cute cloud wallpaper! The times when blue was only used for baby boy rooms are long gone. These days blue is more commonly used for gender-neutral nursery interiors. Blue is associated with the feeling of calmness, and it's guaranteed that your baby will love growing up in this cloudy room!
Stars wallpaper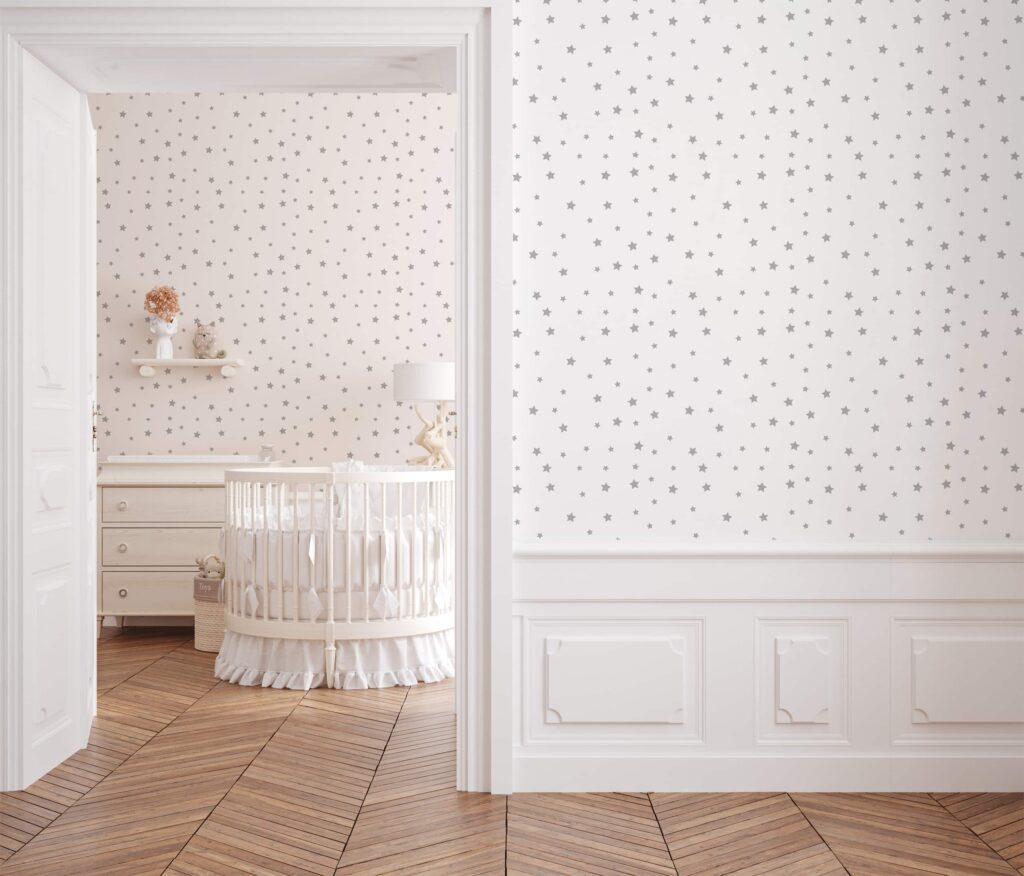 Give your baby the chance to sleep under the stars every night with this beautiful stars wallpaper! It's the perfect design for a gender-neutral nursery. Its simple and bright design will add an extra layer of coziness to the space. Loving this design but feel like adding some more color to it? Say no more! Many of our wallpapers, including this design, include the option to change the color of the pattern. You can find all the available color options under the "pattern color" menu.
Creating a gender-neutral nursery certainly doesn't mean forgetting about colors. There are plenty of fun wallpaper designs that would look great in a boy's or a girl's room. No matter which wallpaper you choose for your nursery project, we're sure that it will look amazing! With peel and stick nursery wallpaper, decorating your baby's room will be a piece of cake. It's super easy to install and remove! You won't have to get messy with wallpaper glue and worry about overlapping the panels. It's suitable even for first-time DIYers, so there's no need for a professional for installation. Whenever you feel like your child has outgrown their cute bear or bunny wallpaper, simply peel it off in one piece and order a new design. We hope this blog post inspires you and sparks some ideas on how to decorate your gender-neutral nursery using removable wallpaper!
Loving the content on our 'Fancy Walls' blog?
Sign up to our free, monthly newsletter! You'll hear about our latest wallpaper designs, and the most recent design trends!