Whether you're ready for it or not, your baby is on the way to entering their toddler years. While a new toddler is mastering the art of walking, talking and running, there are a few things you can do to help adapt the environment to their needs.
The purpose of converting a nursery into a toddler room is not only to refresh the design of the bedroom but also to encourage independence and learning.
Although the changes might be frightening for both children and their parents, these ideas and tips for converting a nursery to a toddler room will surely help you make it a smooth transition.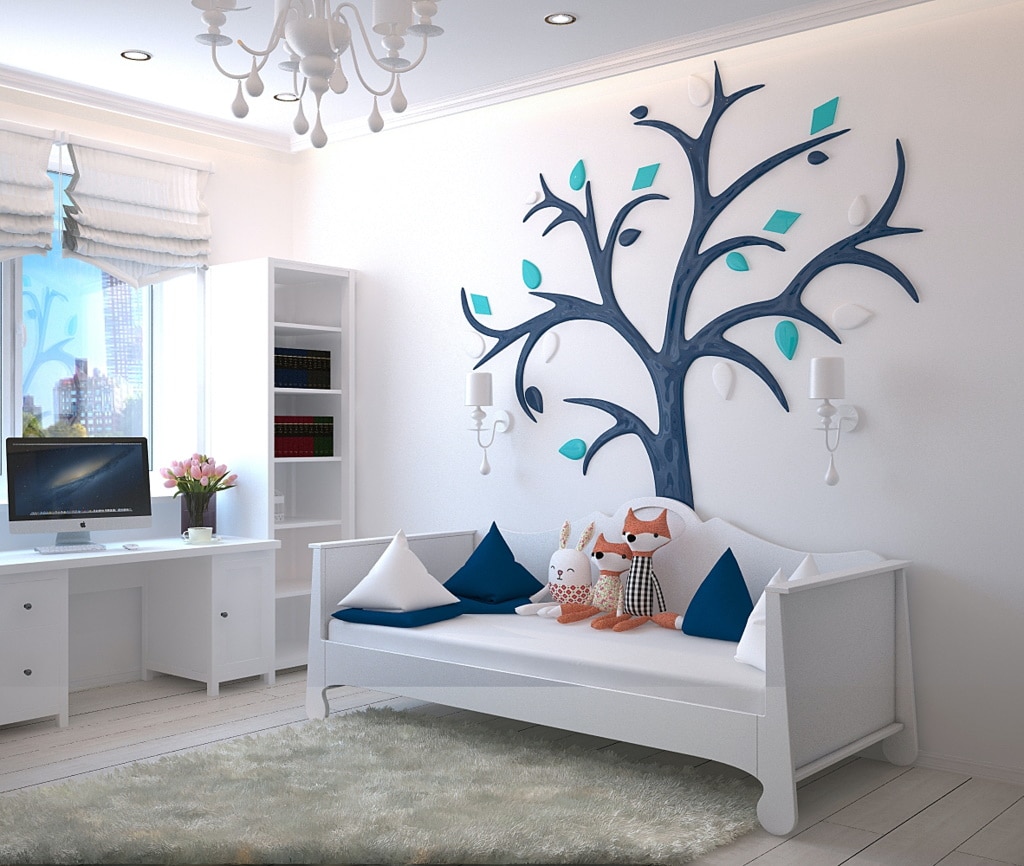 1. When to convert a nursery into a toddler room?
There is no fixed age when a baby is ready to move on from the nursery, but, in general, children usually switch at any time between 18 months and 3 and a half years old, ideally as close as possible to 3 years old. However, if your child is still using the crib, you may not want to rush the transition process.
2. How to set up a toddler nursery?
Converting your nursery into a toddler room is easy when you have a plan.
First, understand whether you will be furnishing a new room in the house or transforming the current nursery.
Secondly, find out the basics that you need to provide for your toddler. These might include:
a larger bed, a toddler bed or a railed twin bed;
a soft rug or carpet for laying down to play;
a small desk for drawing or other creative activities;
a toddler teepee or similar play zone.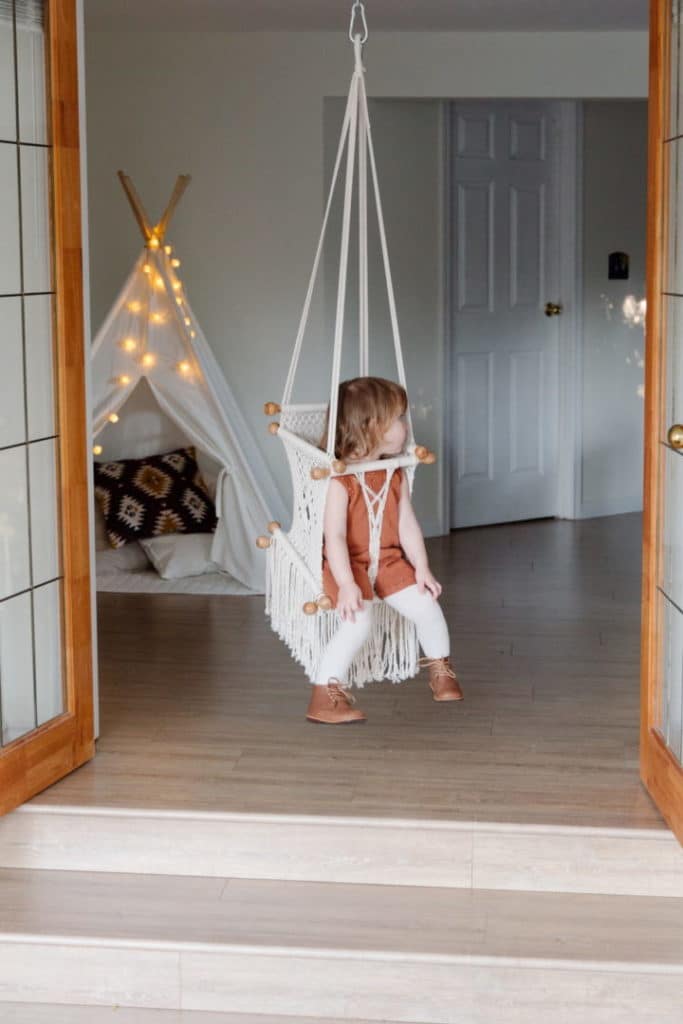 You'll also want the toddler room to be a space where you feel comfortable leaving your child to play on their own, so be sure that it is secured against any potential hazards.
3. How to pick out paint for a toddler room?
Color psychology
Children's mood is affected by the environment, which usually includes the color of the room.
If you plan to remodel the nursery, it is a good idea to take a few minutes and do some research. After all, your child will stay in this room until you decide to paint again.
Usually bright, warm colors like yellow, orange, pink, and red are considered to be happy colors, however, avoid using these colors too much, because they can cause overstimulation for children, so it's best to use them for accent walls. Pastel colors like peach, light pink, or lilac can also have an uplifting effect on the children. Generally, the brighter and lighter color, the happier and more optimistic it will make your toddler feel, however, try to balance out the colors, to avoid the negative effects that can be caused by overusing a single color.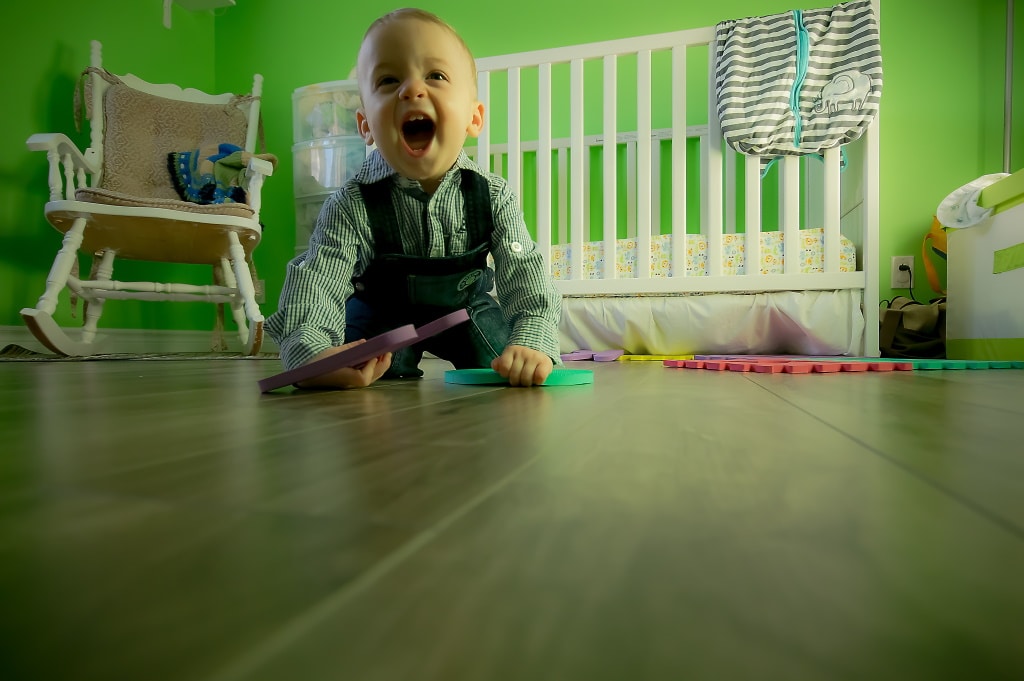 4. Have fun with removable peel and stick wallpapers
It has never been easier to ''let the inner child out'' and do some really interesting and bold prints than it is with the new trend of removable wallpaper. Explore dozens of fun and colorful nursery peel and stick wallpaper!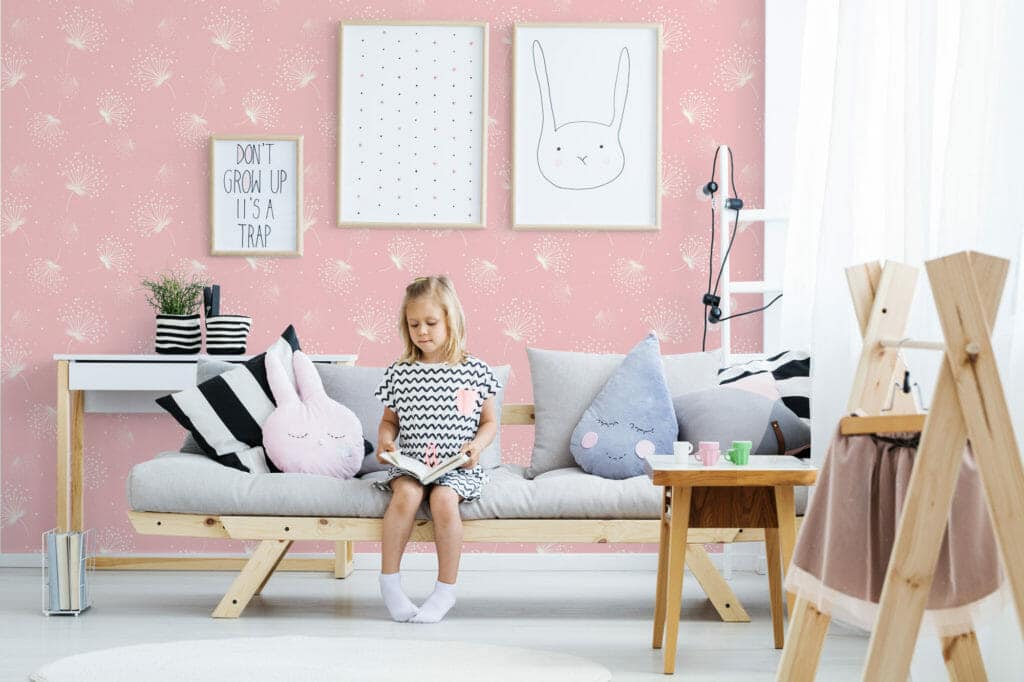 Generally, adding peel and stick wallpaper into your toddler room is definitely a smart and convenient choice. It is very easy to install, and you can practically do it over your coffee break.
In addition, such wallpaper for walls is easily removable, so when you feel like replacing the design, you can simply peel it off and change things up with a new design.
5. Transitioning from a crib to a toddler bed
If you have a baby crib with an optional walker rail kit, this point includes removing one side of the crib rail and replacing it with a low-security rail.
On the other hand, if you cannot convert your baby crib, you can consider using a toddler bed before upgrading to a king-sized bed.
Toddler beds usually have built-in guardrails and are typically lower than twin beds. This means that your child is used to the built-in safety protection when sleeping in their new bed.
It's especially great if the selected children's bed not only provides comfort and coziness but also creates a pleasant environment in the room, so it's a good idea to select a bed that's made using natural materials.
6. Reorganize the nursery
If you have been using a dresser with a changing table or a changing pad on it, this is a simple switch – remove the mat or top and give it a little style. Just remember to move items you might want to put out of reach of curious fingers and place them in a safe location.
What's more, having the right storage space will help ensure that everything is accessible, but doesn't cause confusion. Add some shelves, dustbins and baskets so that your child can easily see their things, but also help them clean up and thereby teach them to be independent little by little.
7. Create a space for children's activities
There's so much impact that having even a small play area can have for an imaginative kid. When creating a playtime space, consider inserting a teepee, dollhouse, mini kitchen, or other suitable attributes.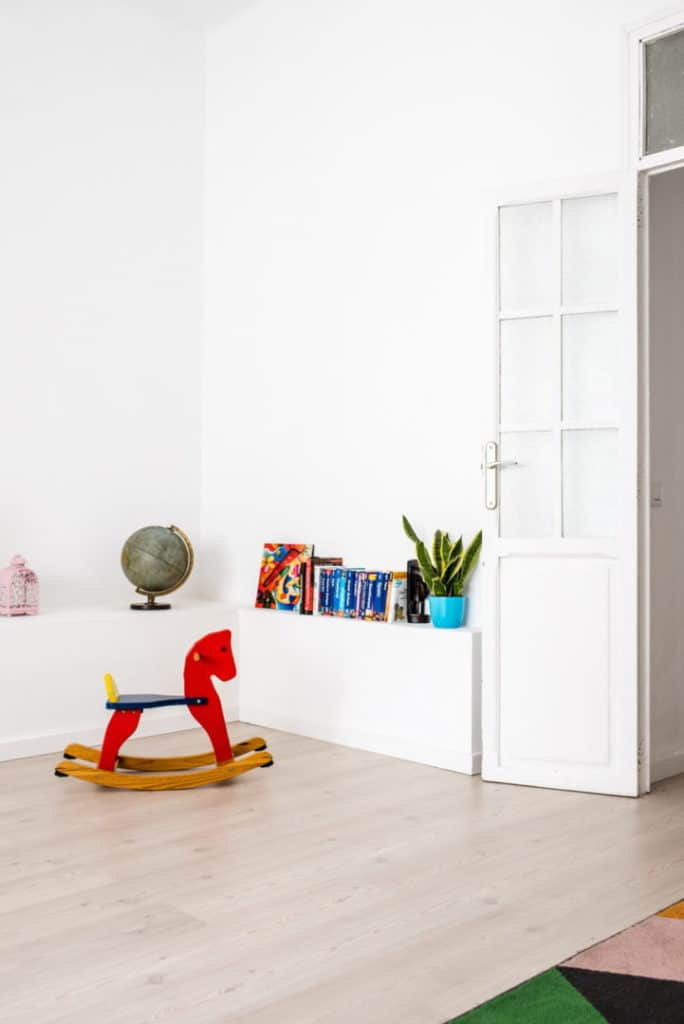 However, you don't want to exaggerate – it's better to maximize the floor space than to clutter up the room and thereby leave no free area for your child's imagination.
Safety first
Most importantly, the transition from a nursery to a toddler room is allowing your toddler to be independent in a safe place. Therefore, it's important to make sure that there isn't anything causing a safety hazard in the room so that they can safely explore the room and use their imagination.
Whether you're moving your child into a new room or redesigning their current room, now you have an idea of when and how to make the switch. That means you can get to the fun part: designing your perfect toddler's room!
Loving the content on our 'Fancy Walls' blog?
Sign up to our free, monthly newsletter! You'll hear about our latest wallpaper designs, and the most recent design trends!