It is possible to completely transform a space with a minimal commitment by using the best peel-and-stick wallpaper available on the market. So, instead of conventional wallpaper, which requires extensively more time and effort to place on walls, when you work with the best removable wallpaper, you'll wonder why you ever used regular wallpaper in the first place.
This article is your guide to learning which manufacturers and companies offer the best removable wallpaper, what designs and sizes are available, and everything else you need to know to start planning your next room makeover project.
There are many wallpaper manufacturers and even custom wallpaper manufacturers, but only a few offer the best removable wallpaper brands. So here are our 14 favorite peel-and-stick wallpaper companies for your next design adventure.
We selected these peel-and-stick wallpaper companies based on various factors, including the variety of designs, shipping costs, sizes available, and options for custom designs from customers.
1. Fancy Walls
Fancy Walls peel and stick wallpaper is a polyester textile wallpaper that is OEKO-TEX certified, PVC-free, and phthalate-free, and can be installed using the peel and stick method. A significant benefit is the much-decreased possibility of air bubbles forming.
Delivery is included with every purchase in the US, purchases over $30 in Canada, 30 Euros in EU, or 30 GBP in UK. Once the item has been sent, delivery to the United States, Canada, European Union nations, and the United Kingdom will take about 2-3 business days.
Sizes & Pricing
Prices range from $13.30 – $99.99, and you can pay securely online with Stripe
Sizes range from 19 x 19 inches and 19 x 144 inches
Various standard colors are available, such as Petal, Olive Green, Dark Aqua, Waterfall, Rose, Peach, Burgundy, and more! Most of designs can be customized with custom colors.
There are more than 1600 Fancy Walls wallpaper options, and they continue adding new ones to ensure that you can find the ideal design for any area in your house. Even more, they can also provide customized scales and methods to suit your taste and home perfectly!
Fancy Walls provide high-quality and long-lasting peel and stick textile to ensure that it adheres to most walls and does not shrink with time, unlike alternative vinyl products. Be sure to sign up for their newsletter for a chance to receive future Fancy Walls coupons and other special deals.
Still not convinced? Check out the latest Fancy Walls peel and stick wallpaper reviews with interior photos left by their customer.
with best Peel and Stick wallpaper for your Walls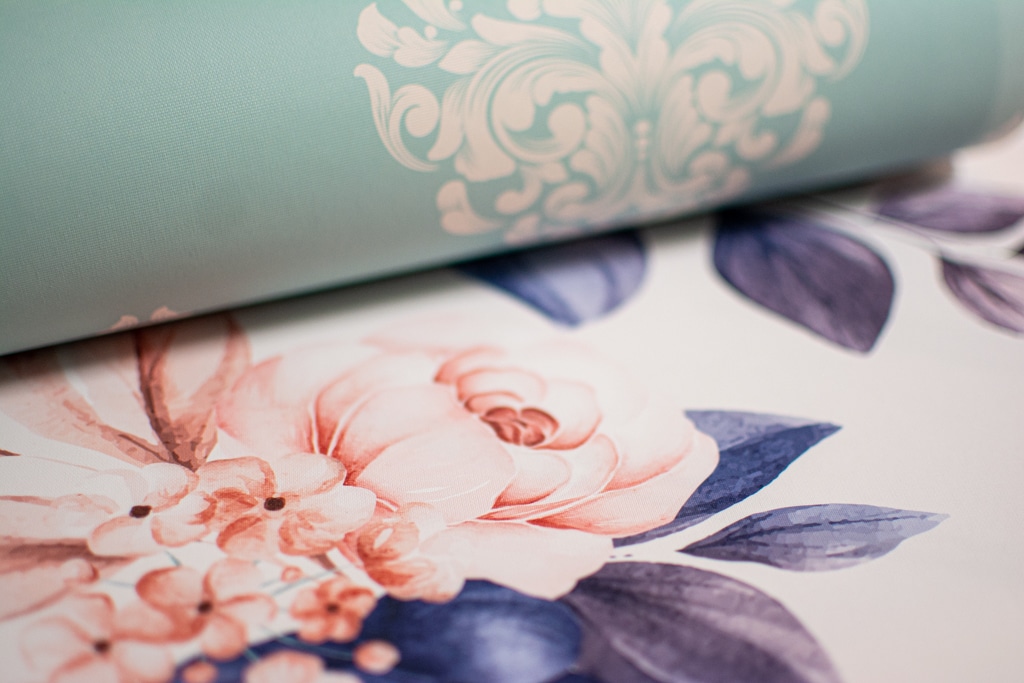 The Table of Contents for best peel and stick wallpaper providers (jump to the section):
Chasing Paper was born in New York City in 2012. However, the origins of its founders go back to the Heartland. It's hard not to be impressed by Chasing Paper wallpaper, which includes original patterns and motifs. Any room will benefit from the addition of wallpaper or removable flooring from this company, which will help it seem more like home!
Chasing Paper peel-and-stick wallpaper is made from high-quality poly-woven fabric, and its classic material has a smooth matte surface. It is approved for use in commercial applications, such as restaurants. They use latex ink, which produces no fumes, so Chasing Paper's removable wallpaper will not smear or discolor thanks to the rapid curing and drying time.
Sizes & Pricing
Customers are offered on-demand customization of colors, prints, and sizes. There is also a wide range of standard sizes, starting with 8 x 9.6 in, to 2 x 12 ft. Also, if you feel that you need more tools to decorate your walls, you can purchase the Peel & Stick Install Kit for $25.
Because everything prints on-demand, the production time is 2-4 days. The delivery option you choose at checkout determines how your order is delivered. Shipping takes 4-7 business days, but there is also an option for expedited delivery.
If Chasing Paper is a contender on your list, you can look through Chasing Paper peel and stick wallpaper reviews on social media from other customers and unlock a Chasing Paper coupon by subscribing to their newsletter.
Since 2008, Interior Designers and DIYs worldwide have relied on Walls Need Love for their painting and decorating projects. Founded on the belief that customers should never compromise when decorating their space but should instead be allowed to express who they are in a significant manner openly, Walls Need Love has grown into a successful business.
Walls Need Love wallpaper is custom-made and created to satisfy the needs of the industry while also reflecting the individual tastes of each client, resulting in a beautiful but durable product that will be enjoyed for a lifetime. Due to that, the WallsNeedLove peel and stick wallpaper reviews left by customers tend to be overwhelmingly positive.
If you choose anything from Walls Need Love, their art can be delivered anywhere, as they ship worldwide and shipping to the majority of locations takes less than a week. Nonetheless, it would be best to consider that the manufacturing time is between 3 and 5 days. However, it may be extended during sale times. New customers usually receive a discount, so make sure to sign up on the WallsNeedLove website to receive a coupon code.
Sizes & Pricing
From $5.33 per square foot
Customization is also possible.
Abstract; Art Deco; Bohemian; Botanical; Floral; Geometric; Industrial; Nautical; Nordic; Retro; Urban; Victorian; Vintage; Zen
While some utilize less expensive solvent-based inks, they only use Greenguard-approved latex inks. These are the world's cleanest inks, emitting no hazardous VOCs.
Walls Need Love removable wallpaper provides an alternative to an industry dominated by vinyl/PVC goods. Not only does PVC (polyvinyl chloride) degrade the environment during the production process, but PVC, dubbed the "poison material," is highly hazardous to people when inhaled. Their papers are a unique blend of sustainable wood, polyester, and post-consumer recycled content.
Have you fallen in love with all of the bright, colorful, and pattern-filled houses that you've seen all over social media? Are you interested in experimenting with this no-rules method of styling yourself? Then Wall Pops peel and stick wallpaper, which they call NuWallpaper, is the correct choice for you!
The color trends come and go, so if you want to refresh your décor on an annual basis without having to worry about damaging your walls, WallPops removable wallpaper is your best bet! NuWallpaper is printed on a high-quality vinyl substrate that is entirely removable without leaving any residue, making it a safe option for renters and the top choice for first-time wallpaper users! Moreover, they try to keep up with present trends, always considering the top Pantone color schemes of the year including metallic hues in their range of colors. Wall Pops designs range from simple brick or hexagon peel and stick wallpaper to truly unique patterns of various shapes and colors. In addition to that, they also collaborate with various artists and designers, which helps Wall Pops receive rave peel and stick wallpaper reviews from customers.
Sizes & Pricing
Wall Pops wallpaper is printed on a quality peel-and-stick vinyl substrate free of VOCs, PVC, phthalates, and formaldehyde. It is also available in a variety of sizes, with prices starting from $49.99 for 20.5 inches wide by 18 feet long. Usually, each roll of NuWallpaper covers an area of approximately 30.75 square feet in total.
Wall Pops delivers most orders within 2-3 business days after receipt of the order through FedEx Home Delivery Ground service, for $3.99. Unfortunately, they are unable to handle orders placed on their website from customers outside of North America.
A pair of sisters, named Jennifer and Julia, set out to develop Tempaper – the first removable wallpaper of its type – in 2006, motivated by a demand that didn't exist in the design world at the time. The sisters set out to change an industry by using their creative abilities and commercial acumen. They did it by creating a product that would become a vital means of expression that no design lover could live without.
Sizes & Pricing
When a client orders Tempaper peel and stick wallpaper, they have an option to choose between a single and a double roll. A single roll is 20.5 inches by 16.5 feet and covers a total area of 28 square feet. Meanwhile, double rolls of Tempaper removable wallpaper measure 20.5 inches wide by 11 yards long, covering approximately 56 square feet or 27 inches wide by 11 yards long, covering 60 square feet.
The most popular Tempaper design is a classic pattern with peonies, but their designs feature countless variations of prints and colors. Take a look at their complete selection of colorful peel and stick wallpaper patterns to see if anything is for you. Tempaper's vibrant wallpaper collection is simple to apply and available in various sizes and designs, with the option to browse by color. Nonetheless, Tempaper uses water-based inks. Therefore, it is advised that you avoid extended exposure to high temperatures and/or direct light sources if possible.
When evaluated in line with the safety compliance testing for FMVSS no. 302 — Flammability of Interior Materials, Tempaper is classified ASTM Class A for flame spread and smoke development.
All domestic purchases of $75 or more qualify for free UPS ground delivery. International orders will be sent by FedEx or DHL, whichever is most cost-effective at the time of purchase. Also, be sure to check the Tempaper website for customer peel and stick wallpaper reviews and tips by Tempaper on wallpaper installation.
Wall Blush, founded in 2018 by two friends, was designed to meet the needs of individuals looking for an inexpensive vintage wall décor collection. The business has grown from its humble beginnings to become a high-end luxury wall décor company that aspires to offer a breath of fresh air to customers seeking in the crowded, boring, and generally repetitive wall decor industry.
Sizes & Pricing
Wall Blush peel and stick wallpaper is all about giving the client the ability to personalize their environment to stand out and be distinct. Each of these wallpaper designs is printed on self-adhesive vinyl, a temporary wallpaper treatment that allows Wall Blush to make installation easier, as it's done via the peel and stick technique. It also has a semi-matte sheen to it. This product can be removed from your walls, making it an excellent choice for renters! Prices start from $15, and roll sizes are around 24ft wide.
Custom wallpaper from Wall Blush is produced to your precise specifications and selected just for you. When ordering Wall Blush wallpaper, please keep in mind, that production time is not included in the total shipping time! Approximately 7-14 business days are required to produce your order. However, Wall Blush peel and stick wallpaper reviews show that their customers are mostly satisfied with the overall experience.
Spoonflower is a global marketplace connecting people worldwide: artists and producers who provide designs for customers to purchase. Their digital printing technique, which is very sustainable and helps us achieve scalability, allows them to provide environmentally friendly fabric to customers. In addition to that, Spoonflower peel and stick wallpaper reviews show that they are also able to keep a consistent level of quality for their customers.
Spoonflower peel and stick wallpaper is made of woven-textured polyester fabric with an adhesive backing and a smooth surface on the other side. Through the following pillars, Spoonflower removable wallpaper's digital print process continues to develop on the principles its founders put into motion:
An environmentally friendly procedure
Operational methods that are ecologically friendly
Pigment inks and dyes that are based on water
Initiatives that are helping to reduce waste byproducts are being pursued
Sizes & Pricing
Since its inception, the Spoonflower community has expanded to include more than 3.3 million creatives who utilize the marketplace's more than one million designs to express their flair and fuel their entrepreneurial spirit. Spoonflower wallpaper can be installed using the peel and stick method, with instructions included in the package. It has a 24-inch (60.96 cm) roll width, and prices start at $112 per roll. To find out the number of rolls you will need, use the Spoonflower wallpaper calculator that can be found on their website. Material options are PVC-free, eco-friendly and FSC Certified. Also, all designs of Spoonflower temporary wallpaper are printed with water-based and eco-friendly inks.
Shipping (free or paid)
Germany: 4-5 weeks
USA: 1-2 weeks
Worldwide shipping is available except for a few countries.
If it's hard for you to decide between several designs, Spoonflower offers wallpaper samples, which you can order and compare. Spoonflower also offers a promo code for new customers, so make sure to sign up on their website before you make your order to receive your Spoonflower coupon.
Wallshoppe discovered that there was an empty spot in the wallpaper universe. A lively, lighthearted style with plenty of colorful optimism. All Wallshoppe wallpaper designs are available in both conventional unpasted rolls, as well as on removable panels, allowing you to cover a room for a night, a year, or for the rest of your life with a single purchase. It's all up to you, which option to choose.
Sizes & Pricing
The Wallshoppe removable wallpaper collection was created under the watchful eyes of interior designers, who removed all of the guesswork from the process of selecting and decorating using Wallshoppe. With simple repetitions and a matching palette that can be combined and matched perfectly, each design is created to the ideal size for your project, from graceful to whimsical, charming to edgy, sweet to daring. Roll sizes are available in Repeat Pattern Size: 26 in. wide x 26 in. high, and prices are starting from 58$. Wallshoppe's material options are 30 % recyclable materials with a matte finish, containing scratch-resistant paper. Moreover, they used non-toxic inks.
If your order is less than $300, you will only be charged a flat cost of $15 for Ground Shipping. Orders above $300 are sent free of charge. Additionally, they are pleased to provide international shipping. To find out more about their service and products, check Wallshoppe customer peel and stick wallpaper reviews around the web.
Astek Home's product portfolio is best in class because of the company's immense expertise in the wallpaper market, internal solid creative team, and reliable reputation in the design sector. It has been almost 30 years since Astek Home has started supplying high-quality wallcovering materials to interior designers, decorators, and architects worldwide.
Consider one of the numerous mural sets available from Astek Home to alter your barren walls. Whether you're searching for exciting photo-realistic pictures, calming natural shapes, or handcraft methods, they have got what you're looking for. Many of their designs are created in-house by our team of very skilled painters and muralists. Using cutting-edge printers and the finest quality materials, our production team produces the highest-quality output on every single occasion. Material options include eco-friendly inks; 0% VOCș Terralon material made from over 30% post-consumer recycled content with 0% PVC.
Sizes & Pricing
Their eco-friendly self-adhesive substance is devoid of PVC (which means it has no harmful chemicals), making it the safest solution possible for both your house and the surrounding environment. Astek Home peel & stick wallpaper is available in manageable 26 in × 6.67 yd. long rolls, making installation a breeze. Aside from that, it's detachable and repositionable, making it just as simple to take down as it was to install. Glossy and satin paints are the finest paints to use with this material.
If you are a first-time client, you may take advantage of the discount code to save 20% on your very first purchase of Astek Home wallpaper.
RoomMates Decor is one of North America's biggest producers of wall decals and decorative peel-and-stick items. What began as a few wallpaper cuts and stickers to complement existing patterns has rapidly expanded into a massive product catalog that includes wall stickers, panels and wallpapers.
Their peel and stick wallpapers offer you a plethora of color and pattern choices that allow you to express your individuality. Moreover, a unique adhesive is used to produce RoomMates Decor peel and stick wallpapers, specially designed for use on walls. As a result, they will never leave a sticky residue on your walls, and they will never harm your paint or peel it off. Their peel & stick Wallpapers are proudly developed and produced in the United States of America under the most rigorous quality and safety requirements. This ensures that RoomMates Decor peel and stick wallpaper reviews from customers are almost always positive.
Sizes & Pricing
RoomMates Decor wallpaper prices start from $39.99 per roll, as roll sizes are 20.5 in x 16.5 ft. For any order under $50, shipping is $7, but anything above $50 has free shipping. Shipping destinations include U.S. and Canada, starting with two days with FedEx.
If you are still unsure about what might look best on your wall, then Etsy is the place where you can find anything you could imagine in terms of peel and stick wallpaper. For as little as 2.70$, you can choose a colorful new face for your wall using Etsy's choice of adhesive wallpaper! Etsy wallpaper options also don't stop with peel and stick designs, as you can also find a variety of regular wallpaper patterns.
One of the most significant advantages of Etsy is that you can find a provider that could ship its products to any corner of the world. In addition to that, all of Etsy's removable wallpaper designs have customer reviews, making it easier to find the best Etsy wallpaper.
For instance, W0nderw4llsBoutique is one of many Etsy peel and stick wallpaper sellers that offer excellent deals for excellent prices! With more than 1500 options, you can find an option that might suit your tastes on a tight budget. These peel and stick wallpapers are made from a revolutionary polyester fabric with a detachable adhesive back that is perfect for creating custom wallpapers. Also, custom sizes and colors are provided. With more than 500 positive reviews, you can make sure that you purchase something nice and long-lasting!
Once a small-town hardware shop in North Carolina, started in 1921 and then developed into one of the world's biggest home improvement stores, with total revenue of $1.5 billion in 2017
Sizes & Pricing
Peel and stick wallpaper prices at Lowe's start from $8, and most roll sizes are around 30.75 square feet. While the Lowe's wallpaper section offers a wide range of peel and stick wallpapers (over 900 designs), there is no option for customization. However, if your wallpaper requirements aren't that specific, you can still find a lot of great peel and stick patterns at Lowe's. For instance, one of their most popular wallpapers is the Single-Roll 28-sq ft Mystery Blue Vinyl Floral Self-Adhesive Peel, and Stick Wallpaper, which can liven up almost any room.
As you would already expect, you can also find many options for peel and stick removable wallpaper on Amazon. At a first glance, there are over 6.000 results when you search for peel and stick wallpaper on Amazon. Hence, the sizes, colors, materials, and inks vary widely, so be sure to look find something that can match your style and preferences. Prices in the Amazon wallpaper peel and stick section start from as little as $6 per roll.
With more than 100 nations and regions to pick from on Amazon, the selection of goods will vary depending on the delivery destination. In addition to that, shipping price and time also depend on the location of the seller. If you can, make sure to use Amazon Prime to get your peel and stick wallpaper delivered to you quicker.
Home Depot is the biggest home improvement store in the United States, selling tools, building materials, and services. Among many other things found at Home Depot, you can buy a stick and peel wallpaper there as well!
When it comes to the material options for Home Depot peel and stick wallpaper, these are mainly made from Vinyl, Paper, or Grass Cloth. Prices usually start from $5 per roll.
Shipping is free if you choose to receive your peel and stick wallpaper at Home Depot stores, but you'll have to pay for home delivery. Shipping time is 5-7 days for in-store deliveries and 6 days for home deliveries. However, it must be mentioned that, if you'd like to buy your stick and peel wallpaper from Home Depot, they only ship to destinations in the U.S.
How Will You Choose Your Best Peel And Stick Wallpaper?
The use of removable wallpaper, whether as an accent wall or in a room with a more whimsical pattern, is a low-effort, high-impact method of changing the appearance of your house. You can easily install the finest peel-and-stick wallpaper as a weekend DIY project, regardless of whether you're a tenant or want to alter up the color scheme or design of your rooms regularly.
Best Peel and stick wallpaper and price comparison
| Company name | Material | Price per sqft. | Sample size | Production time | Delivery | Delivery time to the U.S. |
| --- | --- | --- | --- | --- | --- | --- |
| | Textile | $ 7.27 | 19″ x 19″ | 1-2 business days | $ 15 or Free over $ 30 | 2-3 business days |
| | Poly-woven fabric | $ 5.00 | 8″ x 9.6″ | 2-4 business days | $ 10.74 | 4-7 business days |
| | Smooth linen texture | $ 7.60 | 8.5″ x 11″, 26″ x 26″ | 3-5 days | Free (samples $ 3.99; small orders $ 17.99) | Less than a week |
| | Vinyl | $ 1.46 | 8″ x 10″ | 2-3 business days | Free over $75 | 3-7 business days |
| | Vinyl | $ 1.54 (single roll); $ 2.20 (double roll) | 8.5″ x 11″ | 1-2 business days | Free over $75 | 1-5 business days |
| | Vinyl | $ 3.95 | 8.5″ x 11″ | 7-14 business days | Free on samples | n/a |
| | Fabric | $ 4.67 | 24″ x 12″ | 8 – 10 calendar days | $ 3 on samples; $ 14 | Under 2 weeks |
| | n/a | $ 6.19 | 8″ x 10″ | 7-10 business days for sample, 14-21 days for wallpaper | Free over $300; $ 15 | 3-5 business days |
| | n/a | $ 1.10 | 5″ x 7″, 12″ x 18″ | 1-2 weeks | $43.38 | 1-7 business days |
| | Vinyl | $ 1.42 | 8″ x 10″ | 2 business days | Free over $50; $ 6.99 | 2-5 business days |
| | Various material options | n/a | Depending on brand | Depending on brand | Depending on brand | Depending on brand |
| | Various material options | n/a | n/a | Stock | n/a | n/a |
| | Various material options | n/a | n/a | Stock | n/a | n/a |
| | Various material options | n/a | Various sizes, depending on the brand | Stock | n/a | n/a |
Loving the content on our 'Fancy Walls' blog?
Sign up to our free, monthly newsletter! You'll hear about our latest wallpaper designs, and the most recent design trends!