We experience colors every day – they're an essential part of the world we live in. According to researchers, the human eye can see approximately 10 million colors. Most of us are quite familiar with the 11 main ones – red, orange, yellow, green, blue, purple, pink, brown, gray, black, and white. But what about the other ones, for example, pastels?
The use of pastels in interior design has emerged, making a powerful statement. You can easily create a whole new look by adding the smallest touch of pastels to your space, whether it be through decor or wallpaper. When used correctly, pastels can do wonders. But, what exactly are pastel colors?
Pastels – what are they?
Generally speaking, pastels are brighter shades of the most common colors. We create pastels by mixing these common colors with a significant amount of white. They are also known as "tints", and have a much softer look than their brighter counterparts. Technically, any color can be made into a pastel, and the more white you mix into the original color, the paler the result. For example, pastel pink is really just a lighter shade of pink.
The typical characteristics of pastels can be best described as calm, neutral, soft, and muted. Hence, the popular use in interior design today.
There are endless amounts of pastel colors, but some of the most popular ones are:
Mint green
Bright green
Dove grey
Warm grey
Canary yellow
Sand
Lavender
Peach pink
Ivory
The effects of pastels
Interior designers and home makeover lovers around the world have developed a soft spot for pastels. One of the main reasons is the aesthetic appearance of these colors, but that's not all. Our emotions and feelings are often inspired by colors, and there are many positive emotions associated with pastels.
First of all, they are much softer than typical colors, making it easier on the eyes. Including pastels in your interior design can create a calm, soothing vibe and make you feel more relaxed. Often, spring is one of the first things people think of when they see pastels. Many spring flowers bloom in pastel shades, and spring itself is associated with happiness and the feeling of new beginnings.
Pastel colors are extremely powerful. Knowing how to use them correctly will help you create the exact atmosphere you're looking for. If you're planning on switching up your interior and are looking for inspiration, you've come to the right place. Let's take a look at a few of the most popular pastel colors and see how we can incorporate them into our interior design through the use of wallpaper!
Pastel Pink
Pastel pink has the power to brighten up any room. It's guaranteed to add positive energy and good vibes to your home, whether you decide to use it as a mellow accent wall or decide to cover the whole space. The times when pink was exclusively used in old-time bathrooms and girls' bedrooms are long gone. Pink has now become more universal and is widely used in many interiors. Pastel pink is still a very common choice for nurseries, but it's no surprise to see it incorporated in living rooms and bedrooms too.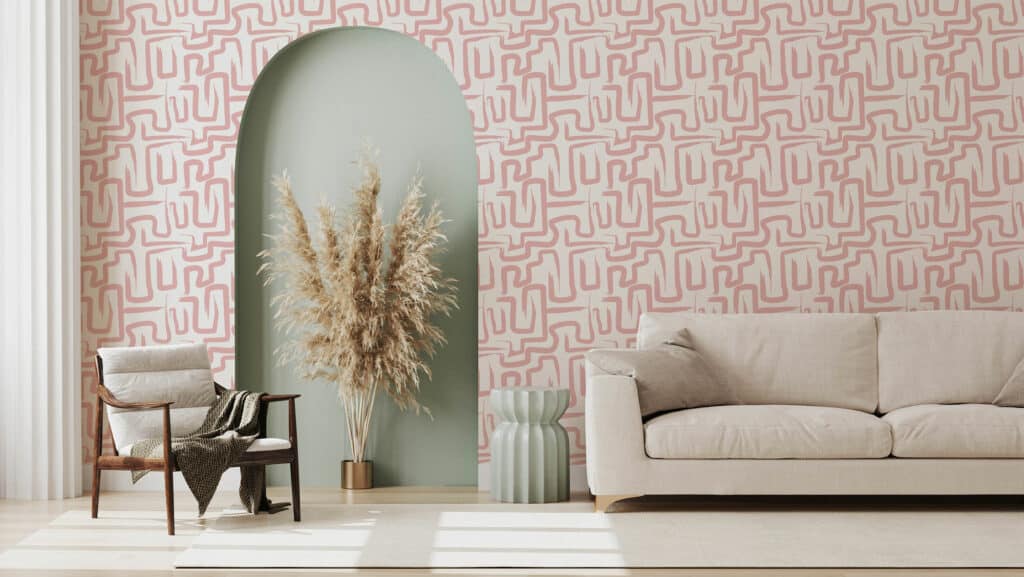 Our pink aesthetic maze wallpaper is the perfect addition to any modern living room. The detailed maze pattern combined with the beautiful pastel pink creates just enough visual interest to make a statement without overpowering the overall look. It combines well with other pastel tints such as mint green. To give some contrast to the room, add a bold piece of furniture.
If you're looking for something more floral, this pastel floral wallpaper would look amazing in a hallway or powder room.
Pastel Blue
Blue pastel shades have a calming and pleasant effect in any room. It's especially important to feel relaxed and at peace before going to bed. As a result, pastel blue tends to be a popular choice for bedrooms and nurseries.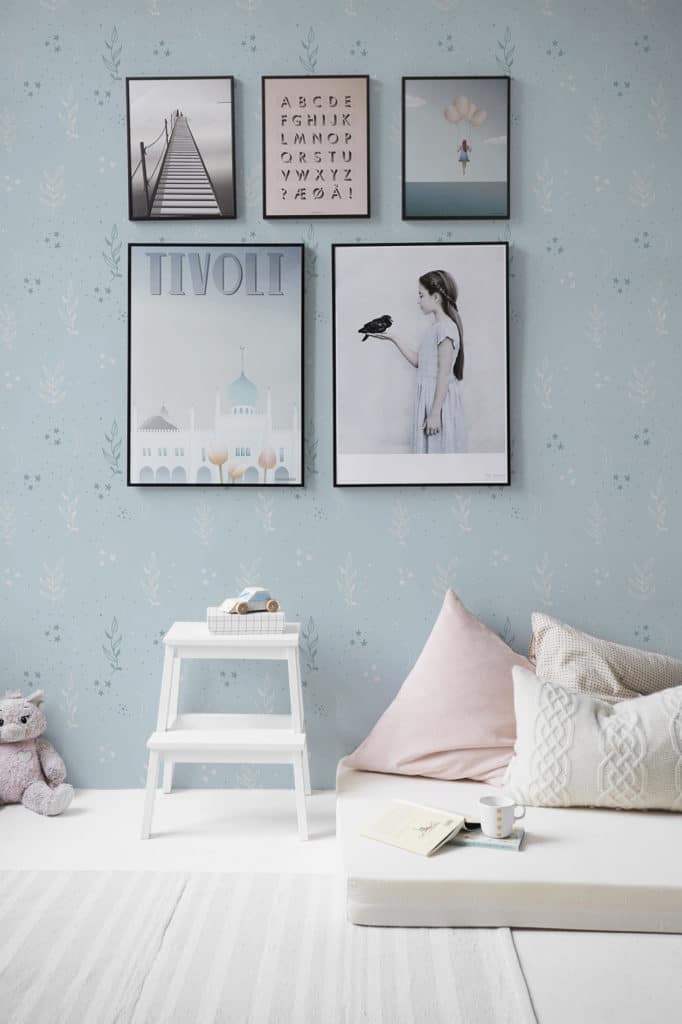 This minimalist delicate leaf wallpaper in pastel blue would make a great addition to a kids' bedroom. Kids' rooms often function as multi-purpose spaces where they learn, play, and relax, so it's a good idea to distinguish these areas within the room. Adding wallpaper to the sleeping area can help your child switch to a more calm state of mind and prepare them for a good night's sleep.
Pastel blue, nonetheless, can also be fun and cheerful. Imagine entering a room covered in our retro pastel dots wallpaper. It's an instant energy boost for sure!
Pastel Green
Pastel green is mellow and relaxing. It ranges from dark green tones to pale green shades making it truly versatile and allowing it to fit in well within modern interior design. Green pastel colors can serve as a neutral background for other design elements that you may want to place in the spotlight. Pastel greens will make your home shine, whether it be your bathroom, bedroom or home office space.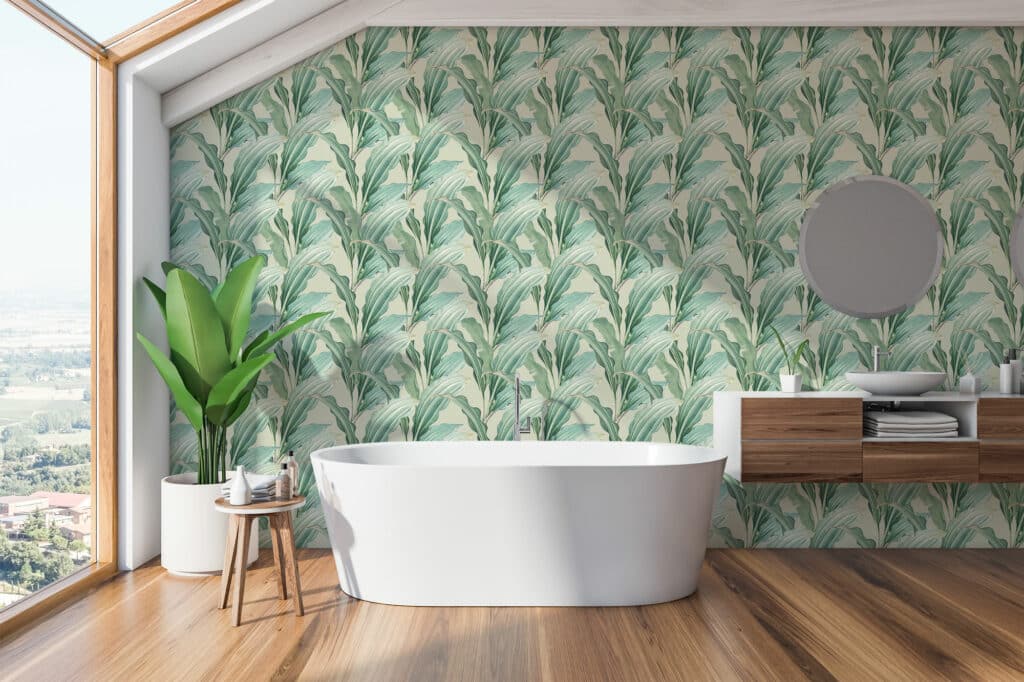 Bathroom makeovers can be really exciting and fun, especially if you're adding a patterned wallpaper to the mix, such as this modern tropical leaf wallpaper. The tropical leaves in pastel green colors create a retreat-like atmosphere and add a natural feel to the room. It's almost like having a personal spa!
If you can't choose between all the different pastel colors, why not go for a wallpaper design that has several of them? Our pastel terrazzo wallpaper is the perfect example of an earthy pastel palette complemented by a splash of soft pink. The walls in your hallway would definitely be excited about this sort of upgrade!
Incorporating pastel color wallpaper in your interior is one of the simplest ways to change the atmosphere of your room. As we've discovered, pastels not only look great but also have a calming and soothing effect, which makes them even more appealing for a home makeover. Remember, when combined with bolder colors and patterns, pastel palettes create depth and tie together the whole look of a space.
We hope you feel inspired to explore the great variety of pastel wallpapers that are available, and add a splash of color to your interior!
Loving the content on our 'Fancy Walls' blog?
Sign up to our free, monthly newsletter! You'll hear about our latest wallpaper designs, and the most recent design trends!