Urban areas are continuously growing all across the globe, and we're constantly looking for ways to include nature in our environments. Vertical farms, living walls, and rooftop gardens are just a few examples of adding a green touch to an urban setting. But what about our homes? Filling your house or apartment with plants is a good start, but sometimes keeping them alive is a challenge. Luckily, that's not the only way you can incorporate nature into an indoor space. The possibilities are endless, however, one of the easiest ways is by adding nature-inspired wallpaper to your interior!
Our growing appreciation of nature
In 2020, the global covid pandemic took the world by surprise. Most of us were forced to stay at home, forgetting about the daily commute to the office, working from our living rooms. At the same time, we got a chance to explore the nearby areas that were previously unknown to us. DIY home improvement projects were booming, ranging from a couple of new houseplants to complete home renovations. During this difficult time, we learned how to appreciate the simple things around us – both indoors and outdoors.
As it turns out, spending more time outdoors is beneficial for our mental health. Fresh air and direct sunlight are the two things you're not able to find inside, but they've proven to reduce stress and boost your mood.
Bringing the outdoors into our homes
Given the positive effects of spending time outdoors, why not try to bring an element of that into our living rooms, with the help of nature-inspired removable wallpaper? After all, we spend a big portion of our time in our living room, and it's the place that should make us feel good and relaxed. One thing you don't have to worry about is finding a wallpaper that matches your taste. These days, there are thousands of designs available, and nature inspired-wallpapers are certainly here to stay.
Biophilia
Interior designers around the world are captivated by a trending design concept known as biophilia. So, what is biophilia? We're glad you asked! By definition, biophilia is humanity's fundamental desire to belong to and be a part of the natural world. The concept is a reflection of our craving to connect with nature and the living things around us. Interior designers are embracing this trend, creating stunning nature-inspired designs in every color, pattern, and texture you can imagine.
With so many benefits that nature offers, let's embrace this trend! Take a look at some of our nature-inspired wallpapers that would be the perfect addition to your living room!
Sunflower wallpaper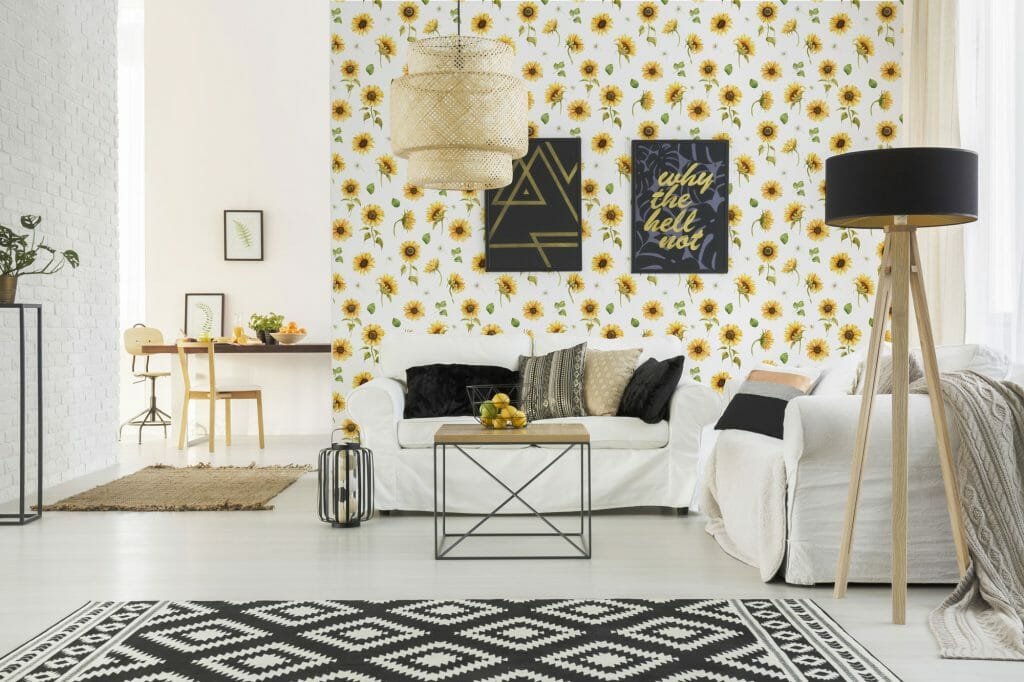 We can't think of a better way to bring a ray of sunshine into your home than with our seamless sunflower wallpaper pattern! It's an instant upgrade for living rooms that lack light. Sunflowers – as the name gives it away – symbolize the sun. It's the perfect choice for an accent wall and gives plenty of space for you to get creative with other interior elements.
Seamless waves wallpaper
If you're aiming for a zen feeling, our seamless waves wallpaper is the way to go. This design will give your room a calming character, as well as add some texture to the space. Some patterns can feel too busy for the eye and are recommended to be used for accent walls. This waves design is simple yet has the right amount of detail and texture to cover the whole room without overpowering it. Choosing this wallpaper will certainly create a space that helps you feel more relaxed.
Wood herringbone wallpaper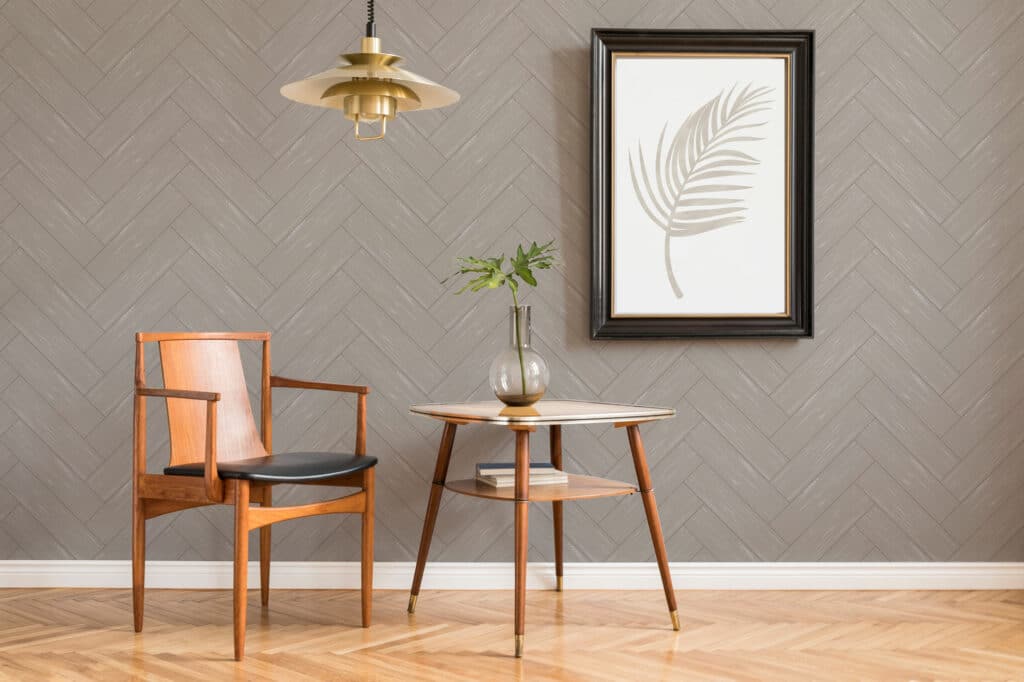 To achieve a more clean, natural look, try our wood herringbone pattern. The herringbone pattern adds an interesting visual element, while still staying classy. It's always a good idea to consider the rest of the interior when selecting a wallpaper. Don't go overboard with the wood-theme decor and try sticking to a color palette with 3 tones. Wooden floors and wallpapers add extra coziness, so a cozy living room is guaranteed!
Parrot tropical wallpaper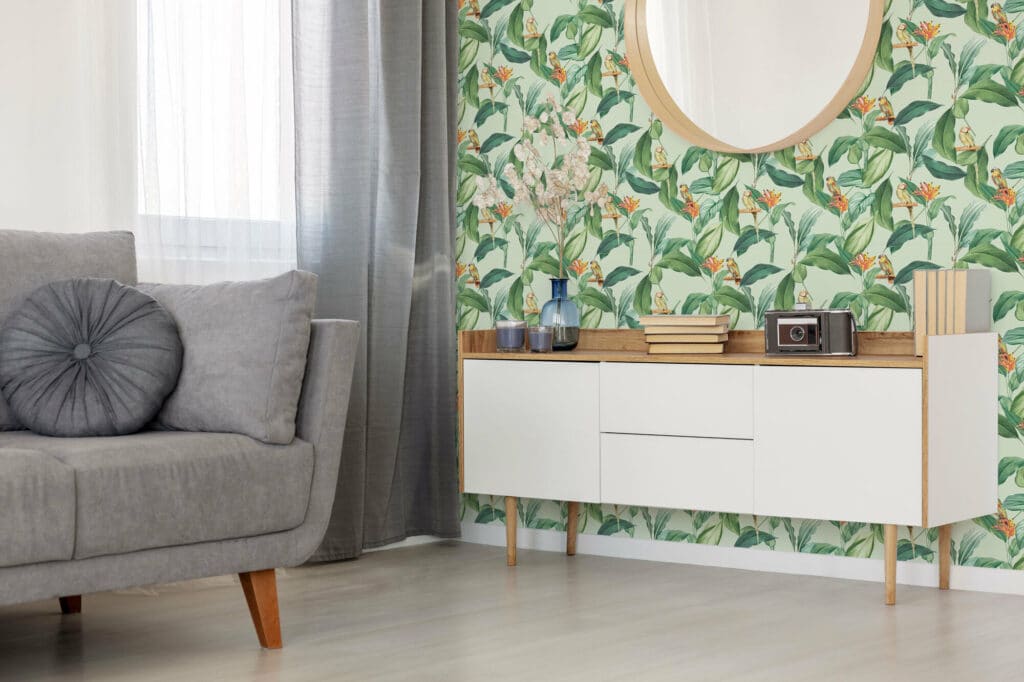 Tropical patterns are a huge trend, transforming your walls into a jungle paradise one wallpaper roll at a time. With this parrot tropical wallpaper, you don't have to rely on furniture or other accessories to make your interior stand out. Carefully detailed parrots and a mix of greens will do all the work for you!
Blue butterfly wallpaper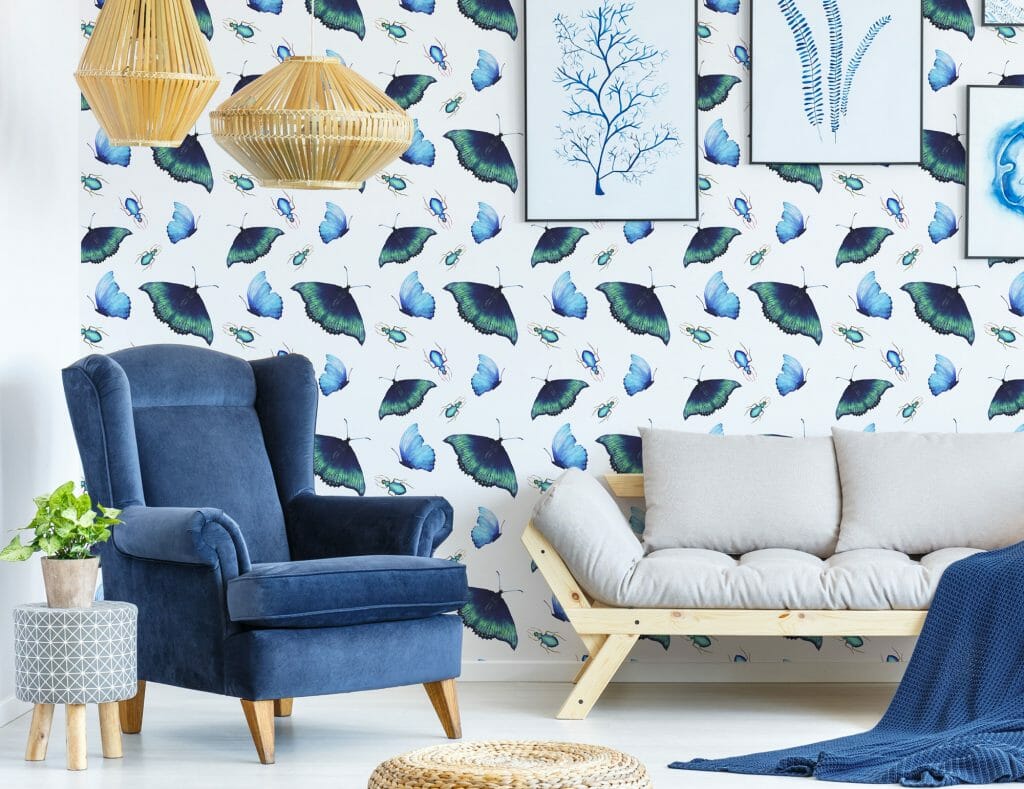 Butterflies symbolize transformation and hope, and can create a luxurious, mysterious vibe. This blue butterfly wallpaper is the perfect fit for a chic, delicate living room that lacks a pop of color. Use it to create an accent wall, and add a couple of decorative accessories in matching tones for a complete look!
As you can see, nature-inspired wallpaper doesn't necessarily mean there have to be green leaves everywhere. There's such a wide range of colors and patterns you can experiment with, allowing you to find the perfect match for your home. We hope this article has inspired you to add a little bit of nature to your home. Let's order some wallpaper and bring the feeling of the outdoors inside!
Loving the content on our 'Fancy Walls' blog?
Sign up to our free, monthly newsletter! You'll hear about our latest wallpaper designs, and the most recent design trends!