As we're entering the colder and darker months, we're spending more time indoors. This means we need to also think about creating an environment that feels warm, cozy, and comfortable. There are plenty of ways for achieving that, starting with small things such as candles and fluffy blankets. However, switching up the color scheme of your room can have a much bigger impact on how you feel, and what better way to do it than by adding a wallpaper design that will make you feel warm and cosy?
Temporary interior updates are a good chance to incorporate seasonal color palettes and give your everyday space a fresh feel. Colors can strongly affect our moods and emotions, and some tones can certainly make us feel comfier than others. When we think of fall, we instantly picture crispy leaves, changing colors, and a brown, yellow, orange, red, and everything in-between color palette. It's the perfect inspiration for a little makeover project to make your home feel like a bubble of warmth and coziness.
Where to start
Fall is the perfect time for taking up DIY projects, as it keeps you busy and lights up the rainy days spent inside. Now that we've caught a little bit of the fall feeling, let's move on to choosing a wallpaper design that will cosy up your home and make your eyes sparkle every time you enter the room!
Orange terrazzo wallpaper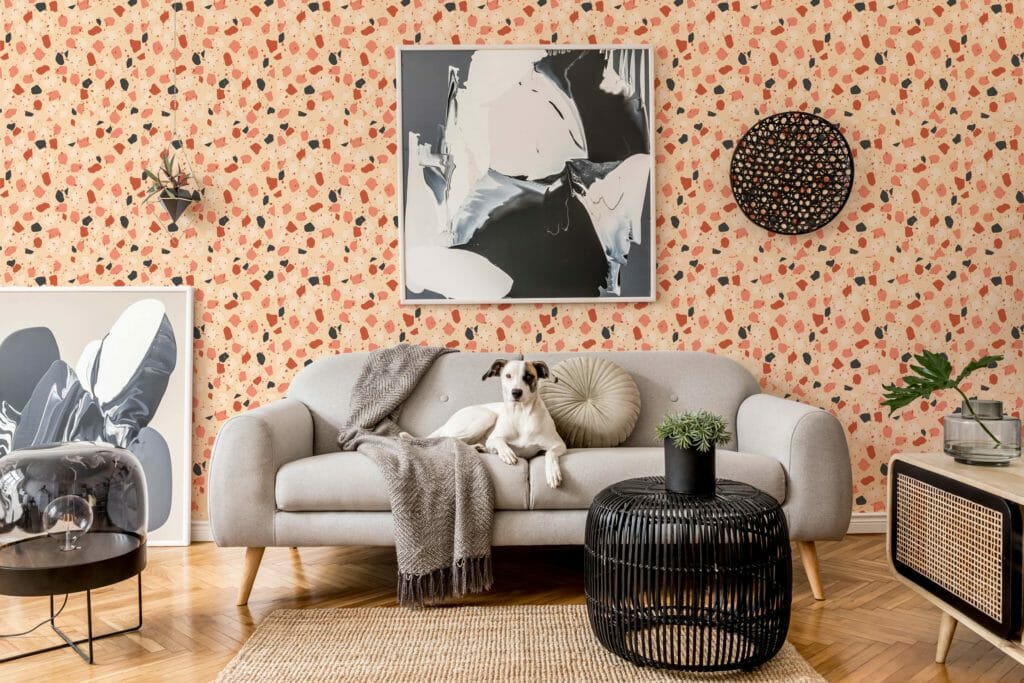 Now that's a vibe, don't you think? This orange terrazzo wallpaper has captured all the bright and crisp fall colors, without overpowering the rest of the interior with a specific fall theme. Although fall decor is primarily associated with colorful leaves, this terrazzo pattern proves that you can achieve the same atmosphere with a completely different pattern. The vibrant colors do most of the work here, and it's safe to say that this wallpaper will catch your eye.
Dried leaf wallpaper design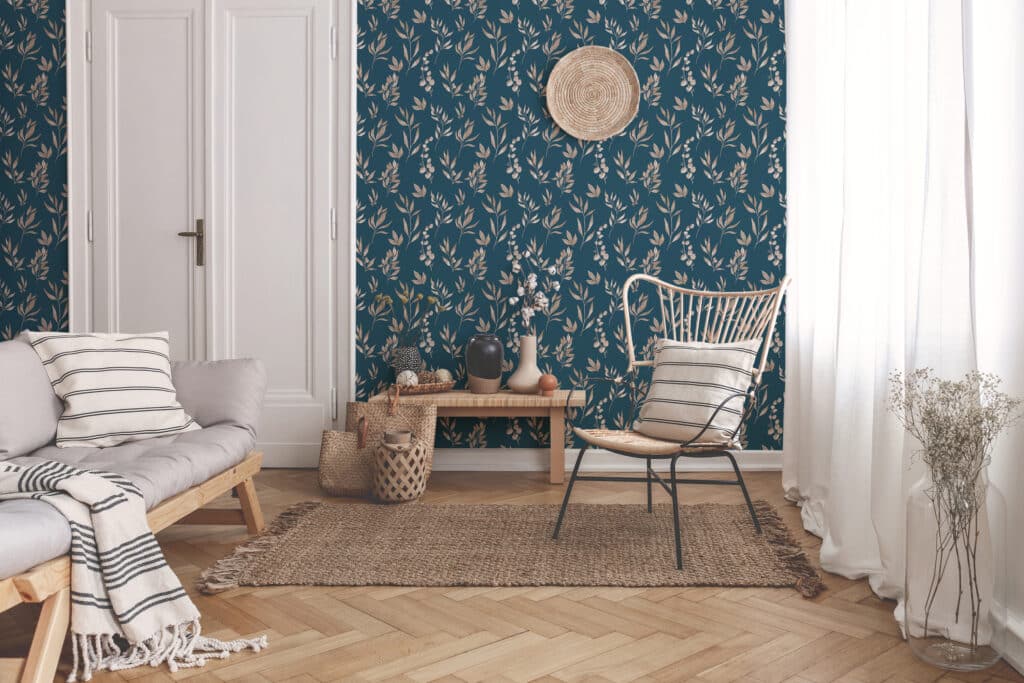 Although the fall color palette is dominated by brown and orange tones, there is much more to it. Shades of blue, such as teal, perfectly contrast with browns, creating a rustic look that fits right in this moody season. When combined, blue and beige make an incredibly elegant duo that feels luxurious and cosy at the same time. This dried leaf wallpaper would be a great choice for an accent wall in a living room or bedroom.
Beige Art Deco floral wallpaper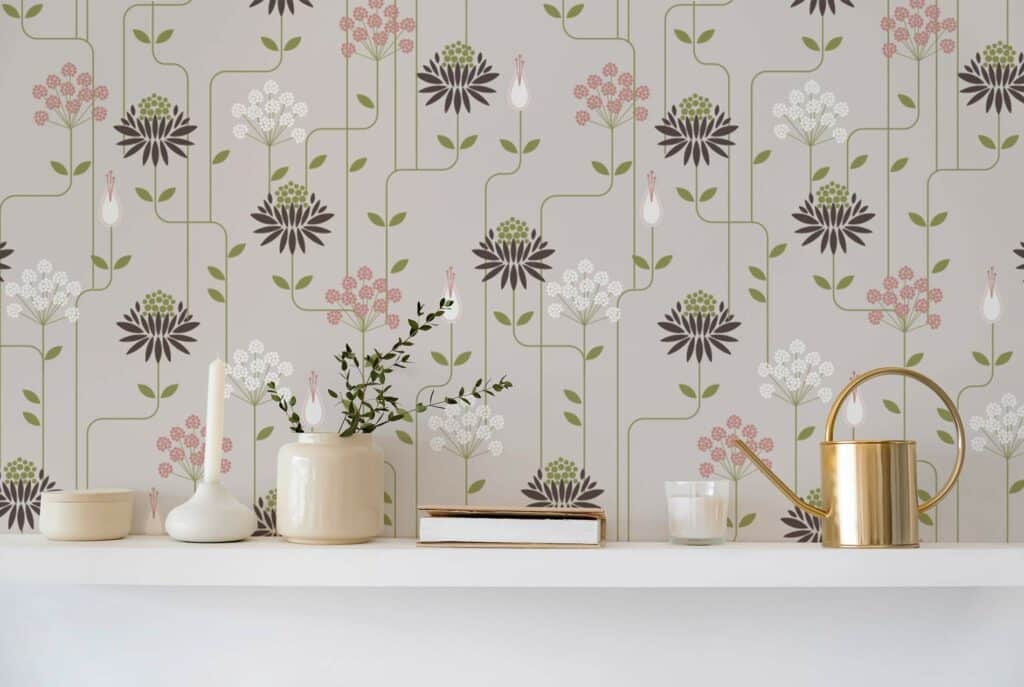 Floral patterns and beige tones are both timeless and hard to go wrong with. The lack of blooming flowers outside doesn't mean that you can't create your own personal meadow indoors. Florals come in so many shapes, forms, and styles that there is certainly a pattern for everyone. Wallpapers, such as this beige art deco floral design, would be a beautiful addition to a room that lacks natural light. The beige background fills the room with warmth and the dreamy florals add a pop of color. What's there not to like about this design!
Autumn farmhouse wallpaper design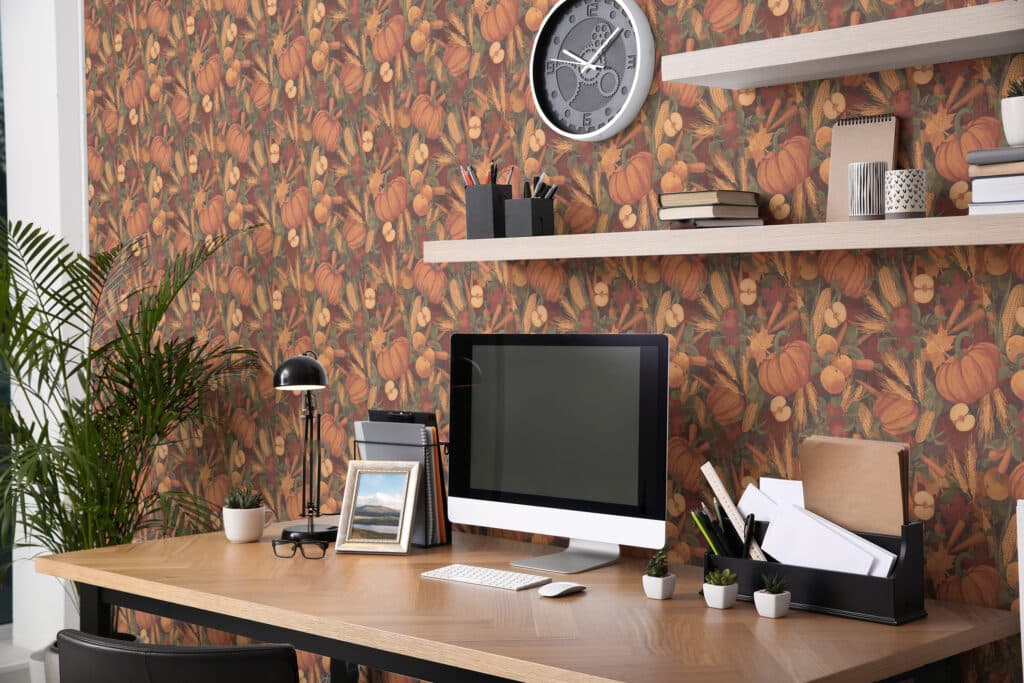 In one of our previous blog posts, we talked about upgrading a home office with removable wallpaper to create a productive environment. Believe it or not, productivity goes hand in hand with feeling comfortable with your surroundings. If your home office hasn't seen a change in a while, it might be a good idea to freshen it up. With peel and stick wallpaper, you can easily make temporary changes to your home office interior and change the look of it as often as you like. Wouldn't this autumn farmhouse wallpaper make you feel extra cosy while sipping a pumpkin spice latte and answering work emails?
Rainy days and dark evenings definitely have a way of getting to us, but luckily there are plenty of ways to fight the fall blues. Carrying out a home makeover project will keep you busy and give you a whole new space to enjoy afterward. So pick your favorite wallpaper design, make a cup of warm tea and cosy up your home!
Loving the content on our 'Fancy Walls' blog?
Sign up to our free, monthly newsletter! You'll hear about our latest wallpaper designs, and the most recent design trends!