Halloween is just around the corner and that means one thing – it's time to get spooky! As one of the most exciting and widely celebrated holidays of the year, Halloween requires some level of preparation (which makes it so exciting in the first place!). Everyone has their own way of preparing for the spookiest night of the year. Some of us focus more on the costumes, while others are fully committed to covering their front lawn with pumpkins, spiderwebs, and all sorts of scary creatures. But let's not forget that the inside of your home also plays an important role in setting the theme. And that's where spooky wallpaper designs come into play.
A temporary Halloween project
Depending on the scariness level you're aiming for, there are plenty of creative ways to decorate the inside of your home for Halloween. Carved pumpkins, candles, spider webs, and fake blood are a classic, but perhaps it's time to step up your decorating game. Themed removable wallpaper is perfect for such occasions. With so many fun patterns available, you'll be set for a look that will make you count down the days until next Halloween, and perhaps your next holiday DIY project. Let's get into the Halloween mood, and explore 3 wallpaper designs that will make your walls extra spooky this Halloween!
Spooky wallpaper with ghosts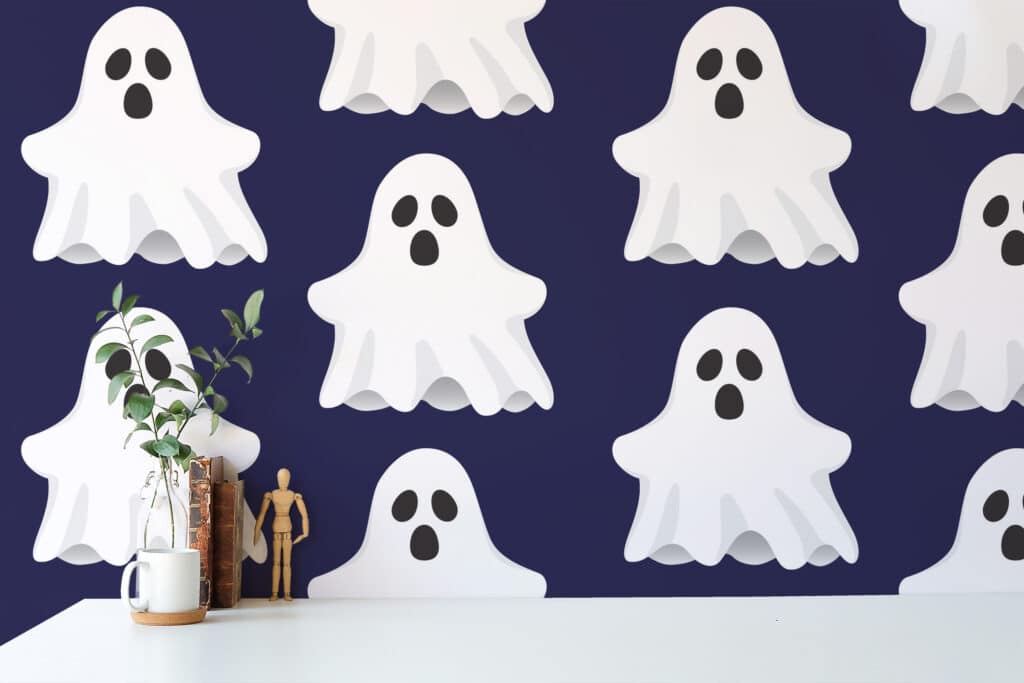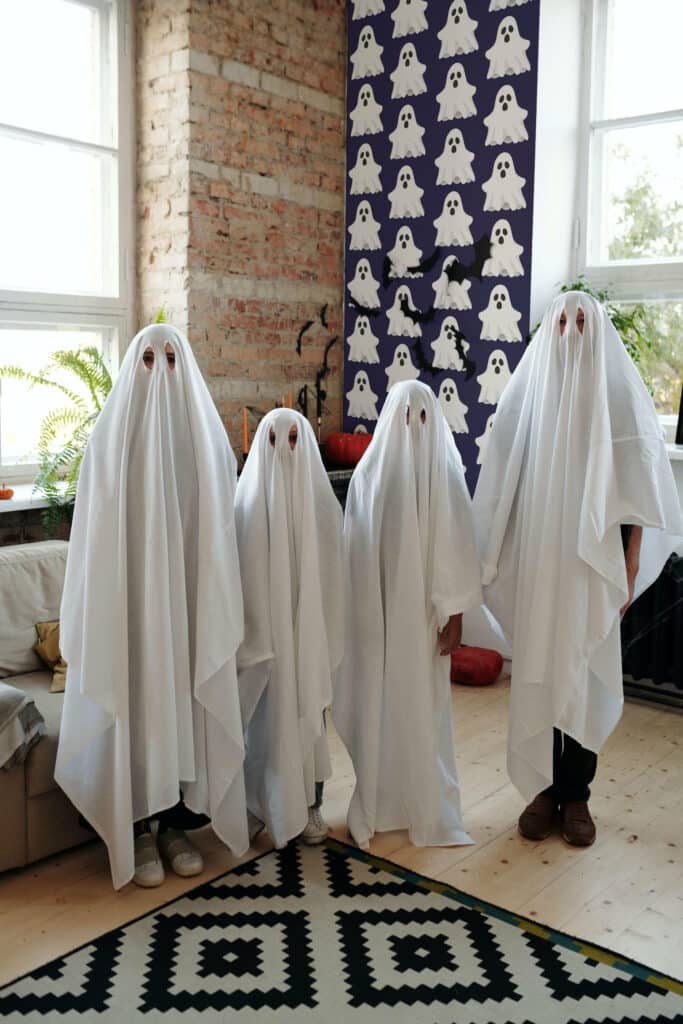 What's Halloween without ghosts, right? Ghost costumes and decorations are a staple of the Halloween season! Preparing to welcome trick-or-treaters starts with stacking up your candy drawer, but it doesn't end there. Imagine how much more fun it would be to add an extra layer of spookiness and greet them with a whole room full of ghosts! This ghost wallpaper would be the perfect addition to your Halloween decorations, leaving a great impression on the little ones and not-so-little ones.
Dark spiderweb wallpaper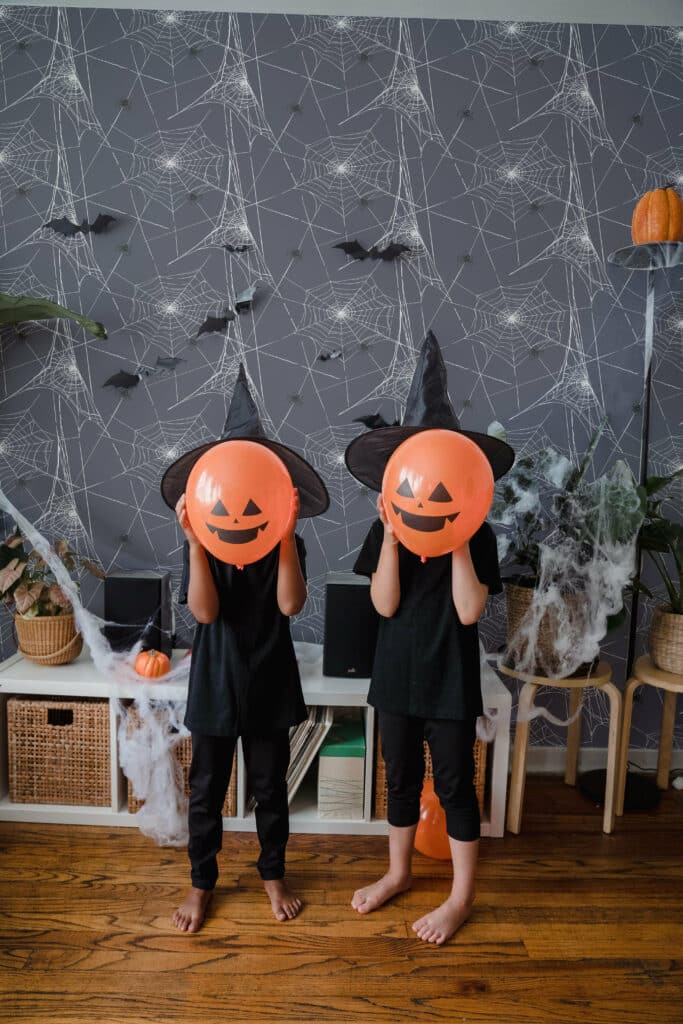 If you want to give your kids the perfect atmosphere for getting into their spooky characters, this dark spiderweb wallpaper is what you need. Add some fake spiders, bats, and carved pumpkins to the mix and you're ready for the spookiest night of the year. Removable wallpaper is definitely the way to go if you're looking to take your decorations to a whole new level. We're sure that at the end of the night, Halloween treats will taste way better when you're surrounded by spiderwebs (and hopefully only fake spiders crawling on them)!
Aesthetic Halloween wallpaper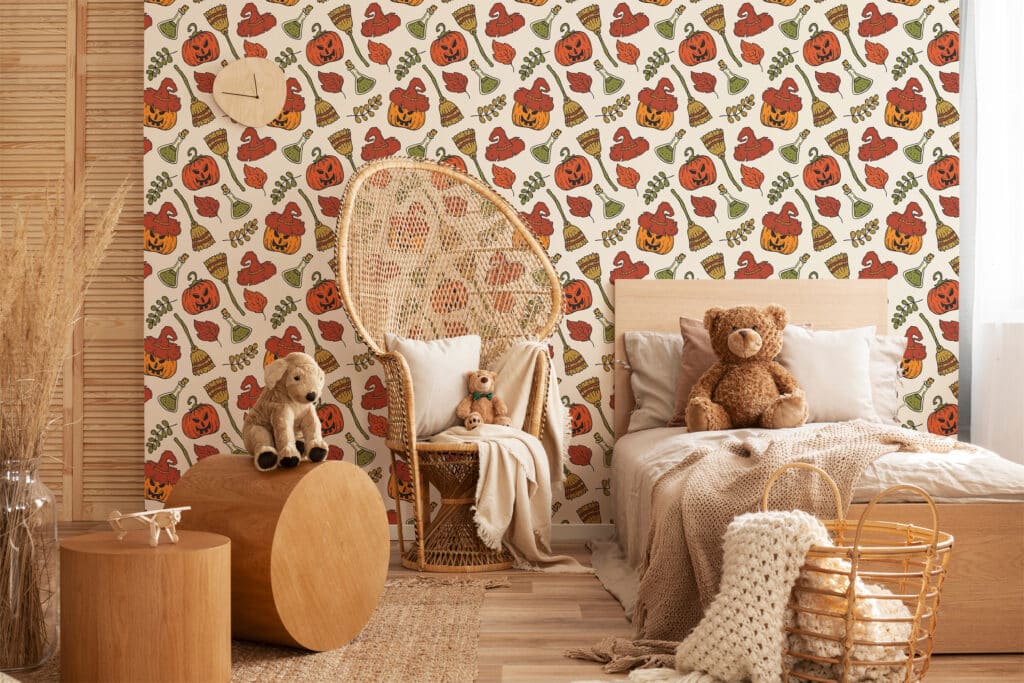 Not every Halloween wallpaper has to be super scary, though. Your little ones may still be figuring out what the holiday is all about, and you might want to save the zombies and skulls for next year. Kids' rooms are often divided into different areas for playing and sleeping. This aesthetic Halloween wallpaper would certainly fit into a kids' room and make it more playful. Who knows – maybe your kid will like it so much that they will want to keep the wallpaper until next Halloween!
Preparing for a holiday is always exciting, especially if it involves decorating your home and setting a certain theme.  As you're preparing to treat your neighborhood kids with candy, think about treating your house or apartment with a spooky wallpaper design too. It's a great project to take on as a family, especially if you don't have a front lawn to decorate. Pick your favorite Halloween design and prepare to get spooky this Halloween! 
Loving the content on our 'Fancy Walls' blog?
Sign up to our free, monthly newsletter! You'll hear about our latest wallpaper designs, and the most recent design trends!