Wallpaper is as old as time, but only in recent years has it gained back its popularity and melted the hearts of many interior design lovers across the world. While you may think wallpaper is something only a homeowner can enjoy, it's also a great option for a rental apartment. Removable wallpaper is apartment safe, and gives you the chance to spruce up your temporary space with a trendy pattern. Apartment wallpaper doesn't have to be boring, it can be bold, and full of personality. As we are firm believers in colorful walls and bold patterns making life way more interesting, we want to encourage you to explore and find a wallpaper that makes your heart beat a little faster. No matter how long you're planning on staying in your rental, apartment-friendly wallpaper will make your time there more enjoyable, and fun!
What makes it an apartment-safe wallpaper?
If you're not familiar with the term "removable wallpaper", it's a type of wallpaper that doesn't require any wallpaper glue. Peel and stick wallpaper is self-adhesive and works like a big sticker, but most importantly, it's very easy to install and remove. So if you've ever wondered if you can put wallpaper in an apartment, the answer is YES! And most importantly, you don't have to sacrifice your security deposit by doing so. Let's explore some creative apartment wallpaper ideas, and get your imagination running for your next peel and stick wallpaper apartment makeover!
Create an accent wall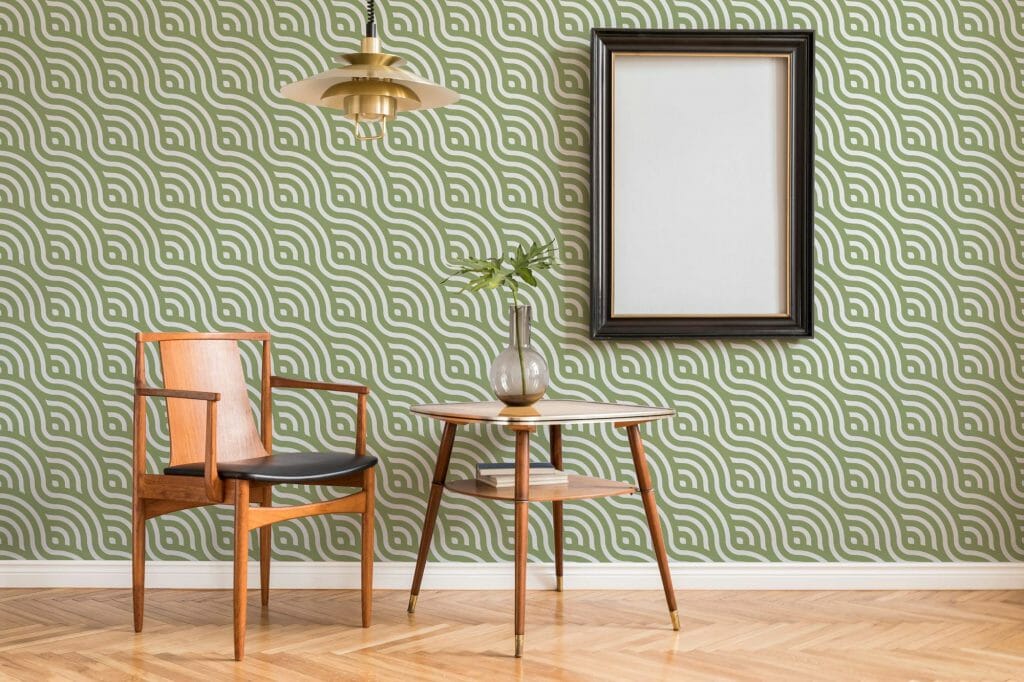 Long gone are the days when covering your walls with wallpaper meant doing it on all four walls in your room, from floor to ceiling. Of course, there are some patterns that look great when applied to the whole room, but more often than not, people choose to create an accent wall instead. An accent wall allows you to highlight a certain area, and is usually done at the focal point of the room. It's a great way of incorporating a bold and colorful pattern in your space, without overpowering the rest of the interior. Our Art Deco wave wallpaper is the best of both worlds – simple but colorful enough to make a statement. Even if you're a true minimalist, a colorful accent wall can add that pop of color you didn't know your rental needed. It's definitely one of our favorite apartment wallpaper ideas!
Update your kitchen backsplash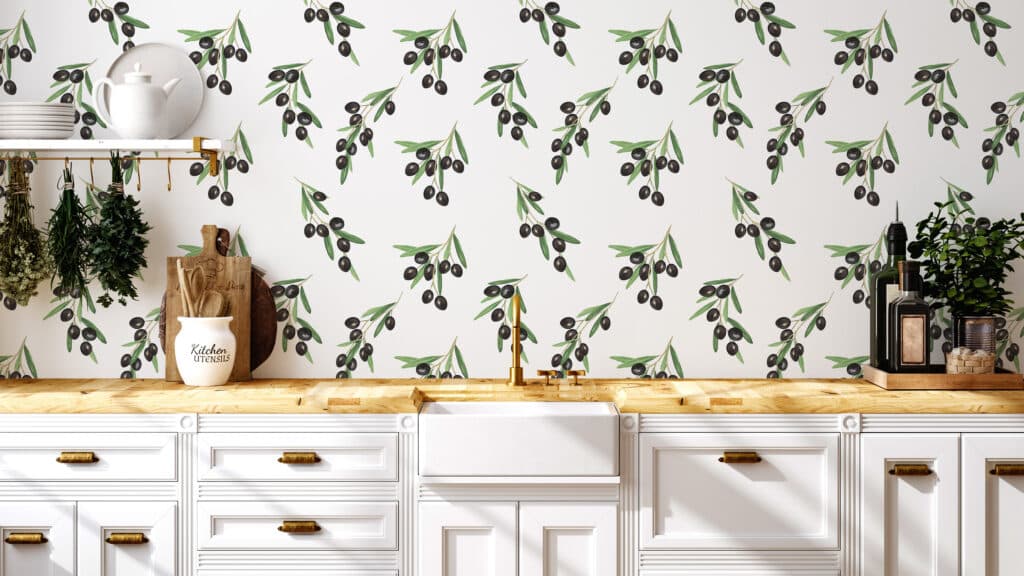 Who doesn't love a nice kitchen, right? Not every rental comes with a good-looking one, but that's where apartment-friendly wallpaper comes to the rescue. Kitchen makeovers, same as bathroom renovations, can get quite expensive and time-consuming. But that doesn't mean you should give up on that idea! Adding wallpaper to your kitchen backsplash is an easy way to freshen up the look of your kitchen. We love how this olive wallpaper brightens up the room and gives it a nice, rustic feel. Cooking dinner will be a whole new experience with this kind of view!
Make your bathroom more interesting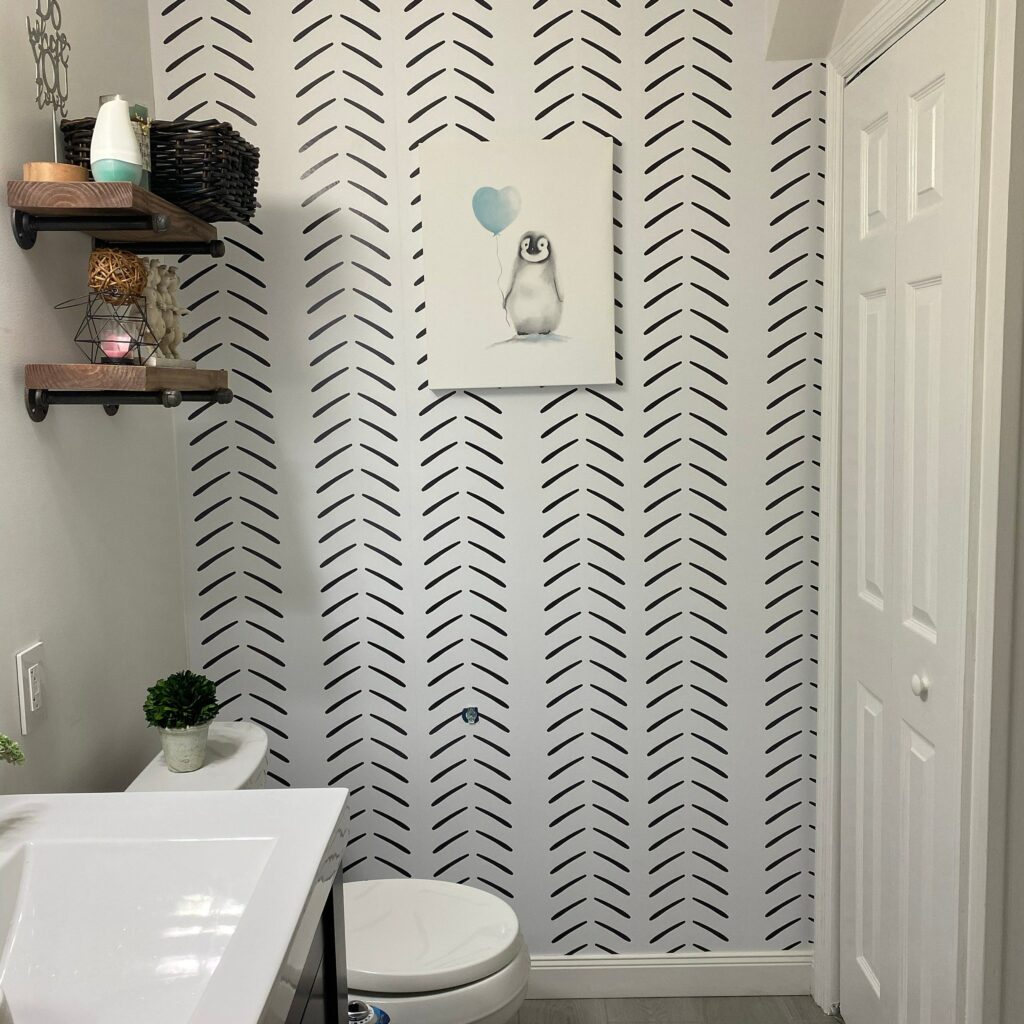 One thing's for sure – bathrooms in rentals can be quite boring. Plain walls and all-white appliances don't necessarily call for a very aesthetic look. Doing a full bathroom renovation doesn't make much sense either, since you will be moving out at some point. Luckily, peel and stick wallpaper can be installed in bathrooms too. You can recreate a classic bathroom look with tile wallpaper or opt for a timeless pattern such as this black herringbone wallpaper. The only thing to keep in mind is that you shouldn't wallpaper areas that are in constant contact with water, as it will most likely cause the wallpaper to peel off. 
Hallway update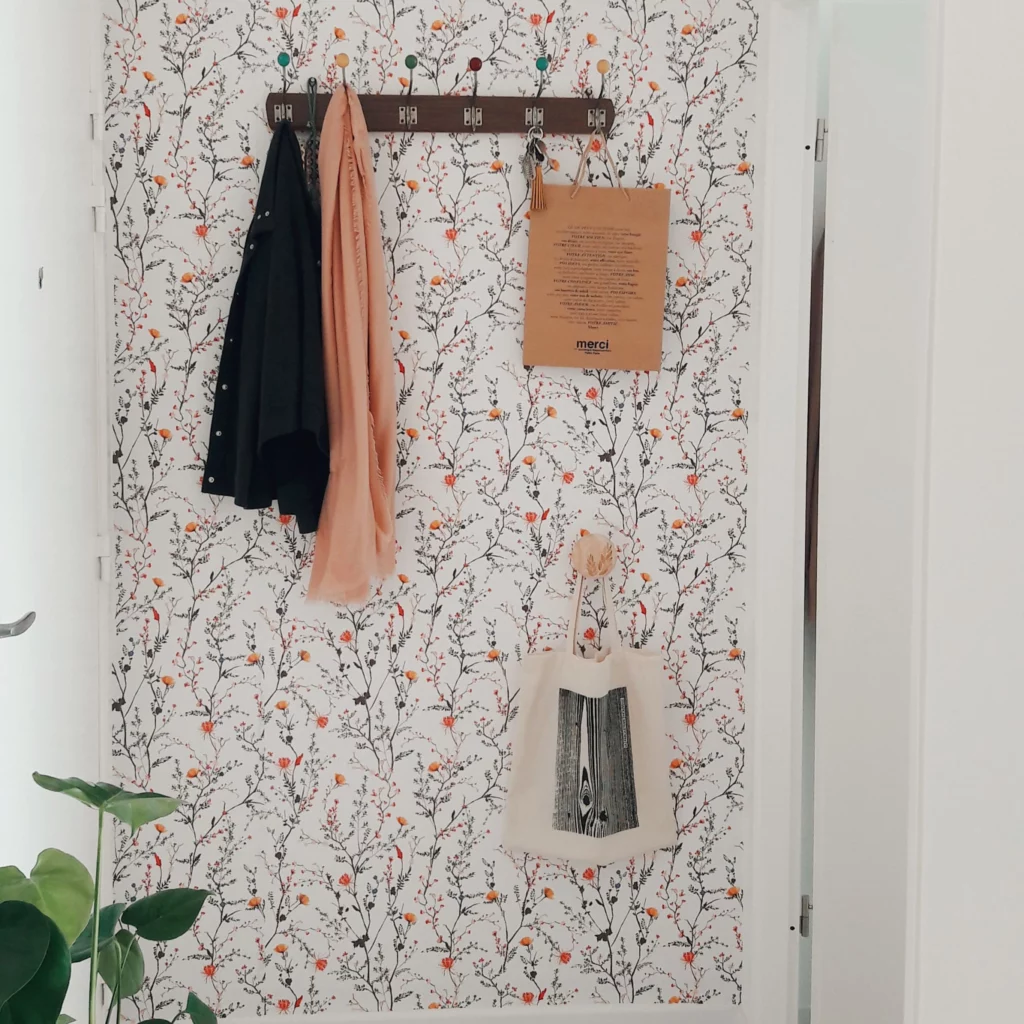 Your hallway is the first thing you see when you enter your apartment, so why not add a little pizazz to it? There are plenty of apartment wallpaper ideas you can carry out in your hallway – from an accent wall to an upgraded shoe shelf. You can decide to either stick to the overall style of your apartment, or try something completely different and go for a more daring pattern. One of our customers turned her hallway look around with this wildflower wallpaper accent wall. Florals are a classic, and this makeover definitely looks too good to be true!
Even though living in a rental apartment doesn't give you as much room for home improvements as having your own space, it doesn't mean there's nothing you can do about it. Apartment-friendly wallpaper allows you to explore plenty of creative projects that will help make your permanent space feel unique and homey. Whether you prefer a more simple interior, or want to try out a more colorful look, peel and stick wallpaper will be your best friend in your next home improvement project, and will make your apartment shine!
Loving the content on our 'Fancy Walls' blog?
Sign up to our free, monthly newsletter! You'll hear about our latest wallpaper designs, and the most recent design trends!