Fall has finally arrived, and the colorful leaves and crisp air mean one thing – it's time to find your favorite blanket and get cozy! Nonetheless, fall is also the perfect season for doing a little home update and sprucing up your space, since you'll be spending more time indoors in the upcoming months. You don't have to look too far for inspiration, as the color palette outside the window already gives you an idea of how to shake things up! Luckily, there's something for everyone – from earthy, neutral tones to more vibrant reds and oranges. There are plenty of creative ways to incorporate fall colors into your space. Let's take a look at 5 easy and fun ideas to make that happen!
Yellow cushion covers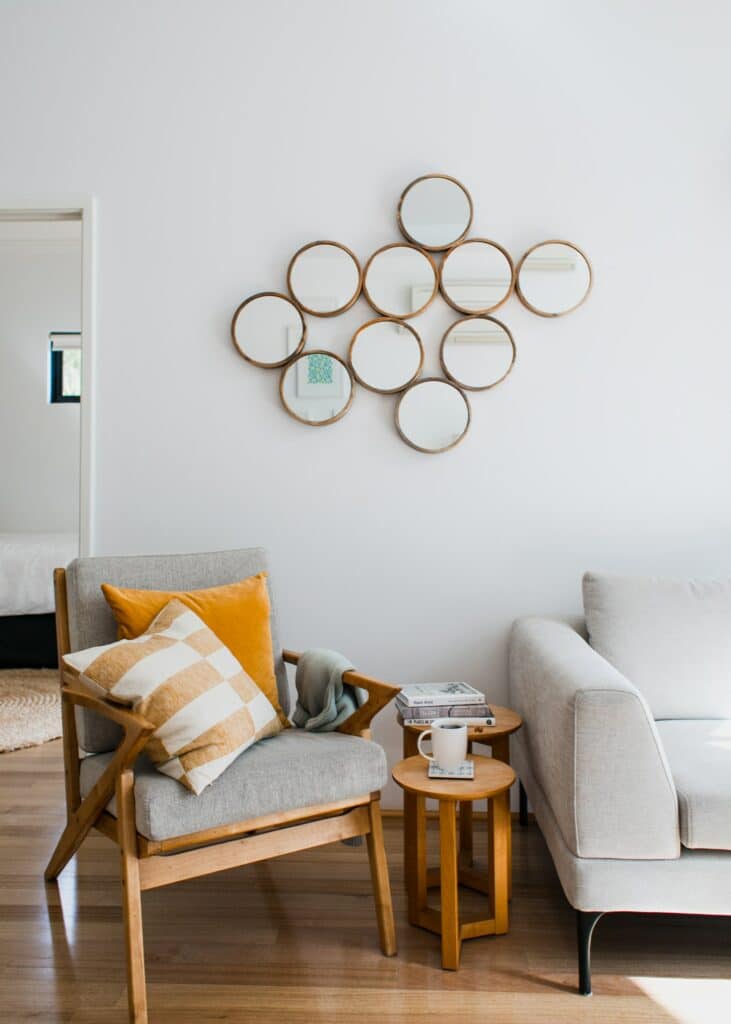 Decorative cushions are perhaps one of the easiest ways to add a pop of color to your space. Cushions create a cozy feeling and will certainly keep you warm and comfy! They're the perfect solution for those who like to switch up their decor often. You can easily change your cushion covers depending on the season or even the mood you're in – whether that's once every few months or every week! Yellow mustard tones definitely signal that fall is here.
Brown wallpaper accent wall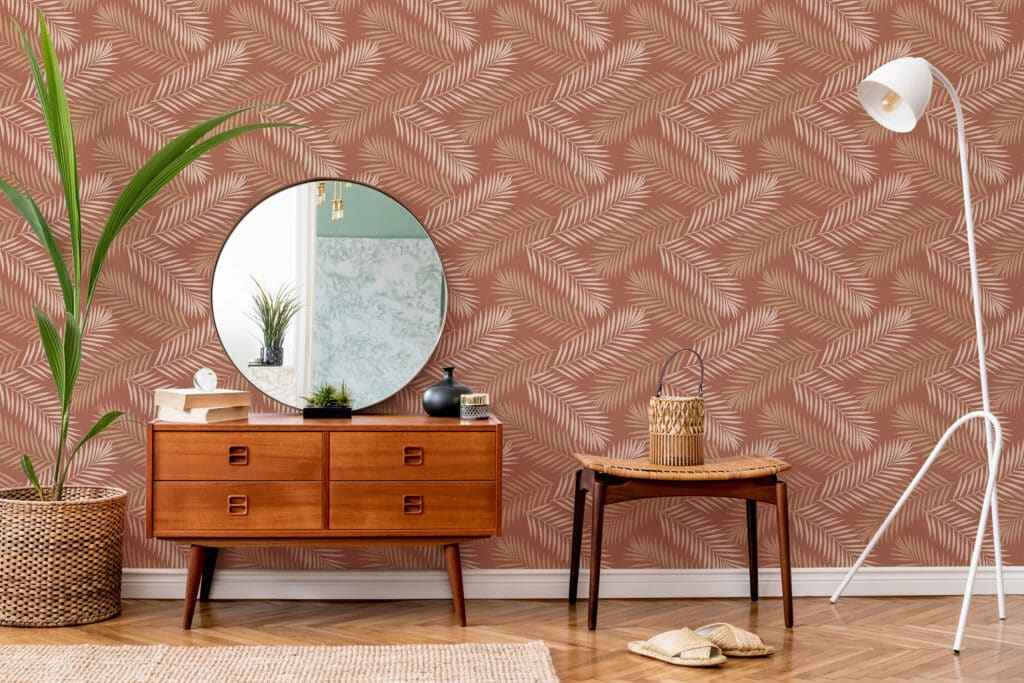 For those who are feeling like picking up a little DIY project, a wallpaper accent wall is the way to go. Sticking to fall colors doesn't necessarily mean you have to go for the typical fall leaf patterns. This warm tropical leaf wallpaper is a beautiful example of combining earthy tones with a more exotic pattern. Needless to say –  it fits into the fall theme perfectly! The best thing about peel and stick wallpaper is that it's just as easy to remove as it is to apply, so you can change it whenever it feels like it's time for another seasonal update.
Orange mugs and decorative pumpkins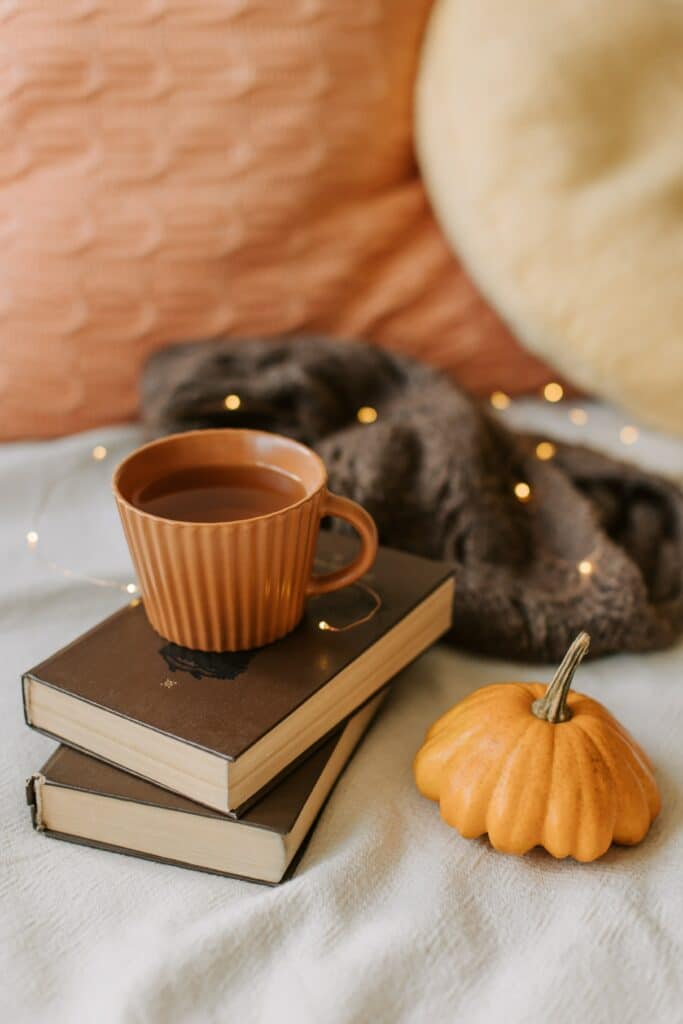 Pumpkin spice and everything nice, right? Fall is definitely the "pumpkin everything" season, and decorative pumpkins are the signature of it. Adding a couple of orange pumpkins to your interior is an easy and fun way to give your home a seasonal update. Plus, they look incredibly cute!
Pumpkins aside, have you ever thought of having seasonal crockery? Even two or three different sets of mugs and plates can make your dinners and tea time more exciting. A set of orange mugs is definitely a must-have this fall!
Mustard blankets and candles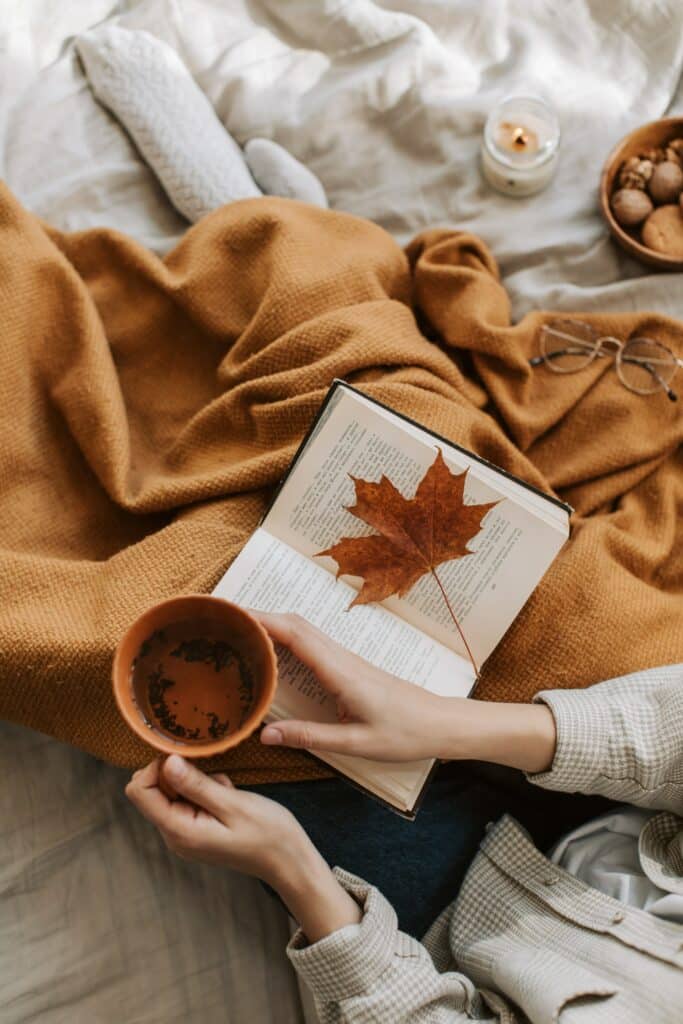 There's nothing better than wrapping yourself in a warm blanket and lighting candles on a chilly fall day. Colorful textiles are another way to incorporate the fall color palette into your interior, and believe it or not – the smallest things can really make a big difference! There's just something about blankets and candles that instantly makes the room feel much more comfy and warm. Colors such as mustard and red will make even the simplest rooms stand out.
Get creative and make your own artwork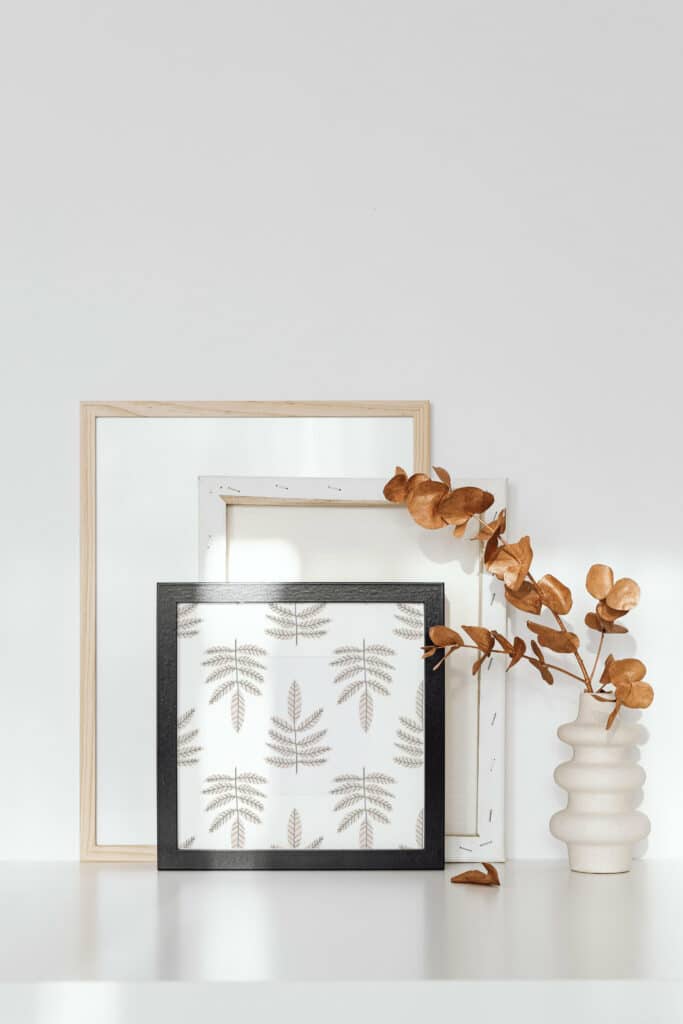 Switch your current wall art to something fresh! If you have any wallpaper leftovers, you can turn them into a piece of art! Just find a frame that matches the color of your wallpaper, measure, cut, and voila – you have yourself a brand new artwork! If you prefer to keep it simple and like to add only a tiny bit of color to your space, this might be the solution for you. Our neutral beige leaf wallpaper looks just as good when it's framed as it does on a wall!
As the days get darker and we start to spend more time indoors, it's nice to think about ways to make your space cozier. There are plenty of colors in the fall color palette to choose from, whether you like to keep it simple or have a more bold taste. A seasonal interior update doesn't require much time or commitment, and there are many fun ways to incorporate fall colors into your space. So, grab your pumpkin spice latte, find a wallpaper pattern that you like, throw in a bunch of cushions and enjoy the upcoming fall season!
Loving the content on our 'Fancy Walls' blog?
Sign up to our free, monthly newsletter! You'll hear about our latest wallpaper designs, and the most recent design trends!