Goodbye August, and hello September! Another great summer has gone by, and it's time to switch from holiday vibes to work mode. Some of us are heading back to the office, while others are staying with the hybrid work model and working from home at least a couple of days a week. What started out as a temporary solution during the pandemic has now become a part of our everyday lives, and in one way or another, home offices are here to stay!
Working from home looks different for everyone – it could be anything from a laptop on the dining table to an entire room. No matter the size, it's important to create a positive environment that will keep you motivated. Luckily, it doesn't require much to upgrade your home office! Apart from covering the basic necessities, such as a computer, a comfortable chair and a desk, there are a few other things you can add to your interior to make it more cozy. Let's dive right in!
Creating the perfect home office
Your home office interior deserves just as much attention as other spaces in your home. One of the easiest and fastest ways to spruce up your surroundings and make your space aesthetically pleasing is by adding peel and stick wallpaper. Adding a touch of color can definitely boost your mood and productivity. Let's look at some creative ways to upgrade your home office using peel & stick wallpaper!
Stick to the classics with a black and white accent wall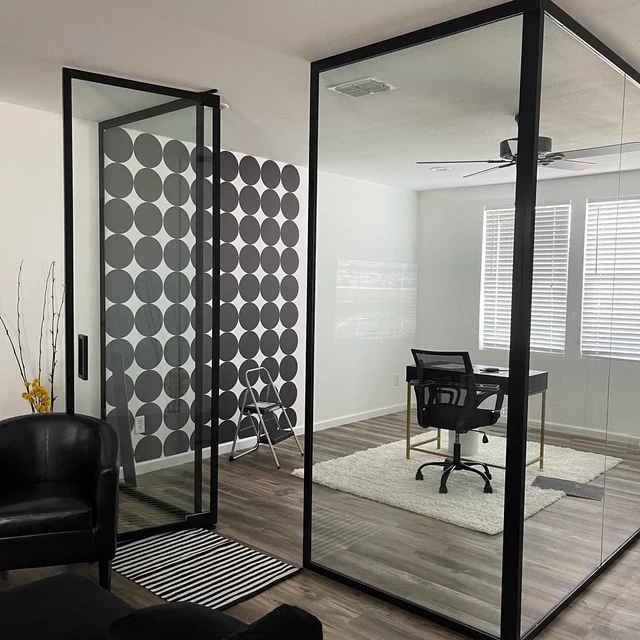 This lovely example from one of our customers shows how a wallpaper accent wall can instantly change the overall vibe of the room. The large dots wallpaper design gives this home office a more sophisticated look. It perfectly contrasts with the lighter floor and walls, without overpowering them. This home office definitely has a "get things done" vibe!
Create a home office area in your living room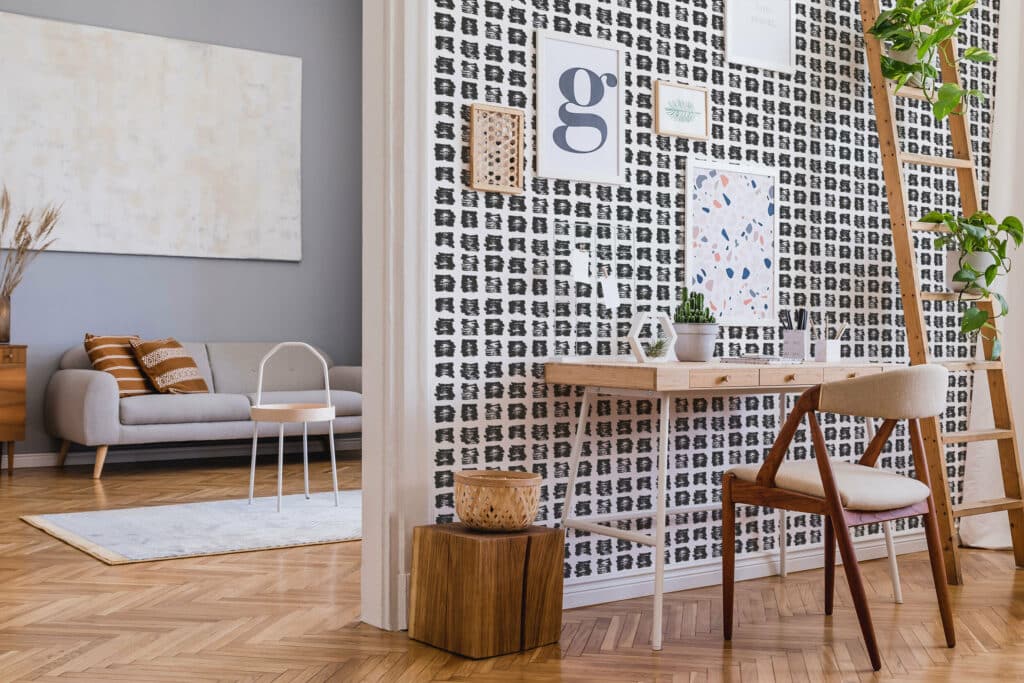 If your options are limited and creating a home office for yourself means transforming another room, don't worry! A designated office area in your living room can actually be a nice addition to your interior. Think about a pattern that helps you separate the office space from the rest of the room, but also fits in with the rest of your interior. Geometric patterns blend in well with many interior styles, and it's nearly impossible to go wrong with black and white! Our brush stroke mosaic wallpaper would be a great addition to a little office corner in your living room.
Surround yourself with nature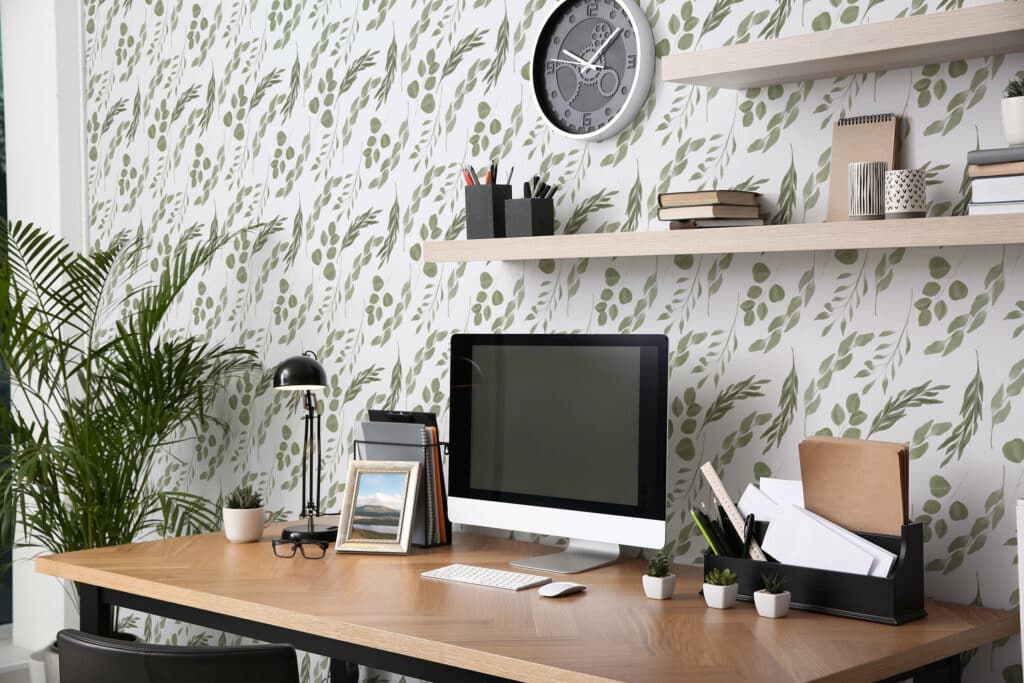 Is there such a thing as too many plants? We highly doubt that! Adding an element of nature to your workspace creates a calming atmosphere, which is often much needed during our workdays. This eucalyptus wallpaper is a subtle way to incorporate a bit of greenery into your space and serves as the perfect background for busy to-do lists. Its seamless pattern makes it a great choice for a home office. It's not only easy to install, but also pleasant to look at!
Get creative with your peel and stick wallpaper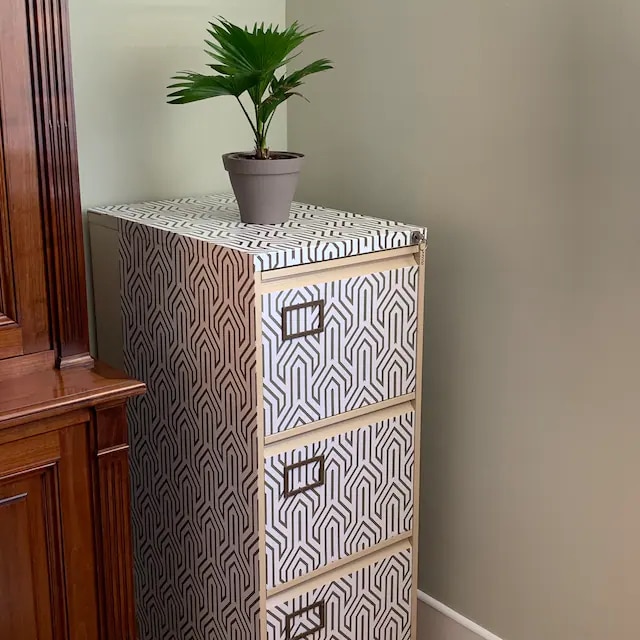 Just because it's wallpaper doesn't mean it's limited to walls. There are many ways you can use peel and stick wallpaper to decorate your home office, from walls to shelves and ceilings. This is another creative example from one of our customers, who turned a basic filing cabinet into a piece of art using our art deco arch wallpaper. Who would've thought organizing your papers could look so good!
Infuse a Retro Vibe with Vintage Triangles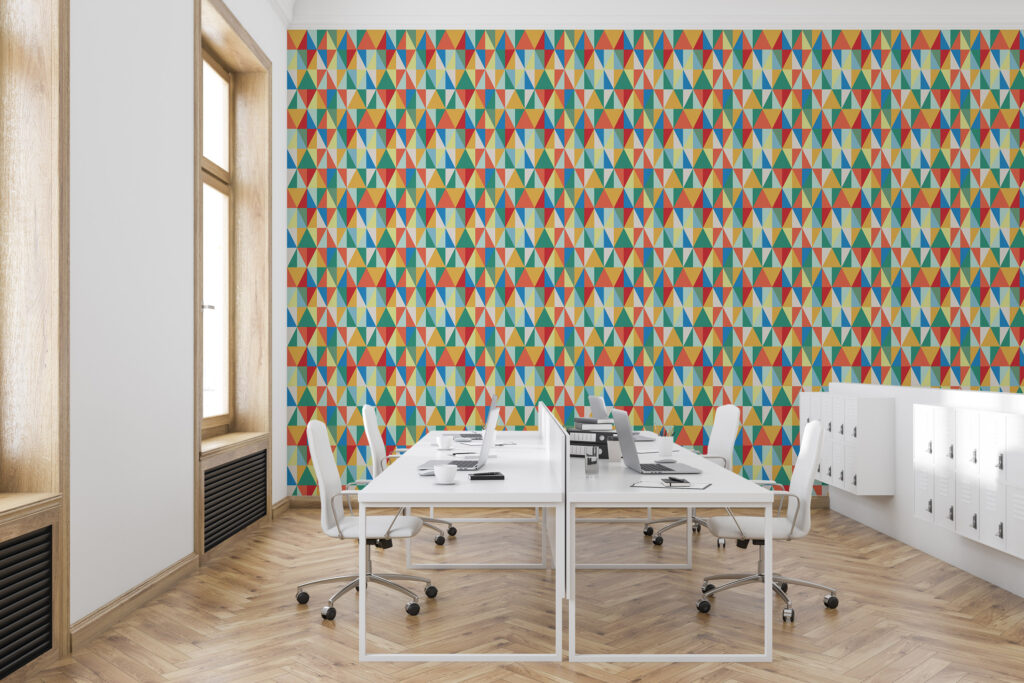 Take a trip down memory lane with our cool home office wallpaper, "Vintage Triangles". This colorful, retro-style wallpaper boasts a geometric pattern that adds an element of fun and creativity to your workspace. Although this design is versatile enough to fit any room, it shines particularly well in a living space transformed into a home office. Despite its vibrant colors, it maintains a professional vibe that can spark creativity and enhance productivity. The pattern color is fixed, eliminating any confusion or decision-making regarding color combinations – this groovy wallpaper is ready to peel, stick, and immediately brighten your space!
Embrace Tropical Tranquility with Office Jungle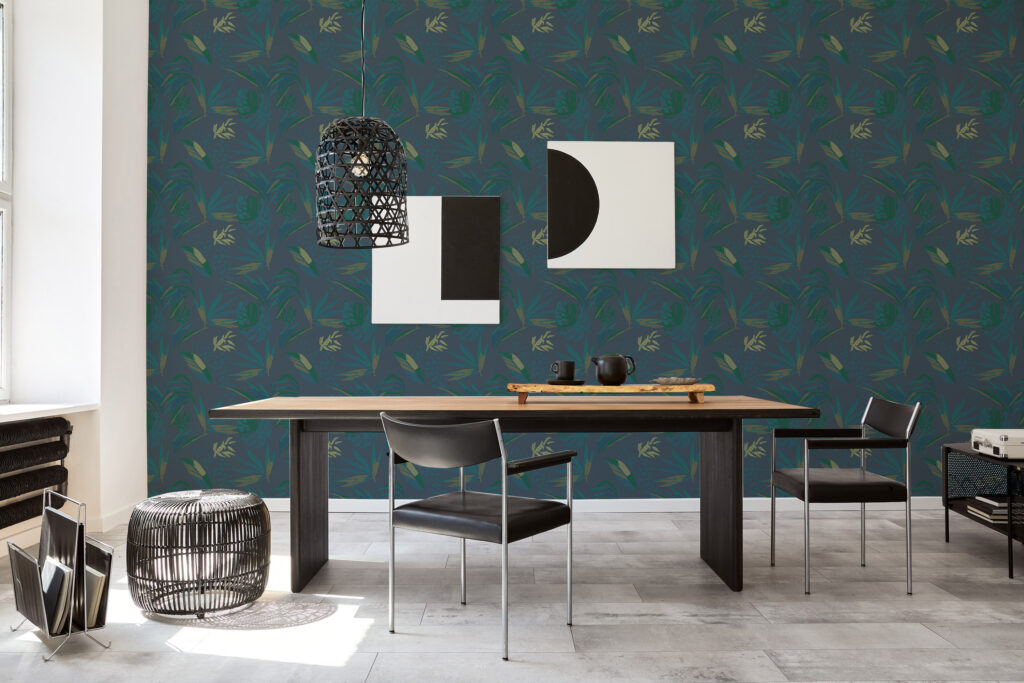 Jungle For those who love an element of the outdoors in their workspaces, our "Office Jungle" is the perfect dark home office wallpaper. This tropical-inspired wallpaper is dominated by a calming blue color and adorned with an intricate leaf pattern. Although designed with office spaces in mind, it can blend seamlessly into any part of your home. Working amidst this lush, tropical wallpaper can inspire calmness and concentration, making it the ideal background for those challenging workdays. The pattern color is set, ensuring the serene jungle atmosphere remains intact.
Reflect Sophistication with Modern Rhombus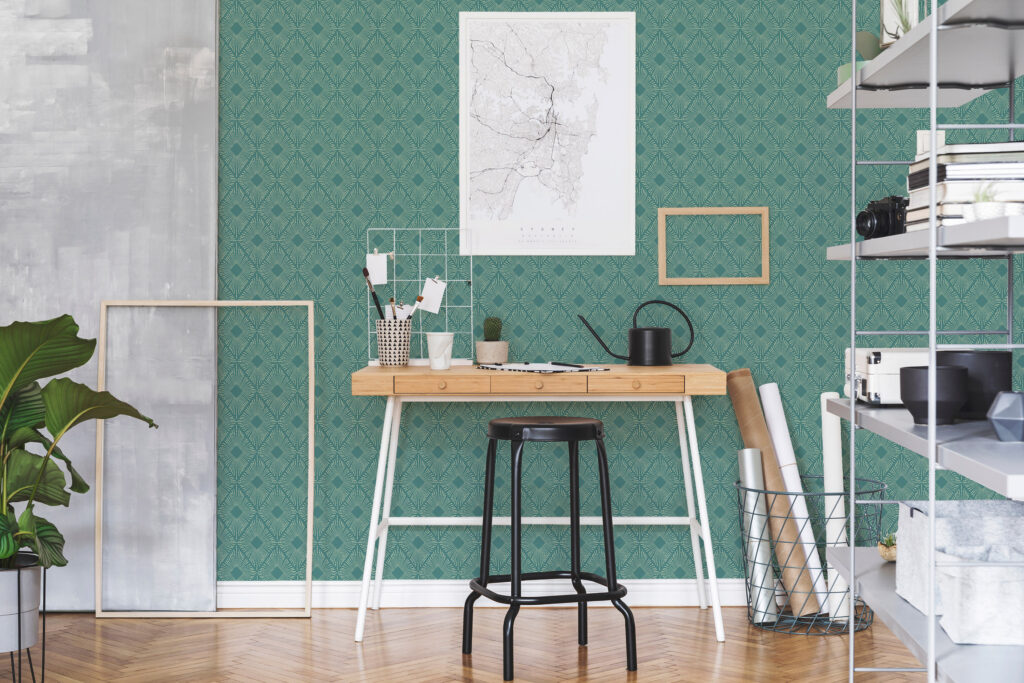 Elevate your workspace's elegance with our "Modern Rhombus" wallpaper. As a modern home office wallpaper, it offers an intricate geometric pattern set against a striking blue backdrop. This design captures the timeless allure of the art deco style while catering to contemporary tastes. Perfect for any workspace, it provides an engaging yet non-distracting backdrop, thereby helping to promote focus and productivity. It is important to note that the pattern color must remain the same, as this would disrupt the carefully curated blend of sophistication and modernity this design offers.
Simplify with Neutral Office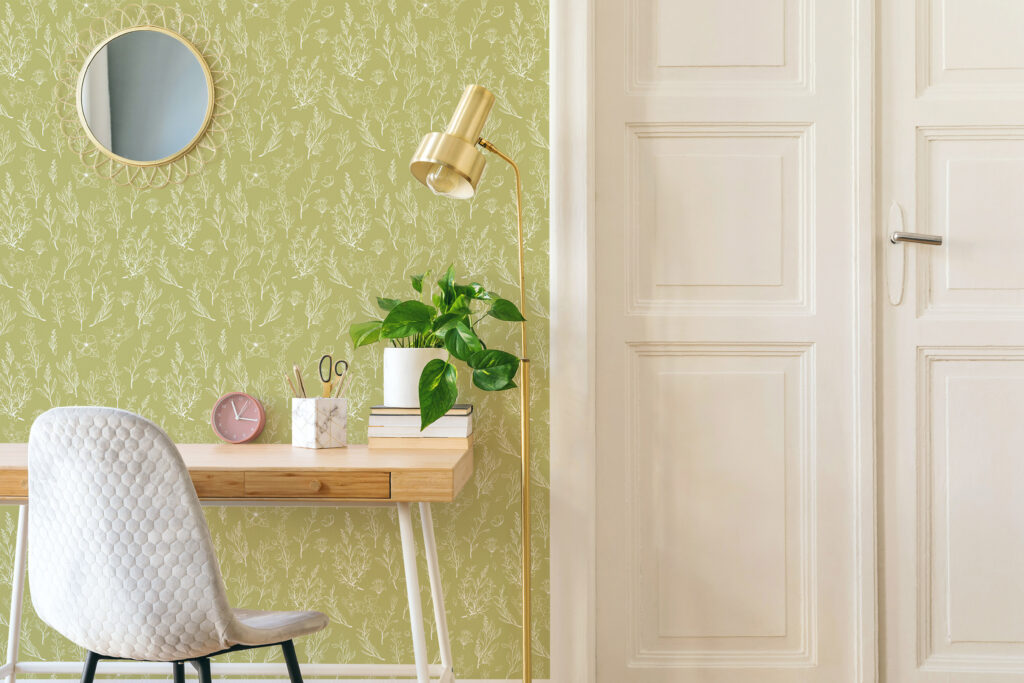 Turn your workspace into a quiet, calming area with our "Neutral Office" wallpaper. This small home office wallpaper is about simplicity and serenity, featuring a delicate floral pattern on a soft green background. This design is particularly apt for compact spaces where clutter needs to be avoided. The subdued color scheme and pattern can help maintain a clear head and focused mind, which are essential for productive work. An added bonus is that the pattern color can be changed, allowing you to adapt the design to your existing décor or personal preferences. The "Neutral Office" wallpaper truly represents the saying, 'less is more'.
Since we spend most of our day working, our surroundings should make us feel good. While it can be hard to focus on work when you're at home, decorating your space accordingly and creating a cozy home office for yourself can go a long way. Whether your home office is located in a small area of your living room or a spare room, it's important to make sure it's a space that keeps you motivated. The beauty of peel and stick wallpaper is that it's as temporary or permanent as you want it to be, meaning you can experiment with different patterns and colors until you find the best match. Sometimes even a small change can make the biggest difference, so if you're not completely sure about wallpapering your walls, start with smaller projects such as shelves, filing cabinets, or a desk. Let's get started, shall we?
Loving the content on our 'Fancy Walls' blog?
Sign up to our free, monthly newsletter! You'll hear about our latest wallpaper designs, and the most recent design trends!