Set foot into a world of playful sophistication and nostalgic charm with our Dollhouse-inspired wallpaper collection. Drawing inspiration from the iconic appeal of a classic dollhouse, we've artistically transformed this concept into a collection of awe-inspiring wallpapers designed to add a touch of whimsy to any interior. Each design in the collection is a tribute to an iconic and timeless symbol of childhood dreams, reimagined into a versatile range of delightful pink wallpapers. From soft blush tones to vibrant hot pinks, these designs echo diverse shades of joy and elegance, offering you a captivating selection.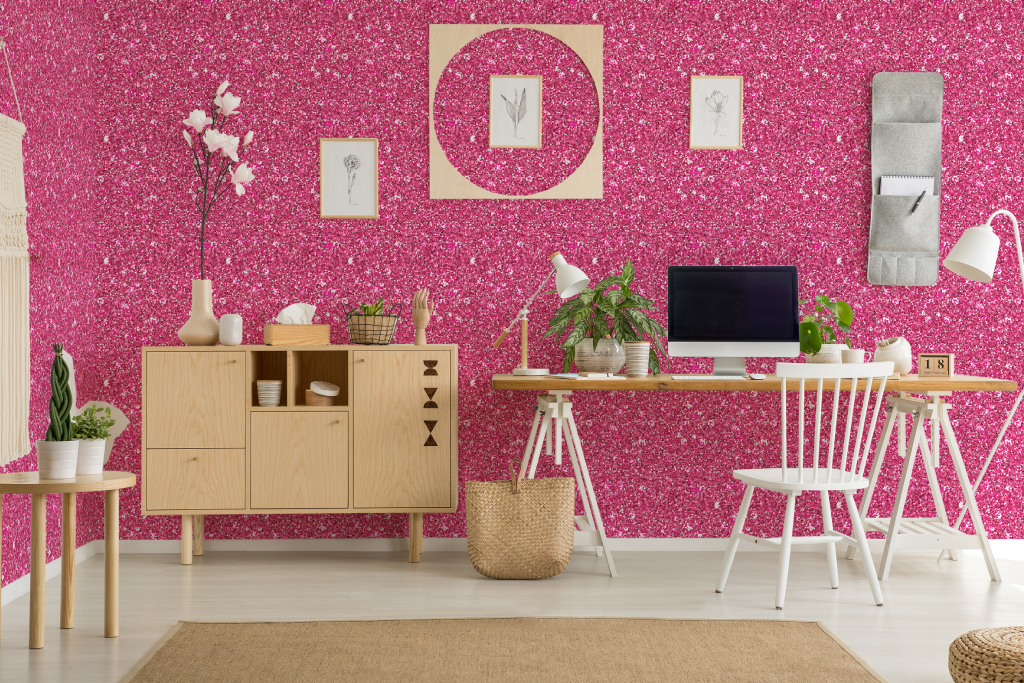 Imagine a world with sparkling glitter, where each wall shimmers with magic. The "Doll House Glitter Effect" design transports you into a dreamy realm. This wallpaper dazzles with a striking hot pink hue, with an additional glitter effect that gives it an ethereal appeal. Its vibrant yet warm palette creates a cozy, energizing ambiance in any room. Whether lounging in your living room or settling down for the day in your bedroom, this design can transform your space into a glittering haven.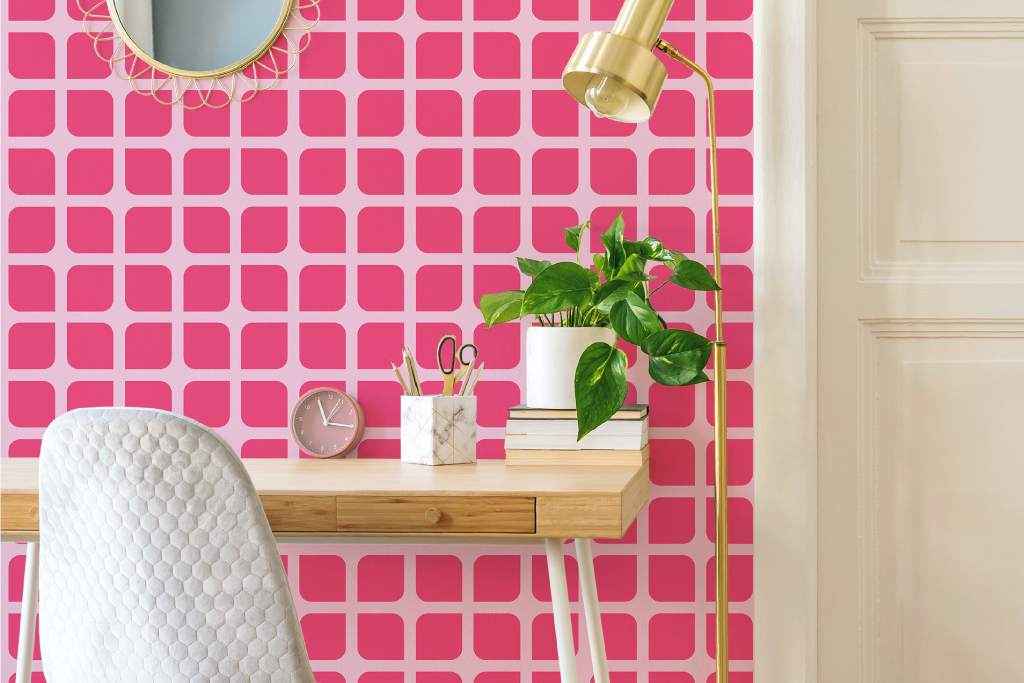 Our "Doll House Inspired Geometric" wallpaper is a dance of geometric forms across a canvas of pink. This wallpaper features a creative design where distinct shades of pink converge in a captivating geometric pattern. The harmonious interplay of shades adds depth and intrigue to the design, making it a perfect statement piece for your interiors. It's a versatile design, equally at home in a cozy den or a modern dining room, adding a dash of sophistication to your living space.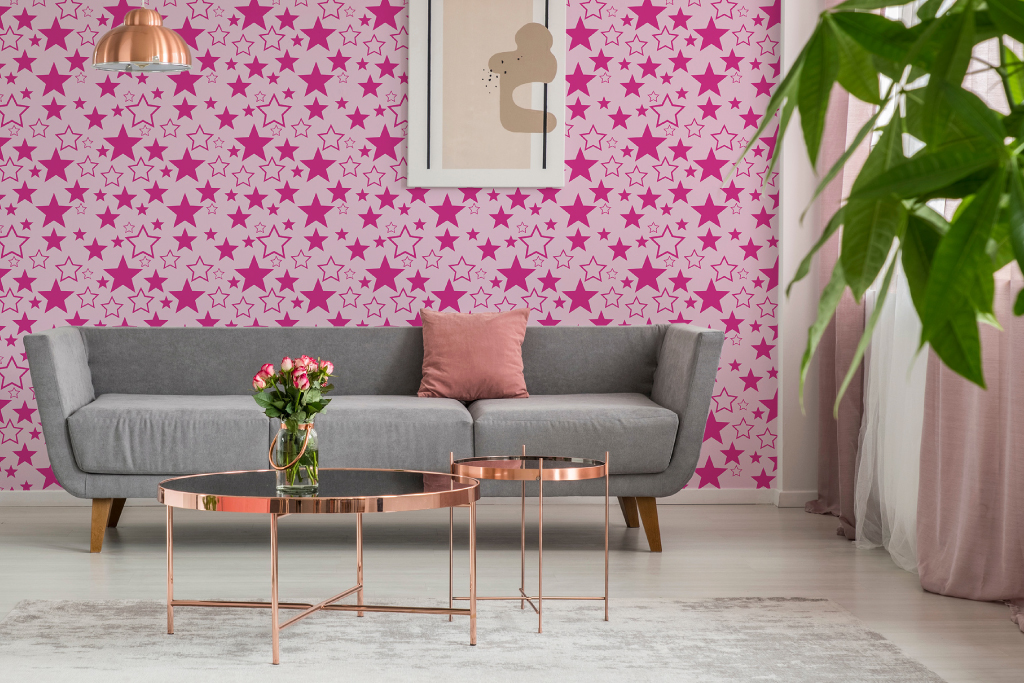 In the realm of our "Starlit Doll House Inspired" design, countless pink stars sprinkle the celestial landscape, casting a soft, dreamlike glow. This wallpaper captures the tranquil beauty of a dollhouse night sky, complete with twinkling stars against a soothing pink background. The enchanting design and calming hues make this wallpaper a fantastic choice for creating a serene and imaginative atmosphere in any room. It's perfect for crafting a tranquil study or creating a calming space in your living room, sprinkling a touch of stardust into your everyday life.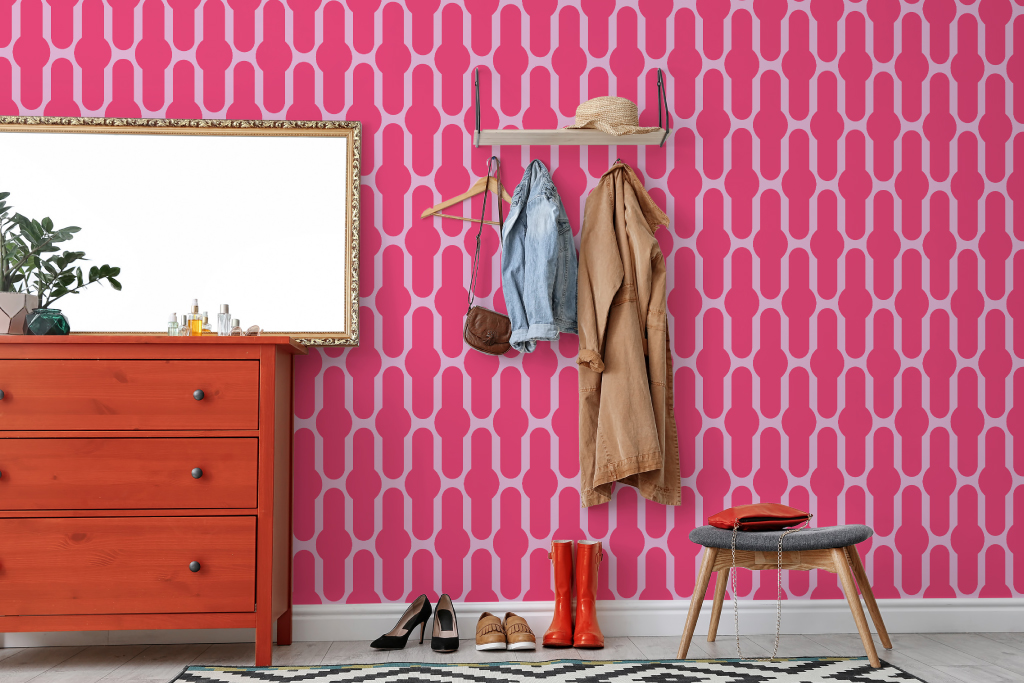 "Doll Inspired Home" is an eclectic design that captures the essence of a dollhouse in an abstract geometric pattern. It's a mesmerizing play of hot and soft pink, creating an energizing yet balanced aesthetic. This wallpaper offers a unique blend of bold and soft, making it an ideal choice to enliven any room. Whether enhancing your kitchen with a vibrant touch or adding character to your home office, this design breathes life into any space with its dynamic energy.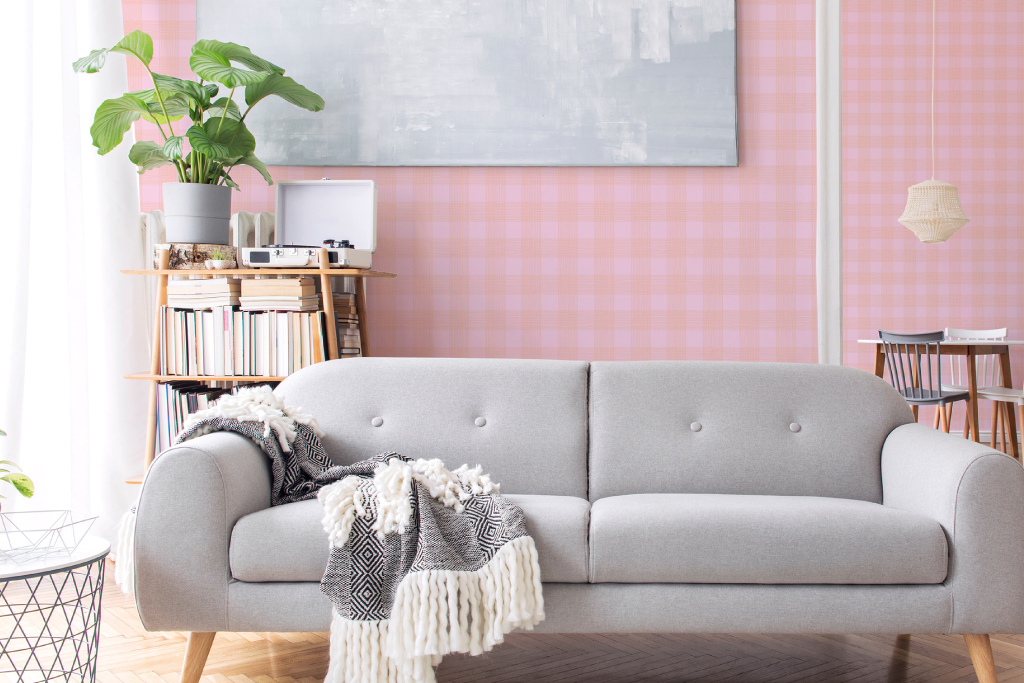 Our "Pink and Orange Plaid" wallpaper design draws its inspiration from the classic charm of dollhouses. It features hand-drawn orange lines forming a delightful plaid pattern against a pink background, resulting in a warm, nostalgic wallpaper. The playful yet sophisticated design of this wallpaper and its warm colors make it an excellent choice for adding personality to any room. From a welcoming entrance hallway to a cozy bedroom, it adds a touch of playfulness and charm.
A Dollhouse Dream in Every Room
Each design in our Dollhouse-inspired wallpaper collection is a tribute to the enchanting charm of these miniature worlds, translated into a gorgeous palette of pinks. Produced with environmentally friendly materials, our wallpapers blend style, quality, and sustainability. Experience the magic of living in a life-sized dollhouse with our collection. Explore our range, find your favorite design, and bring a delightful dollhouse charm to your interiors.
Loving the content on our 'Fancy Walls' blog?
Sign up to our free, monthly newsletter! You'll hear about our latest wallpaper designs, and the most recent design trends!