Flipping the page in our calendars from February to March is quite exciting. It indicates that spring is approaching and that days are getting longer and brighter. March also has many things to acknowledge and celebrate, such as World Wildlife Day, St Patrick's Day, and last but not least – International Women's Day.
In short, International Women's Day is a day that recognizes the social, economic, cultural, and political achievements of women. It's the perfect chance for anyone to embrace feminine energy in all its shapes and forms. One thing worth remembering is that embracing feminine energy can mean different things for different people and that femininity isn't limited to women. The world is your oyster and you can do as you please!
What makes decor feminine?
Feminine interior decor is typically associated with feminine characteristics such as softness, elegance, and warmth. It often features:
delicate colors
luxurious fabrics
decorative elements
Colors such as pastel, soft beige, and cream add a sense of nurture to a space and blend into most interior design styles smoothly. No matter which colors, patterns, and fabrics you decide to combine, the main idea remains – to create a cozy and inviting atmosphere. Let's dive a little deeper into a few simple, yet effective ways to incorporate a little bit of feminine energy into your home using wallpaper!
Fantastic florals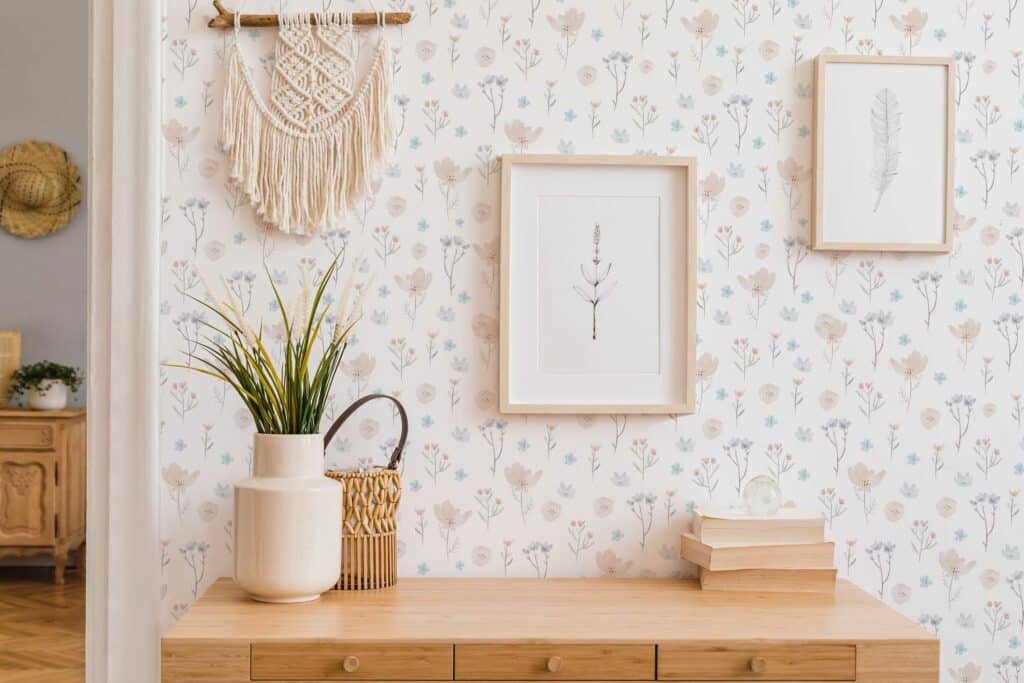 Florals are known to be one of the most timeless and versatile patterns that have managed to secure a place in many homes. Just like black and white, florals and pastels are a match made in heaven! It's a great way to lighten up a dark room that lacks natural light. Best of all, a pattern such as these small pastel flowers can make any room shine – whether it's a nursery, kitchen, or dreamy bedroom. Make sure to complete the look with soft fabrics, fluffy cushions, and wooden accents.
Line art is here to stay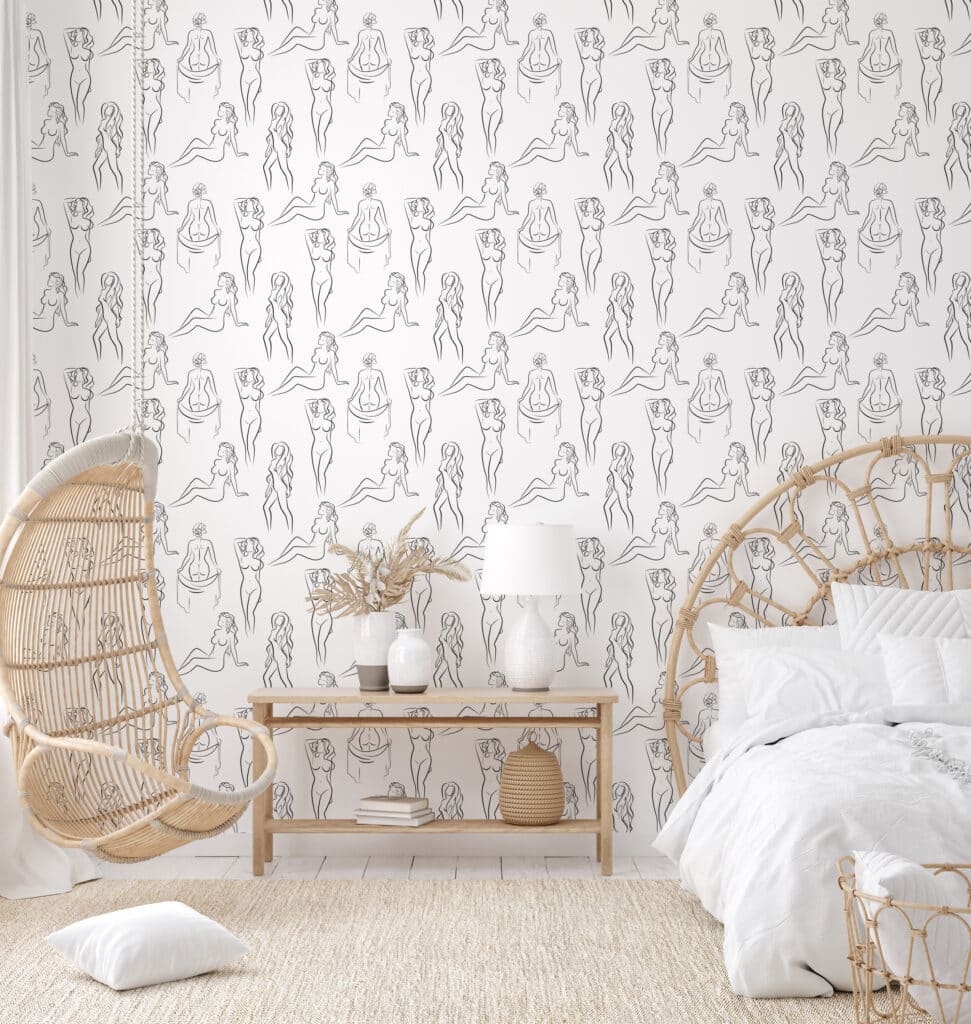 The popularity of line art has grown massively in recent years. You can see it everywhere – in fashion, body art, furniture, and interior design. There's something very intriguing and eye-catching in lines, and even a simple line can tell so many different stories. Take this female line art wallpaper for example – there's just enough detail to make it stand out without taking over the whole space. Simple and soft, with a hint of elegance – it's the perfect combination for adding a feminine touch!
Lavender fields forever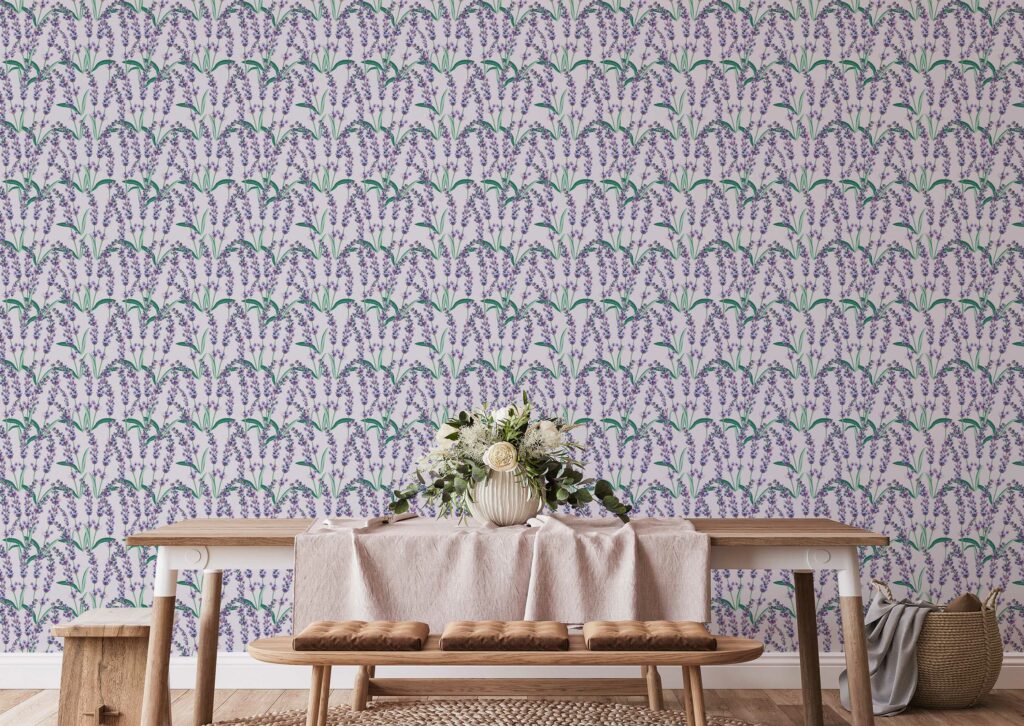 If you haven't visited a lavender field yet, that's one more thing you should add to your bucket list. The scent of lavender and its purple blossom aesthetic is something worth experiencing. Sounds amazing, right? So how about turning your dining room into your own feminine lavender paradise? Chic, elegant, and with a pop of color – that's exactly what this lavender wallpaper is!
Embracing your feminine side means recognizing and honoring qualities such as compassion, warmth, nurture, intuition, and creativity. The environment around us plays an important part in our well-being and the way we see ourselves. Keeping these qualities in mind when decorating our homes will help us create the perfect atmosphere. We hope that you always stay curious and explore your creative side, and let the feminine vibes make your home warm, cozy and the best place to be!
Loving the content on our 'Fancy Walls' blog?
Sign up to our free, monthly newsletter! You'll hear about our latest wallpaper designs, and the most recent design trends!