Spring is quickly approaching, and it's the perfect time to freshen up your space. As the weather begins to warm up, many people feel the urge to redecorate and incorporate new elements into their homes. One way to achieve that fresh feeling is by updating your wallpaper and adding in some spring vibes.
Where to begin?
If you plan to decorate your home in the springtime, consider going for a light and refreshing color palette. Think of soft pastels, bright greens, and bold florals. It will make your space even brighter during those beautiful sunny spring days, and light up the whole atmosphere of the room. Since spring is all about growth and blooming flowers, you can also draw inspiration from the natural colors of the season. Let's explore 5 must-have designs for your walls in Spring 2023 that will help you lighten up your home!
Minimalistic flower wallpaper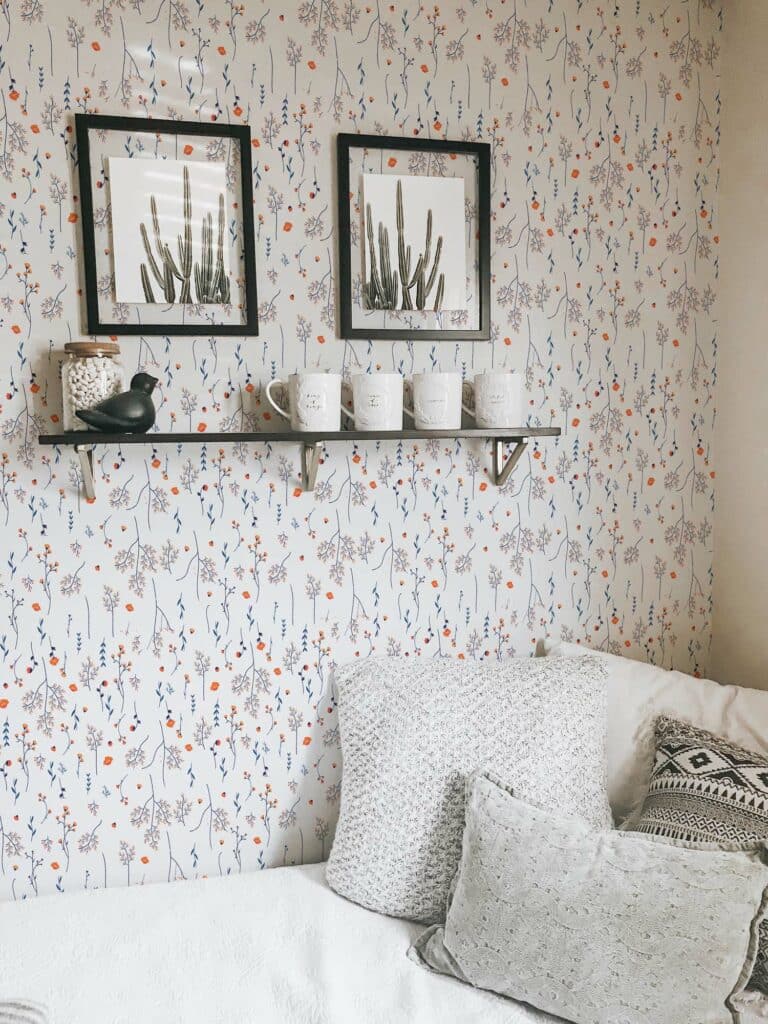 Something simple with a splash of color – that's exactly what this flower minimalistic wallpaper is. The perfect pattern for spaces seeking to incorporate a subtle, yet interesting detail. Make your home bloom in time for spring, and make sure to complement the new wall decor with a fresh set of cushions or sheets.
Neutral floral wallpaper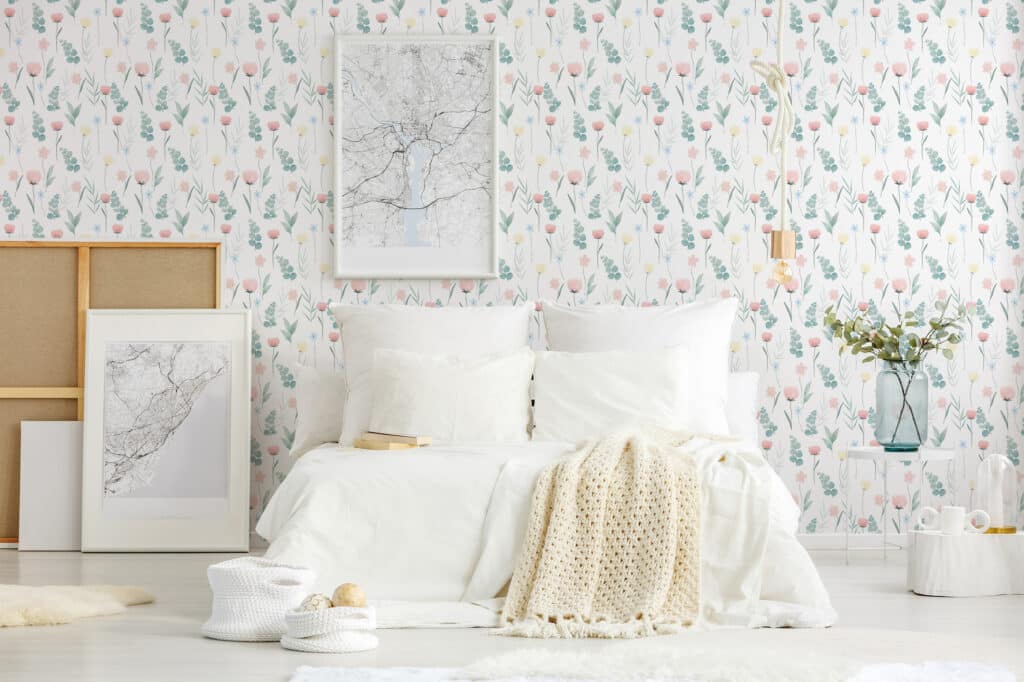 Pastels and florals are a match made in heaven! These patterns are real charmers and will fill your space with elegance and beauty. Consider the colors in the floral pattern and choose complementary tones for the rest of the room's decor. For example, this floral wallpaper has muted pinks and greens, so try incorporating these soft accents throughout the room. It's perfect for a romantic bedroom or a cozy powder room.
Beige brush stroke herringbone wallpaper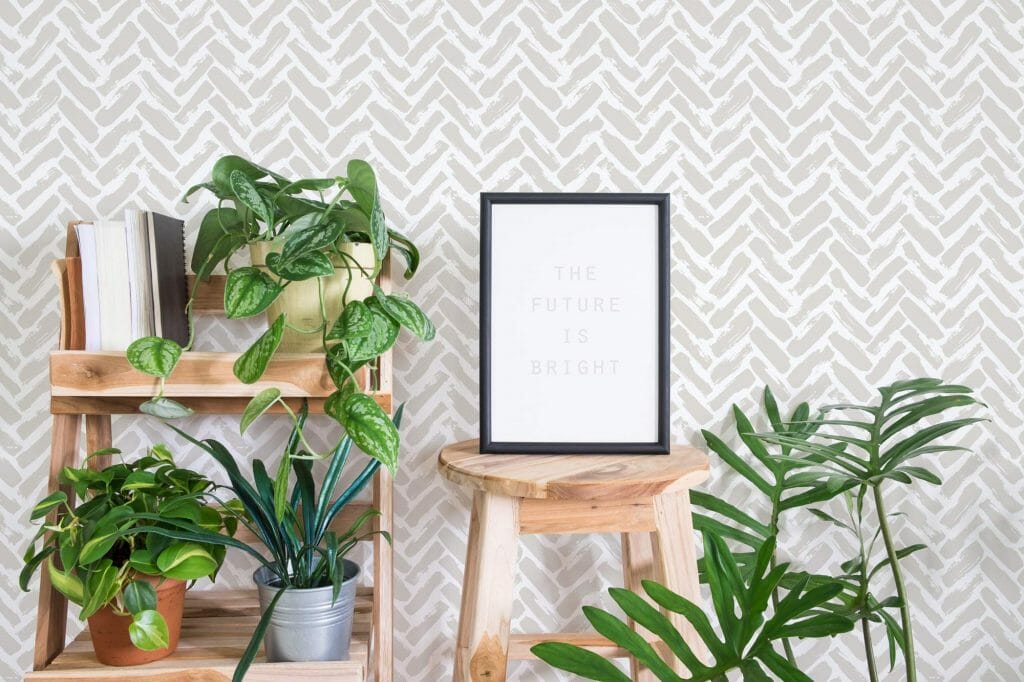 Although this herringbone wallpaper doesn't instantly scream "spring", it's the perfect background for all things blooming in your home this season. The herringbone pattern is an all-time classic, and it adds texture and depth to the room. Pairing it with green plants will make a stylish and modern interior with a touch of nature. For most of our designs, you can change the color of the pattern, and this brush stroke herringbone wallpaper is no exception. Find your favorite spring color in the dropdown menu and start decorating!
Meadow wallpaper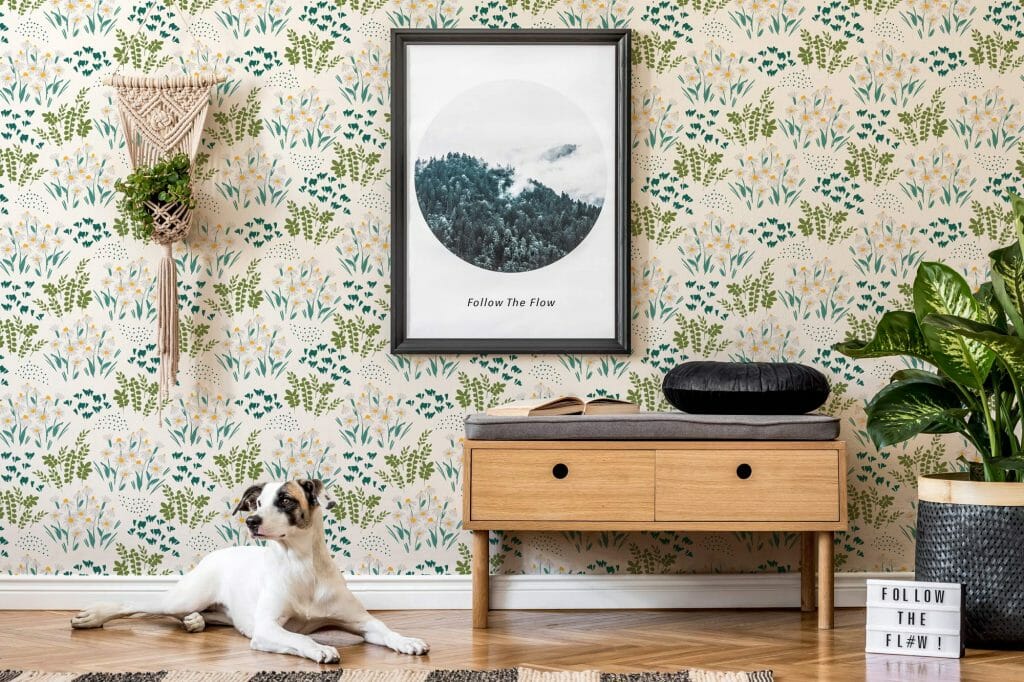 Floral wallpaper can elevate the look of any room, but some spaces may be better suited for certain designs. For example, a muted, vintage floral pattern would fit in a bedroom, while a bold, modern floral design such as this meadow wallpaper would work better in a living room or dining room. This blooming white and green pattern is the perfect representation of spring and matches well with wooden accents and soft, neutral decor.
Green neutral-striped wallpaper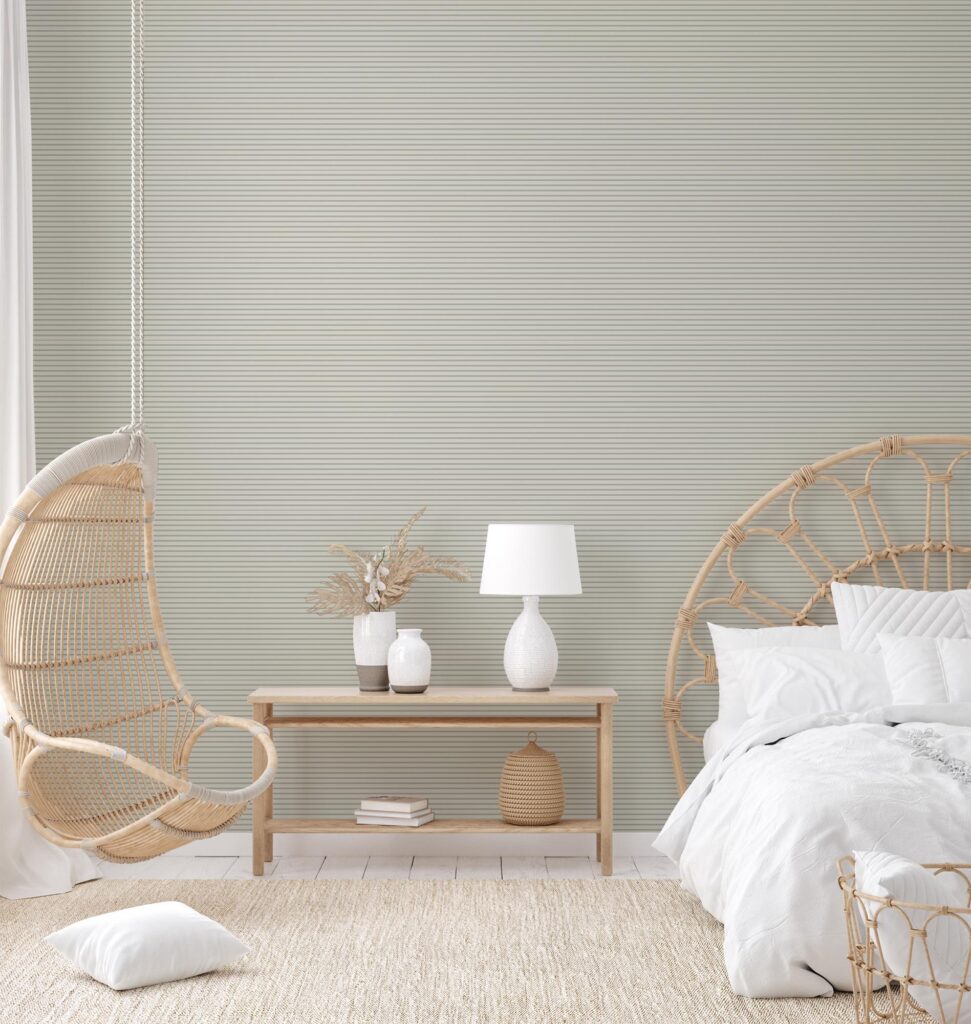 This green neutral-striped wallpaper seamlessly blends in a variety of interior styles, from traditional to modern, and can be used in any room in your home. Don't be afraid to mix and match different patterns, such as stripes or polka dots, or florals for a more interesting and eye-catching look. Just make sure to balance the patterns with solid colors or neutrals to avoid overwhelming the space.
Whether you're looking to create a calming oasis in your bedroom, a playful space in your child's room, or a cozy atmosphere in your living room, there's a wallpaper design for every occasion. So don't hold back – find your favorite spring wallpaper pattern and start redecorating your home for the new season!
Loving the content on our 'Fancy Walls' blog?
Sign up to our free, monthly newsletter! You'll hear about our latest wallpaper designs, and the most recent design trends!