Every year on the 14th of February, people all around the world celebrate love and affection for one another. Sweet gestures such as flowers, love letters, and romantic dinners are an essential part of this day. Did you know that every year, around 145 million Valentine's Day greeting cards are exchanged just in the U.S.? And with over one billion love notes sent worldwide, it's clear that this is a celebration loved by many (including us).
Valentine's day decorating ideas
While some of us enjoy spending Valentine's day out and about, many choose to do something nice at home. Whether you're cooking a meal for your special someone, having friends over for a drink, or enjoying your own company, incorporating a tiny bit of romance into your interior will make Valentine's day feel memorable and unique in a new kind of way.
Decorating your home for a holiday can be so much fun, especially when there's a theme involved. Yes, you guessed it correctly – there will be plenty of hearts and a pink -and- red color palette when it comes to Valentine's day, but that doesn't mean it has to look tacky. Quite the opposite – heart-shaped decor in bright colors will make you feel like love really is in the air, and get you excited every time you walk into the room. So, without further ado, let's take a look at 3 simple ways to incorporate the Valentine's Day theme into your interior!
Turn your wall into a message board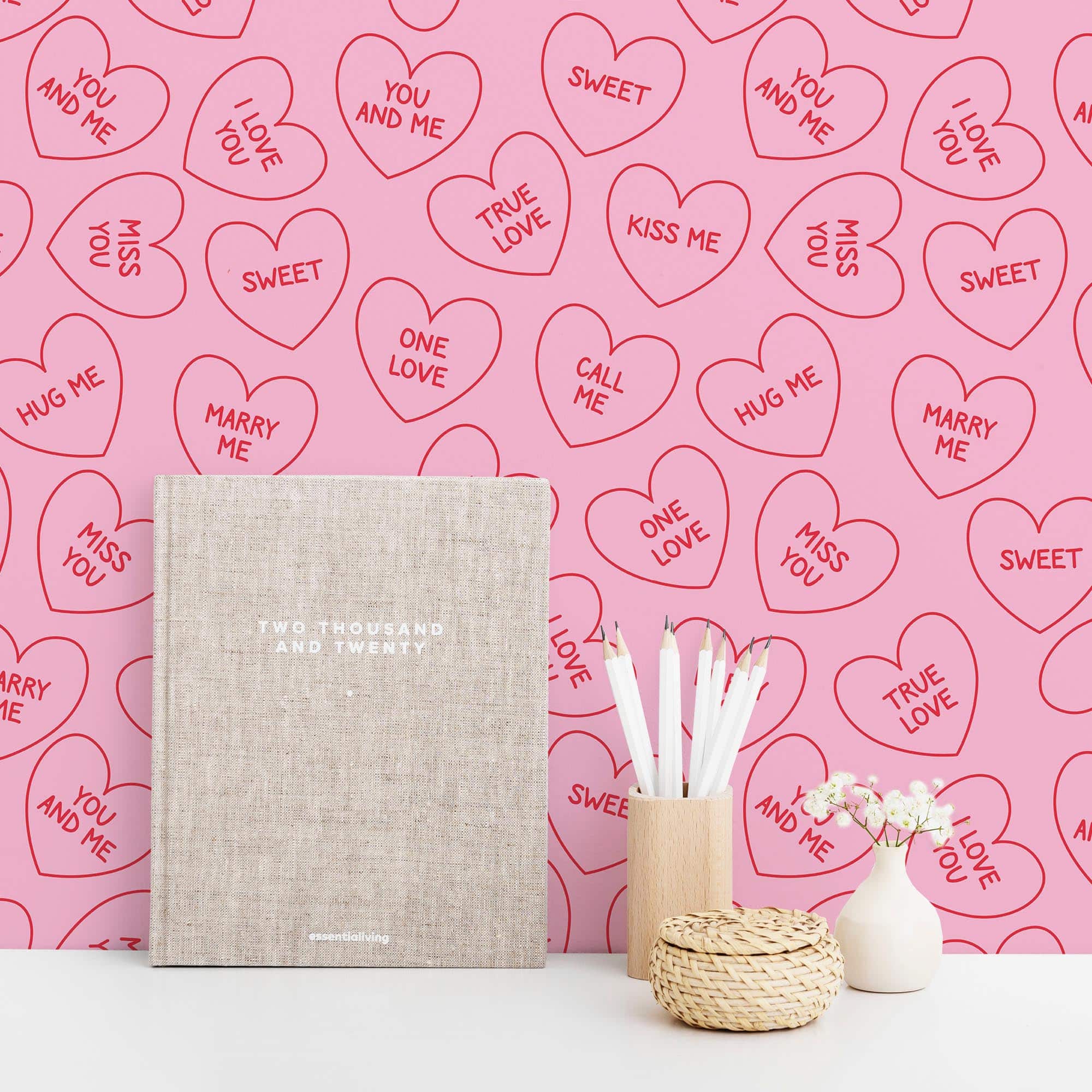 Valentine wallpaper / I love you wallpaper
When was the last time you received a note from someone or perhaps wrote one yourself? If a little post-it note can light up your day, imagine what a whole wall of love messages could do! You can turn your wall into the ultimate message board with this Valentine's day peel and stick wallpaper. Even a couple of wallpaper sheets will do the trick and fill your bedroom, living room, or kids' room with some extra love!
"Sounds amazing, but what will I do with the wallpaper samples I ordered or the leftovers from my project?" you might ask. And we're glad you did because we have the perfect solution for you!
Make a heart-shaped garland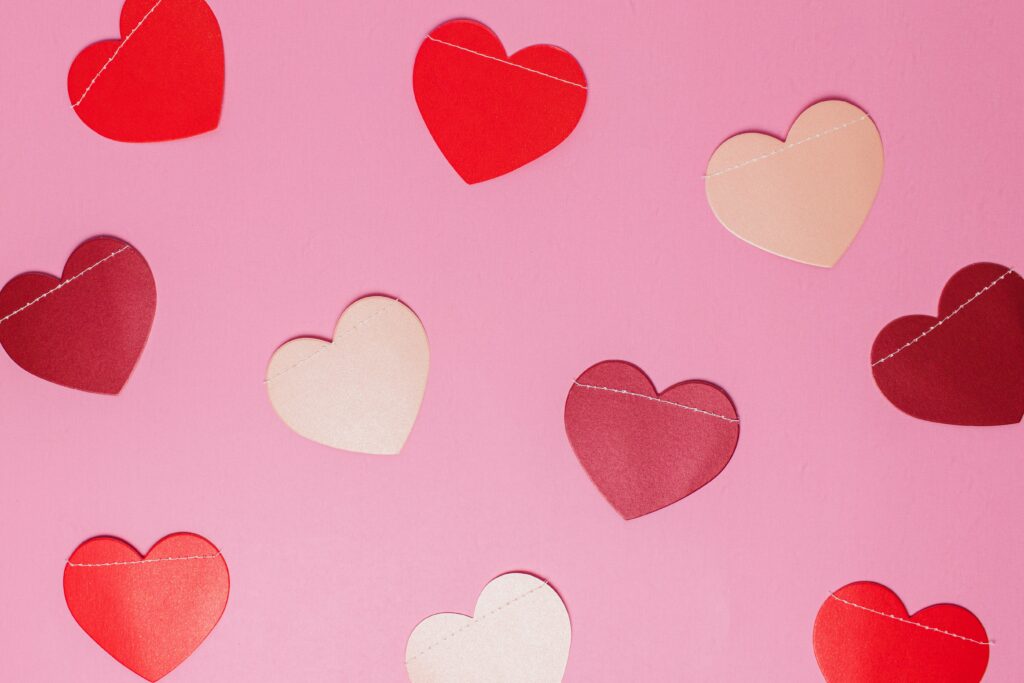 Since every home and wall is different, chances are you'll have some wallpaper leftovers. As there's no point in letting wallpaper go to waste, we have a few ideas when it comes to unused samples or bits of leftovers. One of our favorite mini DIY projects is making paper garlands, especially because you can get as creative as you like with it. Hang a heart-shaped garland across your windows to add some cheer and a pop of color to your home. Place the garland vertically or horizontally, depending on the size and shape of your windows. Combine differently-sized hearts and various patterns, and decorate away!
Get cozy with heart-themed cushions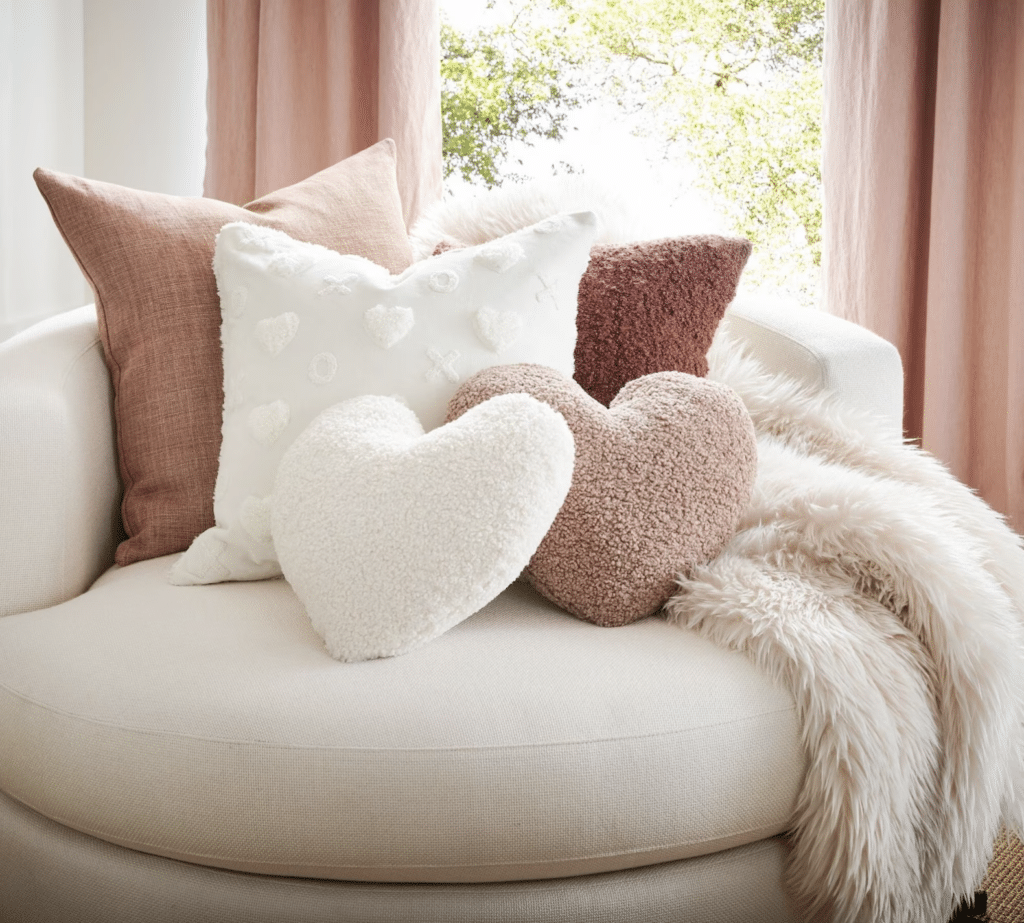 I think we can all agree on the fact that cushions make life so much better (and comfier). Heart-shaped cushions can be a cute and cozy addition to your Valentine's Day decor. You can use them to decorate your couch, bed, or even your floor. If having a calm night in and watching a movie while cozying up on the sofa is on your Valentine's to-do list, then this decorating option is just for you!
Remember, the most important thing is to make your home feel warm, cozy, and romantic. So, choose the decorations that you love that will help you celebrate in the way you like!
Loving the content on our 'Fancy Walls' blog?
Sign up to our free, monthly newsletter! You'll hear about our latest wallpaper designs, and the most recent design trends!