If you're thinking about redecorating your home but need help figuring out where to start, consider jumping on the bold and eclectic wave with us. Bold designs, vivid colors, and funky, playful patterns are a hit this year, and we're here to help you make the most out of them.
New in – Groovy Galore
Our latest wallpaper collection is nothing but fun and adventurous! Groovy Galore is a mix of geometric figures and color combinations that will take your imagination to the next level. Not to mention your interior design game!
Although too much color can be a little frightening if you're used to neutral surroundings, it can create a completely different look and make the atmosphere more cozy and lively. Giving a chance to something that's out of the ordinary, a little more daring and intriguing can (and probably will) surprise you in the best way possible. Whether you're swapping out an old piece of furniture for a fresh one, adding new cushion covers, or dressing your walls up with funky wallpaper, your life is about to get way more colorful!
Bright and curvy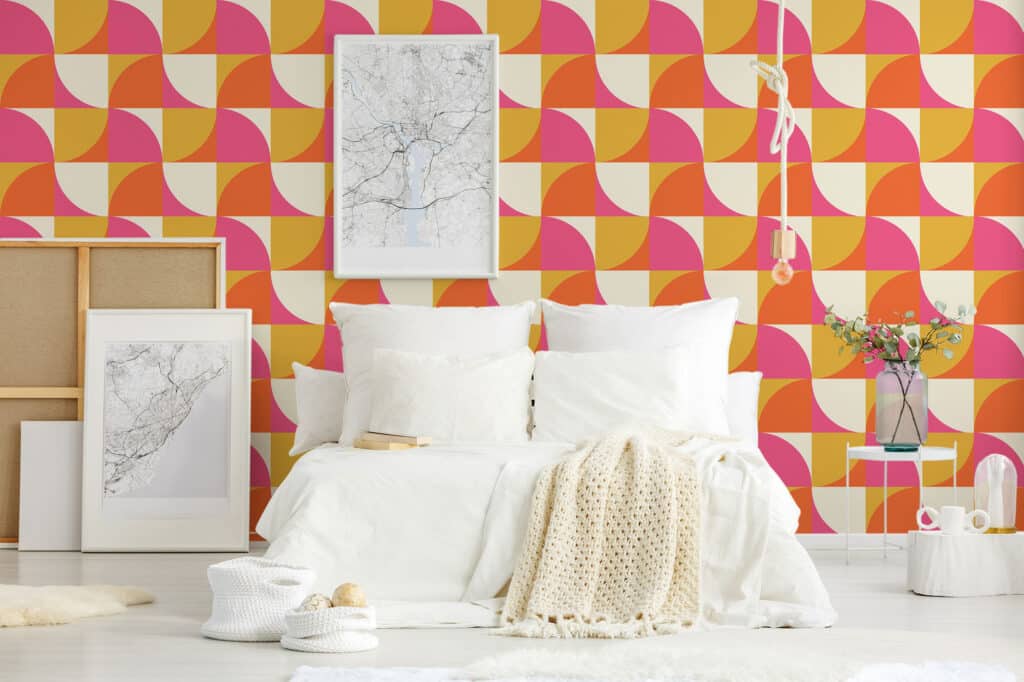 When it comes to bright tones and expressive shapes, balance is key. We don't want the room to look like a color explosion, but we want to have some color nevertheless. With a seamless pattern, you can achieve a stylish look that gives the space flow, and a sense of movement. Nothing stands still when these bright curves are in your home!
Bold semi-circles wallpaper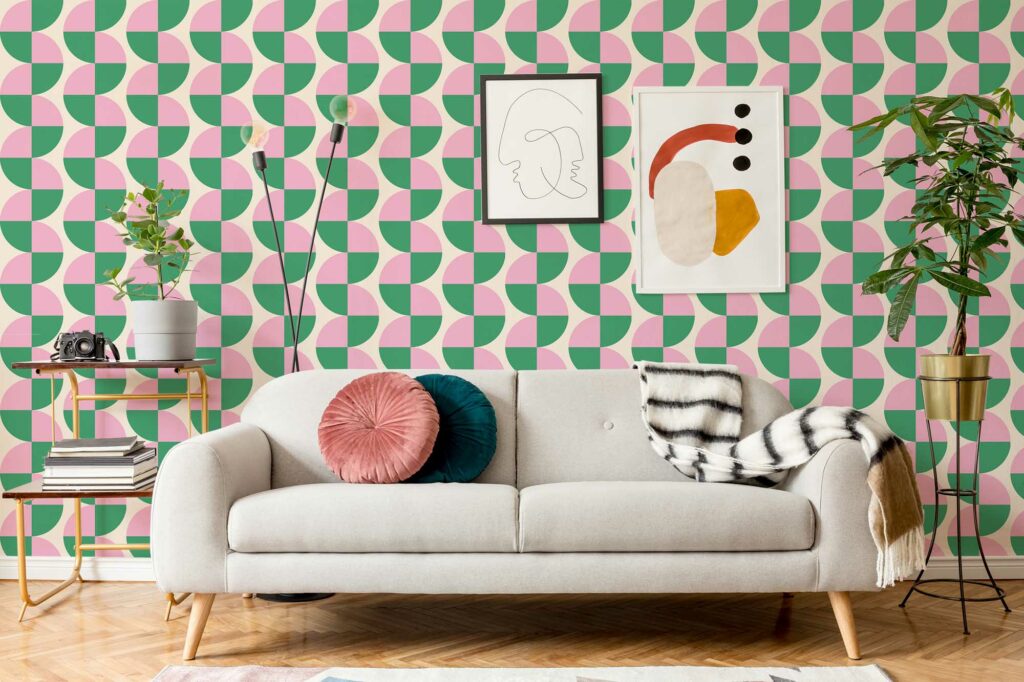 Green and pink is a classic color pairing that is widely used in interior design. These shades work together so well because both balance each other out. Feeling a little groovy? This semi-circles wallpaper design is the way to go! Perfect for a cozy living room where family and friends gather for a game night, or a guest bathroom that will leave everyone stunned about your interior design skills!
Orange circles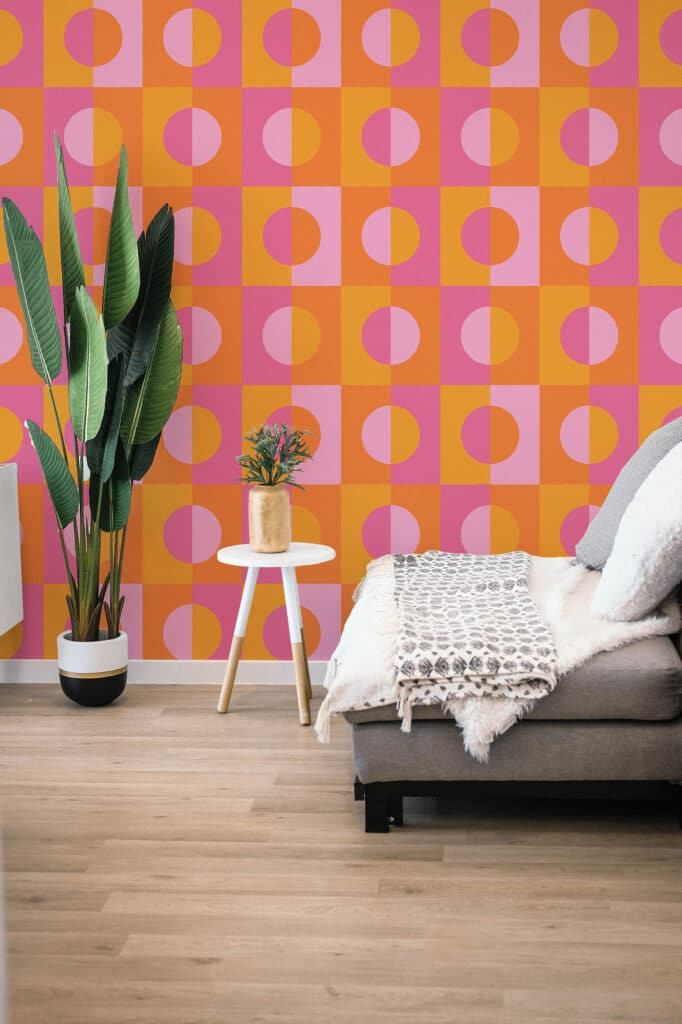 Using geometry in interior design is all about creating impact and catching the eye. Geometric patterns, similarly to florals, are timelessly elegant, and with the right amount of color become even more irresistible. This orange circles wallpaper is one of our favorite designs from our new collection. It's the perfect accent wall design and will pair perfectly with neutral furniture and decor.
Bold Bauhaus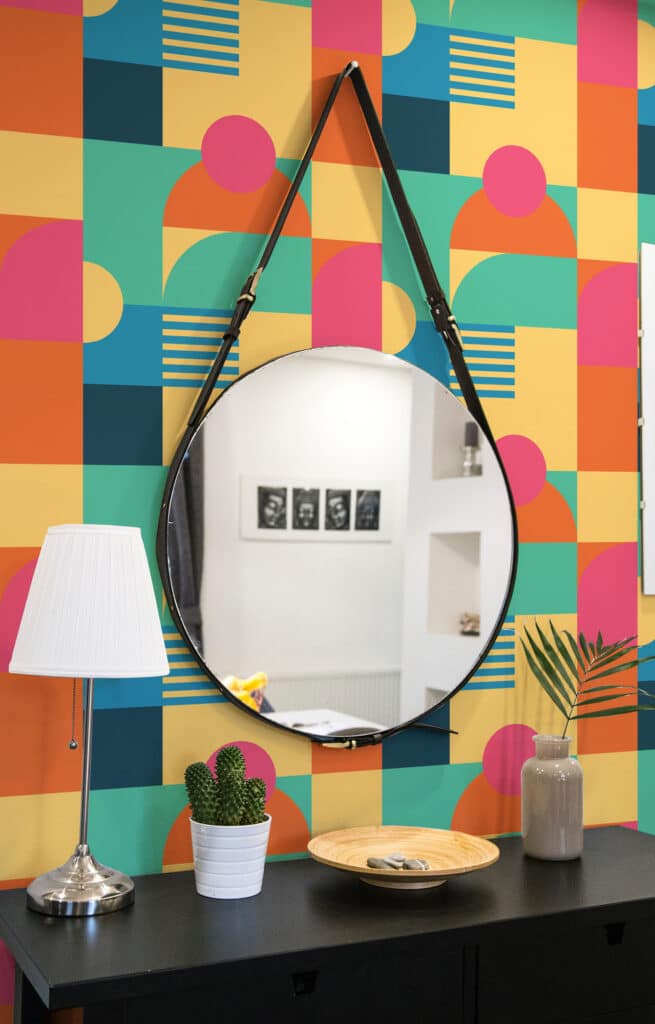 Last, but not least – some extra colorful Bauhaus vibes! If you feel like going a little over the top, consider incorporating this Bold Bauhaus pattern in your interior. Not only does it look great, but it's an instant energy boost. Imagine the level of productivity when you're working in such an inspiring and colorful environment!
The key to finding your dream interior is to experiment, experiment, experiment. Try out different shapes, textures, elements, and colors. Adding wallpaper to the mix is one of the easiest ways to kick-start your journey to a more colorful and adventurous interior that truly shows your personality and all its vibrant sides!
Loving the content on our 'Fancy Walls' blog?
Sign up to our free, monthly newsletter! You'll hear about our latest wallpaper designs, and the most recent design trends!