Whether you're a new parent or expecting your little bundle of joy, there's something incredibly heartwarming about personalizing your baby's nursery. Making the space a reflection of your love, excitement, and dreams for your child is a joyous process. If you're looking for a unique and customizable option, nursery name murals can be perfect.
At Fancy Walls, we present a palette of six nursery-name mural designs suitable for every taste – boys, girls, or neutral nurseries. Each mural brings a distinctive touch to the nursery; you can customize them with your baby's name! Let's dive into these extraordinary designs.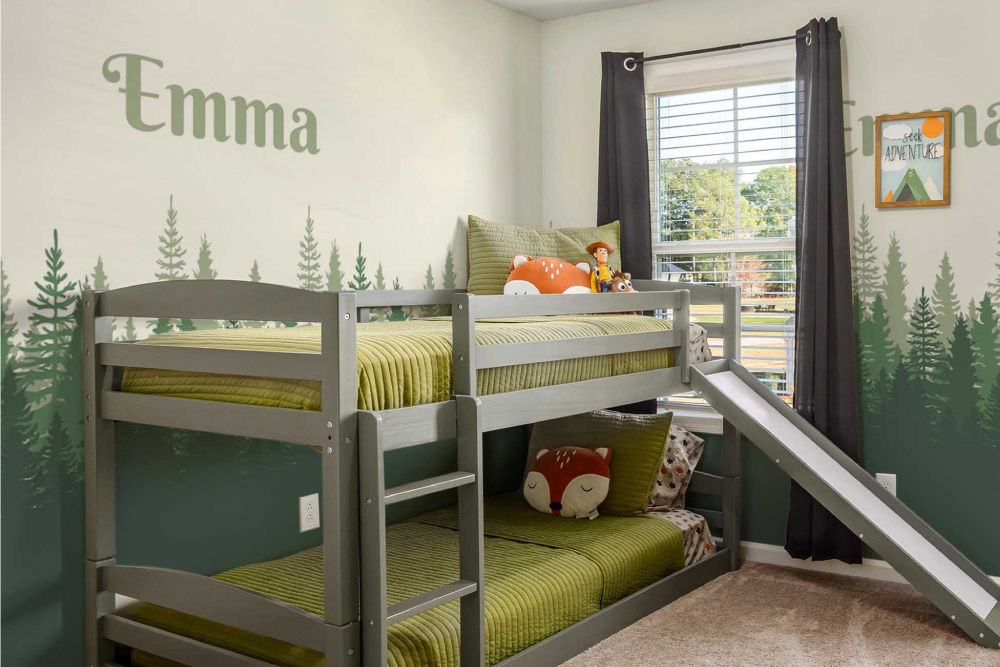 This nature-inspired mural brings the serenity of a conifer forest into your nursery. The main color of the mural is green, featuring a pattern of plants and trees against a soothing beige background. The designer comments that the mural creates a natural vibe, perfect for little explorers. This mural is available for customization with your baby's name. All our murals come in nursery-friendly PVC-free wallpapers, offering a Peel & Stick or Non-pasted option, ensuring no glue, no mess & no stress during installation.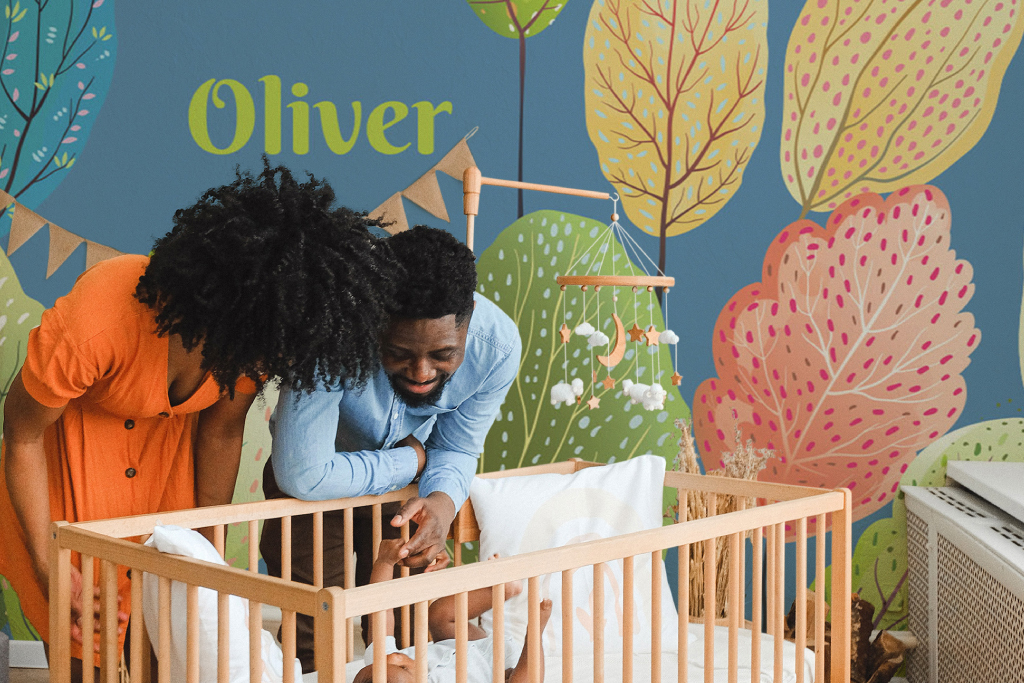 Stepping into a slightly different vibe, the Colorful Tree mural paints a vibrant picture on a dusty blue background. The mural is an aesthetic blend of whimsical trees in various shades of green. This mural allows incorporating your baby's name, making it more personal and special.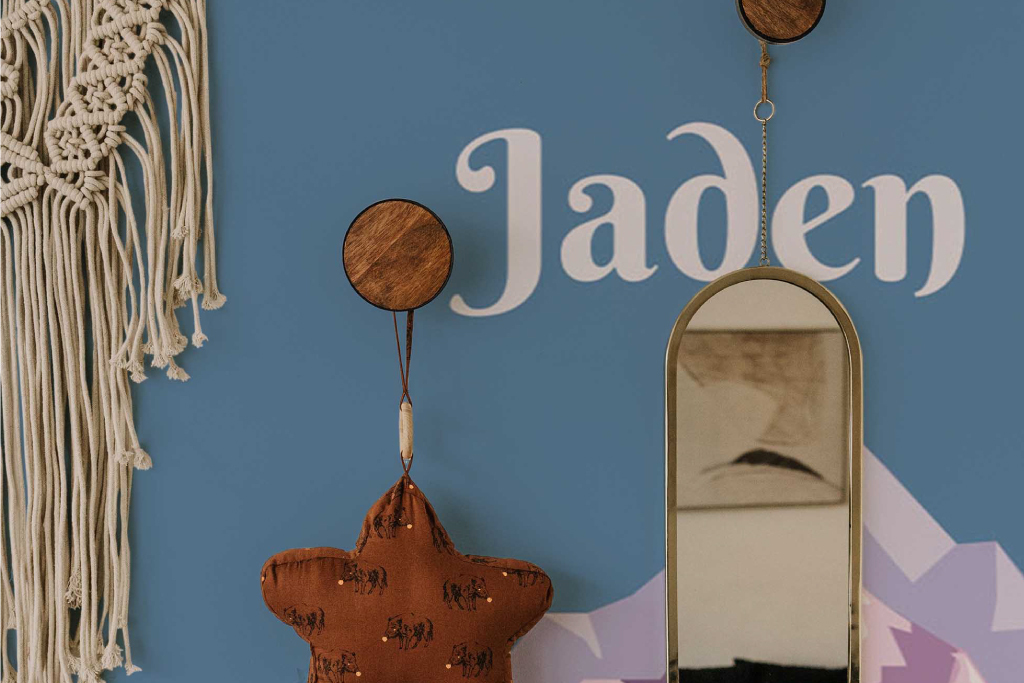 The Mountain View Name Wall Mural offers a fantastic choice if you're aiming for a fun, playful touch. This design will ignite a sense of adventure in your child, featuring a panorama of colorful mountains on a dusty blue background. Customizing the mural with your baby's name makes this an even more compelling choice.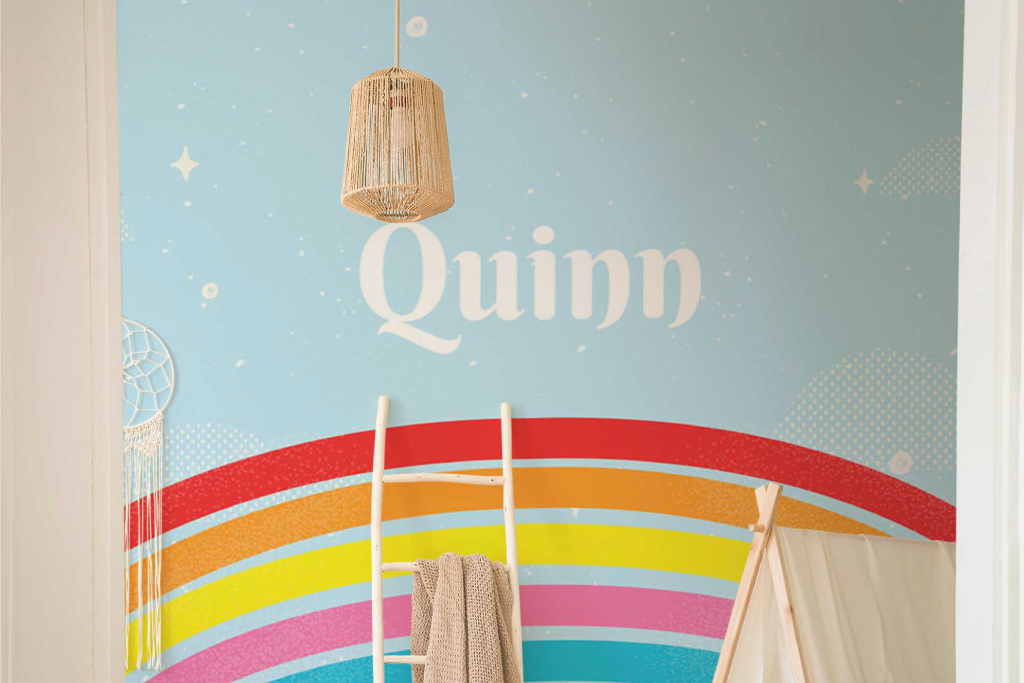 Add a splash of color to your nursery with the Rainbow Name Wall Mural. This mural showcases a large, beautifully designed rainbow on a light blue background, perfect for sparking joy and positivity. Make this mural even more special by adding your baby's name.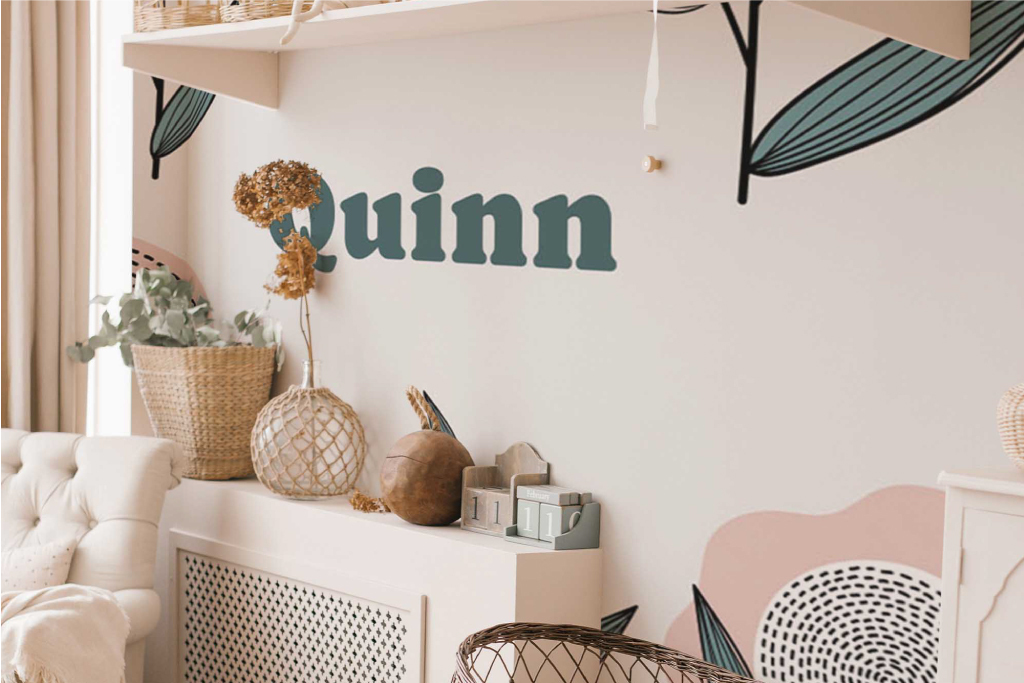 The Beige Blossom Name Wall Mural is an ideal choice for those who love a modern, chic look. The design is a tasteful blend of a floral pattern on a light beige background. Customize it with your baby's name to add that personal touch that makes all the difference.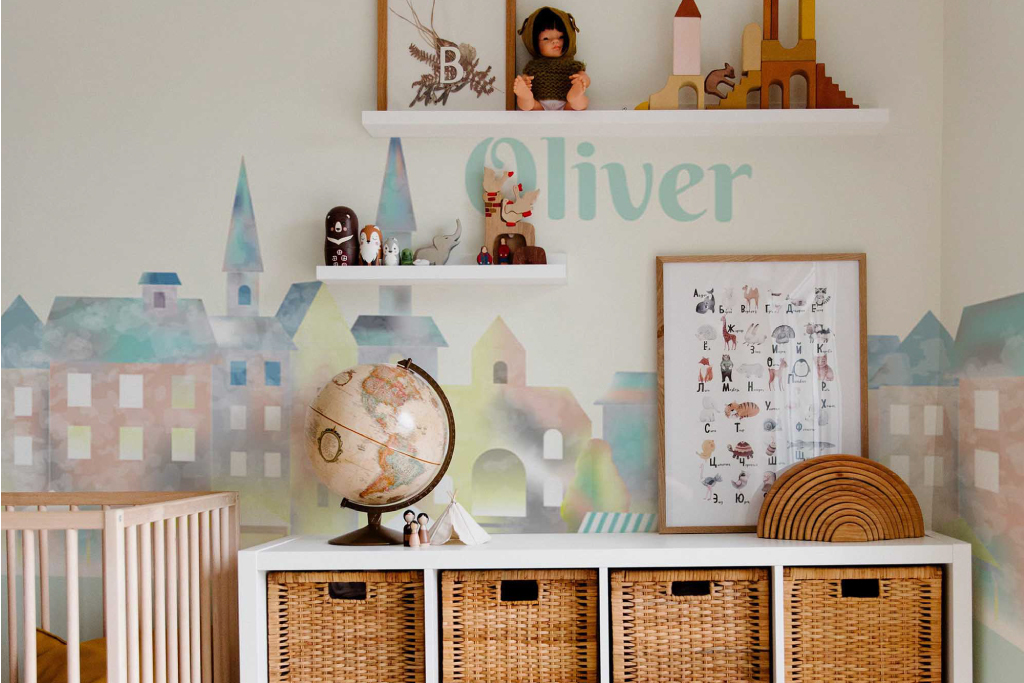 Bring a bit of urban charm to your nursery with the Dreamy Watercolor City Name Wall Mural. This mural portrays a light and airy watercolor cityscape on a blue background. The option to customize with your baby's name brings a personal touch to this eclectic design.
These nursery murals are not only suitable for the nursery; feel free to place them in any space that needs a touch of personality and color. At Fancy Walls, we believe in providing designs that cater to your unique taste and resonate with your style. After all, your baby's room reflects your love for them.
Remember, all our wallpapers are nursery-friendly, printed with water-based inks, and come pre-cut in panels for easy installation. Choose the Peel & Stick version for a no-glue, no-mess, and no-stress installation process.
Customize your baby's nursery with Fancy Walls – because every wall deserves to be fancy!
Loving the content on our 'Fancy Walls' blog?
Sign up to our free, monthly newsletter! You'll hear about our latest wallpaper designs, and the most recent design trends!