Although the fall and winter season comes with cold weather and dark evenings, there are plenty of holidays that warm and cheer us up throughout these months. As we start the festivities on the spookiest night of the year – Halloween – we move on to Thanksgiving turkey dinners and eventually end with hanging up Christmas tree decorations in December. Celebrating and getting together with your loved ones is surely a lot of fun. But preparing for these holidays can be tiring too.
When and where to start preparing?
In the midst of all the Christmas gift lists and shopping madness, we have to remember that the most important thing, in the end, is the atmosphere we create around us, and the people we enjoy it with. Sometimes even the smallest things can lift the whole feel of the space and get even the Grinches into the holiday spirit. If you're looking for some tips on how to prepare your home for the holiday season, we've got you covered. Let's dive right into some festive decorating ideas and how to make your home the place to be this Christmas!
Add festive wallpaper to your home
Perhaps it's not the most traditional way of decorating your home for the holidays, but adding festive wallpaper to your room goes a long way, and it's getting more and more popular too. It's one of those things that you can do well in advance, leaving more time for all the holiday cooking and gift-wrapping, among other last-minute preparations. Think of it as setting a background for your holidays – add some lights, a Christmas tree, and decorations to make the perfect Christmas scenery.
Although installing wallpaper might sound like a time-consuming activity, peel and stick wallpaper is perfect for these types of temporary interior updates as the installation and removal process is very easy. Whenever you feel like switching it up to a new pattern, simply peel it off your wall – in one piece! Let's take a look at some of our favorite holiday-themed wallpapers and get the creative ideas rolling.
Green Christmas tree wallpaper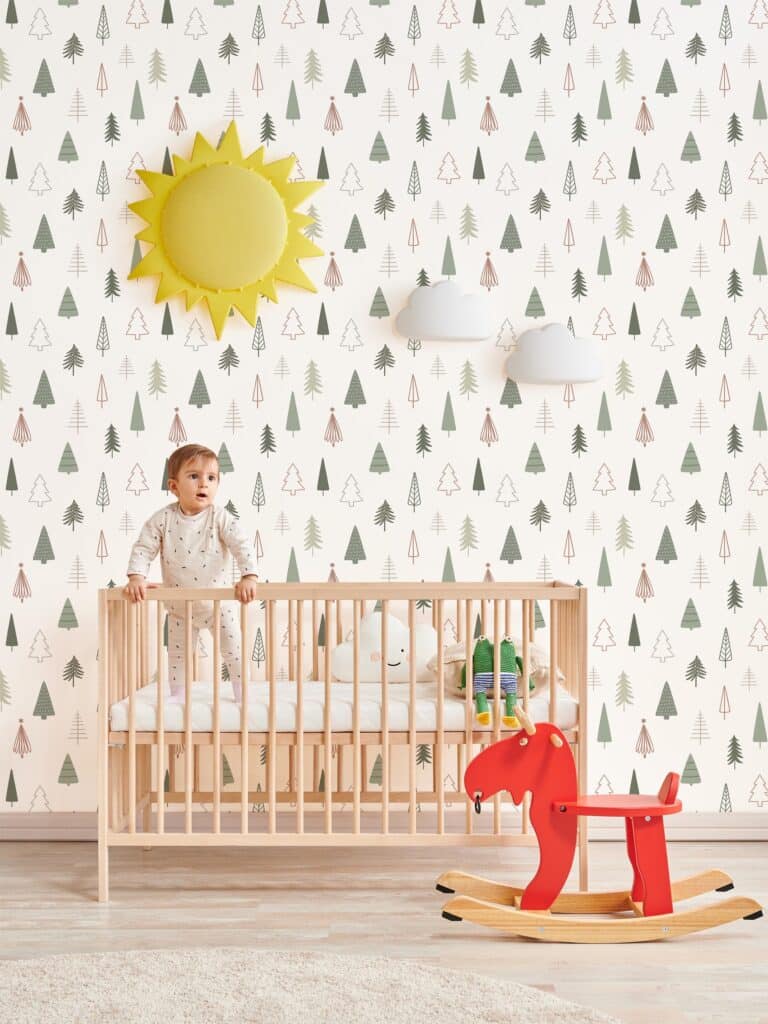 If there's anything that instantly reminds you of Christmas – it's certainly the Christmas tree. Imagine how cozy it would look to have your freshly decorated holiday statement piece next to this green Christmas tree wallpaper! This design is so versatile that it fits into any room – from a nursery to a living room. Add your favorite Christmas decor and you're all set!
Aesthetic Christmas wallpaper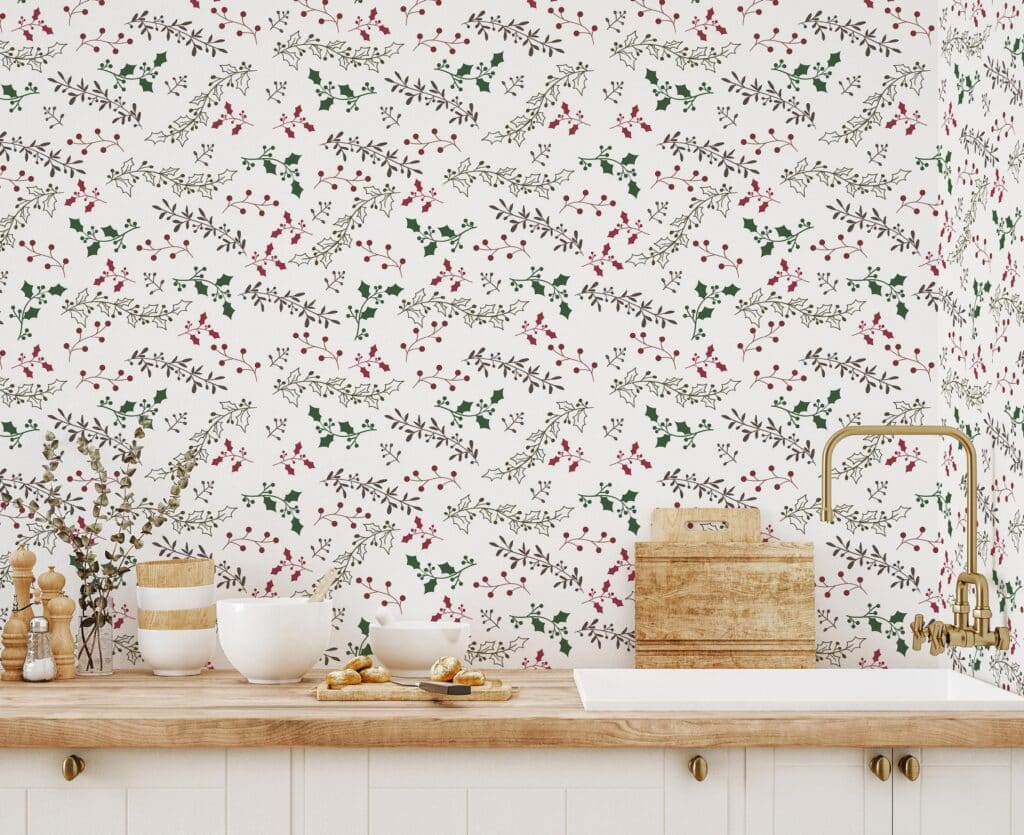 The kitchen is usually the hotspot of holiday preparation, as food is an integral part of all the festivities. Take your cooking experience to the next level and decorate your kitchen accordingly! Our aesthetic Christmas wallpaper makes the perfect accent and brings the holiday spirit into your kitchen in a very subtle, aesthetic way. Depending on the layout of your kitchen, you can either wallpaper your backsplash, create an accent wall or even cover your kitchen island in wallpaper!
Christmas lights wallpaper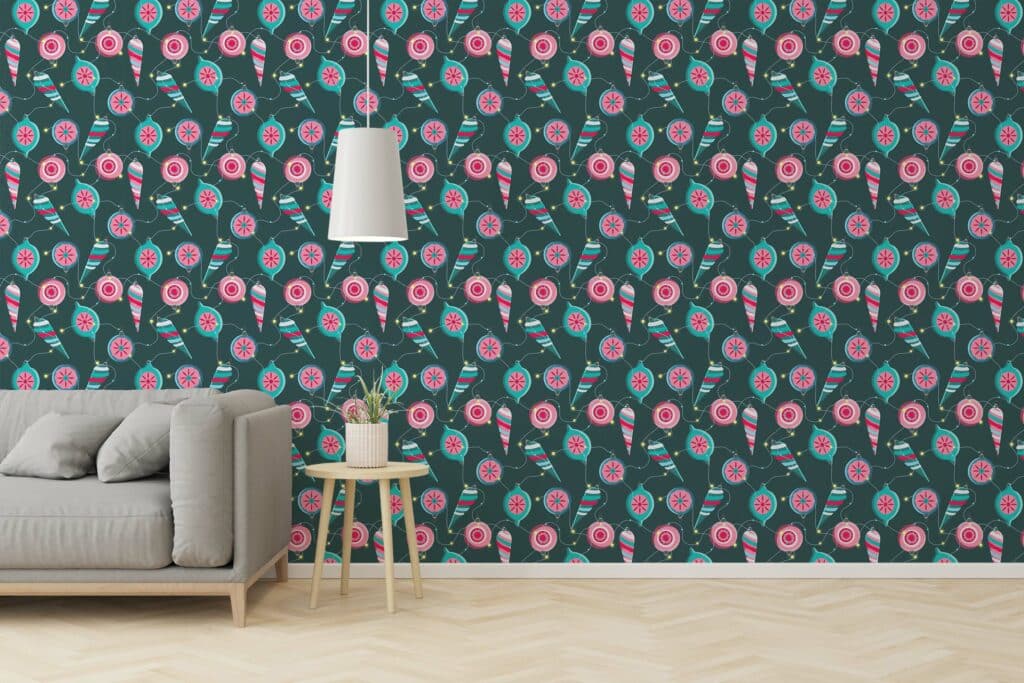 What's the holiday season without some lights, right? Whether you're lighting candles, wrapping your room in Christmas lights, or perhaps doing both, lights are one of the must-have holiday elements in your home. Make your room feel even lighter and add a pop of color with this Christmas lights wallpaper. This wallpaper is as festive as it gets!
Get creative with wallpaper leftovers
Luckily, wallpaper can be used for many different creative projects, not just simply applying it to a wall.  You might have some samples laying around, or some leftovers from a project you did or perhaps you ordered one too many panels and don't know what to do with it. This is your chance to put that extra wallpaper to good use
Upgrade your gift-wrapping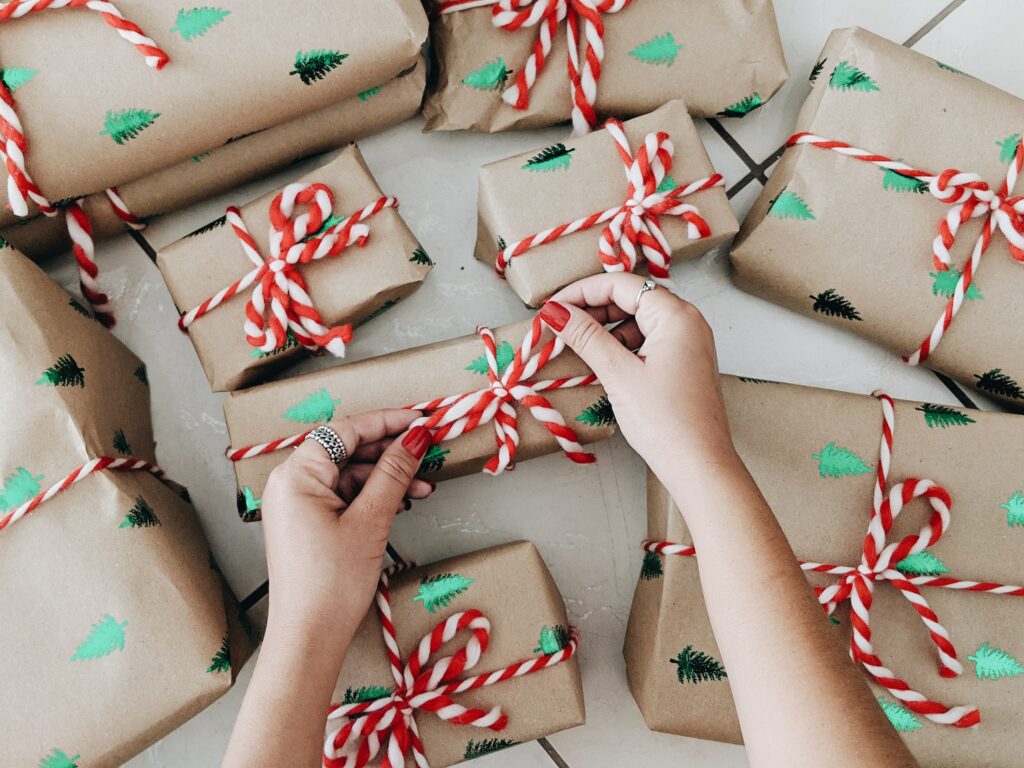 Make your gift wrappings fun! Use neutral wrapping paper and cut out little Christmas trees from your wallpaper leftovers. You don't have to worry about the pattern of the wallpaper – even a floral design cut into little Christmas trees will look cute and add a unique touch to your gifts.

Make Christmas tree ornaments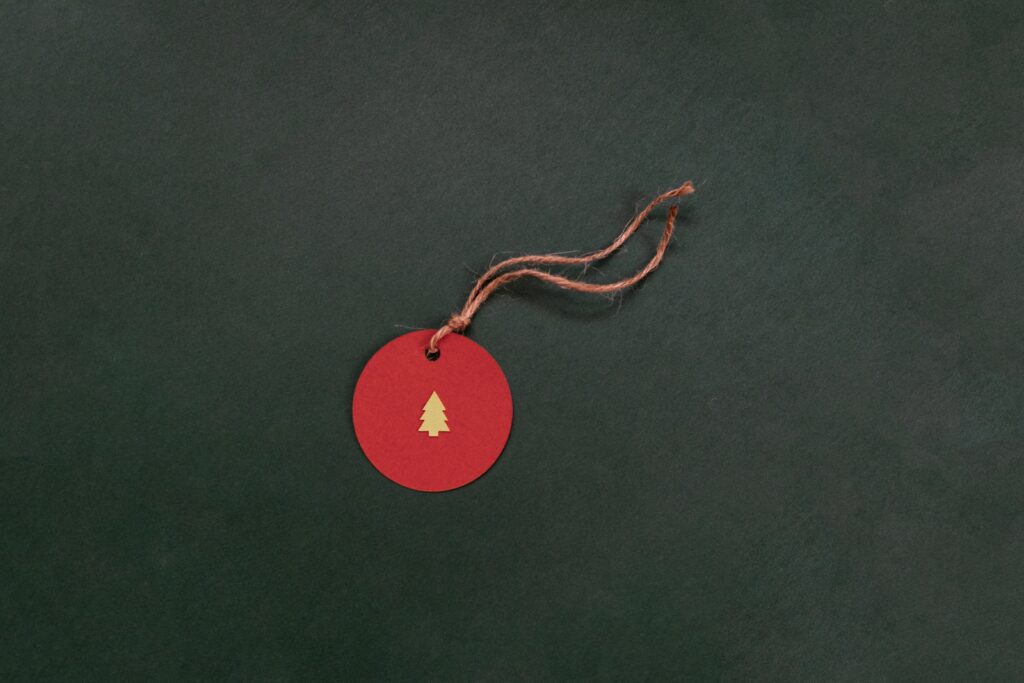 Another creative way of using wallpaper leftovers is making your own Christmas ornaments. You can experiment with shapes and sizes, and see what matches the other decorations best. If you're decorating your tree with decorative balls, cutting round ornaments and adding some colorful accents to the tree will look amazing!
A Christmas garland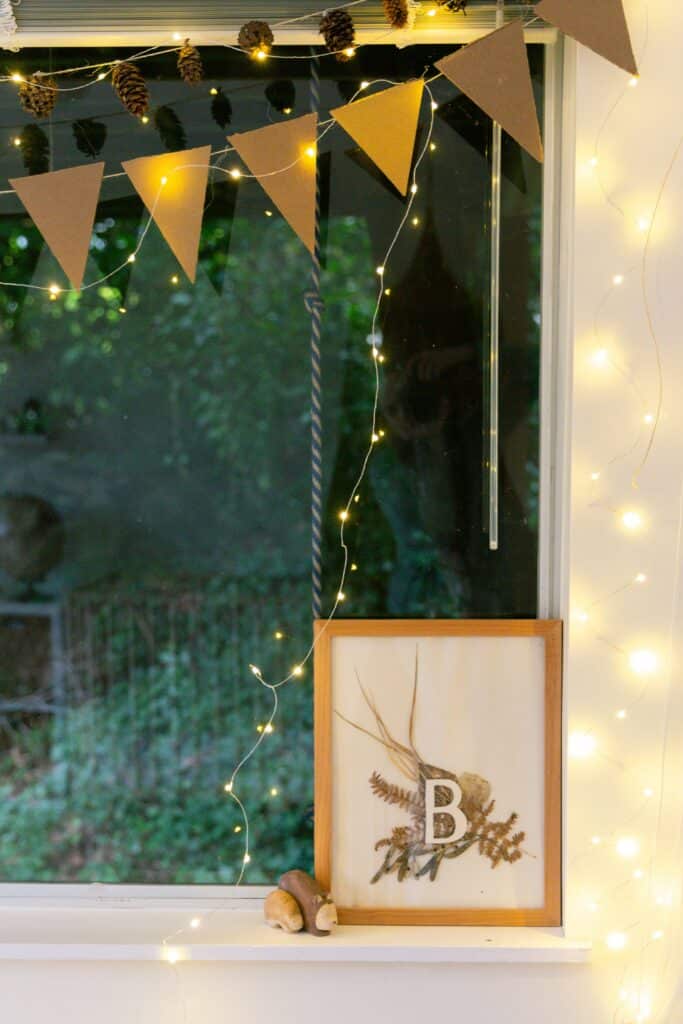 If you have quite a lot of wallpaper left over, making a holiday garland is a fantastic idea. Start by developing a sample, and then trace and cut out as many triangles as you need – depending on how long you want your garland to be. You can glue the triangles to the string, or poke tiny holes and weave the string through. Either way, you've just made yourself a lovely, festive holiday garland that can be reused for many different celebrations along the way! 
Let's start decorating
No matter how you choose to decorate your home for the holiday season this year, remember – the sooner you start, the less stressful the actual holidays will be. If you've never used wallpaper for decorating your home for a holiday, this might be the perfect time to try it out. Who knows – you might discover a new hobby! We hope you feel inspired and ready to prepare your home for the holiday season!
Loving the content on our 'Fancy Walls' blog?
Sign up to our free, monthly newsletter! You'll hear about our latest wallpaper designs, and the most recent design trends!