What would Christmas be without decorations? Ornaments, wreaths, Christmas lights, and candles, just to name a few, are an essential part of making the end-of-year holidays feel cozy. However, those aren't your only options for turning your home into a festive little hub! Christmas-themed wallpaper is the perfect way to set the scene and bring holiday cheer into your home.
We've previously mentioned that everyone can find something they like when it comes to wallpaper, and Christmas-themed designs are no different. While some people may prefer minimalist designs with festive elements and subtle color accents, others may go for more fun and bold designs with Christmas trees, snowflakes, and lots of colors. Christmas wallpapers come in a variety of styles that suit every taste – even for the ones who don't necessarily like festivities. If you're feeling extra adventurous, you can decorate multiple rooms in your home with different patterns. Let's get right to it, and take a look at 7 festive designs for your walls that will make your home shine this Christmas!
Christmas decor wallpaper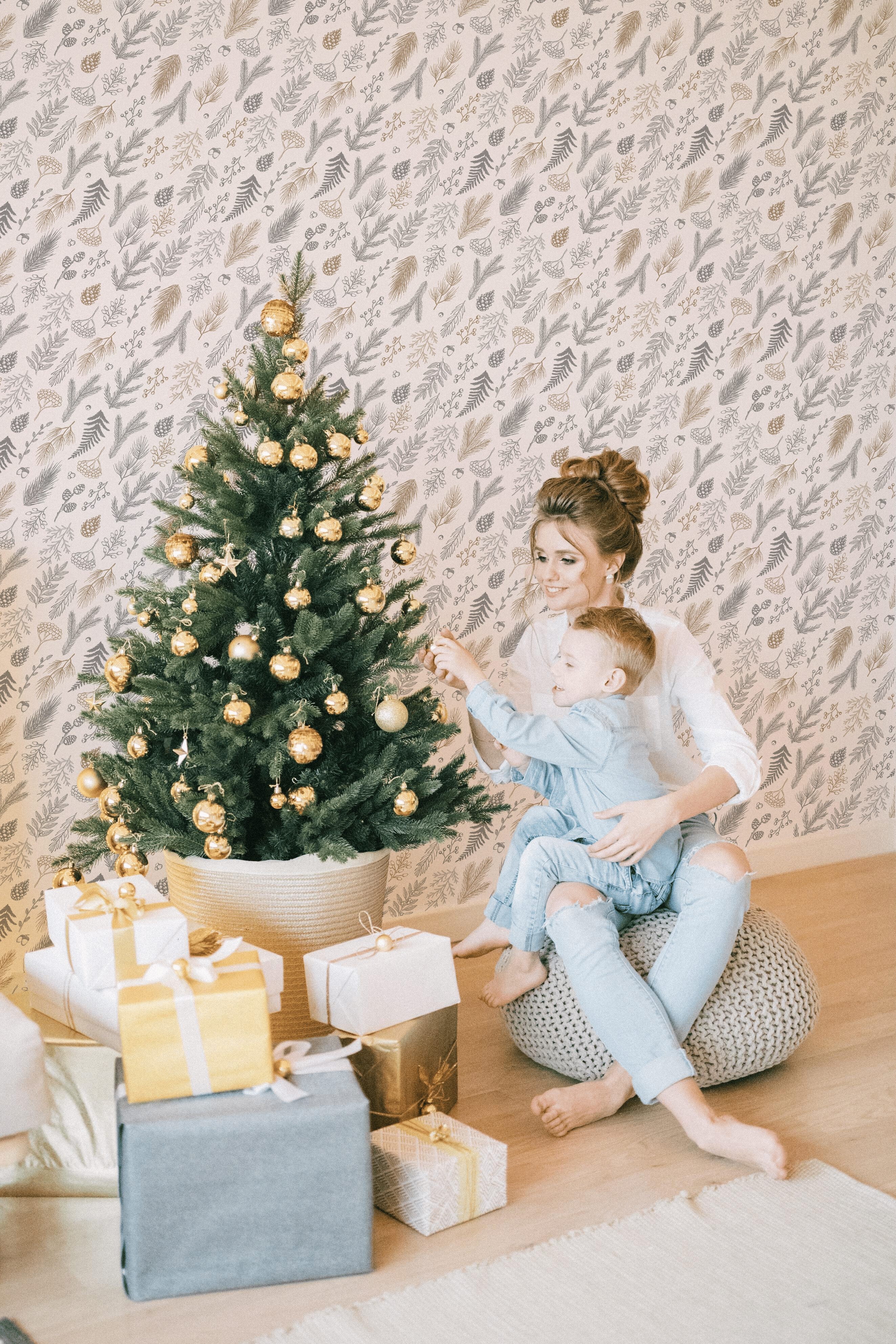 This Christmas decor wallpaper is one of the more subtle Christmas design options. The neutral color palette and aesthetic pattern make it the perfect addition to a minimalist interior. This Christmas wallpaper pattern can be styled in many different ways and will look stunning every time. Create a festive atmosphere without overwhelming the space with bold colors or large graphics, and turn your home into the place to be this Christmas!
Christmas leaf wallpaper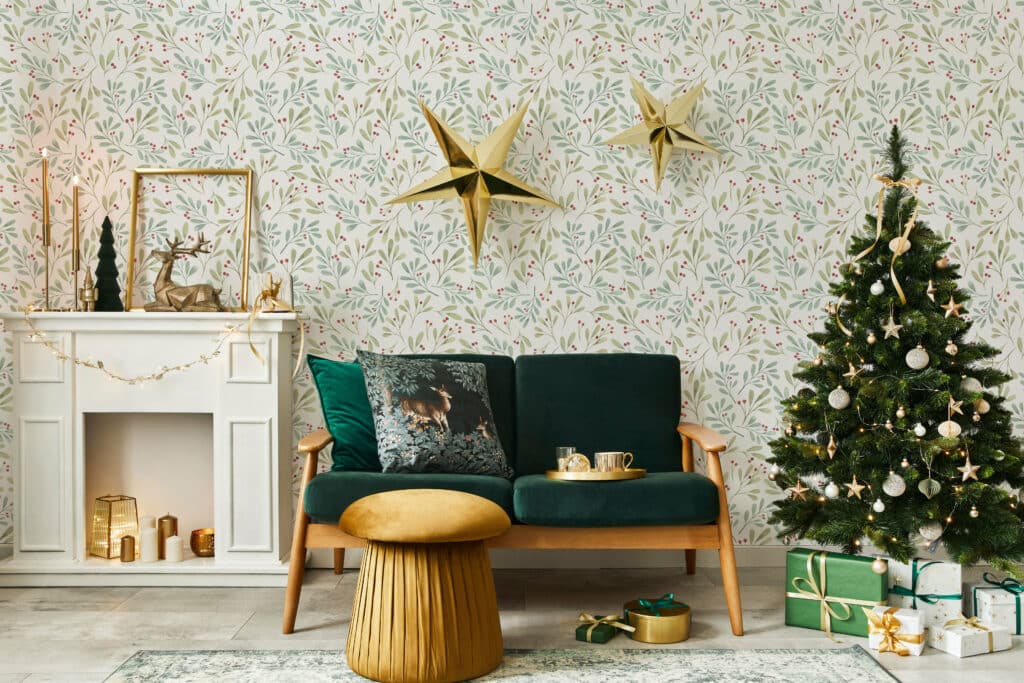 This Christmas leaf wallpaper has a beautifully detailed, seamless pattern. While it brings that Christmas feel we're looking for, it doesn't necessarily scream "Christmas". It's safe to say that you don't have to remove it the day after Christmas and this wallpaper can be enjoyed after the holidays as well. The traditional Christmas colors will match perfectly with a Christmas tree and some sparkly decor. After the holidays are over – swap the Christmas tree out for a house plant and it will create a completely different vibe!
Scandinavian Christmas wallpaper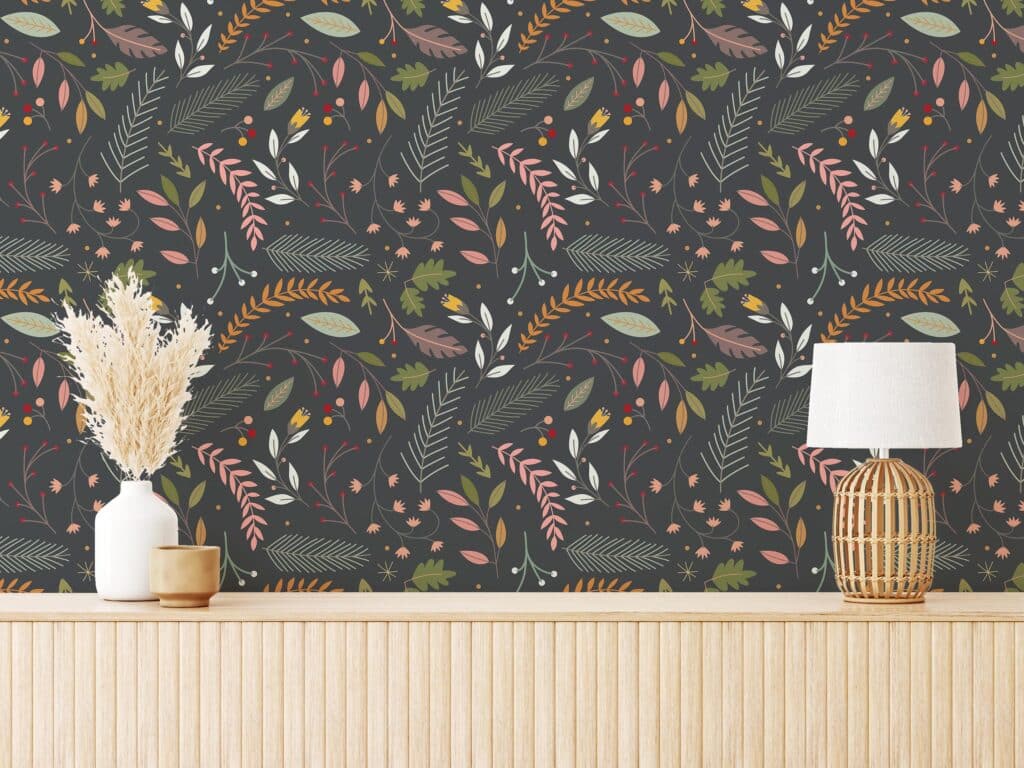 Not everyone is a fan of traditional Christmas symbols and colors. And that's completely fine! Who said you need to stick to Christmas trees and mistletoes in green, red, and white? Certainly not us! This Scandinavian Christmas wallpaper is a new take on classic Christmas wallpaper. We've swapped out the traditional color palette for a more bold mix of earthy colors, yet have kept it simple at the same time. The Scandinavian interior is all about simplicity and versatility. This design is the best of both worlds – festive yet simple enough to be a part of your interior throughout the whole year.
Green Christmas tree wallpaper
This Green Christmas tree wallpaper festive design is perfect if you want to add a touch of nature to your interior. Different shades of green evoke the freshness of Christmas trees, and can also create a calming and peaceful atmosphere in a room. It's the perfect wallpaper for an accent wall and combines beautifully with other Christmas-themed elements, such as red and gold accents. If you're looking to create a more traditional and festive look, this is a great choice!
Merry Christmas wallpaper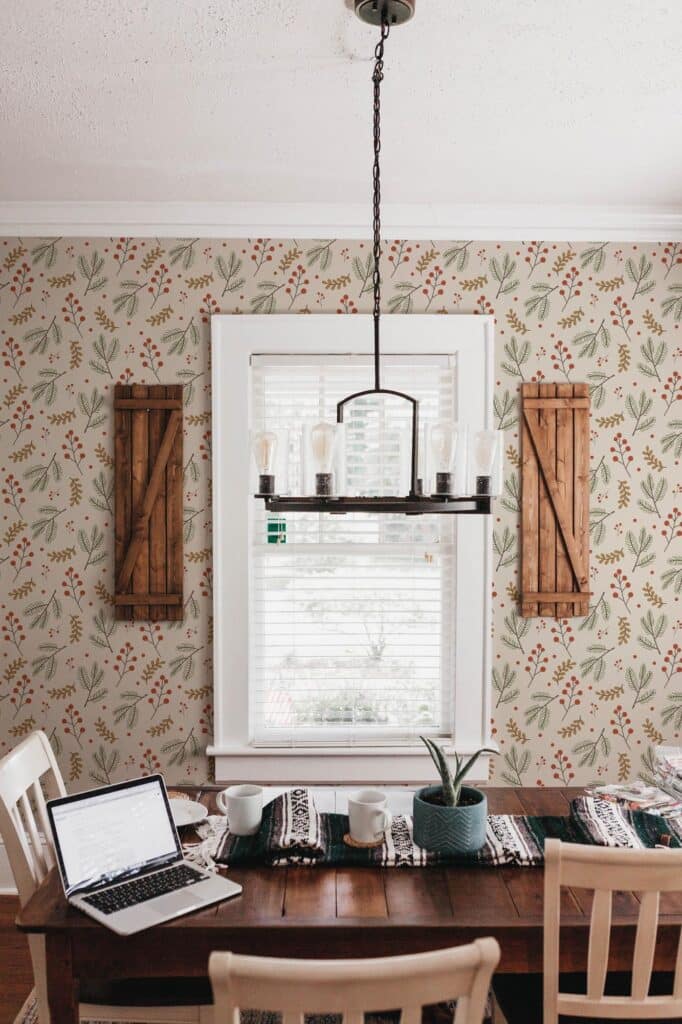 Our Merry Christmas wallpaper is a minimalist design that will fit into many different interiors – from a modern living room to a rustic dining room. The seamless Christmas tree branch and berry pattern on the beige background creates a very cozy and warm look, which is exactly what's needed during the cold and dark winter months. As mentioned before, you can easily switch the Christmas tree for some other house plants and enjoy this wallpaper after the holidays as well!
Christmas elves wallpaper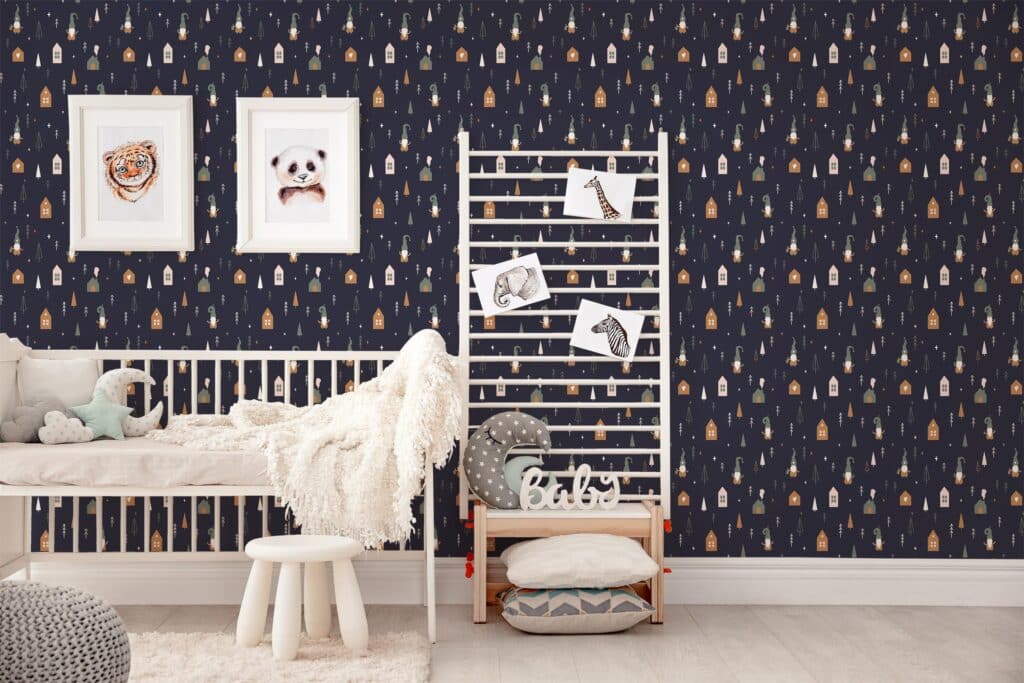 Decorating your child's room with a festive wallpaper pattern is a great way to make the holidays special and memorable. This cute Christmas elves wallpaper would be a nice addition to both boys' and girls' rooms and make the countdown to Christmas more exciting. Imagine your kids' joy when opening their presents with the little elves dancing on the wall – what a lovely way for them to get into the holiday spirit!
Christmas tree wallpaper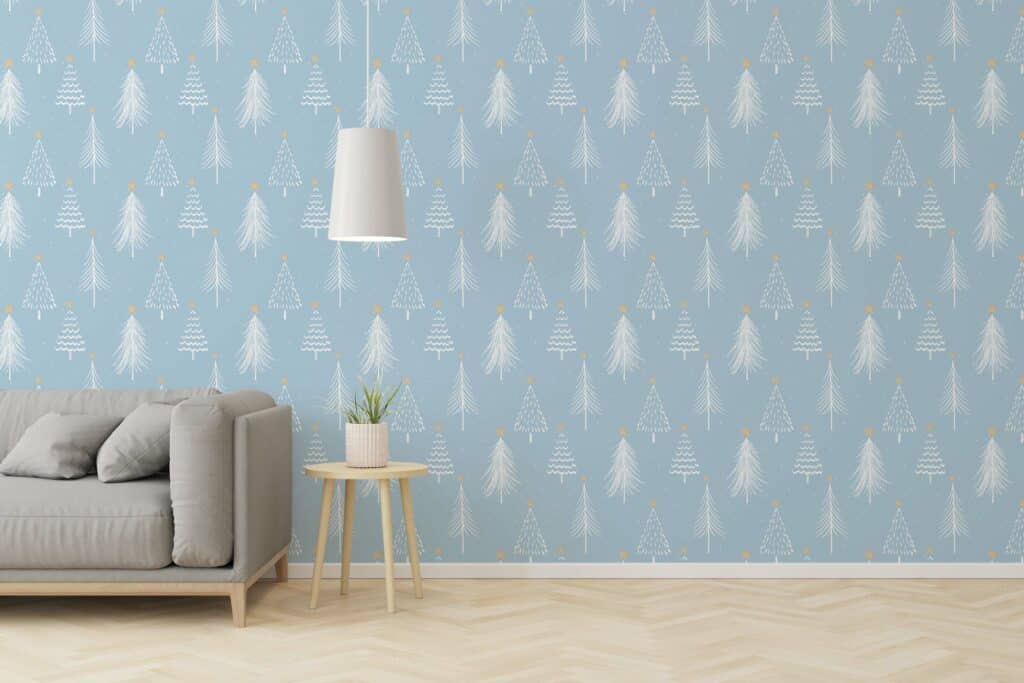 If you want to instantly brighten up your space, this is the way to go! This Christmas tree wallpaper will fit into any room, and make the perfect background for your next Christmas Instagram post. Blue is the color of ease and harmony, and after all, that's what the holidays should feel like.
The holiday season can get overwhelming with all the preparation involved – from wrapping gifts to cooking and decorating. Maybe you're looking to try something different this year, or maybe you're just out of new ideas on how to decorate your place. Either way, we've got you covered because peel and stick wallpaper is one of the easiest and most effective ways to turn your home into your own personal winter wonderland. Not to mention, it would be a great gift for your loved ones too! If you're looking for a last-minute gift or simply want to treat an interior lover with a nice surprise, check out our Christmas gift cards here. Merry Christmas and happy decorating!
Loving the content on our 'Fancy Walls' blog?
Sign up to our free, monthly newsletter! You'll hear about our latest wallpaper designs, and the most recent design trends!