At Fancy Walls, we believe each wall has its own story, and every story is unique. This concept is the backbone of our latest collection, Coastal Breeze, a flexible range that complements and revitalizes your existing Art Deco or Retro wallpaper designs. Let's journey through the limitless possibilities of this exciting blend.
Steel Blue Art Deco & Elegant Lemons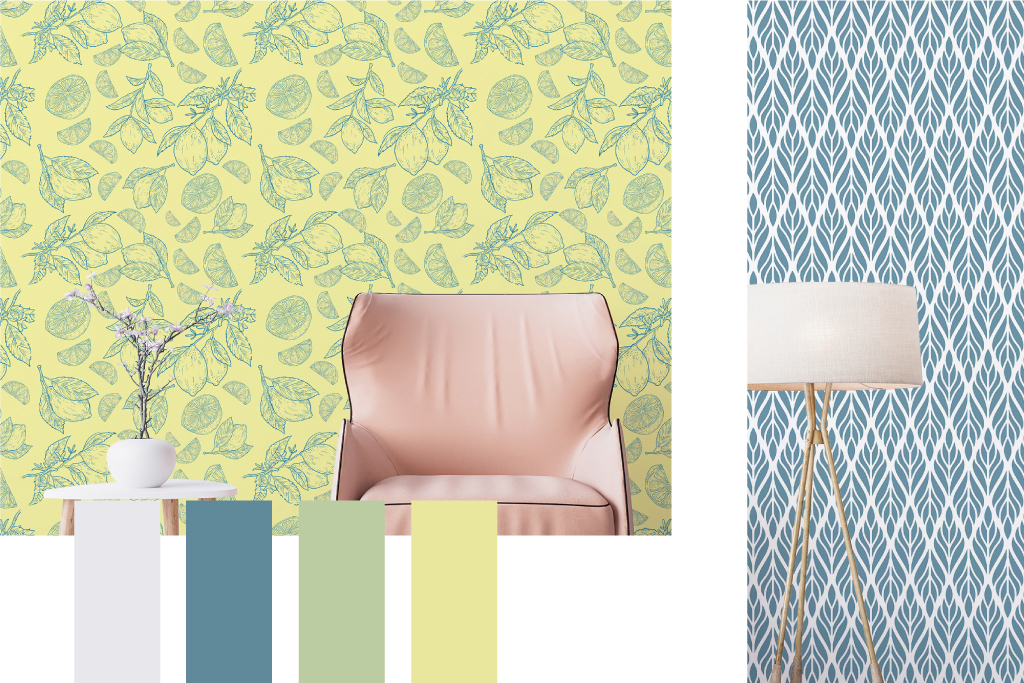 Our Elegant Lemons pattern brings a refreshing citrus vibe to your existing Steel Blue Art Deco wallpaper. The vivacious charm of the lemons introduces a refreshing counterpoint to the Art Deco sophistication. The whimsical lemons and cool blue shades balance each other, adding depth to your space. If your current decor features other Art Deco designs with cool, darker hues, the Elegant Lemons pattern could be an excellent focal point to brighten the atmosphere and infuse some coastal freshness.
Cute Vintage Flowers & Outdoor Element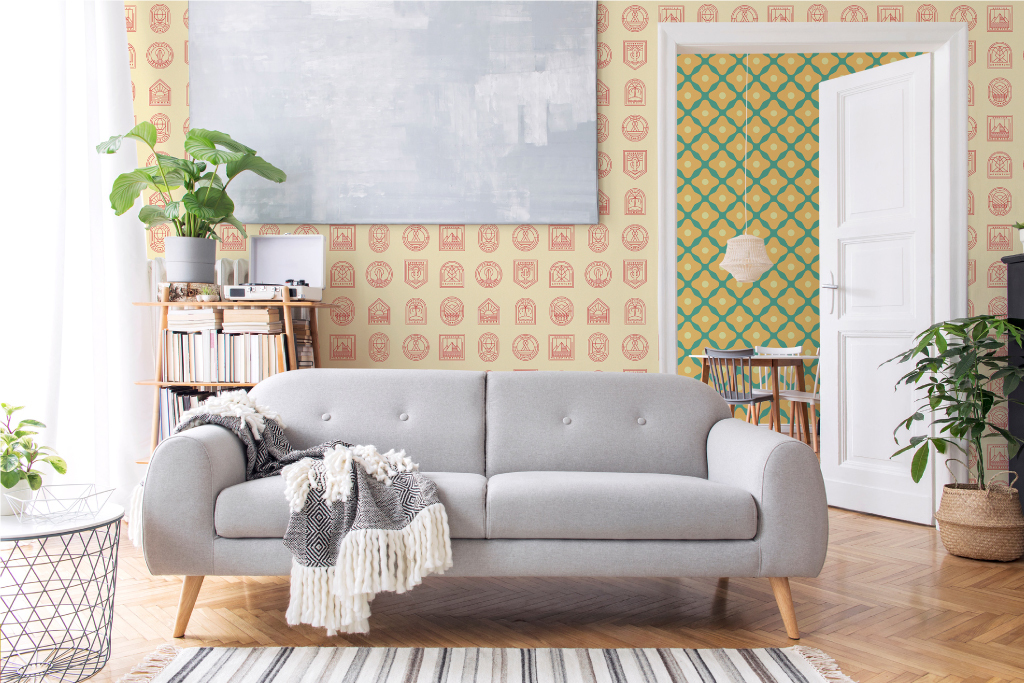 Introducing the Outdoor Element pattern from our Coastal Breeze collection lets you infuse a beachy, outdoor feel to your space adorned with Cute Vintage Flowers. The distinct textures and nature-inspired theme of the Outdoor Element complement the vintage floral charm, resulting in a coherent and intriguing design. If you're already featuring retro florals in your interior, Outdoor Element's sand, and surf-inspired design would harmoniously build upon the existing theme, adding another layer of depth to your space.
Vintage Triangles & Lemon on Hot Pink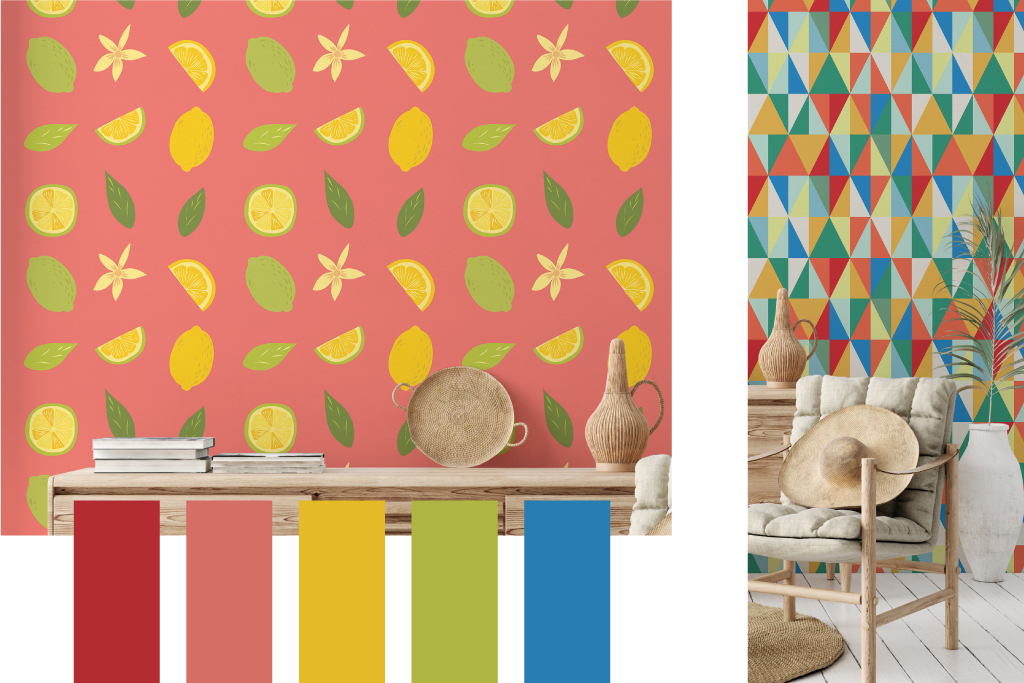 Adding the vibrant Lemon on Hot Pink pattern from the Coastal Breeze collection to the Vintage Triangles wallpaper already gracing your walls can create a dynamic, energizing effect. The bold, lively hues of Lemon on Hot Pink can breathe new life into the retro-modern aesthetic of the Vintage Triangles, adding an unexpected twist and creating a space that feels eclectic and harmonious. For interiors with bold geometric patterns, the lively designs from the Coastal Breeze collection can add an invigorating pop of color and beachy vibrance.
Geometric Overlapping Circles & Coastal Seashell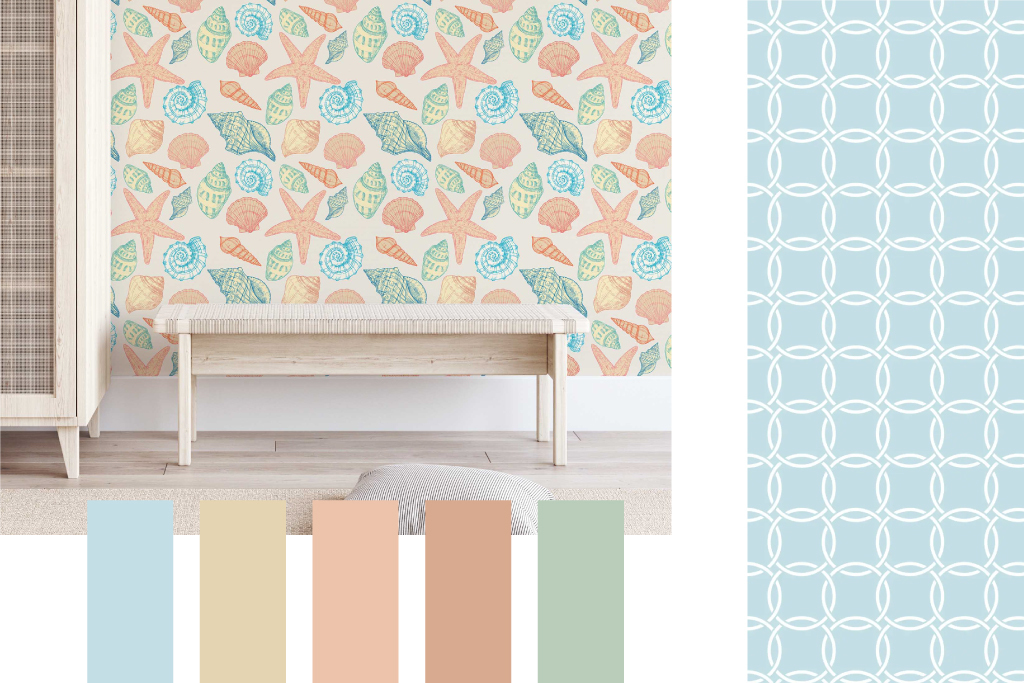 The Coastal Seashell from our Coastal Breeze collection beautifully complements your existing Geometric Overlapping Circles wallpaper. The shell motifs soften the sharp geometry, adding a touch of natural charm and breezy appeal. The delicate lines and shapes of the shells playfully interact with the bold circles, creating an inviting, beach-inspired space with depth and personality. If you have other geometric patterns dominating your interior, the Coastal Seashell design would add a soothing, oceanic touch, blending harmoniously with the geometrical theme while offering a refreshing visual contrast.
Blue and White Geometric Leaf & Lemons on Lavender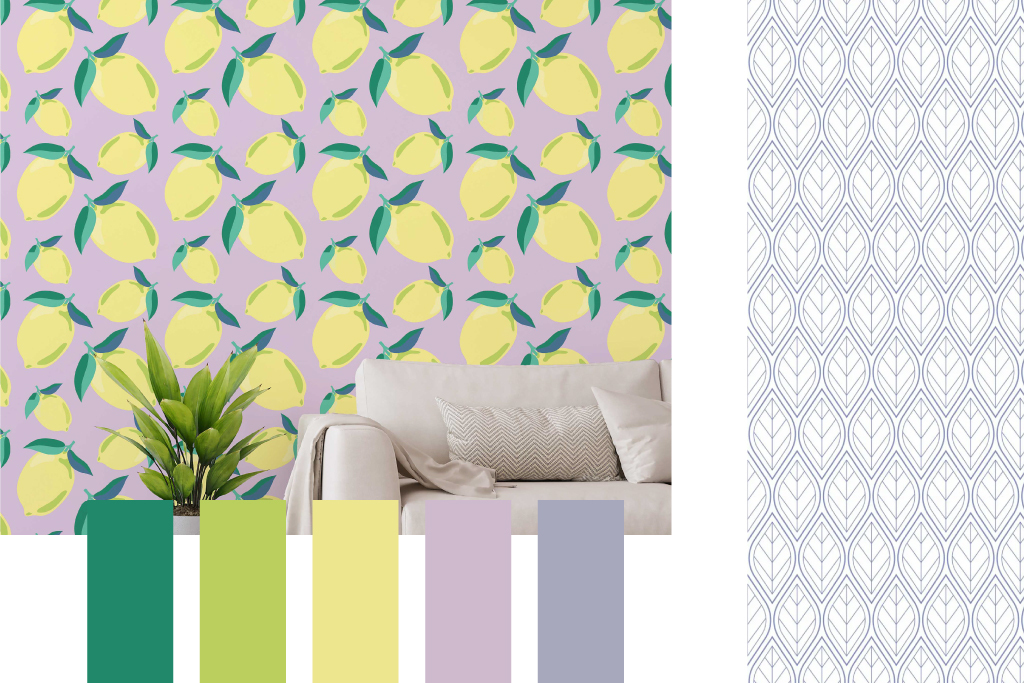 The Lemons on Lavender design brings a playful, fruity touch to the elegant Blue and White Geometric Leaf pattern, adding a summery twist to the sophistication of the Art Deco motif. It'sIt blends classic elegance and breezy whimsy, creating a uniquely welcoming and engaging space. For those with other botanical motifs or leaf patterns, the Lemons on Lavender design could add a fun surprise element, enhancing the charm of your interior with its coastal summer vibe.
Geometric Square & Watercolor Pisces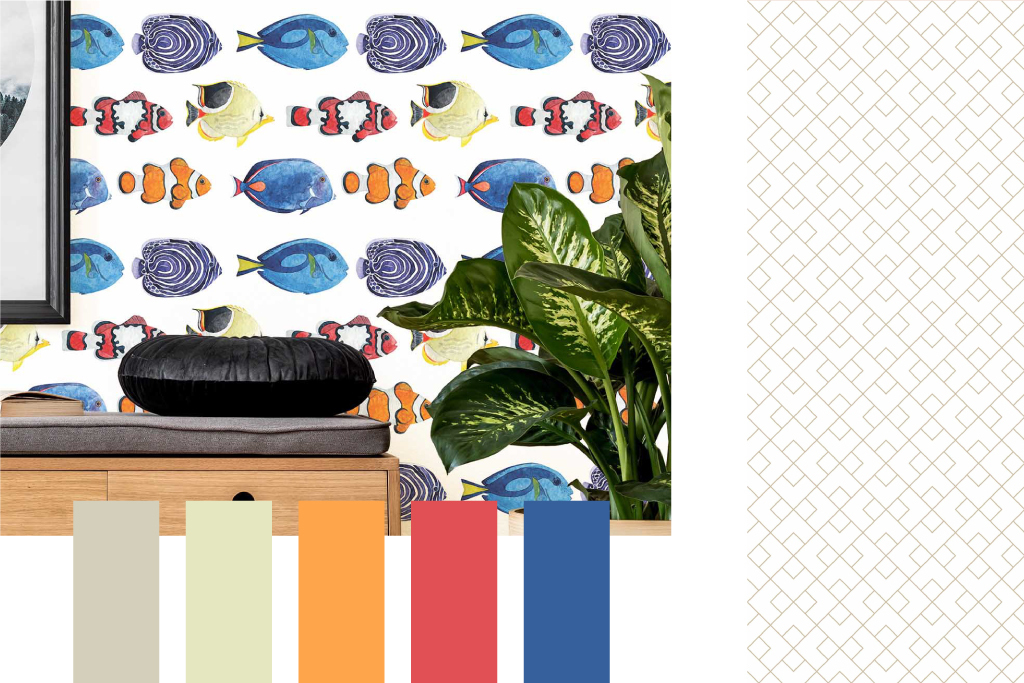 Combined with the structured Geometric Square pattern, the Watercolor Pisces design from the Coastal Breeze collection creates a visual dialogue between architectural rigidity and fluid, aquatic freedom. This interplay creates an engaging balance and a lively dynamic, transforming your space into a serene marine retreat. If your interior decor boasts other geometric or square patterns, the water-themed designs from the Coastal Breeze collection can provide a soothing counterbalance, infusing a calming flow into your interior.
In conclusion, our Coastal Breeze collection is all about bringing a carefree beach vibe into any interior. These pairings, handpicked by our designers, are to give you a glimpse of the transformative potential of the Coastal Breeze designs. Combining two different wallpaper designs in one interior is not just possible. It's a way to create a unique, personalized space that tells your story. Remember, at Fancy Walls, we stand for unique design and lots of colors. So, feel free to contact us about any custom pattern or color customization requests. Let's create your dream interior together!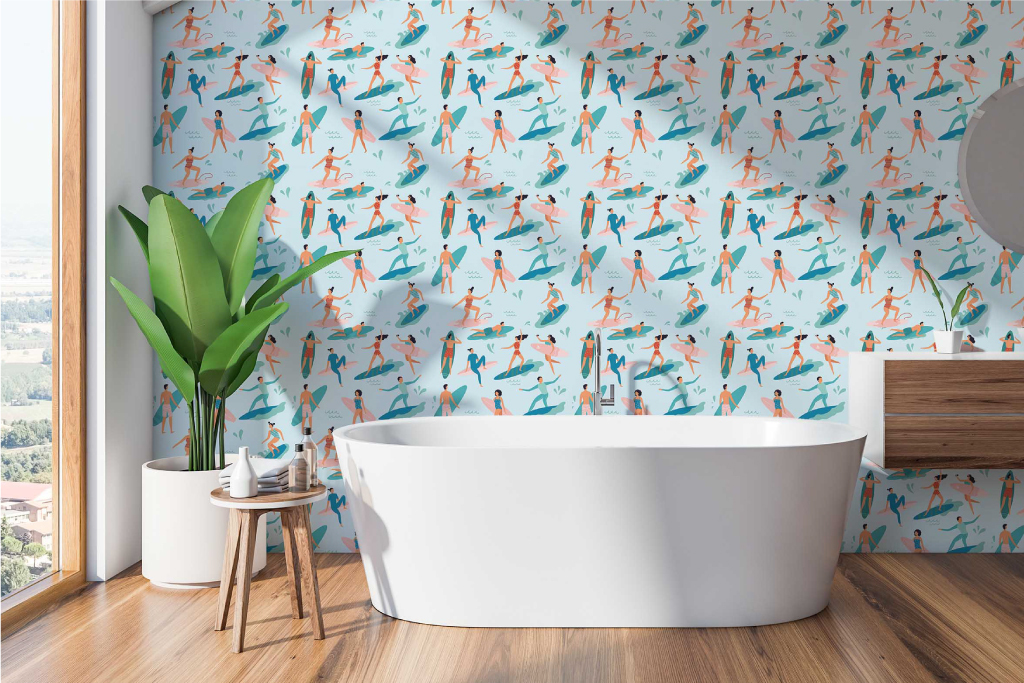 Loving the content on our 'Fancy Walls' blog?
Sign up to our free, monthly newsletter! You'll hear about our latest wallpaper designs, and the most recent design trends!